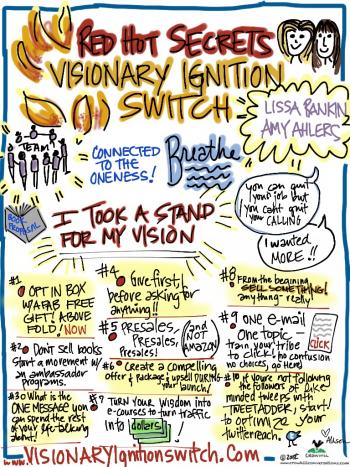 I'm a perpetual learner and today I want to share with you some of the secrets that helped boost my biz…and of course I'm going to do it with my unique visual spin.
These are visual notes that I took from a free tele-seminar held by Amy Ahlers and Lissa Rankin earlier this year for their program Visionary Ignition Switch. These 10 secrets were just the tip of the iceberg! I ended up joining the live course and implementing many of these tips and my biz is booming!  I want you to be a FABULOUS success…especially if you are a visionary who is out to change the world with you moxie, your service, and your love!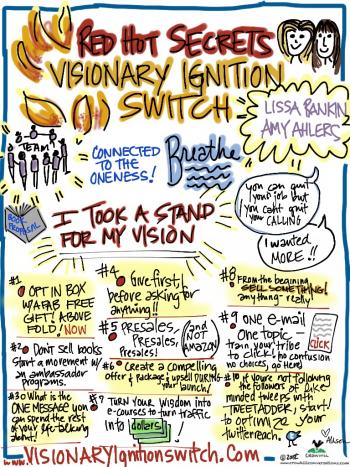 Be sure you have an OPT-IN box with a FABULOUS FREE Gift! Give them great content and a few free sussies and get them to join your community list!

 Don't just sell books….START A MOVEMENT with an ambassador program!

 

Determine what is the ONE MESSAGE you could spend the rest of your life talking about?

 Involved your Sheroes and Heros— BUT Give Give Give before you ask for anything from them.

 Presales, presales, presales– are the secret to hitting the #1 Best Seller List with your book…not just Amazon.

 Create a compelling offer and upsell during your book launch.

Turn your wisdom in to e-courses and turn traffic in to $$$$$

From the very beginning – SELL SOMETHING– ANYTHING! Don't give it all away for free!

One email- one topic! Train your tribe where to click by avoiding confusion!

If you are not following the followers of like minded TWEEPS the use TweetAdder to start optimizing your Twitter reach!
These are just the highlights…you will totally want to hear the complete replay and get more details for free here and I know you are going to want to get the at home study kit when it is released!  The details of this program really helped me stir things up!  In fact I can think of ONE thing I did that INSTANTLY put 3 more beauties in my latest class and 600$ more in my pocket! 
This course and coaching with Amy and Lissa was truly a fire starter for my Biz!  What do you need to light the fire under your business??
& if you liked this post, please share it!

Wanna get my free at home coaching kit? Click here to join my community and receive these goodies!