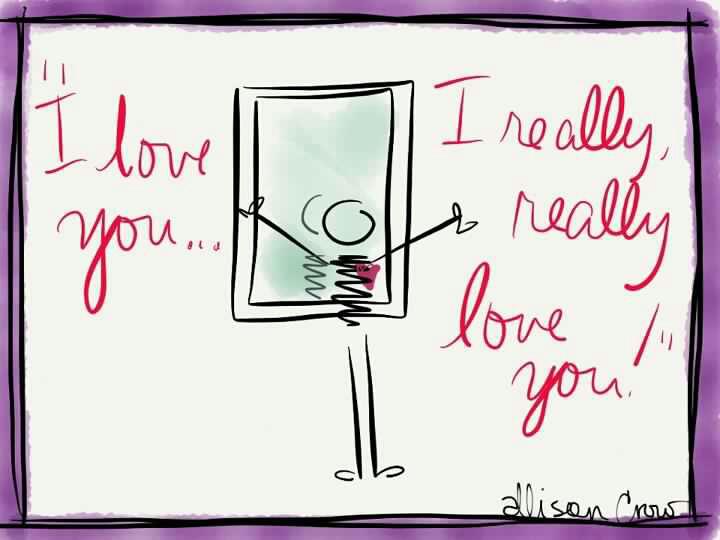 Think about the last time you saw your reflection in the mirror…what did you say to yourself?
We're you loving and kind and supportive…or critical, and judging?
Were you able to see the beauty energy of your spirit, or were you seeing what you think are flaws?
Last weekend at the Hay House I Can Do It conference, Louise Hay and Cheryl Richardson were talking about doing what they call 'mirror work."
Mirror work is taking the time to look in the mirror and consciously choosing to say kind and loving things to yourself….while looking into your own eyes.
Mirror work is not primping, not checking your appearance… but seeing yourself and giving yourself verbal acknowledgment and love.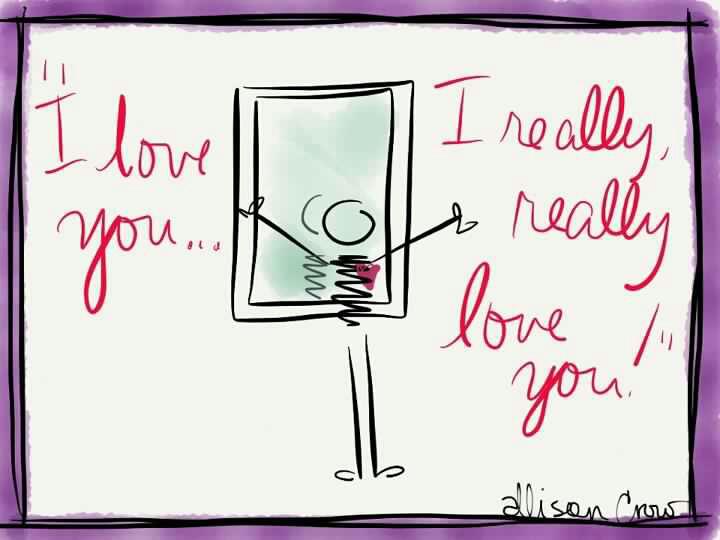 I wanted to share with you, the powerful and beautiful words of one of my clients, Jill, when she courageously gave mirror work a go for the first time recently.
"Last night I was reading and journaling about self love. The author had me do Louise Hay's practice of looking myself in the mirror and saying "I love you" at least 3 times. Eeek! Not so comfortable- at all!!!

I kept thinking, "Why am I doing this at night, with zero makeup, in my 10 year-old dated glasses?" And I felt so completely detached! I thought about when I look at my kids and my husband and how I feel love for them when I look at them. I didn't feel this AT ALL when I looked at myself.

SO, I'm officially adding "learn to love myself" to my all important 2013 path to a better self. What's interesting is that I am really feeling so much better about me….but this is how I feel on the inside. Through the exercise I realized that so many of my self-judgements are way too prevalent in my self-talk! "
At the conference, Cheryl Richardson said, "If beating ourselves up worked, we'd all be thin, rich, and happy by now." Tweet that!
What sweet Jill said is so true. We can look at others, and see their beauty, their light…and yet when we look at ourselves, we refuse to see that love and light.
It is time to change that, darling. If you have been someone who loves a compliment (like me), why not stop yearning and longing for that to come from others…and give it to yourself? What do you long most to hear? Look in the mirror and say that to yourself. Speak kindly and gently, and tell yourself,"I love You."
Here are 12 other things to say to yourself in the mirror.
Give it a go, love…you can do it, and you deserve it.
I love and accept you

You are beautiful

I see love in your eyes

I support you

I completely trust you

You deserve a great day

I am so very proud of you

You are in just the perfect spot in your life journey and everything is is working out just fine

Life loves you, darling!

You are a magician and create miracles every day

I really, really, love you

I appreciate you

Oh, by the way, your hair looks AWESOME
What do you need to hear? Are you willing to look yourself in the eye in your mirror and say that very thing? Give it a go…. I LOVE YOU!