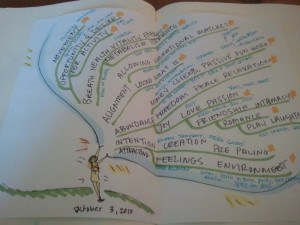 Step back a moment in time with me. This original post was from over 2 years ago:
"For as long as I can remember, I have been doodling. For about half as long as I can remember, I have been journaling.
I've found that the simple act of putting pen to paper with my words and thoughts heals me, settles a mind in overdrive, and gives me a calm peace.
For the last 2 years, ON purpose, I've been drawing in my journals as a way of capturing the visual way my brain thinks..or really, sees. One of the best parts is going back through these journals and WATCHING the story as I told it and recalling the feelings.
I also draw my goals and intentions. I did this intention doodle early this week…and even as I re-read it…I feel good about where my life is and where it is headed. I believe that our lives attract what we focus on…and so I use my pens and paper to be CLEAR about what I intend to create! We are all powerful creators…start with a pen and your journal. What will you create for yourself?"
And now, come back to the present moment. Today, I have built a soul-filling coaching and teaching practice using these doodles. Because it has served me, I want to encourage YOU to doodle, write, draw, heck, even scribble your dreams and goals down on paper.
The act of taking your thoughts from your head, and ceremoniously putting them on paper, is sacred and powerful.
In August of this year, I am going to be leading an online class on using doodles as an act of creating the life we want to live. This class is so unique, and different from many other classes out there.  There will be great content…AND I will hold the space for you, and encourage you to take your thoughts and allow them to flow on a blank page!  Does this sound interesting? Check it out.
Even if you miss out on the class, pull out a pen–not the computer — a pen and paper and give your thoughts a go on the page.  Allow your mind to spill out.  The page will hold your dreams perfectly…your feelings too!
Just a few of the benefits of Doodling:
clears my head

realigns my heart

captures and solidifies my dreams and goals

allows my creativity to play out loud

inspires me and others

activates more of my brain

activates more of my Spirit as creator

is an act of creation and manifestation

leaves me with a touchstone of my history

helps me remember important things

helps me change my self talk

reminds me I'm bad ass

relieves stress
Here are some of my other totally random doodles:
What can doodling do for you?