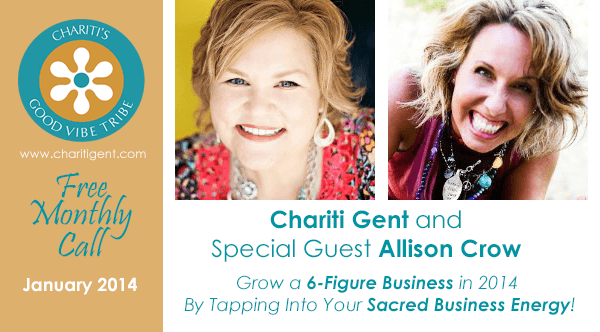 Ok…. So Chariti and I were born in the same Coaching Hospital 8 years ago!
 Join in as we have an intimate (but you get to listen) conversation
about building our coaching practices and what we've learned along the way
to be soaring with soul-full success!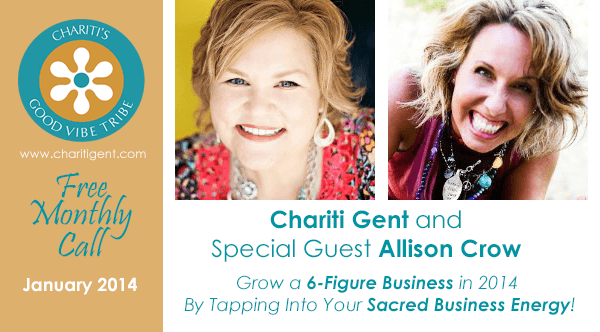 TODAY IS THE DAY!
January 15, 2013
11:45am – 12:45pm CST
Greetings Friends!
Our KICK OFF for the FREE MONTHLY CALL is TODAY!  During this call, we will explore an aspect of JOYFUL LIVING with very special guest Allison Crow, MEd.  Allison will lead us in a soulful conversation about how to STOP DOING and START BEING: Learn How to Grow a 6-figure entrepreneurial business through tapping into your SACRED BUSINESS ENERGY!  Want to know more?
SO MANY OF US work hard in our lives, our careers, our businesses – And in the hustle and bustle, we often forget that BOTH our BEING and our BUSINESSES have a SACRED ENERGY ~ A SOUL that needs nourishment – that needs to be heard and cared for. Allison is going to share with us on this call how the energy of your BEING and YOUR BUSINESS can have a dramatic impact on the results you get and the success you enjoy in life.
BONUS (!!!):  We'll be "giving away" a home-study version of Allison's Caring for the Soul of Your Business e-course at the end of the call, so you'll want to be sure to register for the call and get entered into the drawing to win that VERY SPECIAL gift (which retails at $47).
ABOUT OUR EXPERT:
Allison Crow, M.Ed., is an international intuitive life and business coach who, above all else, values alignment, authenticity, creativity, connection, and balance. She's been teaching and coaching in one form or another since the mid-90s. And she's MY coach! Allison specializes in Energy Alignment, Law of Attraction, and Abundance Mindset and she works with soul-centered people who are high-achieving business owners – leaders, coaches, entrepreneurs, artists, and visionaries who are here to impact the world with their lives and work. A Texas native, Allison lives in Austin with my husband and three dogs, Leroy Brown, Daisy Mae and Lulu, and make it a habit to play as much as possible.
Chariti Gent, MA, CPCC
(608) 334-4501