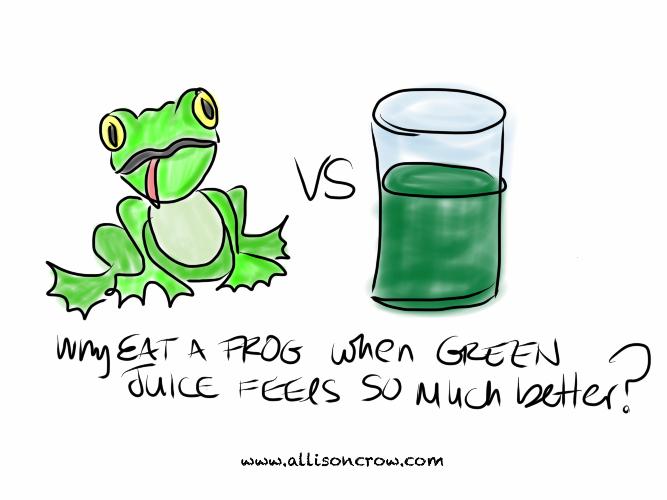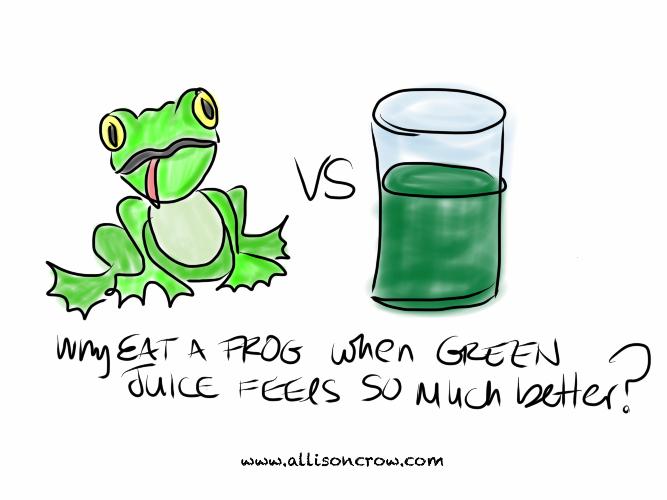 In this 3 part post I'll cover how I break three traditional business rules and what I do instead that is leading me sweetly to my own personal and professional success. I encourage you to read the beginning of the 1st post to understand the context of this series of posts. You can find it here.
I won't advise that you do, or don't do, what I do, any more than I would advise you follow all the rules out there.  I will advise that you keep an open mind,  check in with your self from the inside-out, and figure out what truly works best for YOU.
Here are the three business rules I have chosen to break:
 

If it isn't in your schedule it doesn't exist- Manage your time wisely and schedule everything that is important to you.
Eat That Frog- From a business book by Brian Tracy based on the old saying "If the first thing you do in the morning is eat a frog, then nothing worse can happen the rest of the day."

Goals must be S.MA.R.T: Specific, Measurable, Actionable/Achievable, Realistic, Tim

e-Based.
Eat that Frog– do the hardest, most un-pleasurable. or most difficult task first thing in the morning.  The notion is to "get it over with" and I understand how this can serve many folks.  Brian Tracy, one of my favorite authors,  wrote a book about this concept and this short movie explains the reasoning behind it.  I don't disagree, I just have a different version for my own life.
In the first post, I spoke about managing energy instead of time. The movie clip suggest that getting though the most difficult task increases energy for the rest of the day and that procrastination drains energy.  I find the opposite to be true for me.
When I truly trust my energy, my creative process, and the deadlines in my life, I find inspiration to do the difficult tasks comes at just the right time.
If I tackle it based on, "first thing in the morning" then I often find myself grumpy from having done something I don't dig so much. Harumph.
I do the things I ENJOY first in the day– Starting with taking care of me in little ways. Yes, I work from home so making these things part of my work day works for me.
A soothing cup of coffee or green juice
A cuddle with my dog
15-20 Minutes of Meditation
Breath-work
Doodling
Journaling

Coaching calls

Hanging out in my garden or yard with my feet in the grass
I find that these things fill my energy bucket, they motivate and encourage me.  Any of these pleasurable things re-sets my vibe.
When my vibes and energy are aligned, then there is no task I can't handle.
More and Better work happens with ease.
I've determined it is only the THOUGHT about procrastination that makes me miserable.  If I decide a task on my list is going to make me miserable and drain my energy, then it certainly will.  Instead, I allow procrastination and see it as an indicator that I'm not energetically primed for that task.  Of course natural deadlines increase the energy prime – and usually, in perfect timing.
In my latest business path, I've decided the most important thing is my inner alignment and feeling good. When I get there– everything on my to-do list goes smoothly.
Today is the perfect example.  I felt a little puny and emotional the last 18 hours,  and so I took a hot morning bath.  I got dressed and came up to my studio.  I had my husband keep the dogs (when usually I let them follow them me into my studio).  I listened to yesterday and today's Meditation in my 21-Day Meditation Journey — I did not meditate — I just listened to them.  I doodled a little bit and then checked in with my Inner Guidance and she said, "Write the Part 2 of the 3 Rules I Break post."  So, here I am, already feeling better and ready to tackle enjoy my work day.
I get the things that FEEL good done first and then I do the "difficult tasks." This works for me every time.
What works for you? Do you have thoughts about procrastination that are stressing you out? What gives you the most energy to be successful in your days and in your to-do-lists?
Check back soon for part 3 on the last rule I break.
& if you liked this post,

please share it!


Wanna get my free at home coaching kit? Click here to join my community and receive these goodies!