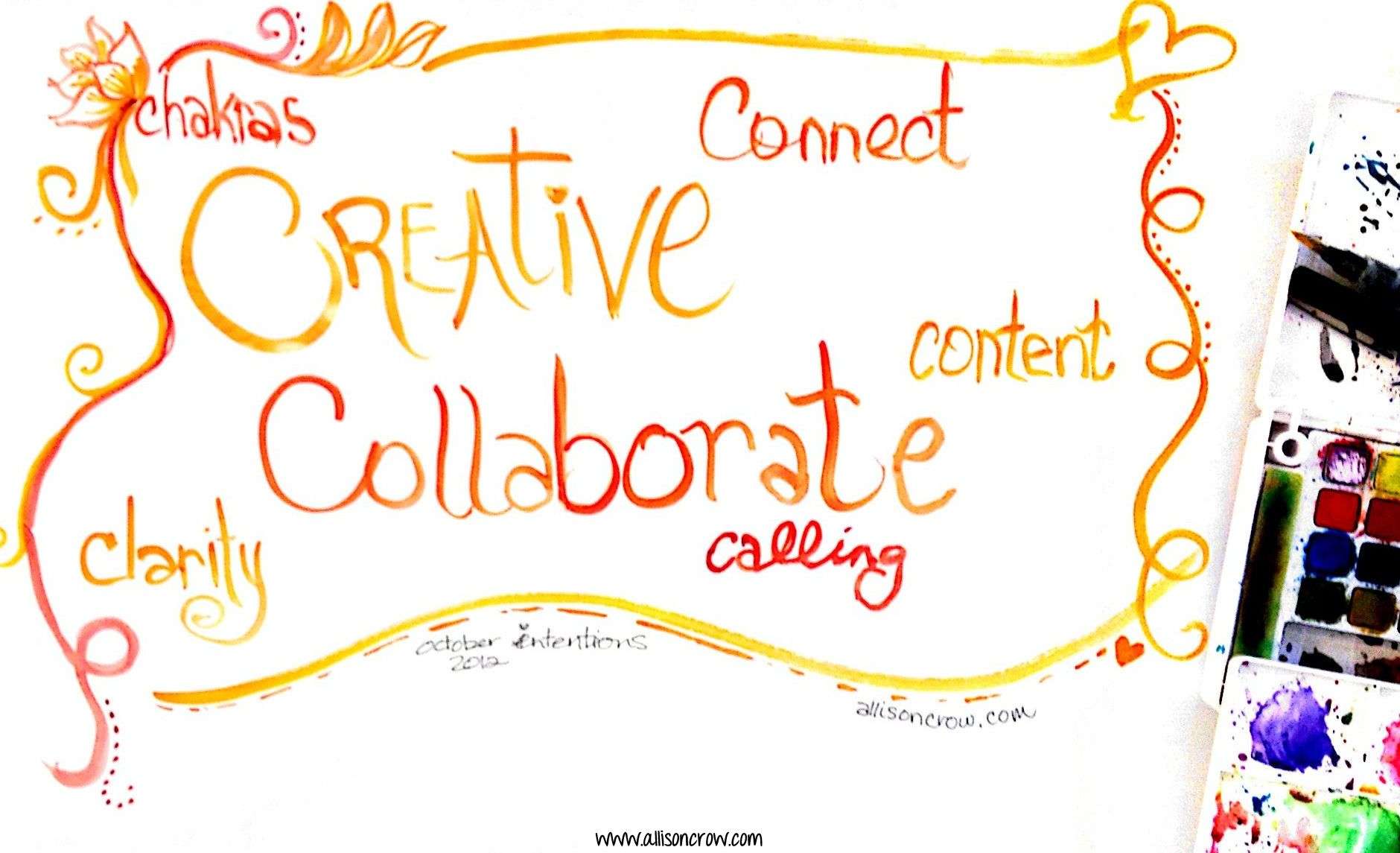 Here we are, October 1, 2012.  What will you harvest in this season? Have you thought about it? Have you tapped in to your Inner Whisper for guidance for this season?
October really snuck up on me.  After the stall out at the end of the summer, the last few weeks I've found myself in full on doing doing doing mode.  After the slow summer days, September found me planting tons of seeds and my creativity re-awakening. October finds me mid many projects both for my own business, and for sharing the brilliant work of others!
A process for deciding what you will harvest each month:
Each month, I spend a few moments at my desk pad.  I tear off the last months page, and I sit down to create another.  Today's felt divinely given and I want to share with you.  And so this is not all about me, I'll take each element and ask YOU a reflection question to get your thoughts and creativity flowing!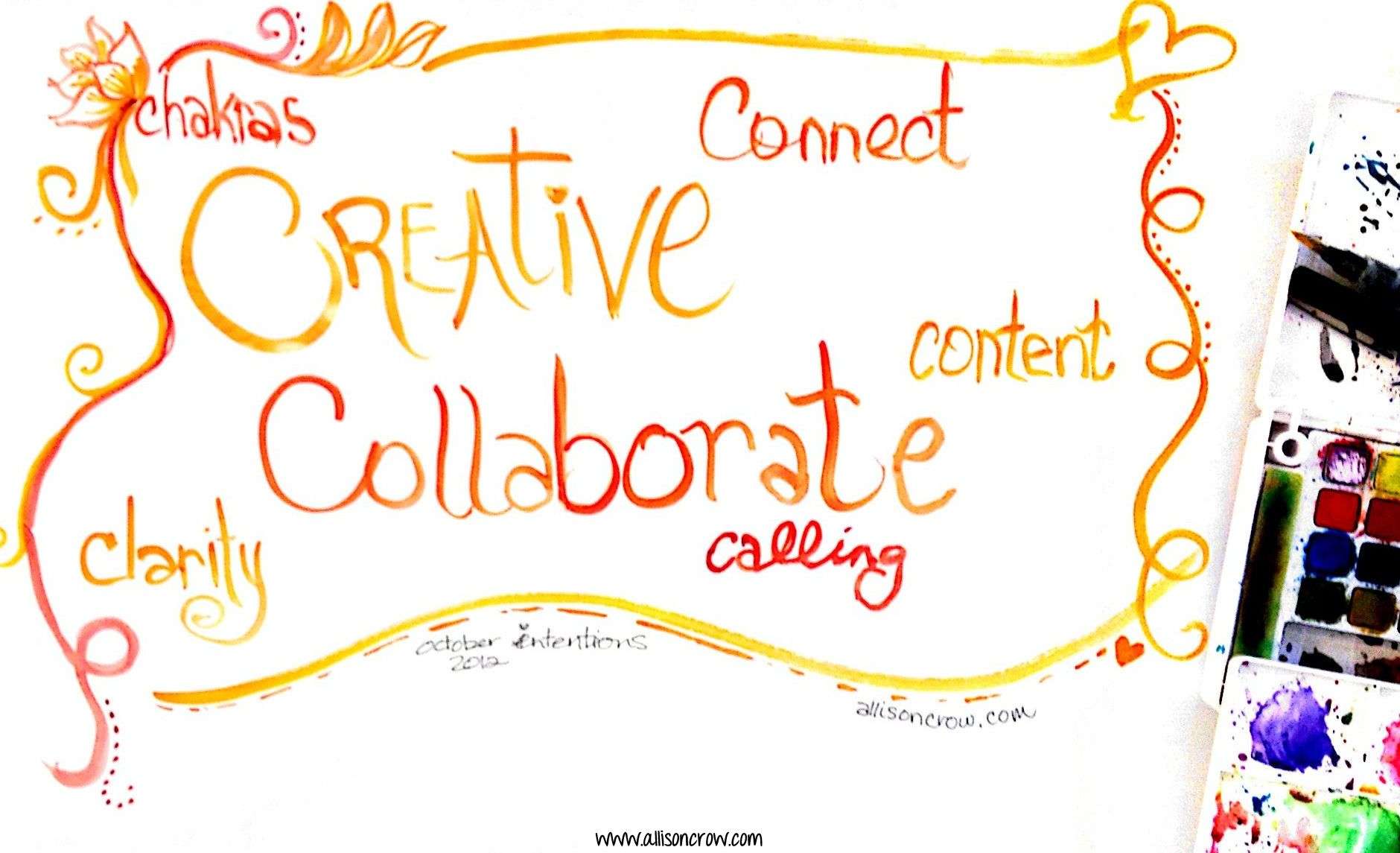 With a deep clearing breath, and some soothing music in the back ground, and my watercolor pen ready, I approach my blank desk pad and listen.  Today I heard ORANGE and CREATIVITY loud and clear…and then felt the nudge of the fall colors and more C words.
CREATIVITY

:  You were born to create, and

YES you are creative

.  What is rising up out of you, begging to be expressed?  What medium wants to come forth? There are so many ways to CREATE!  Tap in to your imagination and get it flowing again and see what comes up.
COLLABORATE

: 

You are not alone.  There are soul-sisters and brothers out there to support you on your journey. Ask for help, give help.  Exchange ideas.  Let go of the need to do it all alone –

you were born to CONNECT, CO-CREATE, and COLLABORATE.

CONNECT

: Who do you desire relationship with? Who are your hero's and mentors? Who is your tribe? Who needs to hear your message? Are you denying yourself connection that will bless both you and your peeps?  Make a connection today, even if it is just to say THANK YOU or I LOVE YOU.

CHAKRAS

: Are you in or out of alignment? One of the best practices I've adopted over the last few years is tuning into the energy centers in my body/spirit — the CHAKRAS and sensing their energy. This is also about pause.  Taking time to be present in your body, to open your awareness, to meditate, and to connect, or ALIGN with SPIRIT.  Are your chakras balanced? (keep an eye out in November for this Chakra Class to be offered again).

CONTENT

:  For me this one is about unleashing my writing.  I've had a few reading lately and ALL of them have mentioned "

KEEP WRITING.

"  Of course I love devouring content…and I want to share content back with my tribe.  What content are you yearning to learn? Or to share?

CLARITY

:  Are you clear on what you want to feel? Is your vision clear? Can you focus on the essence of what you want to create/do/be/have over the next month?  Clarity is power..get clear on what your heart desires – starting with feelings!

CALLING

:  It has taken me years to line up with my calling.  Yet each moment I wasn't here yet,

I WAS EXACTLY WHERE I WAS SUPPOSED TO BE.

  Trust your journey.  Allow life to unfold.  Ask the universe for help in bringing you to your calling.  All of the words above, can support you in the path to discovering or living your calling.
So there ya have it.  My harvest for this October.  What will you harvest? Meet with your Inner Whisper to figure it out, and then declare it to the world, or at least in the comment section below!
Follow me on Facebook    Tweet me on Twitter @allicrow
Connect with me on my Facebook page
& if you liked this post, please share it with the tools below this post!
Wanna get my free at home coaching kit? Click here to join my community and receive these goodies!