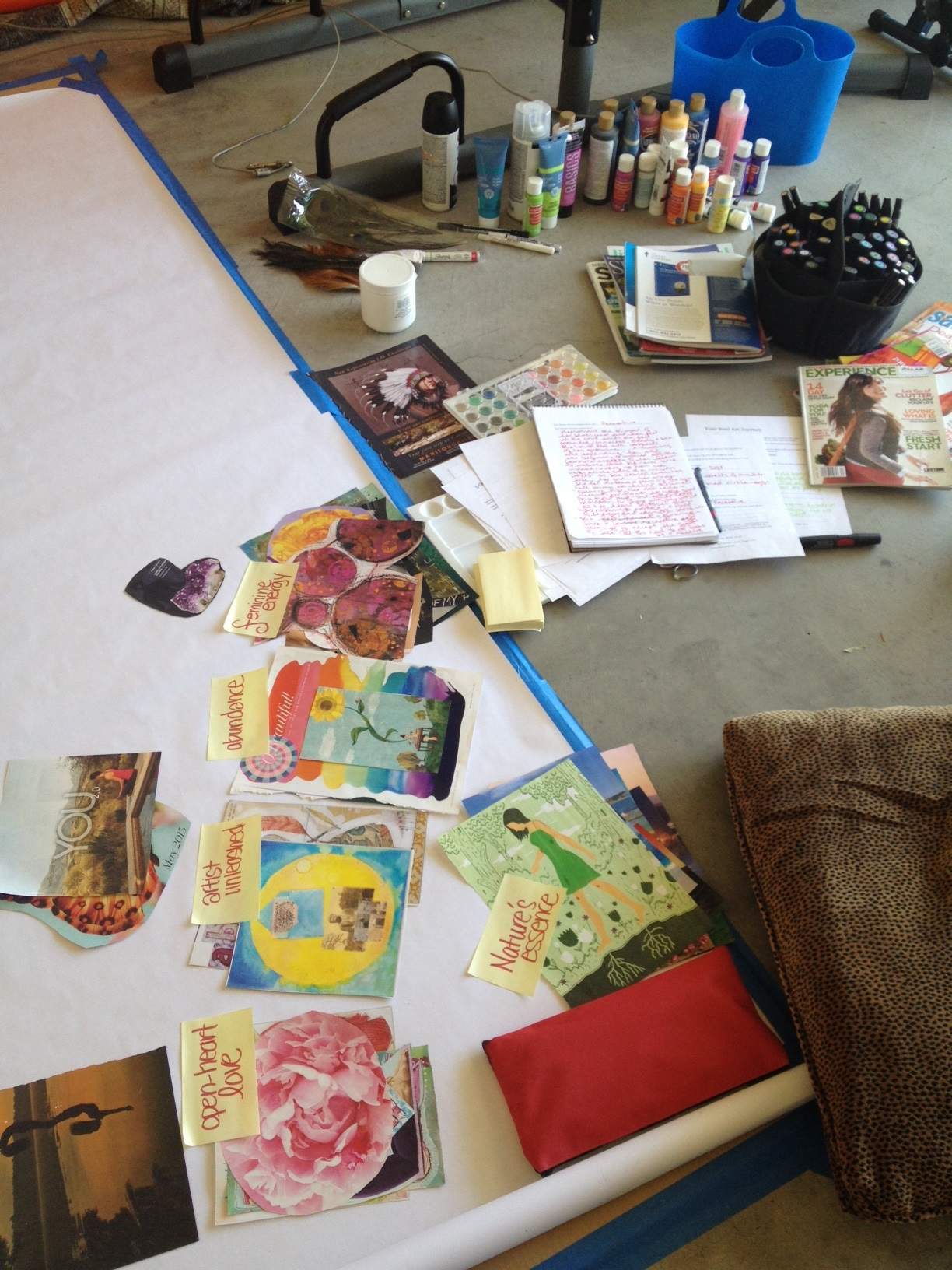 this isn't really one of my typical posts….. it is really more a story…a chronology of both an inner-work and an outer-work journey of my soul.  Perhaps you are on your own journey…. and have your own story to tell.  May this story inspire you to really SEE your own self, to HEAR your own story, and to FEEL your own loving heartbeat, and to TRUST that the Universe has grand, BIG, love for you.
All parts of this story will be added to this post….so check back for updates. 😉
The Pre-Story:
Interesting how the Universe drops love showers on us just when we need it.  A few weeks ago I was shedding a few layers of an old me.  Transformation, at times, can be tricky.   The butterfly gets to hide for a season in its chrysalis, and while we are going through a similar phase, we generally have to show up in everyday life.  I knew this early part of 2013 would be a dormant and scaly season of a coming transformation.  Last year I came out of the closet as an artist, a soulie, and an intuitive – with a rainbow held high over my head and dancing in fairy wings, I stepped fully out of the corporate shell and into the first incarnation of freedom.
 After months of soaring, creating, manifesting, and expanding, the winter came as it always does, and I took the needed time to hibernate and take care of me.  The new year always bring this NEW YOU obligation…So do birthdays, and my 41st was in February… but the timing of these two dates didn't' fit with the energies of my soul.  My soul was well nourished, but FLAT.  I could feel the plateau, and knew that I would be on it —resting for a while…and then… At the end of March, the wheels started rolling slowly again …they picked up speed beneath my feet and left my brain and heart still on the plateau!  Clients began dropping off my roster, changes were happening behind the scenes in my business,  conflict, insecurity, confidence shaken.
But somehow, I KNEW this time. I KNEW that this was not an outside job. This was not any terrible thing, and I was not the victim of a shitty two week of random events all colliding in my life.  I KNEW that this was clutter clearing out, a life detox, and making way for the delightful new energies of spring. And so I just amped up my breathing practice , got my body back into yoga flow, and waited.   Interestingly by the New Moon in Aries this year, anything that wasn't in alignment with the new me (who I haven't fully felt yet) had fallen off.
 They say those are called "perfect storms" — mine was no F5 tornado—merely a spring thunderhead with heavy bouts of pounding hail –  Like the ones that happened here in Austin the weekend after I planted 3 new rose bushes.  The hail stripped the blooms of of every flower in my garden.  But all the roots were intact,  I'd nurtured them, planted them well, and watered them by hand.  And while the blooms didn't make it, the foundation of each flower was still in my garden reaching for the sun.   That is what I felt like — stripped of my blooms, but reaching for the sun.
An Invitation to Journey:
And then a week ago, Laura Hollick called and asked me to participate in International Soul-Art Day.  The conversation timing couldn't have been better, and the sprinkle of recognition as one who embodies her art in both spirit and life felt good.  It felt like the first bud of spring.  And so I agreed to go through her Soul-Art process (you can go through it too). Not only did it FEEL right while I was talking to her, I also knew that a guided process could help me really catch a vision for what is coming next.  It would help me deeply connect and integrate the new energies forming in my life, my heart, and in my business.
Pre Work
I've carved out 2 days for my journey.  Today is my prep and play day.  There is a bit of prework….and preparation..and as with any journey, taking the time to do it right mattered to me.  Often I jump in, wing it, and enjoy the ride, but this one…I want to feel and record every moment. Thus this long ass journey post!
After reading through the process….and journaling. I knew I had some materials I wanted to use already in my studio, but I felt a pull to grab a few new magazines and some new materials.  As I shopped for both the magazine and my materials, I set the intention that I would FEEL exactly what was calling me.  I would HEAR it say – CHOOSE ME from the shelves. And they did.  Even shopping for supplies became sacred today.
My List of Supplies:
Paint, specifically light green, turquoise, and pink, white paint pen for lettering, gesso, magazines, feathers, a FAT paintbrush, music for the journey, and of course my markers.
I came home, cleared out a corner of Garage Flantasic and set up shop.  Each move felt special – laying down my large cardboard and taping down a workspace, unrolling the large paper that I normally save for high paying clients, spreading out my magazines, turning on Pandora, the Matt Nathan station…. carefully selecting the paints, and chalks and gels that I would use. 
I invited my sweet soul dogs, Leroy and Lulu to join me for the afternoon…..and began the next phase.
My Soul Art Intention:
Open my heart, guide me to allow the expanding of my heart,
to give and receive love energy through my life and my work –
and to allow my vibes to ready for alignment with the next season of life.
Entering the Creative Zone and Trusting Myself
Following the process prompts, the first topics that came to me were
Love  Energy and an Open Heart

Abundance

Wild Unleashed Creativity

Sacred Nature

The Magic of Feminine Energy

I love going through magazines…I love working with images and my intuition.  I love the listening with all my senses.   All logic falls away and I find myself feeling my truths.  I found joy in 3 hours on the floor (cushioned by the fab leopard cushion of my bergere chair).
The end of the day is coming.  My garage is filling up with neighbors, and I'm ready for a break.
More coming tomorrow…with a hilarious photo of my husband BODYMAPPING me!
BODYMAPPING

Art, embodied.  I knew the parts of my body that I wanted traced from the beginning. I KNEW this would be a FULL body piece.  I had to wait for my husband to get home to help me for this part.  It was rather comical as we began, and just as he began tracing me our neighbor came around the garage door corner- What the HECK!
We got a chuckle, and asked him to take a photo of the process.
I knew my hands would be in a receiving position, and that my legs would be part dancing, part moving forward, and that my core would be centered and aligned.
Stream of Consciousness Story
It feels a little vulnerable to share my stream of consciousness with others….and I'm diving in.  I'm trusting the process (again you can find the Soul-Art Process here).
Words that were to be included in this story:
opening flower – soft
ogrounded
all aspects of my life
growing
receptive
Title: Receptive
The moment she slipped off her shoes and put her feet in the cool earth she felt grounded, connected, steady and sure.  She could feel all aspects of herself growing.  Everything was expanding.  Her art began to include all of the favorite parts of her life. It was the child she never borne.  Instead -rising up from here were all the colors of a million worlds, as she poured forth her life, her art, her words. She felt the fears and pain of the ages fall away.  Her heart softening opening like a soft delicate flower.  No more need for a tight bud, but a BIG BOLD BLOSSOM to share with the world.  As her heart softened there was nothing left to protect. A flood of energy and warmth came in – she felt herself glowing, like the fertile receptive egg – waiting to accept the gift of life. All she had to do was receive.
This was the story I was to capture with my art.
I allowed her to unfold intuitively.  The ONLY thing I knew for sure was that she would have a BURSTING open green heart center.  I saw it in a dream before I started.
I noticed that after the first day, I was tired.  I'd intended to work on her with gusto on Saturday morning.  I was tired.  I allowed myself to detour from my plan, and I rested, played with my husband and daughter, and came back inspired and refreshed Saturday evening.
I also noticed along the way, my working space was rough.  Bumpy.  Like real life.  I just trusted the process.  Occasionally my inner critic would try and sneak in, but for the most part, I felt joy, trust and ease. It was amazing how just LISTENING along the way, I gathered so many personal insights.
She is Finished.
While the art is finished , my journey is not.  I will set aside some time this week for meditating with her.  For hearing more of what she has for me.  Gathering insights is the final part of this process, and I will share those with you soon.  I did post it on facebook and a lovely fan said she saw messages.  When I asked her what she saw, she gave me this gift:
Jayne F: I see its time for you to shine and reveal to the world more of your divine inner essence , a new way of working with maybe Healing incorporating the colours of the spectrum, helping others with Depression / Grief and to overcome their inner souls blocks to their own divinity . I see you journeying with the Labyrinth and finding answers to deep parts of your soul . Transformation is awaiting you as you emerge more into the beautiful being that you were meant to be . I see you connecting more to Higher wisdom and accessing knowledge to help others , Akashic records will be revealed . You will grow internationally / globally and will be recognized for all you do , your efforts will be rewarded , you have embarked and trod a path so hard at times , lonely , and faith and trust have been your allies , now is the time for emergence on a grand stage so be ready to spread your wings and fly , there is no limits to your abilities and talents …..x
I felt Jayne's messages to be profound, and in alignment with what I have been hearing so far.  I'm not sure what day this week, I will sit down with this beauty and hear what else she has to share with me….it will flow in to my schedule in perfect timing for sure, and I will be back to share the insights I gather. <3