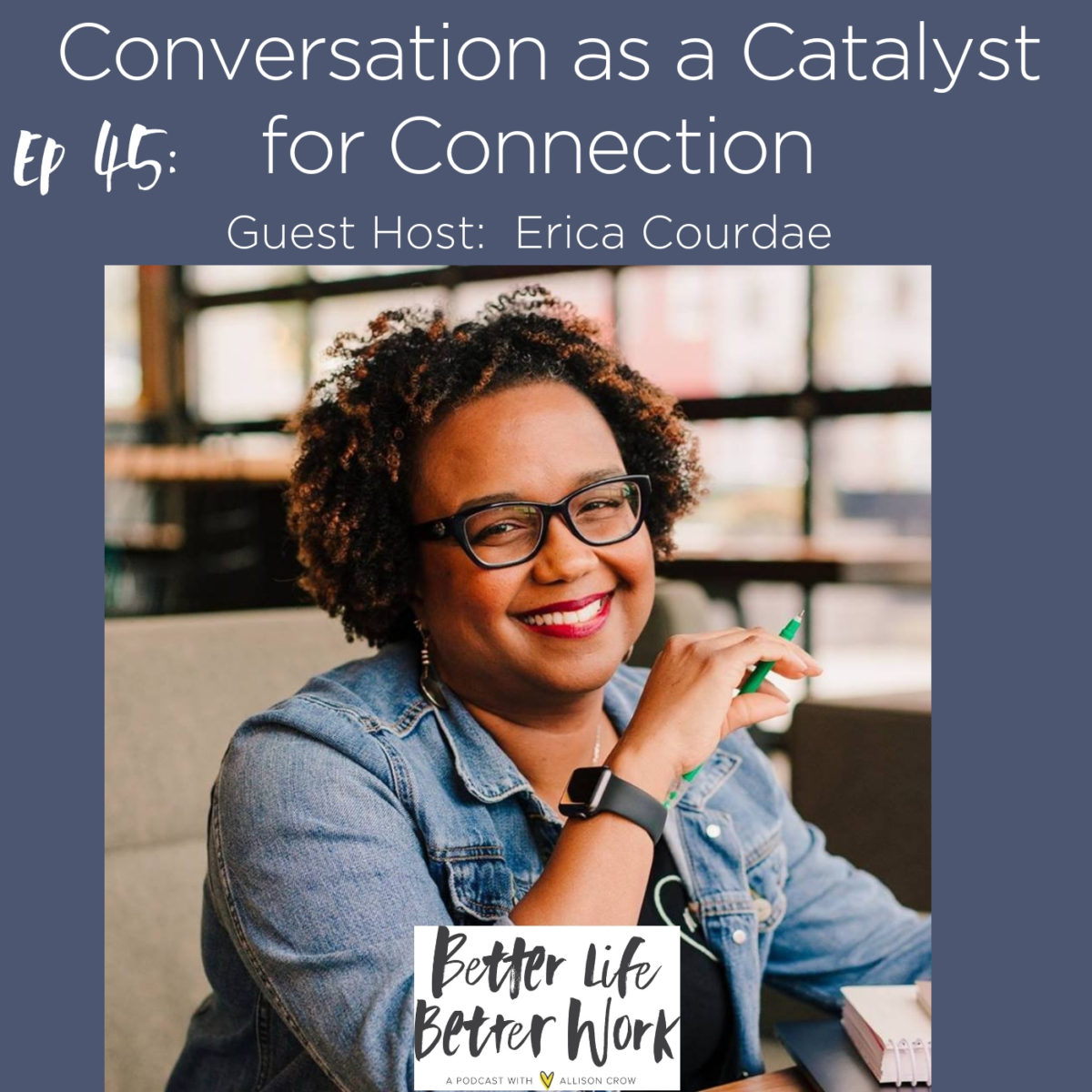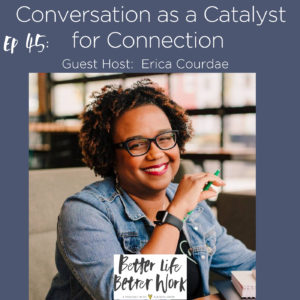 Courage. Diversity. Empathy. Inquiry. Love.
Step into a reality that isn't the one you inhabit everyday, this is where growth happens. – Erica Courdae
Connection as a Catalyst for Connection & Using Diversity as a thought jump off for considering things outside of the norm. Diversity of thought, feelings, how you process, how your move through life….
What does your life look like?
What does it feel like to be you?
What are your circumstances, that are maybe different then mine, that I didn't think about?
When you connect, empathy, curiosity and presence pops up.
As much as people are different, there are similarities there, they just manifest differently.
Watch out: You can get stuck in only your version of reality!
There is no set formula for expansion.
Examine:
Where you are.
Where you want to make shifts.
What kind of changes do you want to make that are going to assist you in being more supportive of someone that might not look like you?
What type of awareness do you need to have in order to think differently?
It's your process.
Everyone isn't going to be in the same place.
Your path is your path.
Unlearn the things that you have taken for granted that no longer serve you.
I want to know, think, feel and do differently so that I can be different. That space is where you want to get to.
You will know when you are being called to do more because you'll feel that call.
Thanks for spreading the word about The Better Life Better Work Show. And of course, I love your Social Media Mentions and Shares with #BetterLifeBetterWork @allison_crow on Instagram. @allicrow on twitter and Allison Crow on Facebook.
And, if you'd like to be a master student of Better Life and Better Work, I invite you to join me in the Soul-Full Success School for Life and Biz ~ My exquisite membership community where connection, coaching, teaching and most of all, YOU, matter.
Erica Courdae an entrepreneur, coach, and consultant. She is dedicated to expanding how multicultural professionals, managers, lawyers, coaches, and creative small business owners interact with the world. Through powerful conversations meant to create dialogue and connection, Erica seamlessly challenges them to perceive their reality through a different lens. Topics including diversity, equality, equity, and inclusion make for the awareness that she uses to create mind shifts for impact. In life and in business. Erica believes talking about important and necessary topics in a safe space creates change and helps people feel comfortable, open, honest, and forward focused.
Website
https://www.ericacourdae.com/
Podcast – Pause On The Play
Spotify https://open.spotify.com/show/2mbVhXwKJZJvtvjhjnMxvw?si=c5juyv3JS6ytoQUBo4HJTA
iTunes https://podcasts.apple.com/us/podcast/pause-on-the-play/id1460596528
The Conversation Workshop
https://www.ericacourdae.com/the-conversation-workshop
IG
@ericacourdae
Podcast: Play in new window | Download
Subscribe: Google Podcasts | Stitcher | Email | RSS | More