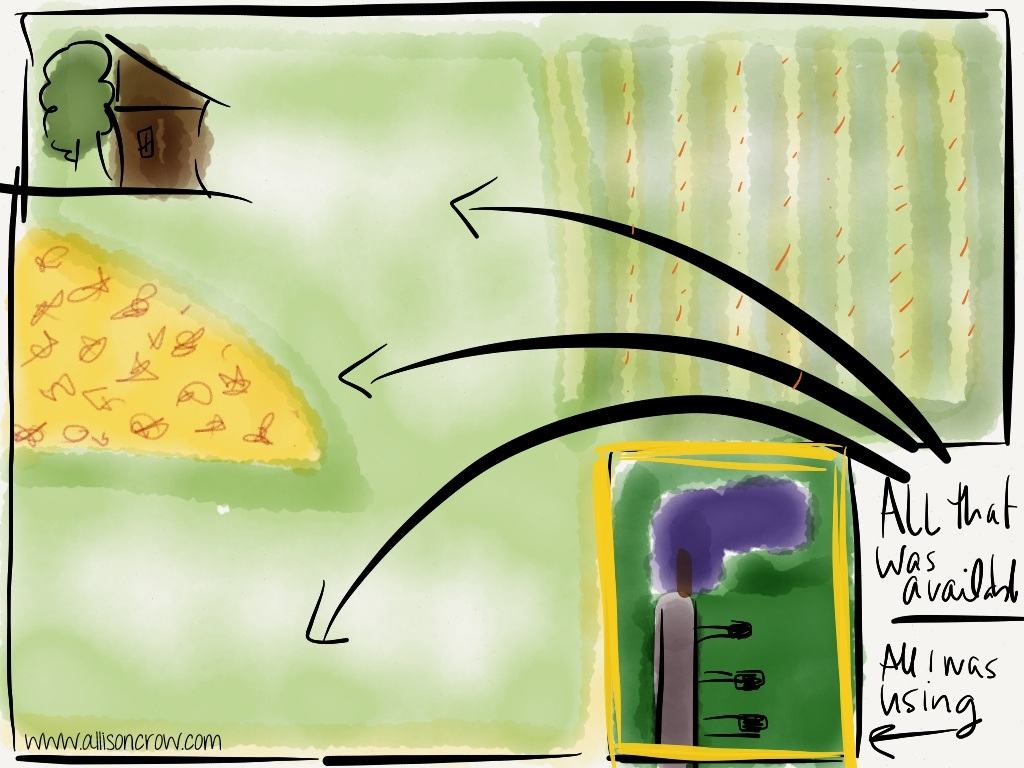 I drew my dream for you. It has a message in it for all of us.
When I was younger, my family would go to visit my mom's parents at the "lake." The lake was a small strip of land with a water tank at the end of the property.  There were several people who had leases on that land, but my Mamaw and Papaw had the lot closest to the lake with the dock.  On the left side and far end of the lake, the land was built up creating a barrier that formed the lake and divided the property.  We would fish with my Papaw, shoot skeet, and the day always ended with a good ol' Texas-style catfish fry.  I have wonderful memories of that place with my family.
Last night I dreamed about that property.  My dreams normally are wacky and I've been asking the universe to bring me dreams that are visionary, that mean something – and the universe delivered.
I dreamed about the lake.  I dreamed that I was there even though my grandparents have been gone for 20 years.  In a flash I was taken to the hills that I thought were the edge of the property.  They weren't the edge, in fact, they were just the beginning. Standing on the top of the hill, I could see miles and miles of luscious farm land.  Land that was prosperous and thriving.  There were grain store houses that were full and overflowing, and there were fields of beautiful flowers.  Lush. Expansive. Beautiful. And, as far as the eye could see.
There was also a large house.  One much larger and nicer than I remember anyone in my family having.  I was taken through the house and saw all the lovely furniture, and contents of the home.  There was more than any one home should hold and it seemed that because there were so many furnishings and household items, the place had become a popular and profitable antique store.  The energy was vibrant, warm, and sharing.  As people browsed the antiques, they were served lemonade and fresh bread.
"How could I not know all this was here?"
"Really, Universe…this has been here all along?" was my first and frustrated thought.  With a few deep breaths I was able to begin releasing that resistance and as my dream came to an end, and I began to wake, I heard the message loud and clear.
There is so much more that you can be tapping in to in your life.  You are playing in this tiny plot of land and you already have access to unlimited resources and prosperity.
You have touched but a sliver of your brain power.

You have touched but a sliver of your heart power.

You have touched but a sliver of your spirit power.

You have touched but a sliver of your purpose.

You have touched but a sliver of your abundance.

You have tapped in to but a sliver of the energy within you.

You have touched but a sliver of the expansiveness that is waiting for you.
I know that this message is not just for me. It is for all of us.
And while our left brains scream, "WELL HOW DO I ACCESS ALL THAT – WHAT DO I DO" needing those next steps, that plan. . .
…  our Inner Whispers tell us, "Just breathe it in, Babe.  Do nothing but breathe and be.  Breathe deeply and open your heart.  Breathe IN your heart…. and just be."
So there it is.  The dream for all of us.  In usual blog format, I am tempted to ask you a question that will engage you…. but that only leaves us both back in our heads…not our hearts.  So today, no questions...just love, breath, and just be.