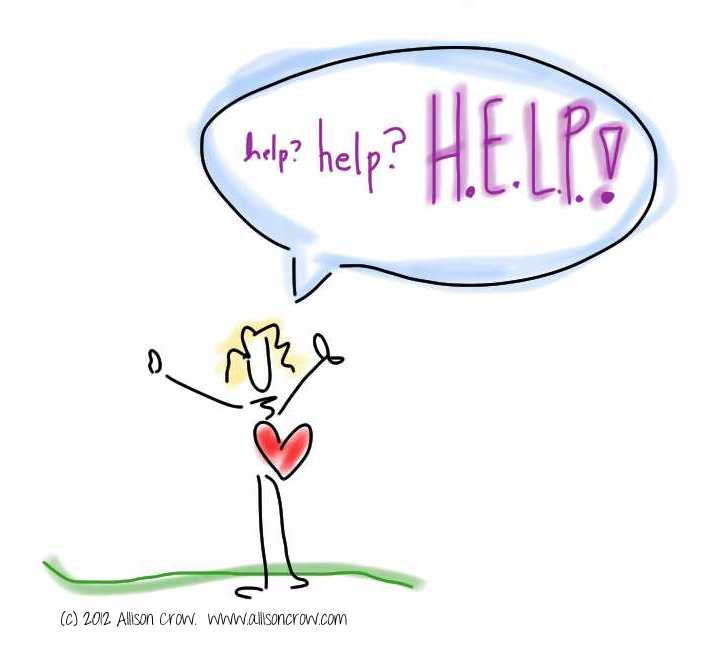 I love the way the universe works…and how life supports me at every turn.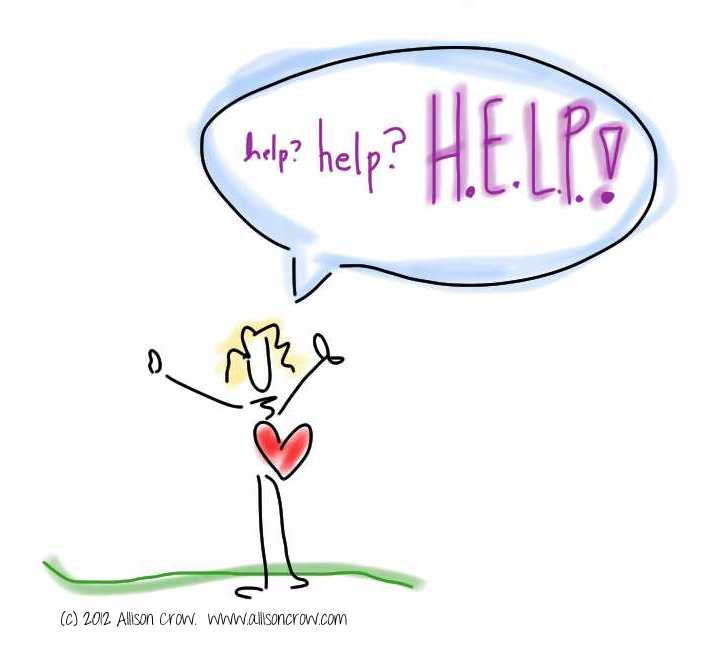 Today I came across a series of posts and articles that all seemed to have a theme:
We are not ALONE! Just ask for what you need, you don't have to tackle this thing called life ALONE!
And then I came across this post on Owning Pink, by a fellow Visionary, Ken Jaques that started with this phrase:
Do you ever ask for help? Or have you been conditioned to think that asking for help is a sign of weakness? Do you find yourself thinking "I can do it myself" a lot?
I teared up immediately. I TOTALLY do this. And, for me…that inability to ask for what I need, to ask for help comes from shame, and fear of being weak.  What I am learning, as I teach about and discover truth and personal power, is that actually it is POWERFUL to ask for help.  Ken's post touched me and I committed to write a post declaring what I need help with, so here it is:
I, Allison Crow, a recovering over achiever and do-it-all-alone-aholic, am changing my ways.  I am learning to open my heart, share my needs, and simply be seen…and I am learning to ask for help when I need it.  I need help with the following thing/in the following ways:
1. I need help expanding my audience and attracting the right hearts and spirits to my site and services.  I need help spreading the word about this website and my services.
2. I need an editor who works quickly and can turn things around stat!
3. I need a beautiful, affordable, and available space in Austin to teach workshops, classes etc…preferably Central to NW.  I'm working on a SW Austin venue –and I would LOVE something that I can host both day and evening, and weekend classes at closer to where I live!
4. I need help converting my classes to e-course, and packaging help. The content is written, I just need someone to cut and paste and edit and pretty up in a BEAUTIFUL way for my amazing clients–I want them to experience beauty and value when they invest in themselves through my products.
5. I need audio and video editing help..this is part of packaging, too.
6.  I need a new amazing assistant who is exceptionally talented, detailed, quick, and who gets my voice! My lovely support is off on maternity leave…and then soaring on her own as a writer and coach. I need TALENT, Joy, a similar vibe, details, and someone who LOVES being in a supportive role–maybe even someone who wants to grow long term with me.
7.  I need help letting go of the details and trusting someone else. 🙂
8.  I need yoga support-and ideally I'd like it in my home.
9.  I need students for my upcoming workshops- I think this will come as I expand my tribe, as more and more people join my community–and If you know anyone who would get off on the services I offer + my style: Please CONNECT US!
10. I need 15 coaches for coaches club mastermind 2013.
11. I need a source for GOOD organic cotton tshirts…retro style, soft, that I can upload my art to and sell… Been using cafe press and I don't like American apparel clothing- it runs awfully small
Writing this helps me appreciate and recognize the help I do have.
I have a few amazing coaches:

Dave Gorham

, Lissa Rankin

,

and Lacy Young for for compassionate health coaching, and

Ellie Scarborough

– who is my video coach.
I have great back end support from

Chris and Kayla

…I gotta use Chris more!
I have an honest, and wise, and LOA loving CPA and bookkeeper. Blake Westerterp,CPA

and his wife Lisa

who helps with my books.  I gotta get them my current statements and files to get my book keeping up to date!
I have great dog training support via Kimberly Burgan (who by the way is a Goddess of Strength –and who is able to ask for help when she needs it- and has become a close, close friend).

I have a faithful and reliable housekeeping service –

Juany Cleaning Service

– her team has been with me for over 10 years.
I have an amazing roster of coaching clients!!!

S

ome are brand new, some have been working with me for years! THIS IS HUGE and the reason I am able to do what I do!
I have a few key RE agents to take care of my past real estate clients!
I have an amazing helpful husband who takes care of me.  He cooks, he does the yard, scoops poo, organizes and pays the home bills, he does mountains of laundry, and all of the grocery shopping, and loves me.

Thanks Bill Flanigin- I love and appreciate you.

I have amazing sources for Markers, online teaching technology, a great headset, computer, phone, and iPad…

And I have friends and family who love and support me–especially fellow coach and bff

Nikki Buckelew

. 

Iron sharpens Iron–this woman sharpens me as a friend, as a coach, as a business lady, as a wife, as a mother- she helps me daily. And

Chris Buckelew

…he is an amazing friend and always greets me with, "How may I help, you?"
So what I learn from this post is that I am comfortable asking for help within my inner circle…and I have room to grow in the SO THAT I CAN GROW area!  Thanks, Ken, for touching my heart and inspiring me to let go of the need to bear it all alone.  I appreciate you.