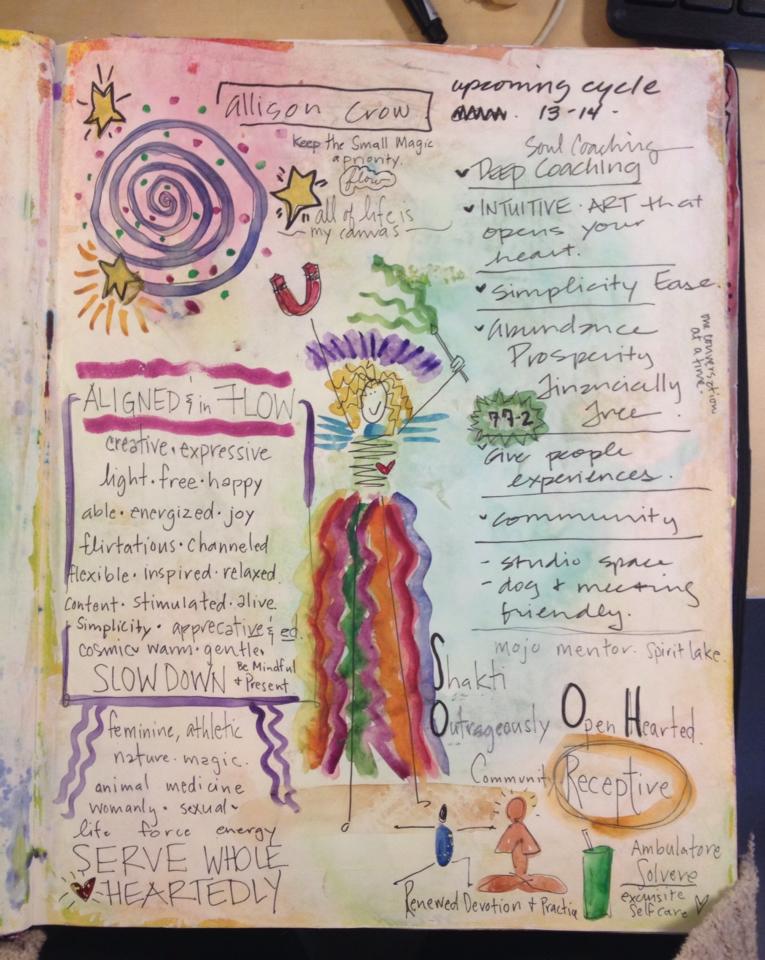 Calm Meditation radio on Pandora, feeling reflective this morning.  What do I want to release…. what do I want to stop doing…and start doing in the new season.
Being mindful and slow even though my thoughts are racing.
My human self thoughts about business are racing because:
it is hard for me to slow downand I've chosen to take 2 whole weeks off this Christmas/New Year
comparison is the thief of joy (thoughts creep in when I am seeing what "everyone else" is doing to market or promote their business and I am doing NOTHING but BEING).
the "cult-ure conditining" that I SHOULD have a business plan that involves numbers and dates and drip and communication plans.
I've invested mondo moola in coaching and learning for 2014 already…. and in providing extrordinary experiences for my clients…. Scarcity creeps in and tries to seed fear each time I stretch myself and make a big leap.
What I KNOW when I check in with my higher self:
This moment is perfect.  Being here, having these thoughts, is perfect.
I AM ABLE – able to slow down, able to breathe, able to serve, able to earn, able to grow, able to love, able to play, able to coach, able to inspire, able to create, able to enjoy….and so that is what I will keep being  ABLE.
SLOWING DOWN was the 1st great magic of my 2013.  It changed everything…and opened me up to inner truths, inner peace, and outer miracles.
OPEN- HEARTED was the 2nd great magic of my 2013.  I prayed for an open heart…. and much of what I feared happened…and then I healed… something shifted from protecting myself and surviving in the world…to just being and sharing and connecting and serving and laughing….and CREATING ART!
CREATING OPEN-HEARTED ART was the 3rd magic in my 2013.  Even as I type this…. joyful tears come to the surface.  There is nothing that can hide in the shadows because I have opened the door of my heart to creating art almost every day.  I am an artist…and I am unleashed…I am open.  #fuckingmagicforsure
I have chosen to release striving.  So those things that are racing up there in my human mind can just chill the eff out.  Both striving and slowing down get me to the same place.  However, with the striving, I arrive miserable.  And with the SLOW DOWN…I arrive just on time with a smile on my face….and a 12ft orb of light around me, blessing everyone who encounters that orb.  That feels amaing.  I re-release striving and comparing.
I have a light…I love to share it.  When I share it love and light expand and that is the greatest gift I can give to myself and others.  This is one of the reasons I share so much on fb…both the big and significant things…and the small things.  Both the finished masterpieces and the mud in the middle.  Life is good.  Light is good.  I hope others will be inspired to share their light… their perfectly imperfect light.
In the upcoming season I desire to feel:
CREATIVE
Free
Expansive
Magical
Feminine—Divine Shakti Rising
Connected
Light
OUTRAGEOUSLY OPEN HEARTED
Energized
Flirty
Channeled
Relaxed
Mindful
ALIGNED
FLOW
In the upcoming season, I desire to live with EASE, SIMPLICITY, PRESENCE, MINDFULNESS, and a GENTLE PACE.
In the upcoming season, I am creating – deep and transformational experiences for my clients,and myself.  I am invoking the Sacred and Magic of the ages.  I will also keep the small magic and simply sacred a priority. I am creating both art and writing.  I will listen to my body, I will scan her with mindfulness and listen and respond to her with love and care. I will let go of comparison and keep my eyes on my own journey.  I will continue apprecating.  I will walk, and be ground my self in the dirt and grass of the earith, and I will connect as often as I can with the cosmos and the heavens.  I will #letlovewin in both big and small moments.  I will meet inspiring people.  I will inspire people.  I will nap, and nap, and nap.
I will keep coaching with an open heart….I will be more "WE" and less "I".  I will allow an exquisite and bright and dog-friendly space/gathering space to find me…I will teach live "intuitive painting with an open heart" – classes.  I will minimize my foul language and mazimize laughter and hugs in daily life.
I will listen to my inner whisper…. to my heart…and I will HEAR her, and BELIEVE her, and TRUST her.