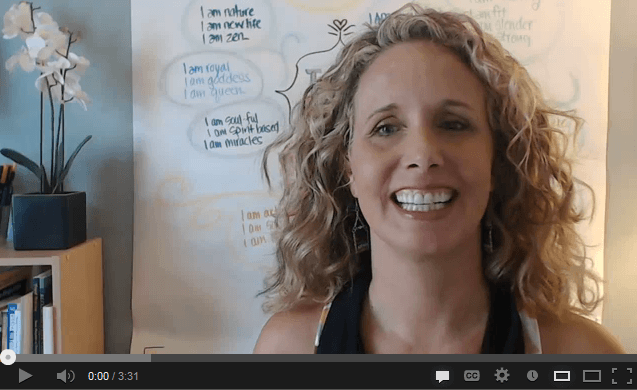 A quick little video inspired by a few coaching calls I had this week. I would love to hear your thoughts and if you are on a similar journey:
[youtube]http://youtu.be/L9eqjcWyUnM[/youtube]
One client asked me what were some of the tools that helped me along my journey to figure out who I really was, what I really wanted, and how I uncovered my authentic self after years of following the status quo flow of the world. Here is a list of things that come to my mind:
A Life Coach–

I have had a coach in my life and on my team since the third week of September 2003.  In the early days, they were business coaches  – but over the last few years, I have found myself attracted to more organic life, spiritual, and mindset coaches, and business coaches that work from an inside out model.  My coaches listen, they help me noodle around ideas, they ask great questions that help me think, they propose ideas, and see my blind spots, and best of all, they don't buy my excuses.  The hold the mirror up so that I can study and love the real me.

Supportive friends who are on a similar journey.

– Friendships – for many years they are born out of physical closeness.  Work friends, school friends, couple friends.  And while these can be fabulous relationships, I have found that the best friendships in my life were by choice.  We grew close and then chose to be deeper friends across time, distance, age, space and circumstance.  I have a few really close friends that are also on this journey, and they value the changes in me.  I asked the universe for friend who contributed to my energy and journey and who I could contribute to as well.  Of course the Universe said yes.  Nikki and Malia.  I love you.

Books

:  I love – love – love to read.  My go to book for this topic and one of the most influential books for me in this journey was by Dr. Wayne Dyer ~ Your Sacred Self – Making the Decision to Be Free.  It is my go-to book.  I have the paperback, I have it on kindle, and I have an audio book.  I didn't just read this book, I study it, I teach from it, I apply it.

Journaling:

  I've been journaling since I could write.  Diaries, paper journals, art journals and online journals.  Each are a way for me to let my mind and heart flow on to the paper.  When I let if flow…then something always comes out.  I write my journals for me and me shows up and I get to know her.  Keeping my thoughts locked in my head only confuses me and causes anxiety.
Listening to my body

.

  Somewhere between cervical cancer at 28 and a nasty hangover in my late 30s, I began to hear that my body had wisdom to share with me.  That if I would listen to her, slow down and feel her, she would give me the answers I needed, not only regarding my health, but also about relationships, about decisions, about my business.  I have practiced many different modalities of energy work, body work, muscle testing, tapping, meditation, yoga, and simply slowing down.  These practices always help me understand myself better physically, mentally, emotionally and spiritually.


I said NO to things that were sucking my soul

.  If it was toxic to my energy, to my spirit – I nixed it.  This meant leaving shitty work relationships, refusing physically demanding drawing gigs, distancing myself from energy sucking friends, and saying NO to anything that was merely and obligation instead of a hell yes of excitement.

I said YES to me

.  I gave my permission in all these things, to put me first.  To take care of me – not from a selfish place, but from a whole and healthy place.  In saying yes to me, I ended up giving my best to my husband, children, family and business.  Life works better when I say yes to me and gave my self permission to say NO to others.  The mantra "

I am above no one, I am beneath no one, I am independent of the good and bad opinions of others. I am courageous. I am love

. " helped me release the need for others to approve of or like me.
These are just a few of the things I have done on my journey.  I am STILL on my journey.  I write today, because I know many of you are on a similar journey.  Getting back to YOU.  Deciding to say no to others, and to say YES to yourself!  I support you.  I honor you.  I love you for choosing you!  I'd love to hear your thoughts, your struggles and your wins in this journey!