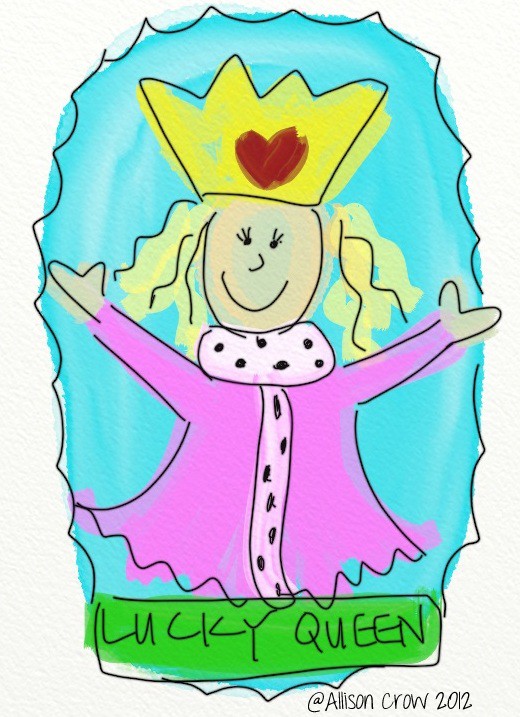 Good morning Lovelies…..or good afternoon, or day, or evening—what ever it is where ever you are.
I get so tickled that this 'inter-web' can connect us all.  It is like everyday magic to be able to play Draw Something with a friend in Australia or to be able to send a little doodle love to a friend via a text message. And how did I end up loving so many soul sisters from Canada and San Francisco?
For me being online has totally expanded the meaning of the law of attraction! And now I see that being online has been in my life in a zillion funny ways, so it is no surprise that I've taken my coaching practice and my creativity online.
Here are some of the ways the computer and internet have showed up in my story…and after that I'll give you some basic tips for getting lucky online.
When I was in 4th grade (1982) my Aunt Jo Ann, an IT Nursing professor,  gave our family a computer and told us these would be very important in the future.  I'm not sure, really what we did with it.  Played games? Wrote papers?
In 1994 I met a Colorado  in an AOL chat room–In 1995 when I moved to Boulder to play after college, I met him in person. Once we kissed in the rain and it was super sexy. I had a 100mhx computer I'd bought at Sears for college graduation- it was attached to the phone line and had caller ID- before any of the phone companies did.  One afternoon, when I was hanging out with a girlfriend…he dialed my number 32 times in 45 minutes and left no message.  I never kissed him again.
I meet all my husbands online.  Ok…I've only had 2 and I plan on keeping the current most awesome husband ever.  But I did meet them both online. And no, the first one wasn't crazy or an axe murderer.  We just weren't the fit we thought we were. I got another chance and I met my bohemian rockstar teacher husband and we are going on 6+ years now. Here we are at our wedding in the park.
I've met my mentors and muses online (not all of them, silly– I do have an IN REAL LIFE- life, too) and I've masterminded with the most amazing entrepreneurs from around the globe– all from my computer.  Thank goodness for the in-person retreats that always bring us together for a face to face meeting and hug!
I met my web designer Brian McDaniel on twitter.  It was his very first day and I promised him that some day I would hire him.  He has since done both Crow Hill Conversations and AllisonCrow.com.
And now- I get to play on line with you all. Shenanigans on Facebook and Twitter. Here on this blog.  Playing out loud and trusting the universe to bring folks who need a little color, who need a little inspiration, and who wanna live a more soul-full life! I declare myself the Lucky Queen!
I get to run a Soul-Full online coaching an creative practice –and teach others how to do the same! I get to inspire and share good vibes and love.  I'm building some coolio online coaching workbooks and teaching online classes.  Most of all, I just be ME Online.
How can you be more YOU online?
Here are a few ideas for you to GET LUCKY ONLINE:
get a website or blog up and running so you have a place to share! (start out with a free blogger blog or a wordpress and start writing from your heart every day
find people that interest you on facebook and twitter and connect, share, and  engage- ask questions
be consistent– so many people start and don't give it the time it takes to build a community
find others who are talking about what you like to talk about and learn from them

trust your gut, feel your heart, and follow your excitement

cross post your blog on your facebook and twitter
start gathering your tribe! Law of attraction will bring them to you. If you put out a good vibe- you will attract people who are interested in that vibe
offer something to them for FREE and you can build an email list so that you can communicate with them regularly (mailchimp is free for up to 500 people on your list and has easy tools)
did you hear me type-

communicate with them regularly

?

be your AUTHENTIC self

– this is so important and THE KEY to your success in ANY endeavor
use images- take cool photos with your phone of things that inspire you or resonate with your message.  People <3 visual
unplug every so often- yep disconnect, get your feet in the grass, connect with people IRL (In Real Life), stay away from the pixels for a good measure every day

believe you are lucky, and worthy, and able–because you are!
I KNOW you can be totally Lucky Online— I can't promise you true love, or that you will find your husband like I did.  But I can promise that if you get your inside thinking and personal mojo tuned up and feel like you've got something powerful to share with the world–and you show up and share & connect– over time you can build a joyful spot online!
Smooches, darlings!