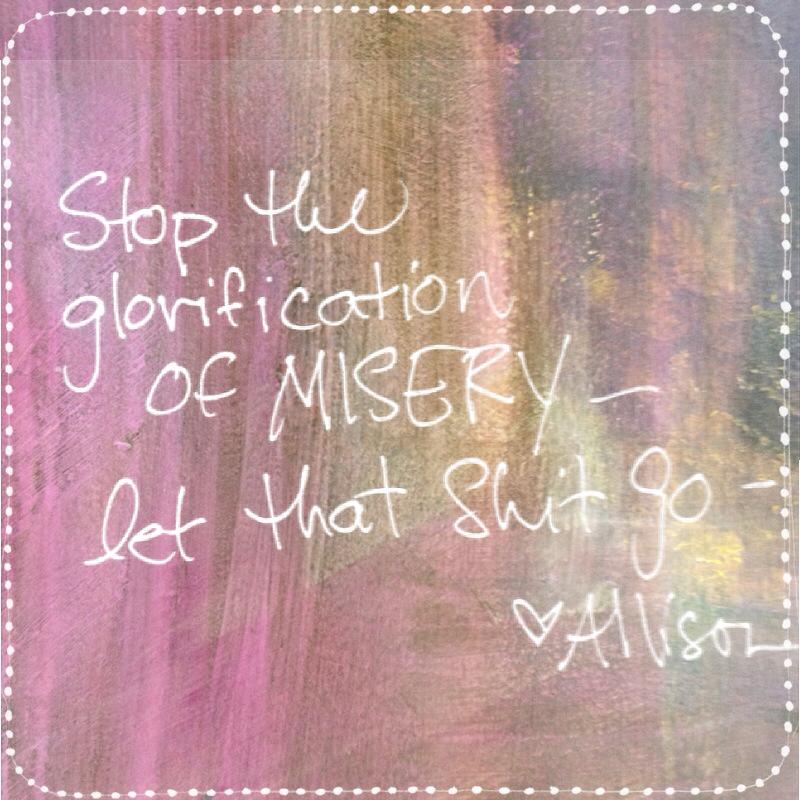 We humans are a pretty strange bunch.
Take for example the concept of happiness. We all just want to be happy, right? In fact, aside from the need for food and desire for sex, I'd venture to say that nearly every human being rates happiness as the most important trait they could claim. And many would be more than thrilled to set aside sex for a steady run of happiness!
So why are some of us so enamored with misery instead?
That's why we're a pretty weird group. We hunger for happiness yet we continue to claim and hang on to that nasty little drug called misery.
Here's the secret: if you wish to be happy, the glorification of misery in your life must stop. STOP IT!
The ongoing thought patterns and behaviors that bolster the glorification of misery must be eradicated.
Shoo, fly, shoo.
But to shoo it away aggressively, you have to identify what this whole "glorification" thing means. Why are you so adamant about enjoying misery in your world? Why do you hold it so close to your heart? Why do you let others add misery to your soul? Why, oh why?
Which brings us to a key point: the simple fact is that you are only going to have as much misery in your life as you allow to exist. I know that you're thinking "C'mon, Allison, that's easy for you to say. You have no idea how effed up my world is and the pain I'm going through."
Well, yes I do. I completely get it. I understand that horrible things happen to us all, including the deaths of loved ones, distressing divorces, financial ruin, and just plain shitty days. Those are miserable things and I don't want to sound harsh or uncaring, but they will continue to cause misery in your space only as long as you allow them to.
Circumstances do not create your misery.  Your thinking about circumstances does.  The thoughts create the anxiety, the sadness, the stress – all of it.  Think about that.  Slow down, really slow down and think about that.
Choose a thought that makes you a bit miserable.
Got it?  OK — now imagine that it is impossible to believe that thought?  As Byron Katie teaches… Who would you be with out that thought?
If you allow your circumstances to cause your misery you are treading in the land of victimhood.  You are the decider of your thinking- or you can be.  We have a saying in my house, "I'm the DECIDER!"   You have the choice to be the decider.   No one, no event, no circumstance has to decide for you.  So STOP the glorification of misery.
Sometimes we choose to stay miserable because of all the attention it gets us.  There is a word for that – MARTYR.
So…STOP IT… stop glorifying misery! Stop celebration and sapping with others in their misery.  You can be kind and compassionate but don't encourage someones misery – it isn't a loving gesture if you like them.
If you suspect that the glorification of misery remains part of your life, please understand that it does not have to be.
If you want to be happy, stop glorifying misery and choose new thoughts.  Let that shit go.
p.s. Practice.  It gets easier with practice.  I promise.