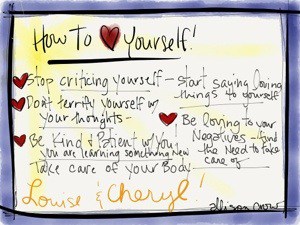 Last weekend I went to the Hay House I Can Do It: Ignite conference in NYC. Two full days  of conscious authors and speakers sharing their stories and messages with us.
On the plane home I thought, this is toooooo good not to share! What can I give you from my time at Hay House I can do it.? What light that I caught, can I turn around and share with you.
Over and over…I heard this theme:
LOVE YOURSELF!  BE YOURSELF. YOU ARE VALID
The world needs to hear this.  Each speaker, in their own way, and with each of their journeys had unique steps.  Each had a different language in sharing their story, but the message was:
LOVE YOU. BE YOU. YOU ARE VALID.
Here are a few ways you can practice loving yourself, and it is a practice…so allowing it to develop, practices, keep at it.. these are my doodles from a session with Louise Hay and Cheryl Richardson. They are my gift today for you!
Louise Hay's Ways to Love Yourself