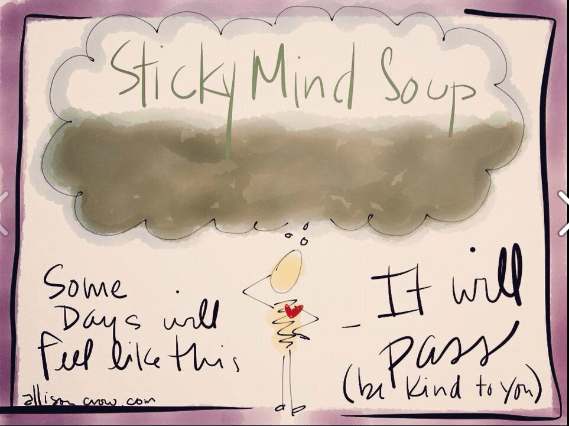 Have you ever had a time when you just checked out of most of your daily tasks due to a mental funk?
Have you ever had a time when your mojo fell quiet?
Have you ever had a time when the chaos of life pulled your out of your normal flow?
This has been me over the last few months, and I finally feel like I'm coming out from under the covers, coming out of hibernation, and the chaos has finally settled.
 3 tips to help you navigate the mental funks, loss of mojo, and the unexpected chaos of life.
Allow me to set the scene just a bit.  On purpose, I had chosen to pull back professionally in December and during the holidays. I was caught off guard around Thanksgiving when my flow just seemed to slow to a trickle. My normal creative ju-ju stopped flowing and I began to feel the call of hibernation and recovery (from a wild, fast, and FULL ride from April-Nov).
There were all kinds of SHOULDs facing me if I were to go into this healing hibernation –
I should email my tribe and let them know.
I should post something on my blog and facebook.
I should have a plan for when I will come back out into the world.
I should, should, should, should…
Well, just like I tell my clients, SHOULDING all over yourself rarely does any good, and so I didn't.
I just allowed my personal ebb to be mine. I loved what was, released resistance and allowed myself to be in this narrow space of dry hibernation.
On December 27th, I felt my colors comeback to life. I was inspired to create, and write, and plan ~ and I wrote the new doodle meditation course Meditation & Manifestation with Markers, a Journey to Meet Your Sacred Self.  Just as I began to launch this program out in to the world, notify my darling and amazing tribe and followers when…THE PUPPIES SHOWED UP!
Yes, we rescued and fostered 3 dumped-on-the-highway American Bulldog Puppies. Did I mention I already have 3 dogs? And one is an 80 lb boxer puppy?  Full on dog circus in my home for 18 days. Poops, peeps, shuffling 6 dog meals 2 times a day, searching for suitable foster homes, barking, playing, rain outside – and very little rest for me and anyone daring to stay in my home.
Here is a video of how things "moved" and the energy in my home for 18 days.
On Sunday, the last 2 puppies went home with their new parents and our house became calm and peaceful again. After sleeping till 10:00 Monday morning, I woke up feeling inspired and myself again. It was finally MY NEW YEARS DAY. All the hope and vision of 2013 before me, on January 13, 2013.
Thanks for bearing with the background, but it does set the stage. And maybe you can relate.
Reality is ~ life brings bouts with sticky mind soup & mental funks, the flu, and life turned topsy-turvey every now and then.
THE LESSONS & HOW TO RESPOND
Regarding The sticky mind soup and mental funk:

TRUST YOUR CYCLES
We are cyclical creatures.  Physically, spiritually, and mentally.  So often we resist those natural cycles, and when we do we disrupt our natural rhythms.  There is no guilt or shame in feeling a mental funk.  It happens– to everyone.  Resisting it can actually make it last longer.Tweet that!

What if you began to trust your cycles? Learn them, recognize them, and trust that you will always cycle back to where you need to be.
Regarding the loss of creative or productive mojo

:

ALLOW THE EBB AND FLOW



This tip also comes back to our natural cycles.  Life and mojo ebbs and flows.  Energy ebbs and flows. Creativity ebbs and flows.  And to demand a daily consistent flow of mojo, seems an impossible demand fraught with shame and the burden of perfection.  We are beautifully imperfect, and our energy and mojo will ebb and flow.  Mojo is a practice – it is not a performance.  Life is a practice. Not a performance. 

Ebb and flow feel tricky at first…. release resistance and go with it…both the ebb and flow. Allow, babe…everything will be ok. Tweet that!

As my dear sweet friend Kayla said yesterday when resisting a great mental, emotional and physical ebb – because she would be a bad mommy if she let go of her standards and let her body rest, "Today, I surrender. I receive."  She didn't have to throw out all her mommy standards.  Just a little allowing and letting go…receiving.  Graciously allowing herself to step into the ebb (that frankly, was already upon her)
Regarding the chaos of life pulling us away from daily life:

TRUST THAT LIFE HAPPENS FOR YOU, NOT TO YOU.



The Universe taught me 2 things in my puppy chaos – one that my heart is full with my family, my dogs, my life…I have all I need. And then… That 16 days is nothing. Sometimes we are pulled off our courses for another purpose– it feels strange to neglect our business and to just trust that what we have planted will sustain us while we put our attention elsewhere. If the universe asks…you can step away from your daily tasks, even your business, and everything will be ok.Tweet that.

Life happens for us darlings.  Even the mental funks, even the loss of mojo and the narrow places.  And when chaos comes upon your life, trust that the Universe has BIG BIG LOVE for you…and will carry you through.
Do you resist the difficult times? Do you demand an impossible perfection and constant performance of yourself? What if you were to surrender – not give up or in, but to just allow ~ to love and trust what is?  You will not be overcome. The Universe has BIG LOVE for you…it made you to deal with these cycles, these ebbs & the flow, and it will support you even in the chaos.