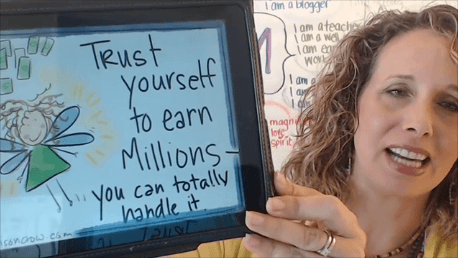 Money has been the theme for the last few weeks.  I KNOW….many of you are oobed out and bothered by talking about money.  And even MORE of you (and me) are oobed out by MAKING money.
  We have got to get over it!
As a teacher on money energy, abundance, and prosperity, even I, hit abundance blocks. We all do.
I was once in a group abundance session with a talented and wise coach.  In my notes, I had written down, "It's NOT about the MONEY." and she courageously suggested to me that it WAS about the money….and to allow myself to release the guilt around earning amazing cash. My programming had me thinking because I was altruistic and soul-full I should dismiss the desire and need to earn money.  NOOOOOOO!
Spiritual, giving, altruistic folks ~ we have got to STOP living in a scarcity mindset.
When we do, we pass that on to our clients. Take a stand with me and let abundance in!
That was in 2010.  Today, my money lessons still come almost every week!
In this video I am sharing my private lessons learned about money.  Why am I taking my private money life public? Because I'm tired of money being a shameful or taboo topic and as I release my money blocks, I want to help you do the same.
Take a look at this short video and let me know your thoughts!

I'd love to hear your thoughts in the comments below, or for an even more dynamic conversation, join me on my Facebook Page!