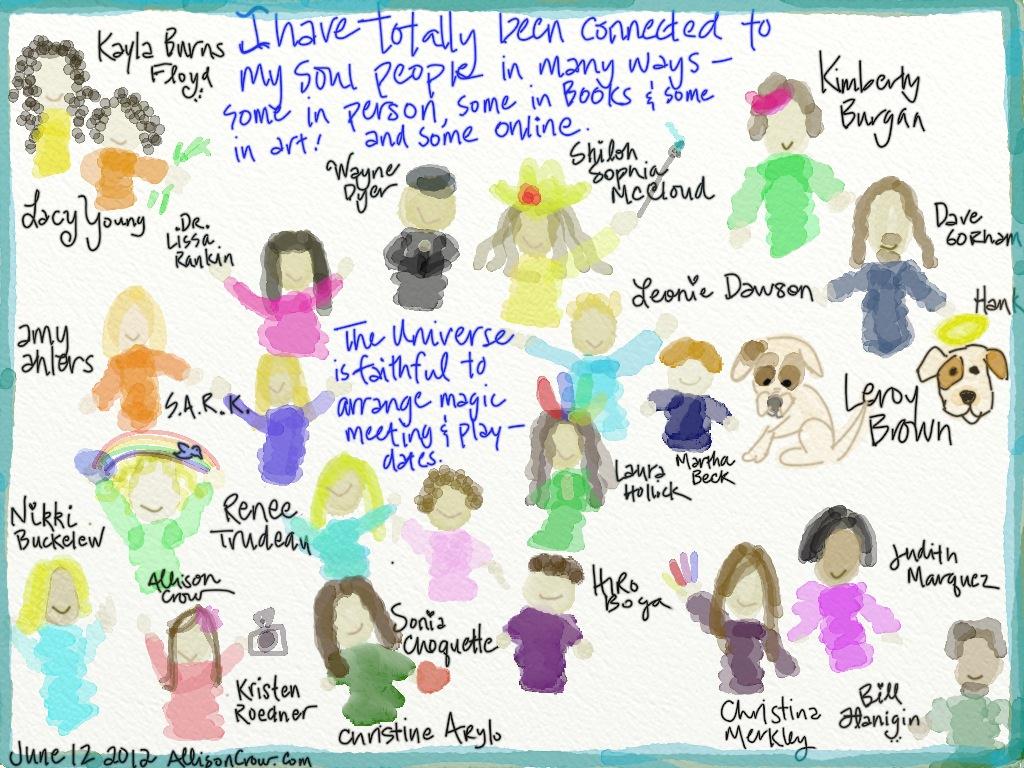 I doodle.  I draw.  I think. I dream. I plan. I play. I appreciate. I doodle more.
This summer my theme is e x p a n s i o n and I was doodling about the places and people I'd like to dance with in this Universe some how some way.
In thinking about who I wanted to play with, I couldn't help but think of who I already had in my playground!
Part one will be about the people who are already here,and tomorrow I will do part 2 about the ones I'm intending on dancing with in some personal way soon!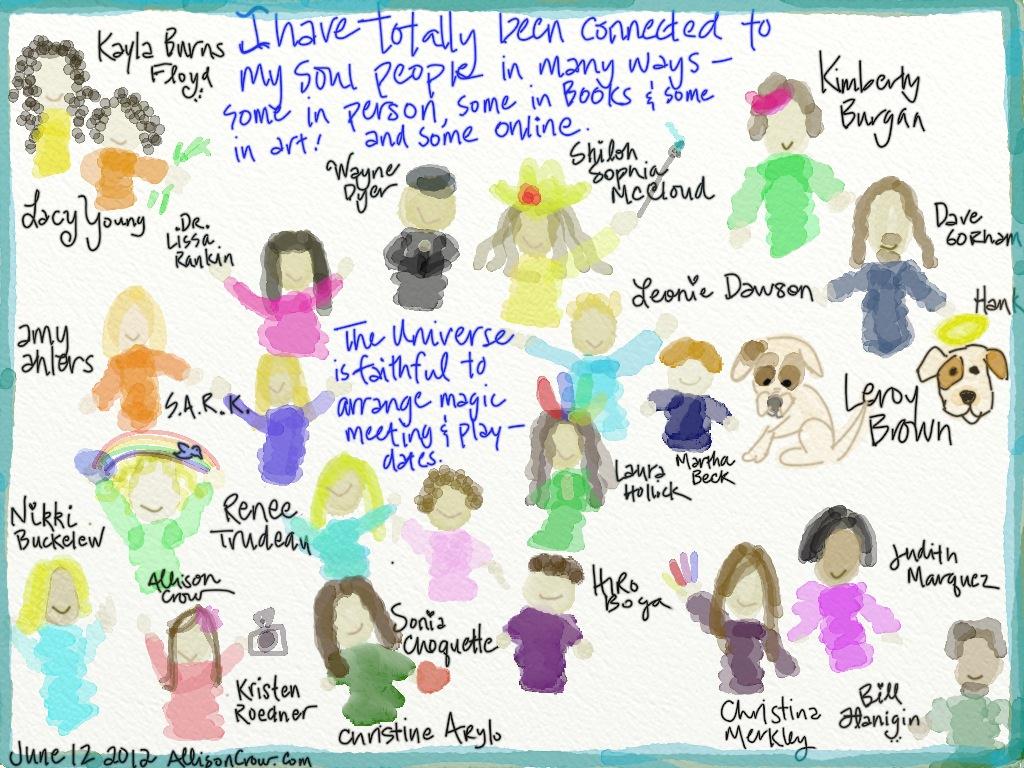 Niki Buckelew: Nikki was my coach and she fired me because she wanted to be friends.  We both worked at a company that poo poo'd being friends with your clients.  Eventually we both left that company and now we both make friends and cross lines with clients all the time! That makes me giggle.  She is my sister-my girlfriend-my lake friend- a travel buddy- a colleague- a teacher- a student- my coach- my client- drinking partner – shopping sister – and faithful companion.  I can not say enough personally about here and our journey together in this life.   Professionally, she is a bad ass coach! She has a heart for REALTORS and for Seniors and personal growth.  She combines all those in her businesses:  NikkiandChris.com,  http://successinseniorsrealestate.com/, and www.srei.us.
Kristen Roedner:  This is the fabulous eye behind my fun hippie photos and the rainbow!  She drives a pink jeep with wings in the spirit of flying pigs–because she BELIEVES that much!  I don't know her THAT well, but I'm so drawn to her magic.  She is truly a free spirit and I can't wait to paint and create with her next week.
Christina Merkley:  Christina introduced me to the world of Visual Thinking and taking her Fundamentals of Interactive Graphics class helped me get the skills and confidence to draw in front of thousands — and charge big bucks to do it.  She is the PIONEER of Visual Coaching! She has also been an influential coach in my Law of Attraction journey and in helping me release some shit around bully women bosses in my life.  I like to think that if she and I lived in the same town, we'd hang out.  Lots.
Judith Manriquez (yes I misspelled her name on my doode) is a local Intuitive Business Coach and I met her through a mutual friend.  Upon meeting her, I could FEEL HER VIBES and she could FEEL mine! So glad to have other intuitive in my circle–and local! Look for us to collaborate soon.  She will definitely be a featured speaker on one of my Free Tele-Seminars this summer.
Bill Flanigin is my hot bohemian husband.  He's a 6th grade Language Arts teacher and he has been teaching for almost 25 years.  He'll retire soon and I'm hoping he will unleash his writing on the world because he is funny.  He also coaches dudes who are recently divorced on how to get back in the game.  He does not have a web page because he wants to keep his j.o.b at LISD…..
Hank the American Bulldog was my beloved SOUL-DOG for 12 years.  He passed away from cancer and the treatment in February and my heart ripped open.  The deepest grief I've known and that allowed for deep healing.  Before he passed, I asked him to please come back with out the fear (he was dog aggressive, and terrified of thunder, beetles, cats, and the remote control).
Hank brought me Leroy Brown.  I'll tell his story in another post. Rescue dogs really are the best.
Dave Gorham has been my coach for the last year.  He is an effing great coach and breaks the rules like I do.  He gets deep in my soul and in my mind.  I'm watching him transform, too.  He lost his mom the same weekend I lost Hank.  We have a special bond there. If you click on his webpage, please tell him to loose that corporate photo because IT IS NOT HIM! IT IS AN IMPOSTER!  Just like me, he's been running with the big corporate real estate people and while he has shed that suit in person and can be found in yoga pants or meditating….Someday he and I will both throw our corporate suits in a fire together as a celebration ceremony.  Imagine the Male version of me…..his wesbsite will catch up some day. He is bad ass.
Kayla Floyd; the universe delivered Kayla to me with a red bow. She asked me, a year ago, if she could be my intern.  I said yes.  She is a brilliant coach, a sunshiney friend, a talented writer, a master of self-care and self-love and sometime this month she will welcome her baby girl into the world. Watch our world…keep this gal on your radar.  FOR SURE.
Lacy Young:  Lacy is Kayla's older sister and my mindful and compassionate health coach.  Yes, she is mindful and compassionate AND she coaches me on my Spiritual Foods as well as my Food Food with the compassion and mindfulness my spirit and body needs.  She is also a client and friend.  Someday I hope she moves here to Austin. I posed nekked in her  Campaign For Confidence as a way of honoring and LOVING my body.
Lissa Rankin: I met Lissa in person last week–so she gets to be on this page! I took the Visionary Ignition Switch class with Lissa and Amy this spring and from the moment she spoke I heard my inner whisper say "Learn from her– listen–grow."  I listened and when Lissa offered her mentoring program, I jumped on it fast. In just the month that I've been working I've already made huge progress toward my outer goals…but the most sacred gift was allowing Lissa to hold the space for ME in a meditation the morning we met face to face.  She is a MD, but that morning she helped heal me.  She is a coach and allowed me to be the client.  She showered me with light and love.   As a coach, it is SOOO good to have amazing coaches and I am excited about the next season with Lissa. She started Owning Pink and is publishing another book through Hay House called Mind Over Medicine: Scientific Proof You Can Heal Yourself.
I could have done a long ass post on each of these peaches…. and for today– I'll just keep it to this bit.
I stand in awe and appreciation of each of these people. I love them.
Ask the Universe for what you need….it will deliver in beautiful and serendipitous ways!
Who is in YOUR Playground-o-Fabulous-Life-Friends?
Wanna get my free at home coaching kit? Click here to join my community and receive these goodies!