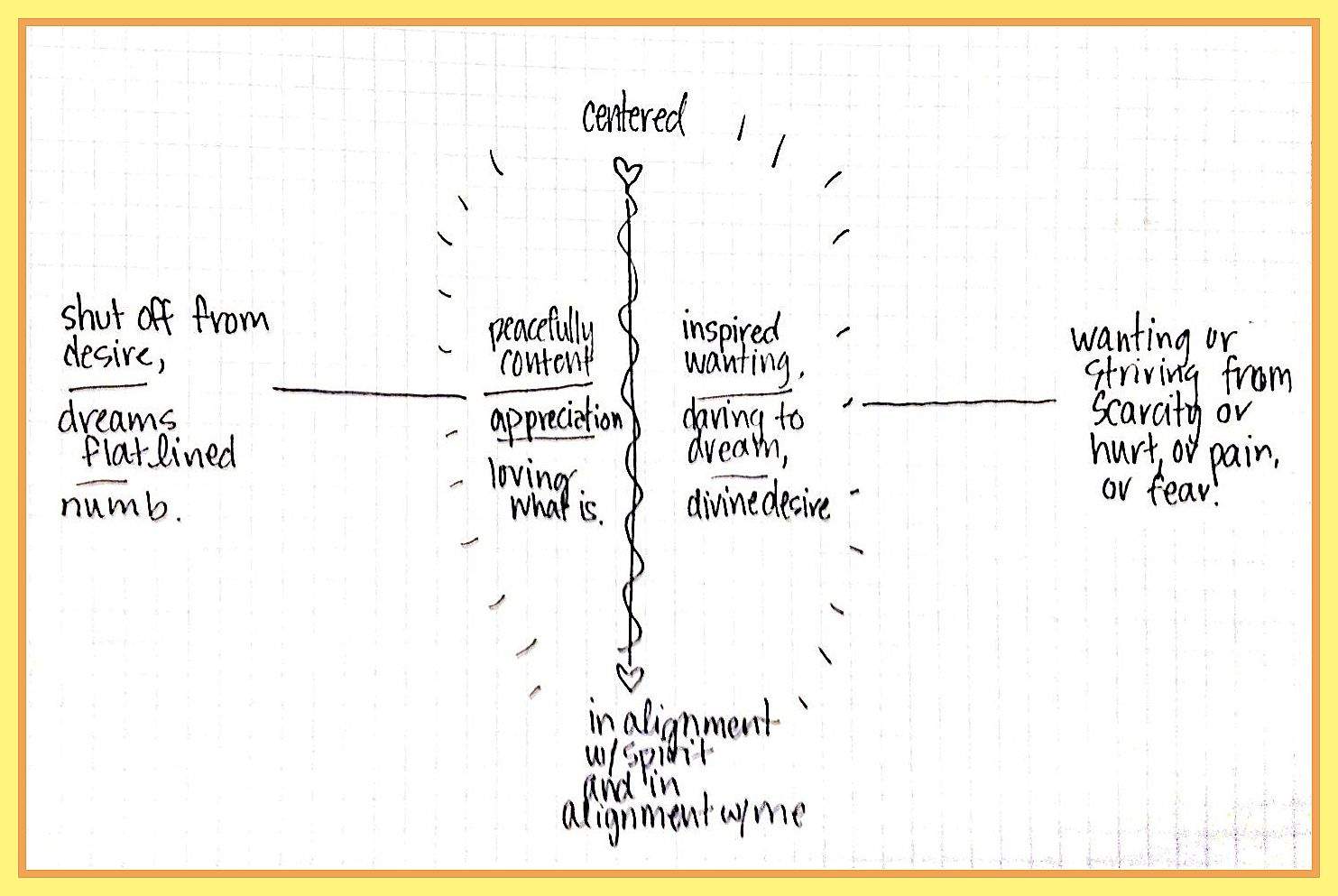 Part 4 of a 4 part post.
Part 1: Have Your Dreams Flat-lined and a Double Dog Dare (includes a link to a PDF of this exercise if you want to play along)
Part 2: My 1st 30 goals and Why I'm Freaking Out About Sharing Them With You
Part 3: Part 2 of Making the List of 100 Dreams
Daring to dream – there is a fine line between inspired desire and wanting from a place of dissatisfaction.
Loving and appreciating what is – there is a fine line between divine contentment and allowing your dreams to flat-line out of fear.
To think through my experience over the past week of waking up my dreams again, I had to draw a little chart for myself.  This wasn't an either or situation.  I did not want to give up my contentment and peaceful satisfaction for what is. At the same time, I could not give my my desire for more.
This exercise has been interesting for me – both grounding me in this physical life, and expanding my spirit.  We are spiritual beings living a physical life and both matter.
And so, everything comes back to alignment – as it always seems to.  I chuckle and say to myself, but of course.
This whole process started when I felt my contentment shift into numbness.  My dreams had flat-lined.  When we pay attention to our energy, to our Inner Whisper, we can gently feel or hear that we have drifted out of alignment with our highest and centered self.  The pain we feel, the numbness, and shadow emotion can be a signal that are out of alignment. Tension in our bodies, tight muscles, anxiety in the chest – and emptiness that can't be satiated.
Alignment feels different.  It does actually feel divine.  It feels light, passionate, peaceful, loving and content.
I'm thank for for the signals of being out of alignment.  They are the guideposts to get back to center.  In this exercise, just being aware of where I was, just noticing, brought me to a deeper awareness of what it would take to get back in.  Just like when you are taking a road trip – knowing where you are helps you determine the route to get to your destination.  I knew I wanted to FEEL LIGHT and INSPIRED again.
I was on the far left of my little chart – with flat lined dreams. My contentment had shifted.  Making the list of 100 dreams was the road back to center this time.  Other times, I have been on the other end of the chart too – anxiously wanting and needing from a place of scarcity and fear.  For me this shows up as unnecessary shopping and spending to satisfy. When I am there, no shopping can bring me back in to alignment. It is only the awareness of how I feel, and listening to my Inner Whisper about reconnecting with her.
Get in alignment and then…. Abraham Hicks says.  And I believe it.  When I am in alignment with Source, everything works.  Relationships are smooth, business is good, my creativity is inspired, and I am a vessel of Source, increasing the volume of love in the world.
It would be nice if being in alignment were as easy as flipping a switch.  It is not a static state, but one that is always changing. It's like keeping a small fire lit within.  Just enough fuel to keep it warm and light – too much and the fire burns out of control.  To little, the fire dies and we are left with ashes.  I am charged with continually tending to the flame in my heart and spirit.  You are too.
We have both been given the gifts of awareness.  Tap in, listen, and feel.  You will find where you are – and if you are out of alignment, listen to the whisper that nudges you back to center.
My coach, Lissa Rankin, has a cool site called INNER PILOT LIGHT – The Daily Flame.  She sends daily messages from Your Inner Pilot Light (same as the Inner Whisper) that will inspire, gently nudge you, and support you in staying aligned with Source.  I encourage you to hop on that list.
I appreciate you following along with me in this past week's journey of reviving my dreams.  I hope that your flame inside has been fanned, that your heart has been inspired and that your dreams are alive and beating in your heart!
I'd love to hear what this journey did in YOUR heart.  Please share or comment below!  I love you and appreciate you!
& if you liked this post, please share it with the tools below this post!
Wanna get my free at home coaching kit? Click here to join my community and receive these goodies!