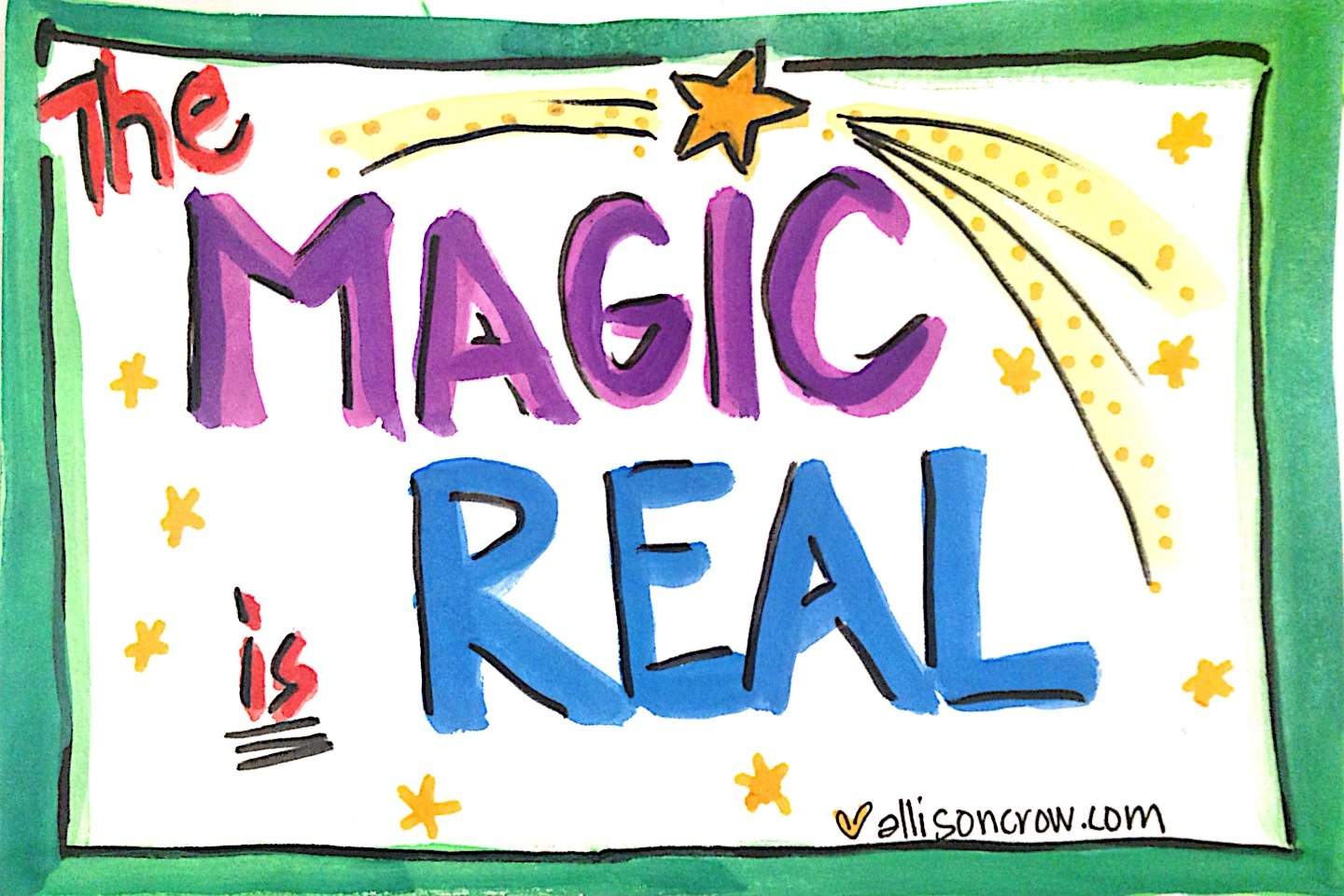 Hey Love — yes you reading this – You are love. 
I see the Love particles in you.  Why? Because I am a magician.
Now that we have that established….love particles and all….
I'm just about to pop off-line for the weekend and play – My girlfriend Maggie and her Hottie Hubby are coming in town!  I know there will be so much belly laughter, probably some wine and beer, and lots of outdoor fun!
Before I go, I wanted to pop you over some Magic Love. I want to give you permission to believe in THIS MAGIC LIFE.
I want to live in a world where more and more people believe in the magic that is completely real! I want to live in a world where it is normal to see the particles of energy and the reality of the quantum field!
I want us all to remember _ In. Each.  Moment.  That the Universe is FOR US, and will never ever ever turn our back on us.
I'm so tired of the news, and the fear energy that is so easily passed around by not only the media, but by ALL of us.  I'm so tired of the FEAR choices being the seemingly EASY choices.  It totally depresses me when people see them selves as victims of circumstance, genes, family, money blahb ablhablhalbhahblhabhb blahSHIT!
I want you to have the complete freaking JOY of BELIEVING in the MAGIC.   Deep in our hearts, we all want to know and believe that the magic is real.  We need for it to be.  And, my darling, it IS REAL.  Your higher self knows this. Source within is waiting for you to realize that truth!  YOU are waiting for YOU to believe in the magic of life.
THIS LIFE IS MAGIC. 
If you are already seeing it, Hip Hip Hooray! Spread the message.
If you are doubting, I get it.  I feel you.  We all doubt and we all lose hope at times.  And as soon as you gently and compassionately shift your gaze to the good in life, to the every day enchantments….you will begin to feel the shadow lift and the sun rise.
And when you continue to practice it….you will soon find your self declaring,"Holy SMOKES! I'm an effing magician!!!"
And there is the beauty of this whole little love note.
Not only is this LIFE magic, but darling YOU are magic. You are power-FULL.
Now go notice the magic that is there.  Believe in it. Share it…and then BE it!
With all my love!
Ps….. share this post, share in the comments with me the magic YOU see? I double dog DARE you to declare that YOU TOOOOOO are a MAGICIAN!