Meditation & Manifestation w Markers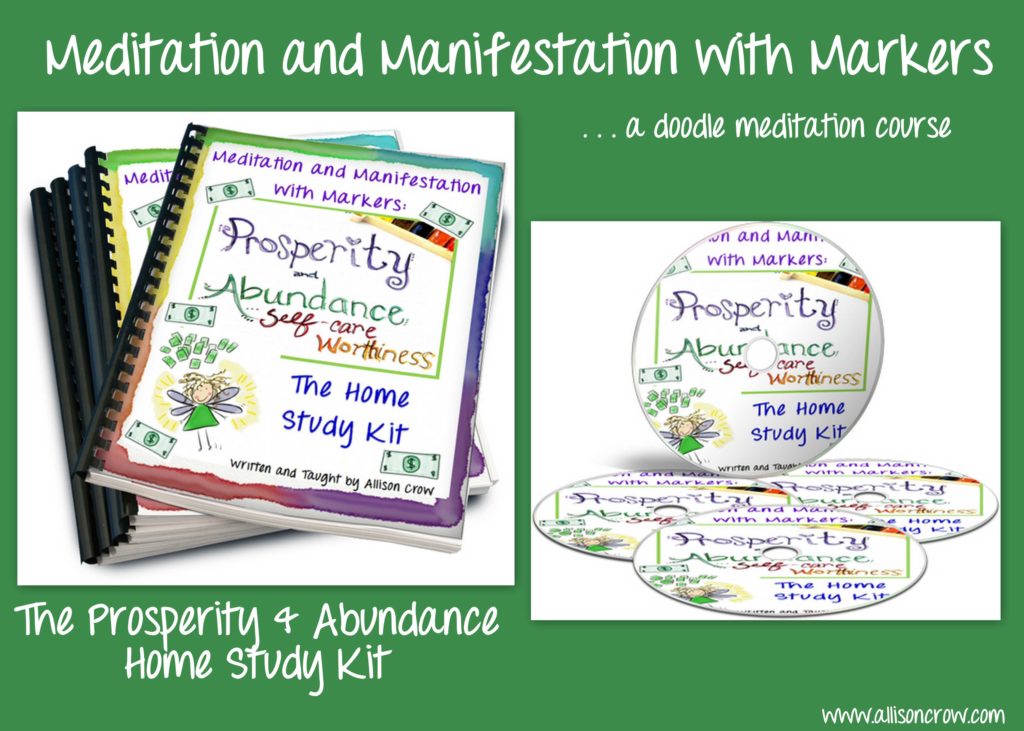 A playful, creative, yet effective way to raise your abundance and money vibes. 

Attract and open the flows of
Abundance and Prosperity in your life!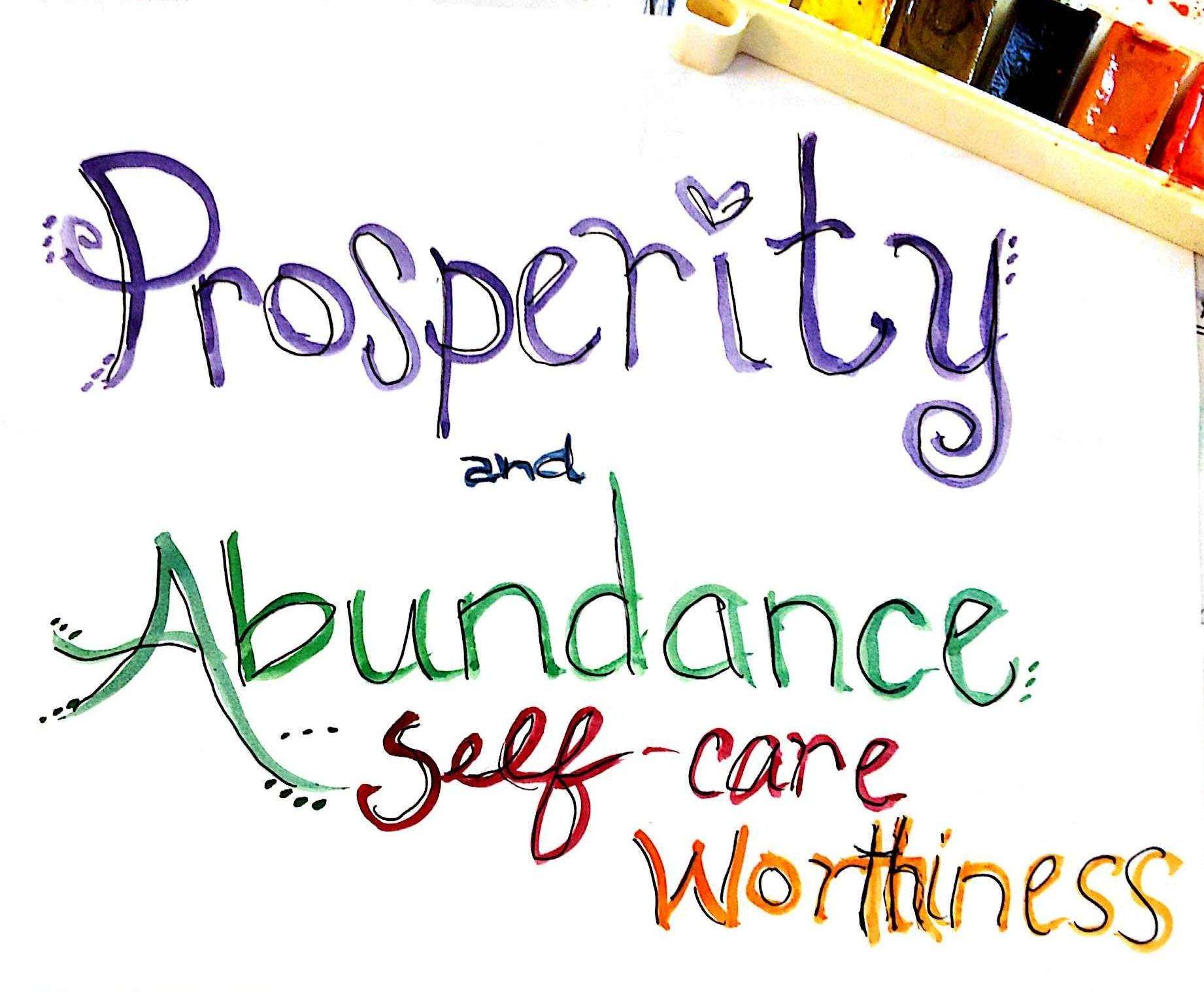 Shift your money energy!
Please note: This is a digital product – no hard copy materials will be delivered.  The Home Study Kit consists of video, audio, and pdf files. After you purchase you will receive immediate access via email to the Home Study Kit Page for this course.
This is an 8 session creative expression and magic manifestation course led by intuitive life and business coach and spiritual teacher Allison Crow.
Grab a sketch pad, your journal, and your favorite markers and get ready to doodle meditate!

Prosperity     Learning     Journaling     Creativity
In this 8 Session week online  and self-paced doodle meditation course you can:
Learn some of the powerful and universal laws of money energy- so that you can have more money available to you!
YES! If you practice the teachings in this class regularly and you implement them into your life, I can GUARANTEE that you will see more money come into your life.
Open yourself up to receive, attract, and earn more money in your life and work
Re-frame old patterns of thinking so that you will stop making the same mistakes
Feel more connected to Divine Energy and flows of abundance – feel more like everything WORKS for you instead of against you.
Eliminate the scarcity, poverty, and victim mentalities that keep you emotionally and financially BROKE
Gain more self-acceptance and self-compassion
Unplug and disconnect from negative thoughts and patterns that are holding you back from success
Clarify your intentions through creative expression—aka marker meditation
Let go of the crappy inner critic and learn to like yourself– when you like yourself, simply put, life is just more fun
Unleash your inner creator – from doodling to deliberate creation and manifestation

Sessions in Meditation & Manifestation with Markers: Abundance and Prosperity
Session 1: Course overview, introduction & doodle tips

Session 2: Scarcity v. abundance and the vibe of appreciation

Session 3: YOU are ENOUGH – self-care

Session 4: Leaning into the challenges of life


Session 5: Prosperity in love

Session 6: Abundance from work & finding work that fills your heart & bank account

Session 7: Magic of money -releasing old money b.s. and receiving prosperity in life

Session 8: Abundance in energy & time
Get immediate access now
for only $97.00 ~
FAQs about Meditating and Manifesting with Markers
I know…it is totally different! (You need something different don't you)? What the heck is a Meditation Manifestation Marker class anyway?
Well. Let me help you out by answering a few questions:
First, …these are all examples of doodle meditations…..Don't you love VISUALS!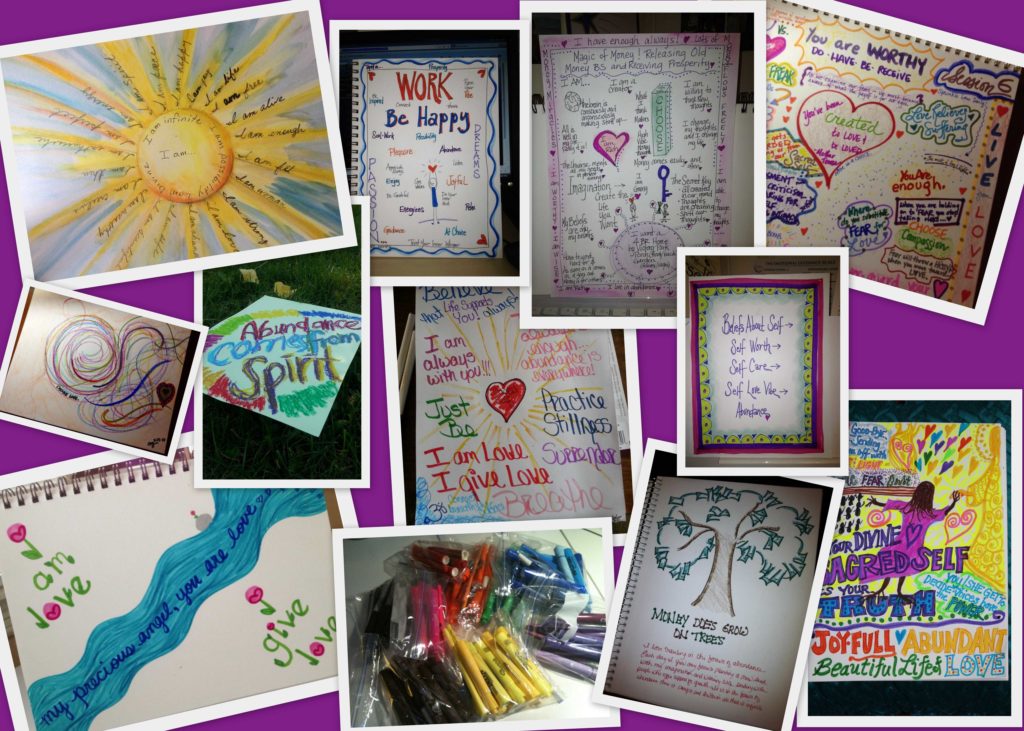 Why Markers: Darlings, 86 percent of us learn visually. When you take info from your heart and mind…and you let it come out through the tip of a pen onto a piece of paper—You make amazing shit happen! You are a powerful creator and this ONE step–we often pretend we are too busy to do! Doodling causes your whole being to focus! And because it is COLORFUL and FUN!
Do I need to be an artist? Nope (even though I GUARANTEE you actually are one)… It is totally up to you how you participate in this class, and they way you take notes and journal. Of course, I recommend that you DO give the markers a go! There will be lovely fun content delivered visually and via audio —and you have the opportunity to take notes, journal and create while listening to the audio – or later in the week. Here's a bit of a sneak peak from the welcome to the class email:
Be sure to get yourself a juicy BIG blank journal…maybe something that will fit 8.5x 11 print outs that you will get from the class. At times you will be taking notes, at times you will have templates to work with if you want…and, of course, taking charge of a blank page is always PURE CREATION and MAGIC! Office Depot and Office Max have great large spiral bound blank books….but use whatever feels PERFECT FOR YOU.
…and indulge yourself in a fun new set of markers, colored pencils, watercolors, crayons…..PROMISE ME—something COLORFUL!
I've never meditated before. Is this gonna be all chanty and quiet and still? Nope. I'm not real good at the STILL meditation either. Meditation is really about mindfulness. This class is going to support you, each session to spend some time being mindful about abundance and prosperity in your life—by drawing or journaling or just taking notes. You will learn to focus your attention for brief periods of time…by just coloring!
What will I manifest and what does that mean? Well, to me, manifestation means watching creation coming to life. At one time, everything EVERYTHING around you was just an idea. In this class, we will focus on the ideas you want to turn into your reality! A new job? More Money? A sexy new lover? More clients? Peaceful feelings? Better relationships? What would make you ABUNDANT and PROSPEROUS? I want to teach you some steps to begin manifesting those things in your life…by using MARKERS (journaling and doodling).
How will this class help me? A few ways.
One, you will learn a free form doodling technique I use to focus my thoughts, calm my nerves, get out of depression, and create and launch the visions I have for my life! (This method was the #1 way I envisioned and created my life as an entrepreneur—everything I doodled that day long ago has come true!) And I still use this method to set intentions, clarify my vision, and launch my desires!
Second, I chose some POWERFUL prosperity and abundance content to weave throughout the course. All of my clients are on a journey of self-discovery and we all deal with issues around abundance, self-worth, and prosperity and I KNOW this content helps us create the future we DO want, especially when combined meditations and doodling!