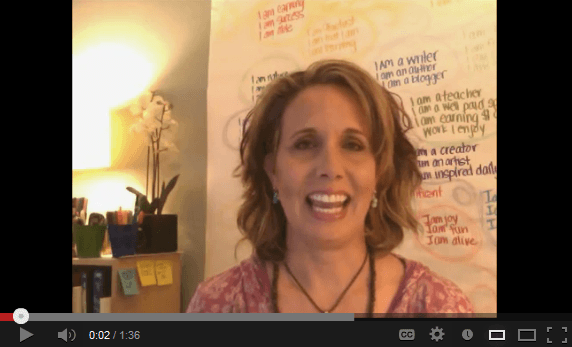 Hey Loves,
As a a business owner I'm closing out 2012 – I know you are too.  I've been feeling a little stuck with my vision for 2013 for the last 2 months, but today, something shifted.  Wahoooooooeeee! Finally (I've been feeling sticky mind soup for the last month around visioning and biz stuff).
I attribute this shift in energy to these two things:
Today is Winter Solstice and stale energy has moved out and new energy is moving in.
Feeling the new energy, I was compelled to begin some homework that I have for my new coach~ And, it is not even due until February~since when do I do anything this far in advance?.
As I worked through this homework I began to SEE my business and get clear on a few things and I wanted to pass on this ONE tip-action step that you can do as your year ends and I promise you will feel totally org-a-NIZED.  When you  are organized as we go into time off, you can enjoy that time off with ease!
Watch the video to find out the one thing I did to feel the MOST organized as 2012 comes to a close:
[youtube]http://youtu.be/Ssu0pXBMVqA[/youtube]
Just seeing this list gives me a COMPLETELY CLEAR VIEW of my business! I can see what is stale, what works, and I'm beginning to get a little more clarity around what my intentions for the new year are!
So, before the year ends and you jump into 2013, take complete stock, list everything you have, do and offer, and everywhere you are online/social all in one place.
It will help you see the clutter and clear it, and we all know that clearing clutter makes way for new things!  Tweet that!
What end of year rituals do you practice? I'd love for you to share over on my facebook page!
Congrats, dear, on all the hard work you do~ no matter the job you have, the work you do, I KNOW you work hard!  Remember that you are enough!  Enjoy clearing your clutter and making way for the new in 2013~
& if you liked this post, please share it with the tools below this post!
Wanna get my free at home coaching kit? Click here to join my community and receive these goodies!