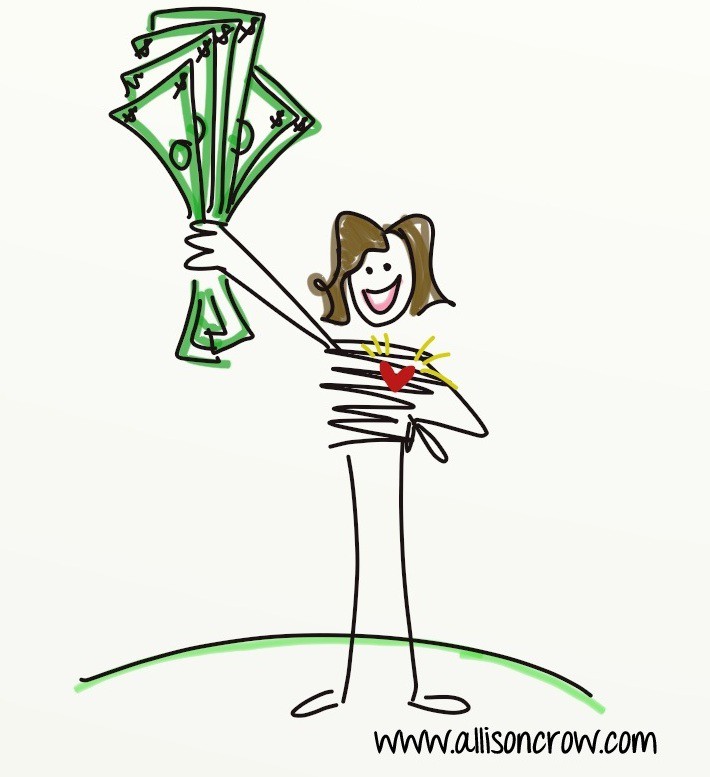 Oh my gaa-wd, I'm gonna talk about money.  Yep that taboo — I'm gonna spill the beans about the money part of my journey to living my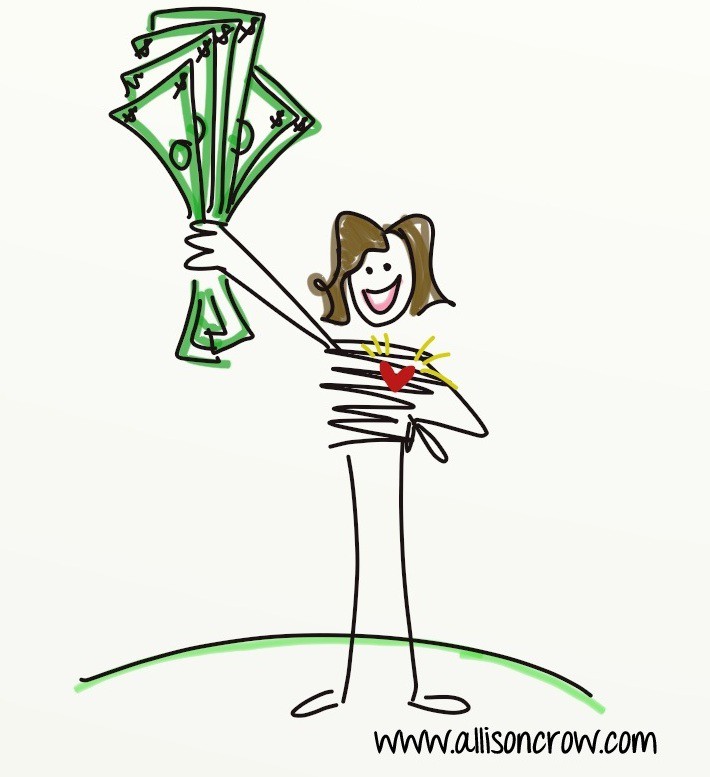 Soul-Work.  I often hear stories people make up in their minds about why they CAN'T move forward in their businesses.   I trust that each of you know your financial situation and I also encourage you to KNOW yourself a little more.  So often we just think of the one or two main stream ways of making things happen and then we give up.
If you aren't ready to give up, and feel a bit stuck, I'm sharing my story in hopes of spurring on some new ideas, and to put some fire in your soul about making it happen.
My Story-$$
A year ago, I was still doing business as Crow Hill Conversations – the first incarnation of my coaching and visual facilitation company.  I'd bridged my transition  to complete entrepreneurship with an independent contractor agreement to coach for a large corporate real estate firm.  That bridge (for more on building bridges that lead to an entrepreneurial leap check out this post by Arianna Pritchett) certainly helped me financially in my conversion, but it wasn't my only support.  I often have people ask me HOW the heck I was able to make the financial leap – and stay in an abundant mindset.
I KNOW starting and growing a coaching company isn't cheap.  It takes a while to build your programs and offerings, and most importantly your list.   In my mind, it was something I HAD to do…I was born for this, and money – or lack of, was not going to keep me from living in my dreams – or working for "the man."
So, here are just some of the things I did to MAKE IT HAPPEN ~ Maybe one or two of them will spark something in YOU and fire up your mo-jo and re-ignite your dream.
First a little background:  I am married…I was NEWLY married when I first quit my $$$$ job. It devastated my husband. While I am a risk taker, he is not.  He has been a teacher for 27 years and has had a consistent pay check for those 27 years.  He came from a military family who also had regular income.  I was his first exposure to self-employment and to the up and down income that can provide (especially in the early years).  I also was a spender and in debt.   Bill has no debt, and is incredibly wise with money, very frugal, and managed to be a single dad on his teacher salary.  He lived within his means.  I did not. When we got together, I drug him into my lifestyle.  Even though he was nervous, he trusted me to meet my financial responsibilities for our family without putting it on credit.
Our journey together matters in this story because
I get that decisions in your business affect others if you are married or partnered, or pay child support.
If you are single, and intend on being partnered some day, your financial decisions can deeply impact that relationship.
Bill's influence on me was painful at the time.  He never MADE me do anything, but I also had to find a way to BE me and still respect our life together even though we had different ways of seeing money.
Thank you Bill, for trusting in me when I financially scared the be-jesus out of you. Thank you for becoming my biggest fan and a believer and supporter of my dream.
So here are some of the things I did to reduce my spending and increase my income to support my new business:
I sold my fancy car – no sense in paying an expensive car payment when I could have a much smaller one or none.  The day I quit, I sold my car and we became a 1 car family for a while.  It was an adjustment, but we made it work.
I combed my closet and gathered all my designer jeans and name brand purses and sold them on ebay (this was actually a pretty decent load of cash).
I cleared all the clutter out of our house – consigned what we could and donated the rest.  Clearing clutter energetically makes way for new funds to flow IN.
I sold my beloved central Austin home (we'd intended on moving back there after our kids graduated) – I sold it below market  value and sobbed through the whole transaction but the equity in that asset paid off my debt so that anything I earned was kept instead of paying of debt.  This was a huge dream sacrificed…and an extreme I was willing to go… to make my soul-work happen.
I scanned my credit card for those pesky $6.95 – $39.95 a month membership charges – and cancelled almost all of them.
I immediately secured a few clients to start bringing in income.  There was no time to "get ready to get ready."  I put out a few offerings and I began taking clients.
I also leveraged GROUP work.  Group work allowed me to charge and serve clients all in the same time slot vs trading dollars for hours.
I chose to stay in good ju-ju – I chose a great attitude.  Yes, there were days when I was scared shitless and depressed.  I allowed those days and felt them.  If I resisted they persisted, but if I leaned in an tapped in to the deeper issues, the flow always came back.
We stopped all eating out and nixed our entertainment budget for a while.
I started making coffee at home.
I started coloring my hair at home.
We did put our house on the market and started looking to purchase in lower price range.  My intuition told me we'd stay where we were and that the money would come sooner rather than later. We had the house on the market a few months and never got an offer (thank you universe).  I think being willing to lower my spending on STUFF and MATERIAL comforts supported my energy.
I did spend money on coaching and learning online business development.  Yep.  This is what I put on credit.  All other spending could stop but I had to have the inner work and outer work support from the get go for this to work.  To date, my personal education and development is the BIGGEST expense in my business.
I bartered for everything I could.  If I had time, then I had a service to offer.  I traded coaching for dog training, for admin help, for web work.
I got a life insurance policy that would cover my business expenses if something happened to me (security for my husband).  I knew that I would have to create some deficit to start this business and I didn't want it to stress Bill out.  My business still carries some debt and that 33$ a month policy allows my husband to sleep at night.
No more 11$ glasses of wine.
I did odd jobs and art for money.  Yes, I even babysat again, and I did tons of custom commissioned art.  I took the skills I had and I used them to earn cash when I could.  I wasn't to proud to start building.  It wasn't my soul-work, but those odd jobs, funded the soul-work.
I kept my coaching prices commiserate with my talent.  It was tempting at the beginning to lower my prices just to get clients, but I'd been charging 500/hr as a corporate coach and I kept my prices there. The cool part was, now I didn't have to pay 60% to the company. I used to have to carry a roster of 47 clients – now I limit it to 15.
If I spent money, I spent it on my business.  My biggest and most profitable expenses were coaching, and my websites (both by Brian McDaniel of BKmacdaddy.com
We used (and still do) coupons at the grocery store.
I let my friends buy lunch- for years I'd been the one who said, "I'll get it." I allowed myself to receive.
I constantly reminded that Spirit takes care of the birds, of the wild animals… there is always enough for them, and always enough for me.

*****

I mastered my

ABUNDANCE mindset

– the most important thing I did was listen to my inner whisper and open my heart and mind to abundance.  There was NO room for scarcity thinking.  I spoke in abundance and took action to create it. And I maintain a daily appreciation practice.
During that season of shift, I took some pretty extreme measures to make my new business launch happen.  What I knew, and want you to know, is that it was only for a season.  I tightened the belt, and dealt with the discomfort to start building the foundation of my business.  And then I got to work.
That season actually only lasted about 4 months and because of my passion, my joy in the process, and my hustle.  I did the work, both in my heart, and in concrete outer ways.  I used the Law of Attraction, and I took action.  What I didn't do was sit around and whine about how I didn't have the money.
Today, I spend much less.  Excess is easy to cut.  I stash money away for taxes and in saving and my business is still growing.  I still invest in myself and in my business and learning all the time.  I pay for systems that are appropriate for my list size and that meet my demand.  I also am finally able to leverage some of the work that I don't like to do (like editing and admin) to part time help.  I attract clients on a steady basis, and I find joy in creating content that my clients love.  I still do some corporate work and speaking gigs that bring in big bucks.  I use those chunks of money to pay down the early business debt.
All in all, it takes time, and constant alignment, an abundant mindset and working both on and in the business.
If all this sounds miserable to you – then you might not be cut out for running your own business.  There is no shame in doing a job and earning a great income and having nights and weekends off.  Find your pleasure and combine it with your genius.  For me, my genius was stifled by working for someone else telling me what I could and couldn't do, and how I was to do it.  I would gladly go through all the discomfort of those early months…and that first year again.  I'm well in to my 2nd year and know that I will only continue to expand and grow!
105 ways YOU can make it happen even if you feel broke n
ow.

If you have a dream that burns in your heart, if you have a business that you are wanting to grow…get past the wanting.  GET DETERMINED and use that smart, fabulous brain of yours to think of:
50 ways you could reduce your frivolous and excess spending

50 ways you could earn funds to build your foundation and pay your bills

5 ways you will INVEST in your business NOW. 
I hope it helps you to see some of the story behind how I've built my business and the money decisions that were made to support the dream!  I'm so glad I went though all that and hope that you get a little UMPH in your caboose to get started and make your dream happen! I'd love to hear any questions or comments you have in the comment section below!