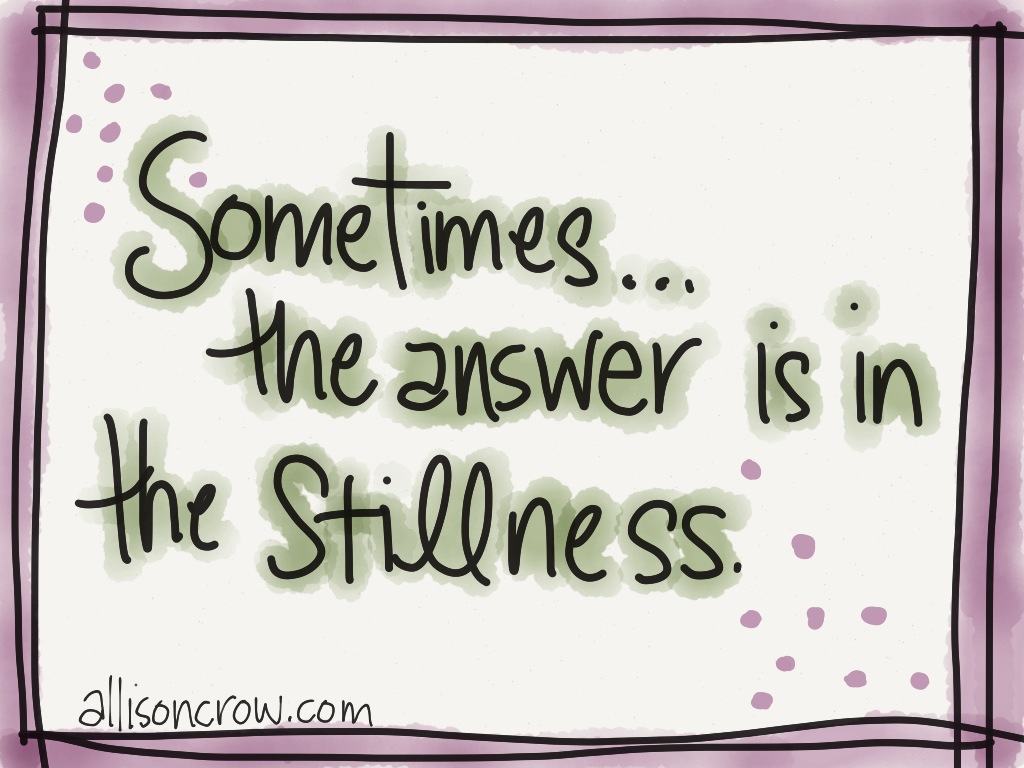 The last few weeks have been strange. My schedule has been lighter, we had the holidays, and I'm NOT in a content creation mode.  I've got this DOING modus operandi.  And frankly, I don't have a lot I have to do right now.  Oh I will soon, but right now, there is no need to be working on projects, programs or my business.  The house is clean, my closet is even organized.
My vision, which is normally crystal clear, has become vague.  My coach Lissa Rankin calls it the narrow space.  It does feel a little narrow.  Not like the grief I went through when my soul-dog died, not like the money stress after leaving corporate coaching to start my solo practice, but still narrow.  A new kind of narrow.  I can hear the stillness begging me to come and JUST BE.
"Come,  be ENOUGH, Allison, in the doing of nothing."
And yet I find myself ITCHING to do do do do do.  Gross.
So, for the last few weeks I've started and stopped a zillion meaningless projects. My art has been uninspired and I've been a bit blocked in writing. Meanwhile, the Universe is clearly whispering in my ear, "Just Be Still."
I can hear it, and I KNOW it would be good for me.  Yet, the stillness makes me squirm.  I can be still with a nap – I'm not conscious, but just being, without the doing is a challenge.
When I'm called to small moments of stillness, I can handle that. But this longer deeper stillness – makes my bones shake.
I wish I could be all zen and shit and with a bow and a namaste, say, darling readers, I'm off to a silent retreat and feel good about it. But really, I'm just squirming and resiting and itching and sending my brain in circles.
So here I am at this crossroad.  Maybe you have been there, t0o.  Knowing what road to choose, feeling the wisdom within, and yet wanting to resist. In just recognizing the resistance my decision is confirmed – I have to lean into the stillness.  I'm not quite sure how to do that, and yet I will find a way.  Lots of deep breaths, that is for sure….
How do you feel about being called to stillness?
Do you allow it. or do you wait for illness to take you down?
Any tips for settling in to the stillness to hear the messages that only that quiet can bring?
Because there is no way around, only through… I'm off….headed in to the stillness…