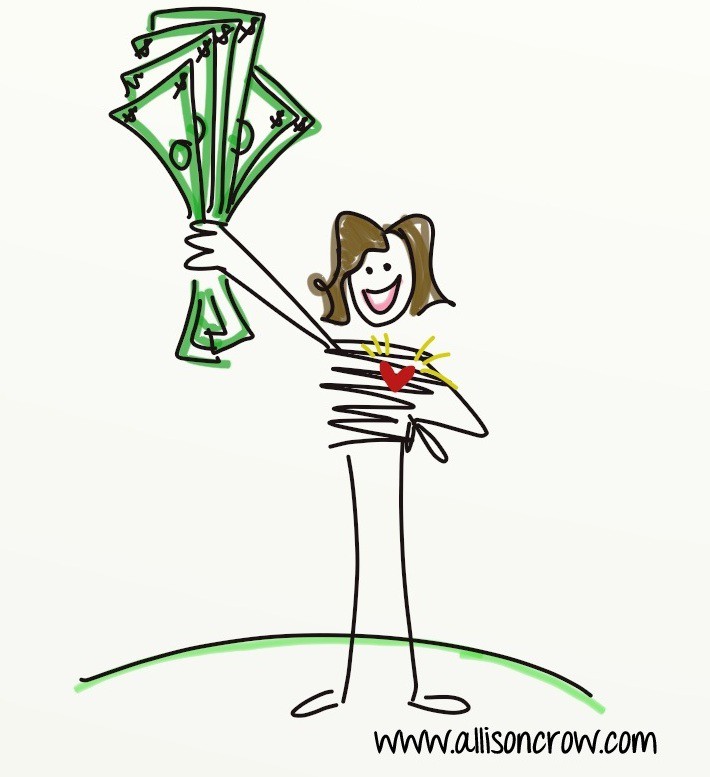 Tips for Hitting 6 Figures in Your Online Coaching Practice…. and shout outs to the coaches who helped me make it happen!
I work for myself.  I have some part time support staff, but essentially it is just me in this studio in my home -sharing my love and gifts with YOU, my awesome followers.  I've had a really successful start in being totally solo since June 1,  2011.  My accountant sent me my P & L and the numbers looked AMAZING!  And…the reality is, I didn't do it alone.
Today was totally inspired and in alignment with the great video post by my current coach Jenny Shih. After the video I will share my own tips and tricks for hitting 6 figures quickly in your coaching practice. Grab a pen for Jenny's video.  You will want to take notes!
Hands down I agree with Jenny, (I dig her style and her wisdom and that is just one of the reasons I hired her) and have done each of these things.
Jenny's Tips and how they look in my business:
Alignment

is huge – being in alignment with yourself, with your offerings, with the actions you take in your business – and with your Divine Business Manager are the magic mojo behind a thriving practice.

Hiring a coach

: I have had a coach since the 2nd day of being self -employed.  September 2003 I realized I had no idea what I was doing as a brand new real estate agent, and I hired a coach.  I've had quite a few business incarnations since that time, and each and every step along the way I've hired a coach.  I never waited until I could afford it – I chose to make a way to afford it, often putting the energetic and financial cart before the horse.  Having a coach has always worked for me and for my business and is one of the reasons I hit 6 figures so quickly — in real estate, in real estate coaching, in coaching real estate coaches, and in the Biz and Life coaching I do now.   As my Kids Across America Kamp director

Bruce Morgan

used to say, "Even the Lone Ranger had Tonto."    

Who is your Tonto?

Mastermind Groups

:  Yep…always in one, and always leading one.  A big difference maker for me was a Biz and Life accelerator held by one of my mentors and coaches Christina Merkley.  That 9 month program helped me leave the corporate world and jump in to full time biz ON MY OWN!  Hooray and thanks,  Christina!  Having a group of colleagues that are in the same boat is invaluable. As a coach, I love being a part of the ICoachNetwork – a group formed by Stacy Nelson

.

  Gather your peeps and create or join a focused mastermind! 

Who are your mastermind homies?

The PLAN

– This is one of the things that my coaches help me do.  They see what I don't, and often they believe in me more than I do.   I'm a totally right brained gal with a bit of add.  Having a plan that my coaches help me create is just the focus I need to support and compliment my flow. Last year I spent 6 months mentoring with Author Lissa Rankin.  We did great inner work together, and my  BIG BIZ STRATEGY AHA garnered with her – I had planned to create my biz and offerings, but I hadn't GROWN MY LIST! Once I began focusing on growing my list, my income began to skyrocket!  (more on list building in a moment). 

Do you have clear and realistic plan?

Fundamental Biz and Marketing Skills

– ah yes, we coaches are great at our craft….and we still have to learn how to speak to the ears that need us.  I learned great biz building skills in my real estate training, but I had a huge aversion to the word marketing. Well, I've learned to get over that aversion and by taking a "communicate and client attraction" approach things have been working pretty well.  I'm still learning everyday about copy-writing, sales pages that work, and overall marketing.  And I'm still learning new biz skills every day! I'm currently working with Denise Michaels on writing my book and learning a ton from her about marketing.
Keep Learning

:

  I think this is why I actually was drawn to being a coach.  Learning turns me on. Learning keeps me alive and awake.  I get bored easily. Did I mention that learning turns me on.  It does.  Not only am I learning from my coaches, but you can usually find me taking a class, reading a few books, almost daily brainstorming with Nikki and Chris Buckelew

,

or attending conference.
The more I learn, the more I grow, the more I grow, the more my biz and life expand!  Tweet that!
MY THREE EXTRA TIPS
Embrace Social Media-

  97% of my business income – comes from ..drum roll please…. Facebook.   I have colleagues who connect and attract clients through Twitter, and LinkedIn, too.  I actively use both professional and personal pages.  As an introvert who does like to feel connected, I interact and engage 3-4 hours a day on facebook.  Yes, that seems like a lot, and it is work I enjoy.   I show up online as the real me… and I connect, collaborate, and comment on Facebook.   I make my services and my website easy to find. 

I let my personal and professional light shine through

social media .  I use my voice.  I listen.  And then I promote my stuff. 

Are you willing to let yourself shine via social media?

Build Your Platform/Grow Your List

:

  Imagine creating a powerful course for the world.  Spending time writing it, testing it live, and then launching your baby into the world online.  And then hearing crickets.  Yep. That is what happened to me.  My first online course – NO ONE signed up.  I was connected online, but I still had no LIST – no TRIBE – no Audience. Eventually, my audience grew and so did the number of people who joined my classes, and my programs.  A year ago I began making specific effort in genuinely giving to my audience to build my following.  For me, it isn't about gathering email addresses, but really attracting people out there who are attracted to who I am and what I offer, giving them some of my good ju-ju, giving them value- and inviting them to be on my subscriber list–to be a part of my community.  Everyone who joins my tribe CHOOSES to – an organic Opt-In list. THIS is the MAGIC PILL.  Ignoring growing my list was the #1 mistake I made, and it is the #1 thing I see new coaches make as they are building their businesses online.   Inspired? Want a go to solution – Hit THIS
Clear Your Money Bull Shit – Jenny said it at the beginning of her video.  We all have money baggage.  We all can have funky energy around money. Two coaches that really helped me open up my money energy were Ron Patulsky and Dave Gorham

.

  Thanks Gentlemen.  I appreciate you.   Money is energy, abundance is energy – and both are flowing all the time.  We just have to learn to stop resisting and start allowing (another thing a coach can help you do).  Do the inner work to clear your money blocks, stretch yourself, honor and appreciate what you do have – do the energy work around prosperity and abundance and things will change.  You also have to see and begin to value your own worth.  You have to know

you are value simply because you exist

.  As I type I find myself wanting to spill everything all at once ~  this tip is KEY!  I teach an 8 week course on this topic and as soon it is live again, if you are on my list (tee hee hee) I will invite you to join.   Don't wait for me,  

What can you do today to clear your money bs?
One Last Thought about 6 Figures or More
Part of the money bs that many of us carry is that "It isn't about the money."  But really, darling, it is.  When you are in your gifts, serving, the world, you can't STOP the money from coming in.  That's how the universe works.  More money is not evil or greedy.  More money earned in the flow, allows you as a business owner to do more good.  Hitting 6 figures has allowed me to pay down debt, hire an assistant who wanted to start down the path of her own soul-work, give more to my clients, and give more to the charities and causes I want to support.   When the universe is in balance in your life, you can both give and receive.  Allow yourself to receive, and I guarantee you will be able to give more.
I'd love to hear your thoughts on these tips! What stands out to you from this list? What will you focus on next? What have been YOUR keys to success?  I'd love to hear your comments below! Oh and of course, if this content vibes with you and you want more — I'd love to have you join my community list!