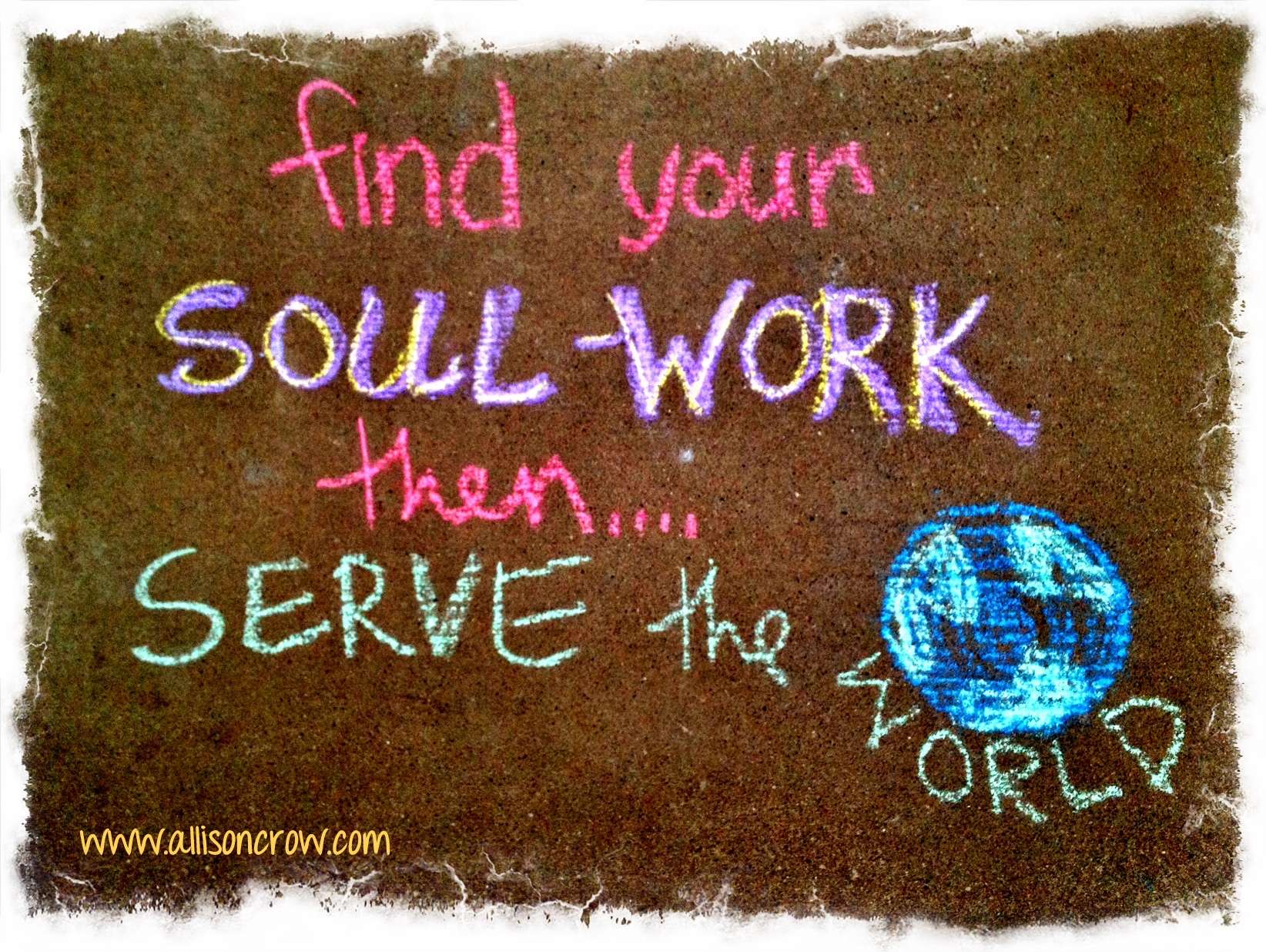 Yesterday, I sh
ared about my Path from Soul-Sucking Work to Soul-Filling Work. Today I want to share some ways that can help you on your own path toward finding your Soul-Work.
We have all heard the adage "Do what you love and the money will follow," yet many of us don't start out on this path – so somewhere in the middle of life, mid-mortgage, mid-responsibilities etc…. we have to get the guts to make a major course correction.  Here are some ways to begin considering and creating that course correction, if you dare to choose it.
Toss the rigid mindset and open your mind to POSSIBILITY:
A rigid and fixed mindset is a killer.  Like the Great Wall of China a thousand times taller between you and your Soul-FULL self.  Decide to have an open mind, decide to gather evidence of possibility. Allow your self to think even the wackiest thoughts in this process.  Figure out why it WILL work, instead of why it WON'T. Do the impossible.  People have been doing it for years, and so can you.
Get into conversational relationship with your Inner Wisdom/Whisper:
I am not talking about the God outside of you…He isn't known for flashing directions on billboards.  I'm talking about the GOD within you — Your deepest intuition and knowing -that voice of personal TRUTH inside your heart.  It is there waiting to have a relationship and conversation — but you have to engage.
Yes, I tell my clients to personify, name, and converse with this voice.  I also ask them to begin to discern the voice of the Inner Critic/Gremlin/Shame/Parents/World.  If we can clarify these different voices in our heads, we can then learn what we are listening to and be more choice-full about making decisions based on those thoughts.
Know your deepest core values and intrinsic motivators:
These really are your driving factors and being in alignment with them is the key to feeling charged, alive, passionate, invigorated, and motivated. Most people have 5-6 and each value has a well, or tank, to be filled or drained.  If just ONE value tank is below half full, symptoms will likely include fatigue, overwhelm, dissolution, annoyance, scarcity, fatigue, stress, etc.
Knowing YOUR core values can be life changing and a major support in ALL DECISION MAKING.  Hold the values up to the factors of any decision and you can pretty much predict what direction to go– almost as if you had that flashing billboard!  There are all sorts of generic values clarification tests out there, but I highly recommend work with a professional through a subconscious values clarification process to really identify your unique values in the context of your life and language.  (In response to this post I'm offering these sessions at 125$ –normally $250.  Click here to take advantage of this offer for this powerful 1hr- 1.5 hour coaching session).
Contemplate and gather evidence about what really excites you-your PASSION:
It is there, whether you know it or not you are passionate about something.  For now, don't focus on whether or not it fits into a job or career– just get out a piece of paper and start writing down what REALLY excites you — as in when you are doing it time flies, your energy is effortless, you feel joy, and in the zone.  What do you really love? What are you super-special GOOD at? What do you do in your spare time? What are your hobbies?  Write it all down.  Ask family members and friends, "What do you think I'm really talented at? When do you see me shine?"
For the longest time I kept blowing off my doodles as just that- mindless doodles.  Now I can earn up to 3k a day doodling for people and I have finally embraced my doodles as a part of what I uniquely am destined to do.
This leads me to the next tip.

Embrace what makes you different, unique talents, be COMPLETELY YOU- Let your FREAK FLAG FLY!
As Danielle Laporte says in her book The Fire Starter Sessions: A Soulful + Practical Guide to Creating Success on Your Own Terms
(best book I've read in years), "Being your true self is the most effective formula for success there is."
We all grow up with the "Rules" of the way we should be. We all grow up wanting to look good or fit in -or we do the complete opposite to extremes.  Is either way who we really are? Discover your true self, independent of the good and bad opinions of others.
I looked good in a suit, in heels, and negotiating the fuck out of real estate contracts.  I looked even better in that suit on stages teaching others that Productivity was paramount and that Numbers Were Sexy.  Yes I was famous for getting people to track their numbers because it worked in business- it helped define values.
Now I think Owning and KNOWING yourself ––Authenticity and Originality are SUPER Sexy. And I've traded in my Banana Republic suits and oxford shirts for fairy wings and chalk dust colored fingers – and the wild success is finally flowing- best of all it FEELS SOUL-FULL.
To discover myself OUTSIDE the auto-life I was living I had to ask myself a series of questions about ME!  And I had to answer them believing that I was independent of the good and bad opinions of others.
What did I like? What did I value? When did I feel comfortable and alive? And when did I feel stifled and anxious? And what were these true answers?  It took me a while to discover these things — and allow yourself that process.
Yesterday, I promised photos from my not quite true self in almost soul-sucking work and photos of me in my Soul-FULL work. Here ya go:
What is your version of fairy wings? It doesn't have to be external. In fact, my external shift really just represents an internal shift. Discover who you really are.
STOP doing ANYTHING that KILLS your energy and talent:
Create time and space for your energy and talent.  If you let it die, it will die.  CPR STAT!  By engaging in your passions and talents, even on weekends or evenings when you aren't at your day job, you will start to fuel POSSIBILITY.
Gather evidence of others making it happen:
You may have an impossibility blocking your way.  Write all your "Yeah, buts" and "It would be impossible because _________," and then go Google that shit.  Gather evidence of other people following their passion and making a living. Prove to yourself that it IS possible: Like this Alpaca Lady.  Or this Artist, or this one. How about this MD, who just decided not to renew her Board Certification because she wasn't passionate about pap smears?  She is passionate about writing and blogging– and she's earning quite a bit doing it.
This list could go on and on. Start gathering evidence.
Surround yourself with other people who are doing their Soul-Work:
This is part of gathering evidence, and support.  Watch them, let their creativity and courage SEEP into you.  Reverse the 'I CAN'T' PROGRAMMING.  Listen, learn– allow your psychology around this to shift! Connecting and learning from others who are already doing it + hearing and following your Inner Whisper makes you UNSTOPPABLE!
This was. and still is, HUGE for me.  I've had professional and personal coaches non-stop since 2001.  I've learned both business and life from these coaches, and though them, I've been able to attract and collaborate with other people choosing to follow the path of Soul-Work.  Find someone who can support the inner work of your Spirit and psychology, and someone who can teach you about the business aspect.  Mentors and coaches help dispel the lie of impossibility, they provide support, knowledge, and most of all, they help you begin to trust yourself!  You aren't broken, needing to be fixed.  You aren't un-able, needing to become able.  You are ABLE and PERFECT just as you are– a coach helps you bring this to the forefront of your life and business.  (PS- I am a coach who supports the inner and outer work – and if I'm not a fit for you or your biz, then I probably know someone who is).
If you really want to monetize your passion– find your SOUL-Work…find the joys of your soul first!
Be creative and courageous and

BEGIN THE JOURNEY now!
Be sure to let me know how I can support you! I want you to know the joy of finding your passion and serving the world with it!
If you are doing your Soul-Work, what tips could you add to this list?
For even more encouragement check out this Daniel Pink blog post interview with Chris Guillebeau, Author of the 100$ Start Up.
& if you liked this post, please share it!

Wanna get my free at home coaching kit? Click here to join my community and receive these goodies!