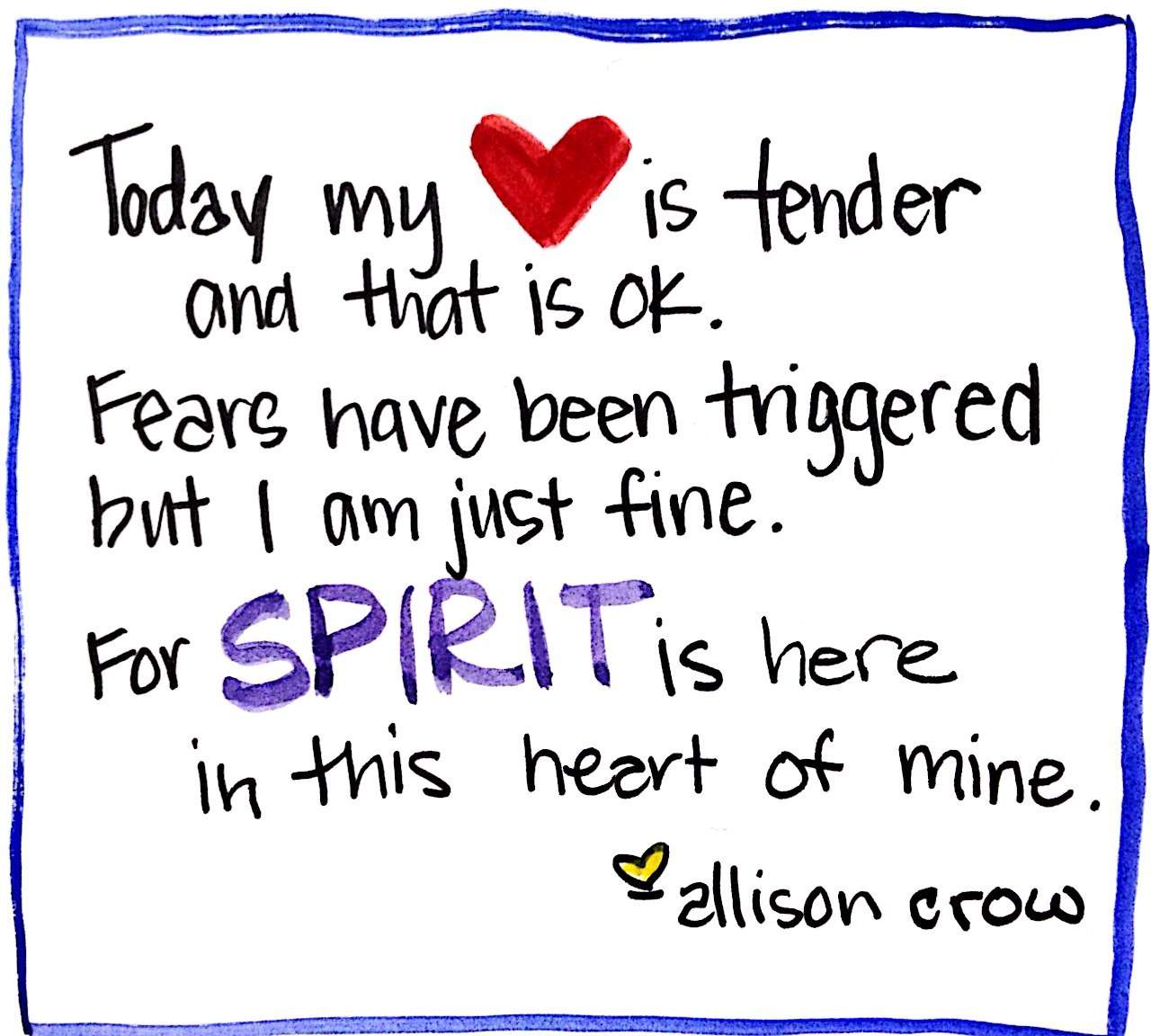 Last night, I had an awful dream.  I dreamed my husband decided to leave.  I'd gone to romance him on Valentine's day, and he just decided he did not want to be with me any more.
In my dream, he decided to leave.
Being left, being unloved, being abandoned ~ is my deepest fear.  
In the middle of the night, I woke with Bill's loving arms around me and his legs tangled in mine, but I could not shake the fact that my deepest fear had been shaken awake.
I know the dream wasn't real, but I can not ignore that my fear is. I can not ignore that it has happened to me before and that there is no assurance that it will not happen again.
And so today, I'm writing and painting to just sit with that fear.
For some reason I am drawn to say, "Fear, I see you.  I see that you are tender, and that you need something.  I will not hate you, I will not hide you."
Fear, I see you. I am here for you.

Fear, I will not leave you.
This is not my normal way to handle fear.  This feels new, and even as the tears fall and I see myself typing these words out, I can feel the fear receiving my love. Normally I push the darkness down, or I sleep through it.  I hunker down and "get the job done." Maybe I coach myself and "trade up." my thoughts – and that helps some.
But today is different, Today I am tender and there with my fear.
Fear, I see you. I am here for you.

Fear, I will not leave you.
I've been up for 3 hours now, and sitting with this fear.  We sat in the tub together and shared a tear.  We sat at my prayer table, and shared a prayer.  We called on our angels to come and be our guides.  We painted a picture and wrote a simple poem:
Today my heart is tender, and that is ok.

Fears have been triggered, but I am just fine.

For Spirit is here, in this heart of mine.
When your deepest fears are triggered, what if we did not run? What if we knew that we would be ok. What if when fear screamed its scream and pierced our hearts we invited it in.  What if we said,
Sit with me today, my darling deepest fear – I see that you need me, and I am here.
Sitting with my fears, sharing them with you, and knowing that everything will be ok…..