Hello Love,
 Are you looking for a BETTER LIFE or BETTER WORK? Or Both?
I help my clients create a life, and work that feels better, & that works better.  
I am a expert magician in three major areas
that can truly change your life:

When you work on all three of these areas – you get a holistic approach to coaching.  And over the past 11 years of professionally coaching, I've helped thousands of people like you create BETTER LIFE & BETTER WORK. 
Here are some of the ways I work with my clients and community – there's something for everyone ~ there is something here for YOU!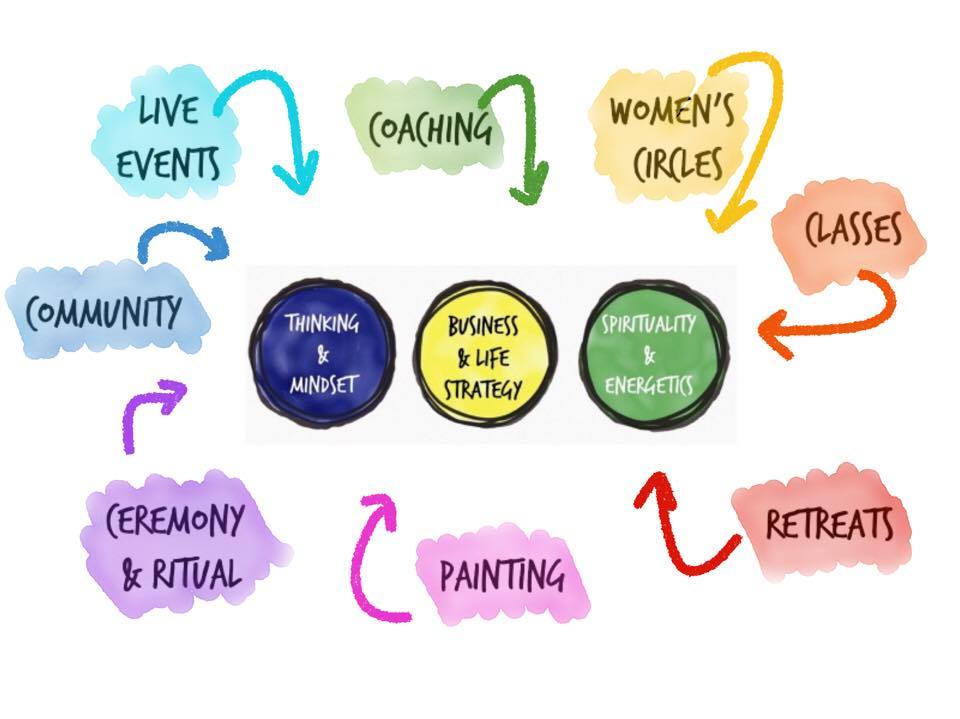 I encourage you to play around on my site, sign up for your FREE Feel Good Fairy Guide up at the top of this page, and if you like, let's connect on Facebook . . . and let me know what support you are looking for.
I'd also like to invite you to come hang out with me in my Facebook group – come be a part of the community.



Share Your Heart Show Your Work

 is the name of the group and was originally a course I taught, but has grown into a vibrant movement and community of heart-centered followers, clients, and students who engage and support one another in life and work.
This is a Community of Souls connecting around

❤️THINKING/Mindset

❤️Business Strategy

❤️ Energetics/Spiritual Principles
for BETTER life and BETTER work

---
I'm wondering about you….
Every morning, do  you open your eyes and think "is this it? Is this what I'm meant to do?" or "I wish I felt better about my life and my business."

… it's not that you don't have an amazing life – all of the pieces are there:

You are a soul-centered, high achieving business owner – A leader, coach, entrepreneur, artist, or visionary who is here to impact the world with your life and work.

But deep inside there is this feeling, an itch, that there's a piece that is …. missing.

You have a sense that the "world's" way isn't quite that right for you. You may be feeling an intuitive nudge to trust your own heart and do things 'YOUR WAY' but all the mixed messages leave you overwhelmed and confused.

Do you doubt that it's even possible to open up and just feel good more often than not? Can you really feel good about yourself, your life, and your business? Do you really believe that you can create success – YOUR version of success?

Well, babe, I've been there and I want to tell you this:

Fuck Yes! You can totally bring the magic and enchantment back to into your everyday life! It is completely and absolutely possible to see more beauty, feel more ease, and have things just happen more FOR YOU…

Ultimately you want to FEEL GOOD ~ to LIVE BETTER & WORK BETTER

You want success…in whatever you are doing… and you can have it. In fact you were born to be have all your desires come true.

It sounds so simple, and really can be if you know how to work with your MIND, have good strategy, and nurture the spiritual energetics of your life and work. 

I'm here to help you align your energy, shed your limiting beliefs, rewire your thinking, increase your confidence, implement strategy and take inspired action so that you can transform your life.

If you know you are looking for the Top-Of-The-Line Private Support go straight to my Coaching Page.
Otherwise, explore.  Absorb.  Feel In.  Connect on FB.  Do your research and see if things around here feel yummy to you. I trust you to decide what is best for you.  And when you are ready…. feel free to contact me directly to explore more.
.


Wanna get a feel for Allison's personality and style
– Check out this interview with Jacob Sokol from Entheos.com 

On Leaving the SHOULDS & Becoming Divine Wild & Free

On Finding Great Love 
The YouTube ID of Insert video URL or ID here is invalid. The YouTube ID of Insert video URL or ID here is invalid. SPAC
BLBW EP #10: The Life Changing Magic of Tidying Up Your Business
March 20, 2017
Ahhh the life of an entrepreneur!  Do you sometimes feel both free and trapped at the same time? Especially if you have been in business for a while.  The exhilaration of possibility may have traded …
Read More
9/14/16 - 10/26/16
Share Your Heart: Show Your Work
Share Your Heart Show Your Work: Create Connections, Arouse Raving Fans, & Attract & Create Right Aligned Clients by being your AWESOME SELF