Meet Allison
Hello Love,
I am Allison, and I am here to help you Remember. 
The thing about living a human life is, we forget.
We forget who we are.
We forget that we are divine living in a human body.
We forget that we are one with infinite love and source energy.
We forget that we are able that we are resilient and that we have been and always will be OK.
We forget that our heart and our intuitive selves know the answer to every single challenge we encounter.
We forget that we are wise.
We forget that we are strong.
We forget that we are resourceful and creative.
We forget that we are one with all of humanity, more alike than different.
We forget that we are not alone.
We forget that the universe is set up to support us.
We forget the angels are at our beck and call.
We forget that we are free.
We forget that we are connected to nature and nature is connected to us.
We forget that we are a breath of life. We forget to breathe.
We forget who we BE and we think we are what we do.
We forget that we are not our thoughts or the thoughts of others. We forget that we are I AM.
I AM remembering. I want to help you remember. Let us remember who we really are.
R E M E M B E R
 Allison
---
I'm so glad you found my site. First off, I want to invite you to come and hang with me were I spend lots of time.  It is the best way to get a feel for me and the work I do and the tribe I've created. And, if you prefer to look around a little more before jumping in, that is ok too.  Just scroll on down and explore.
SPWoul
Would you like to join our face communities where you can gather with people of like mind and get some support and connection around your business and/or who you be?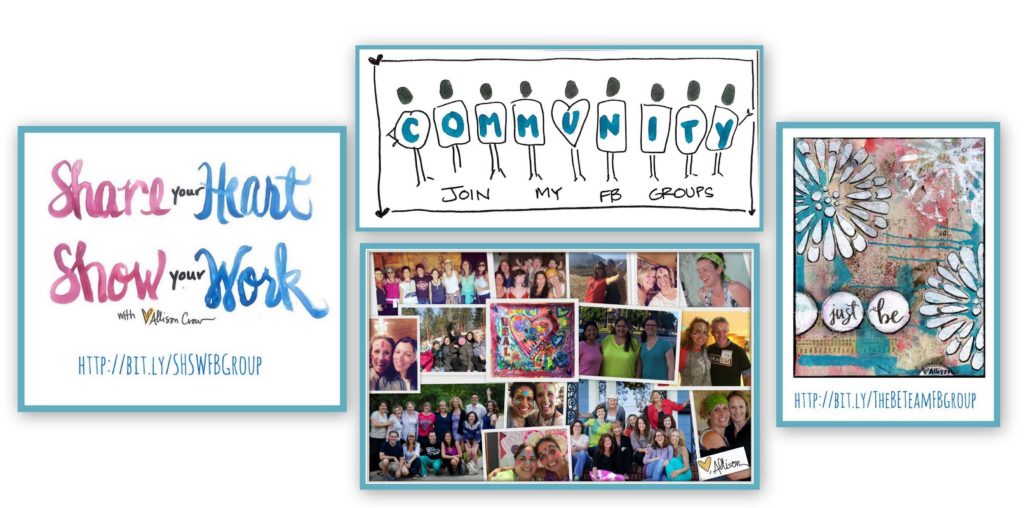 The BE Team is all about supporting WHO YOU BE in this world.
The BE Zone fuels the DO and HAVE zones.  Wanna find our more?
Here is a post that will explain more or you can jump right in here to join our group.
Share Your Heart Show Your Work The master community for perfectly imperfect heart based business people who want to use Social Media marketing in a non slick, and totally heart-felt and profitable way. Join the movement and a new path for being you, growing your personal brand, and getting your work out into the world. 
---
Welcome!
I encourage you to play around on my site, sign up for your FREE Feel Good Fairy Guide up at the top of this page, and if you like, let's connect on Facebook . . . and let me know what support you are looking for.
I am Allison ~ I am an Intuitive Life & Business Coach who specializes in Energy Alignment, Law of Attraction, and Abundance Mindset. I am also a wild artist and I am constantly creating playful creative experiences both online and in person.
I'm wondering about you….
Every morning, do  you open your eyes and think "is this it? Is this what I'm meant to do?" or "I wish I felt better about my life and my business."

… it's not that you don't have an amazing life – all of the pieces are there:

You are a soul-centered, high achieving business owner – A leader, coach, entrepreneur, artist, or visionary who is here to impact the world with your life and work.

But deep inside there is this feeling, an itch, that there's a piece that is …. missing.

You have a sense that the "world's" way isn't quite that right for you. You may be feeling an intuitive nudge to trust your own heart and do things 'YOUR WAY' but all the mixed messages leave you overwhelmed and confused.

Do you doubt that it's even possible to open up and just feel flipping good more often than not? Can you really feel good about yourself, your life, and your business? Do you really believe that you can be successful?

Well, babe, I've been there and I want to tell you this:

Eff Yes! You can totally bring the magic and enchantment back to into your everyday life! It is completely and absolutely possible to see more beauty, feel more ease, and have things just happen more FOR YOU…

Ultimately you want to feel good.

You want success…in whatever you are doing… and you can have it. In fact you were born to be have all your desires come true.

It sounds so simple, and really it is.

I'm here to help you align your energy, shed your limiting beliefs, expand your thinking, increase your confidence and transform your life.

I love love LOVE helping my clients clarify their visions, amp up the power in their energy and their thinking, and increase their abundance and prosperity vibes, and take inspired action that leads to success and happiness in life and business.

If you want some of that goodness in your life…do not stop, do not pass go~ and go straight to my coaching page here.
I help my clients change their lives – from the inside out.
Are you Ready? Not everyone is.  But if you are… Let's Connect and see if there is a Magic Spark.
.


Wanna get a feel for Allison's personality and style
– Check out this interview with Jacob Sokol from Entheos.com 

On Leaving the SHOULDS & Becoming Divine Wild & Free

On Finding Great Love 
The YouTube ID of Insert video URL or ID here is invalid. The YouTube ID of Insert video URL or ID here is invalid. SPAC
Can I Be Thankful for Losing My Shit and Coming Undone
November 24, 2016
Is is possible to be thankful for coming undone? For the unraveling and losing my shit over and over in the past year?
I'm a leader. A small, but still public figure. My life's
…
Read More
Follow @AlliCrow