---
I'm Allison Crow, M.

Ed.,
I want to introduce myself and let you know what you are getting into here.
I am a Better Life & Better Work Coach, an Irreverent Priestess (yes, I'm a licensed minister), and Teacher. I help people learn to follow the heart path in life and work, guided by their own inner wisdom and the Divine within.
No more bullet point promises or bullshit list of deliverables… I just promise to hold space to help you get to know and trust yourself, your intuition, and your true Divine, Wild, & Free Self. It will probably involve some meditation, some energy work, some f-bombs, prosperity mojo, lots of stories and conversations, some silence, journaling, with a splash of strategy, and practical steps for moving forward.
My clients also get the benefit of my vast business, sales, and profitable coaching practice experience. I can't help but slip into consulting and teaching at times. I've been teaching and coaching in one form or another since the mid-90s. I've been full-time coaching as a profession for over 11 years. I have a Masters degree in Educational Psychology, am a Certified Visual Coach, and a Certified Expressive Arts Facilitator (and a die-hard Oxford Comma User). I'm also a founding member of an extraordinary community of leaders called 4PC.
My clients are soul-centered, high achievers – and often "recovering over-achievers." They are leaders, coaches, entrepreneurs, bold artists, business owners, and even a few executives who are ready for expansion and to live life from the inside out – to discover who they were before they got lost, and then begin living in a new way. Above all, my heart sings to help people truly listen to & follow their heart, to help them find their authentic feel good…and to begin creating BETTER Life & BETTER Work
Once a hard-lined performance and sales coach motivated by outside forces and an excruciating need for approval, I finally figured out that everything I want and need already resides within me, and now I help my clients do the same. This means BEING more and STRIVING less – while still creating income. I specialize in energy alignment, Law of Attraction, accessing intuition, and courageous, creative & inspired action, and business building through client creation and online expression.
I am also a bit of a bohemian, intuitive artist and create or paint almost daily. If I am not coaching or speaking, you can probably find me in blue jeans and a LOVE-themed t-shirt and covered from head to toe in marker ink or paint, or with my ass in the grass tapping into the 6th sensory world. Or these days, possibly on FB-Live with a glass of red wine in hand.
I live in Austin, Tx with my husband and three rescued dogs, Leroy Brown, Clementine & Rocky Potato. I'm addicted to reading, facebook, macaroni & cheese, champagne, and naps.
Thank you for checking out my website. I'd love to have you join my tribe by subscribing to my email list… I don't email that often – only when inspired to. You won't find any formulas here. You will find inspiration, authenticity, and from time to time I will invite you to participate in things I'm offering. Most of all, you will always find good vibes here. Thanks again, Love…. I really do appreciate your support.


---
What others say:
Jennifer Herrera: Executive Coach. Builder. Curator. Facilitator. Writer. Yoga Teacher. Founder This Girl That Girl http://www.jenniferherrera.com/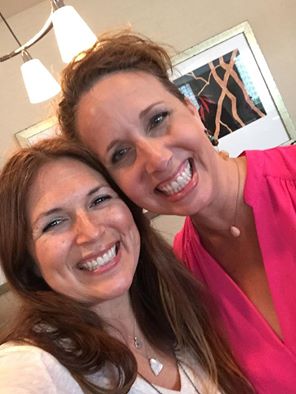 I'm in this place in my life where my heart is opening more fully, more wholeheartedly, where the details of my heart I'd keep hidden away for fear of being weak or "too much" of anything I'm sharing. I'm saying out loud the shameful parts so they can be demystified and healed by the healing energy that is present when two Souls are choosing Love and Authenticity.
I'm deepening friendships with women in ways I've longed for as far back as elementary school when all I knew was that I didn't have my bff, my sister. As I grew older I created wonderful friendships and many are still solid, beautiful, wellsprings of connection and respite. And I still held back. I thought I had to know, to be in charge, to lead, to be in control and therefore my deeper shades of gray I've concealed even from myself.
In the last 18 months, this became a way of being I could no longer sustain. I need help. Support. Loving. I need to be HONEST. Fully. Just writing this brings up emotion so I'm clearly still releasing that old voice and way of being.
Allison has been a POWERFUL example for me of Leadership, Femininity, Strength of Heart, and Generosity of Spirit. Her friendship and leadership as a coach has been profoundly healing for me. We don't always know our impact by BEing ourselves and it's important to share, to acknowledge and to celebrate it!
Thank you, Allison. From my heart to yours.! xx
---
Isabel Tierney: http://www.bodybeloved.com/
"I don't have the words to describe what the Fuck Allison does. I just know I wanna be around her. Want to be inspired right here right now? She is the personification of what it means to get
vulnerable and real."
---
Jillian Butler: Owner Red Key Realty Partners St. Louis

"You are so Chick Nhat Hanh: Today you explained a fabulous/deep concept about the energy continuum from victim energy- to defensive energy- to allowing energy — very very ZEN — and you made it understandable by using the chick flick "Pretty Woman" as an archetypal symbol. Your coaching is absolutely deep and delightful."
---
Varian Brandon: http://varianbrandon.com/

She LOVES dogs…… I don't.
She cusses like a sailor….. I don't
She used to be a Christian…..I forever will be!
She is extraordinary….. Oh wait, I am too so can't use that?
There are so many ways that we are different, yet the one way we are the same is the only thing that matters…
Both on a quest to live 100% of ourselves…out loud, Allison Crow, your unrelenting commitment to strip away EVERYTHING that is not real is breathtaking!! You rocked it out today, I am forever impacted by you!!!