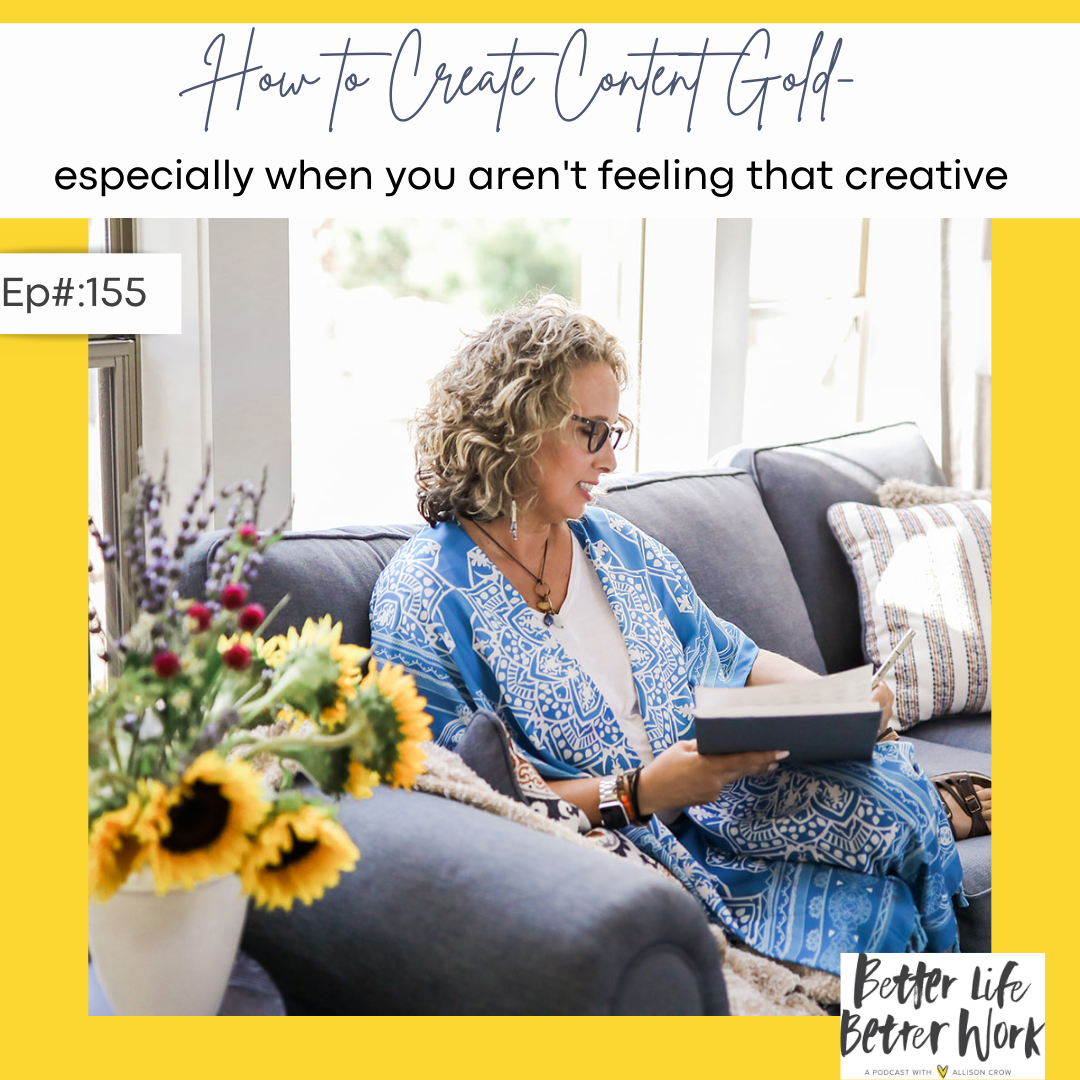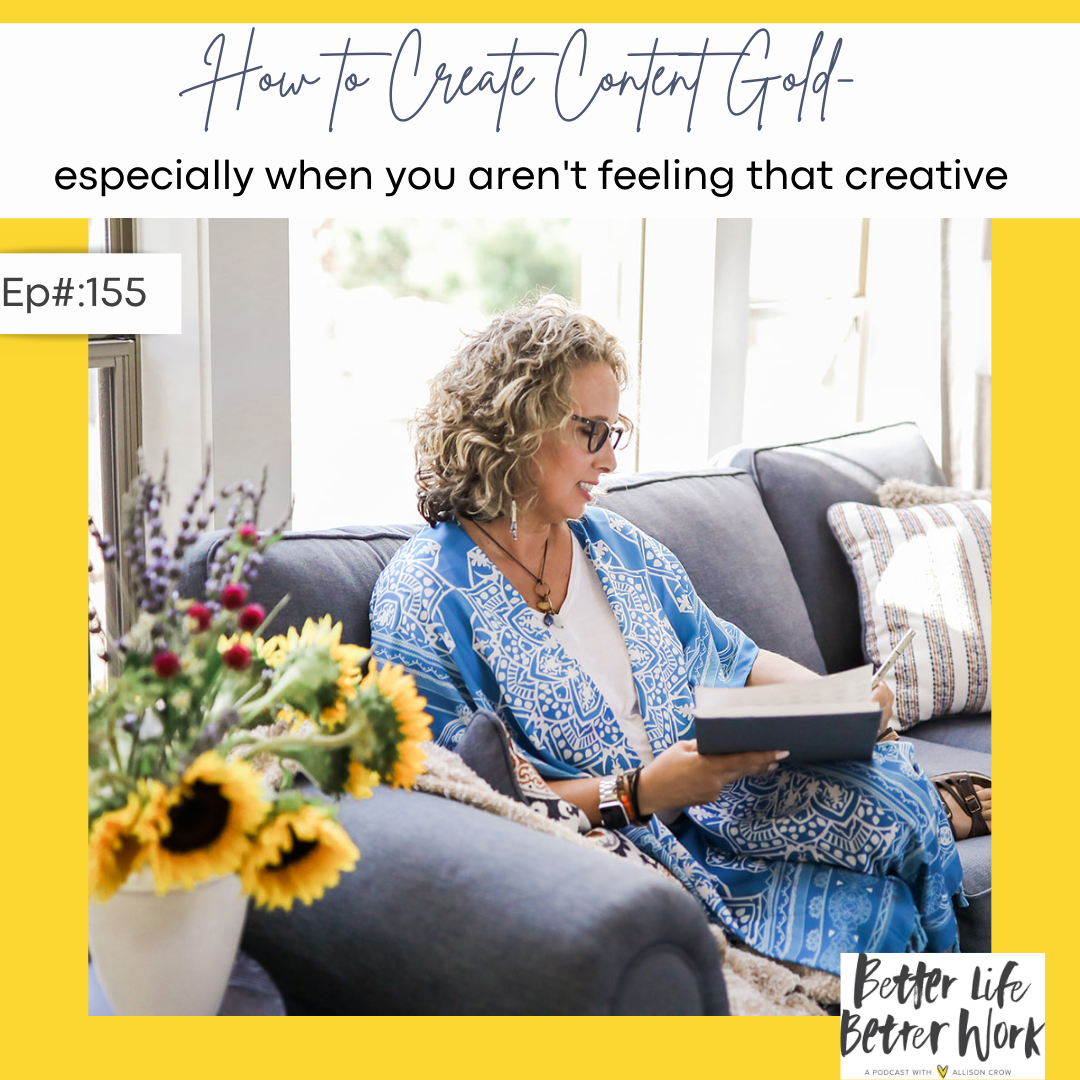 Hey Hey!
I am excited today to bring you this episode. It is actually a "how to" episode.
I want to share with you a tool I created that I use in my business that comes in handy when there are ebbs.
All you need is a journal and your heart and your values and some things that you probably already know about your clients and customers.
How to create content gold especially when you don't feel creative Share Your Heart Show Your Work Style.
For many years I had a program called Share Your Heart Show Your Work, it is a marketing class as a way of connecting and relating and serving your audience.
Today I want to talk about my Content Gold Journal.
What's in this journal, How to create your own and Why you want it.
I actually like creating my own content because I feel like it.
I want the connection from my heart to come through my words or come through my images for my people, that's the way I do things.
I use to just create on the whim, on the fly, and I got wrapped up into the days when I didn't feel like posting or sharing or writing an email.
I got into that mental anxiety about "I don't know what to post," or that whole "I haven't posted in a few days" stress and this stopped that.
The first thing I have in my Content Gold Journal is a series of "I Ams."
I always want to start with remembering my beliefs.
It helps me remember the place I want to come from when I'm marketing.
The very first list I have in here is my business brand values, my Core Values.
I extrapolated on these in my journal so that I can see that list at anytime.
A while back I did a private branding values clarification session.
It really helped me get clarity on what I want to talk about with you, why I want to talk about it and communicating my values.
On my website is a download for a values clarification workbook.
The second list is your client's pains and problems.
I can give value to my clients so that in a post I can start out with the problem and lean towards a solution.

Take your business values, offerings and the work that you do and you can begin to create little bullet point ideas in your journal.
You are giving yourself a content garden and you are planting seeds in your content journal to come back to later when you are wanting to create content.
What I like is not having to pull this out of my head and not having to plan ahead.
As a creative heart centered spirit, I'm a Gardner not a machine.
I didn't want to create in a mechanical way, but I don't want to leave it just to inspiration.
My Content Gold Journal is an inspiration book based on the topics and conversations and problems and solutions my ideal clients have and anytime I open it up it's going to strike my inspiration.
Create yourself a Content Gold Book so that on days when you'd like to love on your audience or give a little bit to your business and you're not feeling creative or you're feeling kind of puny, you can pull out your Content Gold Book and I guarantee you something will connect with your own heart and your own book and you can give that with minimal effort and energy to your audience.
Love,
Allison
_______________________________________________________________________________________________________________
Resources:
Private Branding Sessions with my friend Tiffany Scott:
Tiffany@YouMeSheCollective.com
Core Values Workbook:
https://allisoncrow.com/corevalues/
Become a member of Soulies Self-Leadership Society:
https://soulfullsuccess.live/purchase-life/
Podcast: Play in new window | Download
Subscribe: Google Podcasts | Stitcher | Email | RSS | More