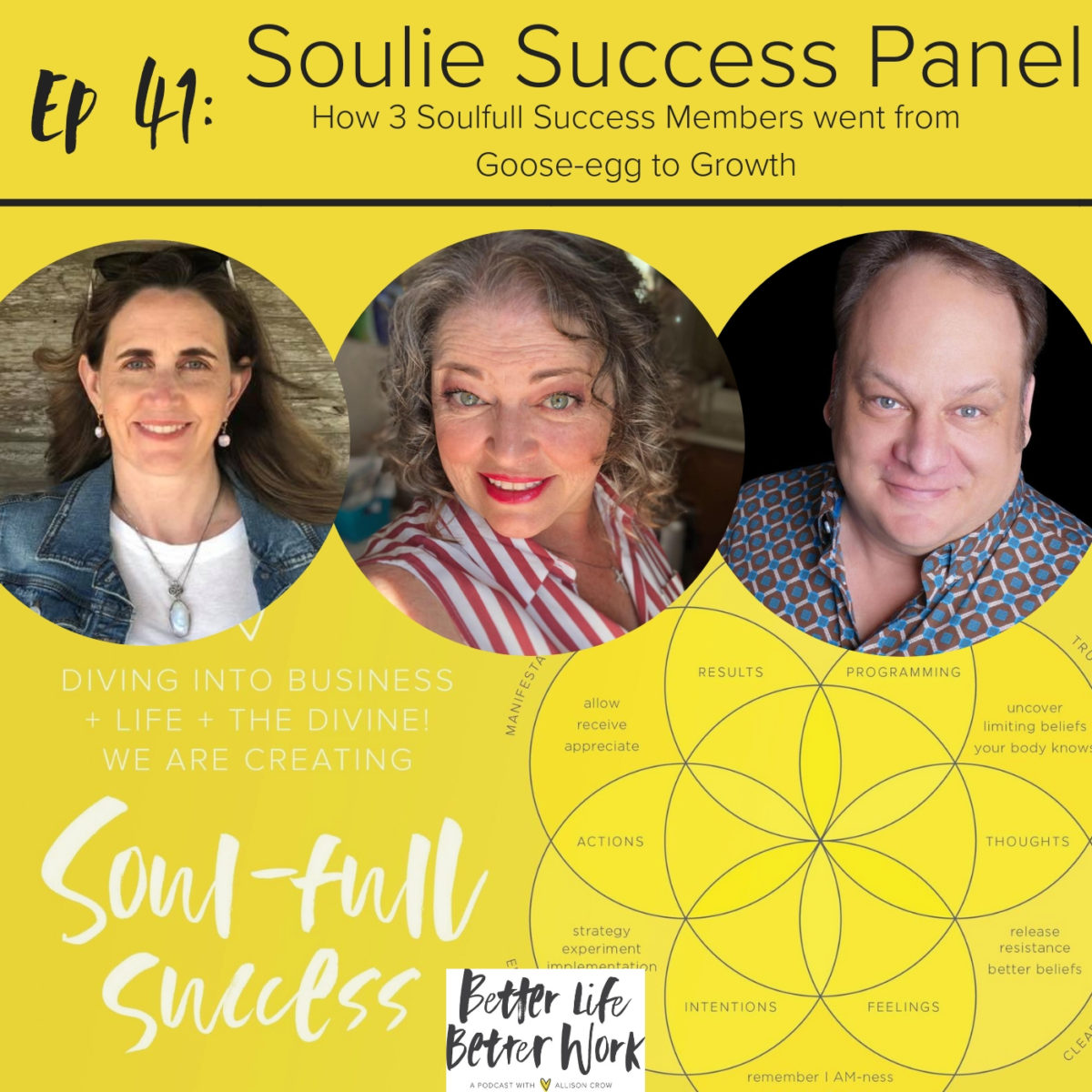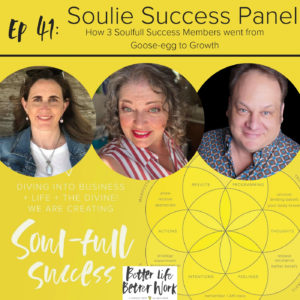 A Special Treat! A panel of Successful "Soulie" Members aka Experts. Nadine Larder, Peter Weller & Diane Bleck.
These members have radically changed their careers multiple times and share their stories of reinvention.
This incarnation and your specialty:
Diane Bleck – This incarnation is The Doodle institute started 4 years ago when this little boy came into my life. Previously completely offline.
Peter Weller – This incarnation is business coaching and Kajabi Build Assist. My clients told me what they needed by me discovering who I was. Previously in Real Estate.
Nadine Larder – First picked up paint brush in 2015. Saw Allison Crow paint on Periscope and I thought, "I can do that." Created online courses to teach people how to paint intuitively step by step. Did the 11 11 masterpiece wall, A 600 sq ft mural that I painted as a series of 6 murals. Stay present and help people explore their creativity in their own way. Do courses live and online. Lost 59 pounds working on how I see and feel about myself.. it's so much more then food. I Help people get their eating in order and get their spirit in order working to coach them to teach them how to love and nurture themselves.
Nadine Series of Books includes :
The Secrets I Share with Friends Everything I Know About Building a Small Business.
Key Takeaways:
Mindset when the shit is falling apart and you're building your own business:

Give yourself grace & communication solves 90% of problems.

Just keep believing that it could be and never give up. Refused to give up.

Be a decider. That nothing will get in your way and you will be gracious when it does.

This calling is bigger then me and I'm just acting in service of the calling. The calling is telling me what to do. Listen to the divine and always put my family first.

Biggest financial risk or investment when you thought you couldn't afford it:

Own my debt

Invest in coaching program to rebuild myself and be surrounded by people who are willing to invest in themselves too.

Knowing if I stayed the course it would happen.

Knowing what was the shoestring. Knowing where everything went to daily and annual.

Have one powerful conversation everyday.

Manage my time the same way I manage my money.

Setup myself on an automatic payroll.

Need vs Want

Money Projects: Doing what you have to do to make money to keep the business going.

Give Value

Build the lists, making calls & having powerful conversations.

What did we learn about ourselves and work on it.

Would You Like Help With That?

Show up in service.

Just keep showing up.

Seeing the need &

Knowing you have the expertise to solve that need.

Consistency

Be involved, be engaged, pay attention to your world and engage.

Make it a game.

Automate so we can serve our clients.

Mindset

Write 3 important things that move my business forward and set a timer. Get to work everyday.

What is possible??

When something drops in my heart I just say it out loud.

Getting out of there frontal lobe and getting into the energy of what's going on around me. Asking questions… clarifying questions.

Every conversation matters

My biggest challenges are here to teach me something and it's up to me to show up and be the student

When you're building your business imagine it running it without you.

Creating the identity of who we are becoming

Take something and run with it!
To become a member of the community go to SoulfullSuccess.live to get registered for the wait list.
Diane Bleck:
Website: https://doodleinstitute.mykajabi.com/
Facebook: https://www.facebook.com/thedoodleinstitute/
Instagram: https://www.instagram.com/diane.bleck/
Peter Weller:
Website: https://www.coachweller.com/
Facebook: https://www.facebook.com/pweller/
Nadine Larder
Website: https://nadinelarder.com/
Facebook: https://www.facebook.com/nadine.mosslarder
Instagram: https://www.instagram.com/myketolifelive/
Thanks for spreading the word about The Better Life Better Work Show. And of course, I love your Social Media Mentions and Shares with #BetterLifeBetterWork @allison_crow on Instagram. @allicrow on twitter and Allison Crow on Facebook.
And, if you'd like to be a master student of Better Life and Better Work, I invite you to join me in the Soul-Full Success School for Life and Biz ~ My exquisite membership community where connection, coaching, teaching and most of all, YOU, matter.
Podcast: Play in new window | Download
Subscribe: Google Podcasts | Stitcher | Email | RSS | More