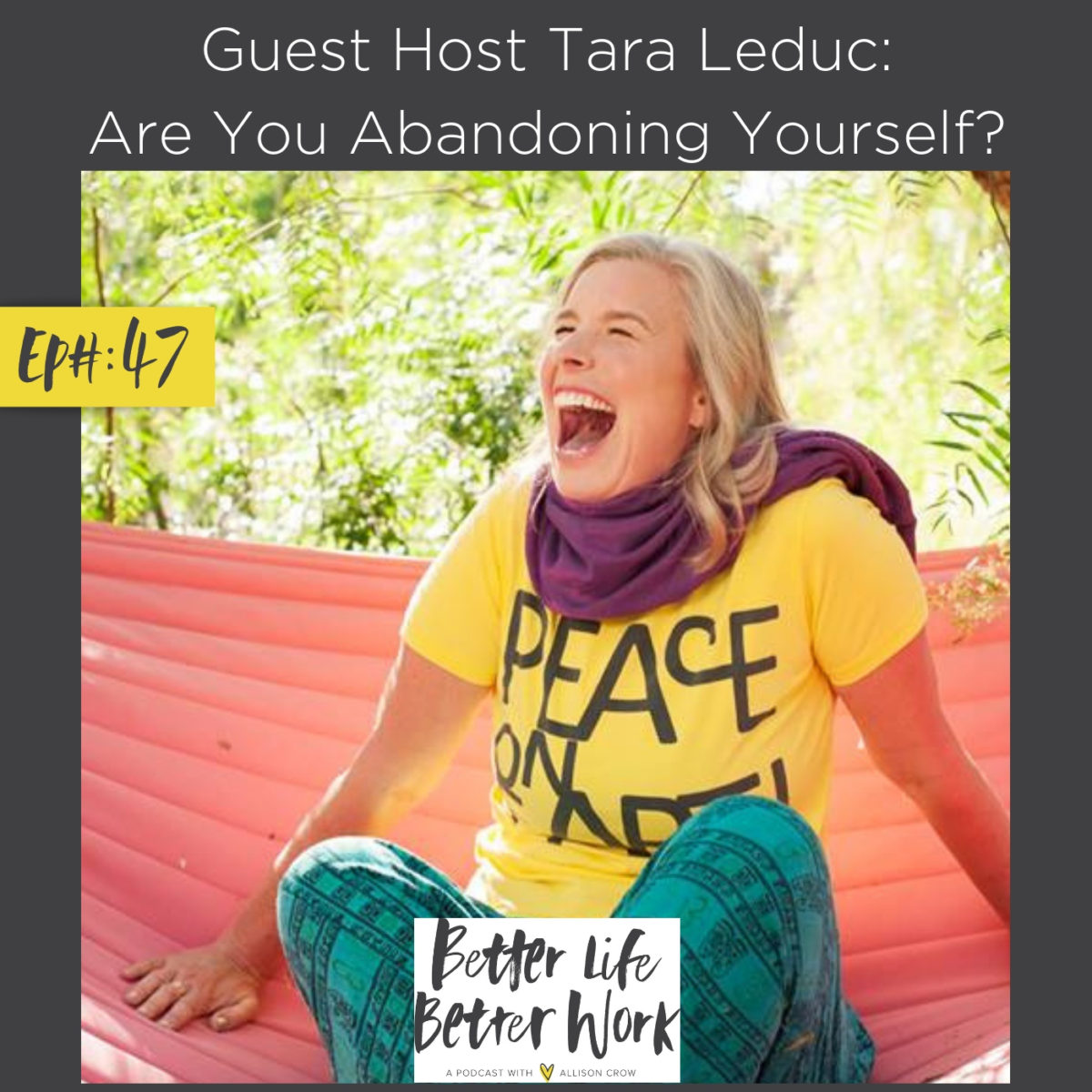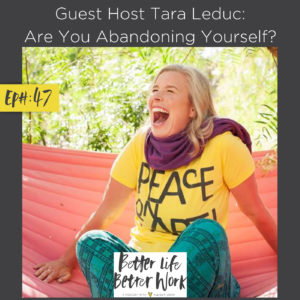 Changing the World Peace by Peace
Guest Host Tara LeDuc
Abandonment is not something that happens to us, it's something we do to ourselves. It's the subtle ways we end up abandoning ourselves, dimming our light, softening our tone, giving up our to muchness for getting along and making things easier.
When everything I have to juggle comes together it feels like a soup.
Over time I let my Self Care go. I felt shamed taking time away from my responsibilities, my husband & family.
What's happening to my meditation practice & everything else?
What am I afraid of? I'm afraid of my business being so successful that my husband is not going to approve and he will leave me.
I have been putting away my needs so in a way I have been abandoning myself in favor of my husband. Abandoning what I want to do for my business in favor of being afraid of being abandoned by my husband.
I haven't been feeling myself for the last six months, maybe it's been a year or two or five.. I've been feeling heavier, less likely to go on the retreat, travel, to an awesome conference because I'm afraid of "What am I going to come back to."
I have been abandoning myself bit by bit for really quite a while. It wasn't because he asked me to, it's because I felt like it would lower the conflict in my relationship and ultimately he wouldn't abandon me.
I am diminished, I can feel my flame getting smaller and smaller and in danger of getting snuffed out.
The question is, Have I gotten to the point where I am ready to elevate myself where I can commit to me?
We are going to Lean In to meditation.
Meditation is like going to a spiritual gym.
(Tara Leads 10 Minute Guided Mediation)
You are already perfect even in your imperfections.
You super awesome.
Find your way back to you.
Allison: We truly are better together!
Thanks for spreading the word about The Better Life Better Work Show. And of course, I love your Social Media Mentions and Shares with #BetterLifeBetterWork @allison_crow on Instagram. @allicrow on twitter and Allison Crow on Facebook.
And, if you'd like to be a master student of Better Life and Better Work, I invite you to join me in the Soul-Full Success School for Life and Biz ~ My exquisite membership community where connection, coaching, teaching and most of all, YOU, matter.
Tara Leduc is a Spiritual Guerrilla Who is creating World Peace through meditation and margaritas.
This, truly, is her plan for World Domination and World Peace!
You can find out more about Tara at:
Website: www.taraleduc.com
Facebook: https://www.facebook.com/tara.e.leduc
Instagram: https://www.instagram.com/taraleduc/
Podcast: Play in new window | Download
Subscribe: Google Podcasts | Stitcher | Email | RSS | More