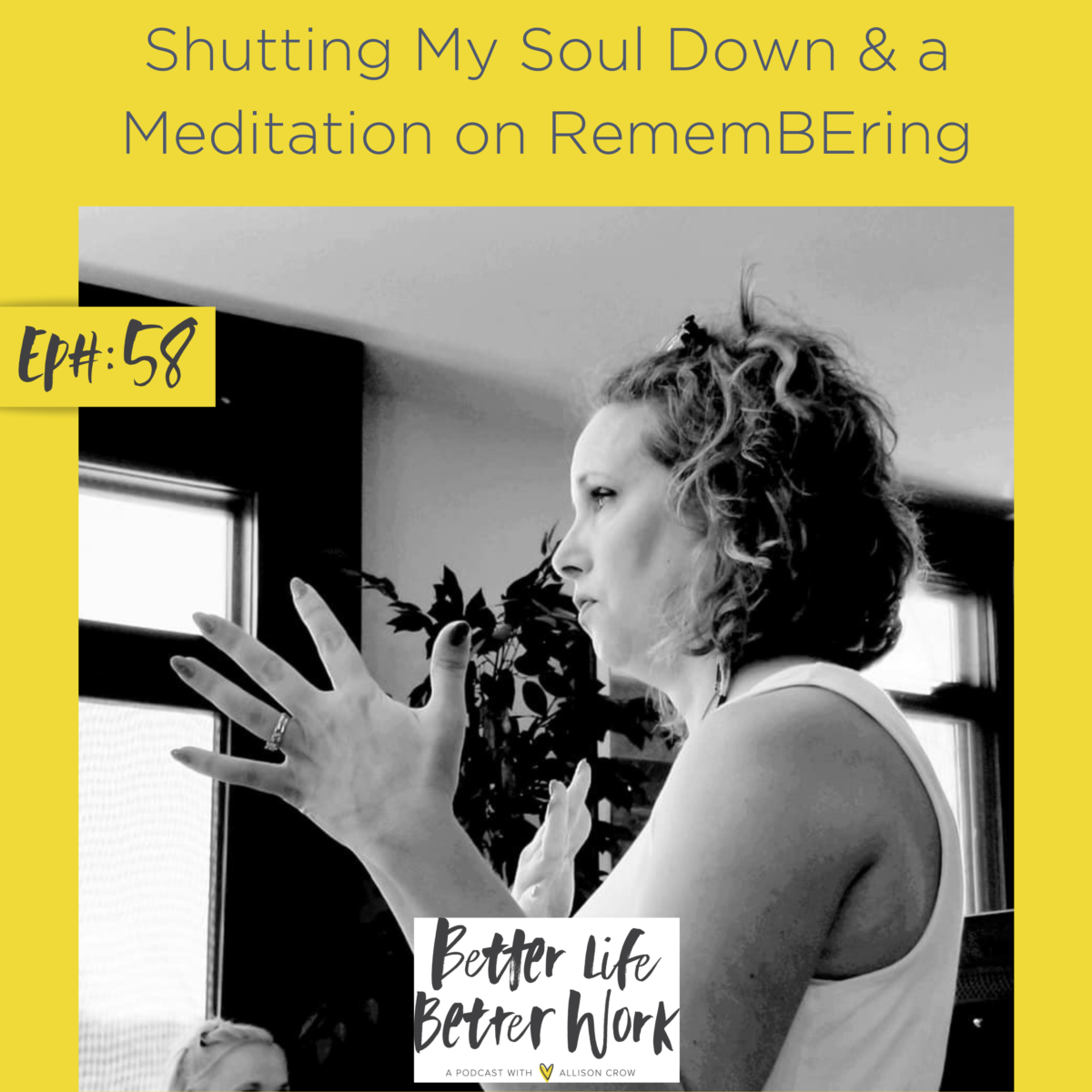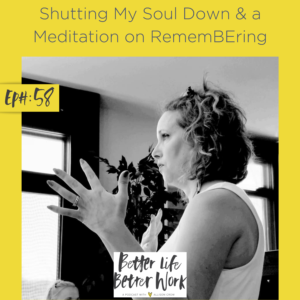 What happens to us…. that causes us to bury our truth deep inside?
How is it that along this way in life we let a little of our true selves go here…. and a little more there?
Our subconscious and nervous system are so dang effective at protecting us. When we feel unsafe or threatened… it's automatic and unconscious to go into fight or flight.
I live and breathe deep inner work and awareness. And a few years ago the perfect storm of coming out of a season of burn out combined with some experiences I had online – sent my deep subconscious into flight.
I'm just now putting all the puzzle pieces together and realizing the way I responded to experiences I had tucked away some of my most sacred truths when my deep trauma fears of "doing it wrong" and needing to be liked were triggered in a series of online experiences.
In wanting to make a way for others, I made up that it wasn't ok for me to be a spiritual, white woman in the online world – where my business lives. So I gave into my comfort zone and shied away from my zone of genius. I took on someone else's story and I shut down my own.
Even in this episode, as I come out of this shying away, I had moments of "I'm saying it all wrong." But you know what, I said it the way I said it. And that's alright. I can't do it right or wrong, and neither can you.
I'm sharing this episode, which started with the intention to record a meditation, even though I got emotional and probably didn't do it "right." (There IS still a meditation to soothe your nervous system at the end though).
And I ask that as you listen, you begin to think if you have accidentally taken on the world's views and hidden your true self. I encourage you to see if its story is actually your story if it's really you.

Transcript:
I was beginning to share the story of something that happened a couple of years ago, and I'm really just waking up and connecting the dots right now. I was starting out saying that I used to be really motivated by subconsciously motivated by people-pleasing, my fear of being rejected, needing everything fun, Enneagram Seven, everything needed to be good and positive.
Through my journey with Chris Zydel in art, and paying attention to politics, especially in the last four years, there's no more depressing down of difficult emotions and feelings. As I have intentionally grown myself to be capable of not outsourcing difficult feelings, da, da, da. That's one layer of the journey.
As I'm going through this, so there's a couple of things going on simultaneously. There's this little girl named Allison Crow that in third grade, when she went to the Baptist school and everybody said, "You are going to hell. You are going to hell if you hadn't been baptized," I hadn't been baptized in second grade, or third grade, or whatever grade it was, and I knew I wasn't going to hell.
I knew from a very young age that I had this relationship with Spirit and that hell didn't exist for me, or for anybody else. I was being taught at the time traditional Baptist values. I remember them preaching that shit to little kids in chapel. I was really shy and timid as a little kid. You all might not believe that, but I was really shy and timid. I went to this big scary man who, he was this really tall scary old man. I was terrified of him, and he was the one always saying we're going to hell. I asked "Can I pray? Can I please say the prayer at the chapel?"
He said, "Yes." So, it was so cute. Nobody told me this. No adult told me this, but as a little second or third grader, I remember praying like creating a prayer and writing this prayer in my mind, and practicing over and over and over again that all people needed to do to go to heaven, like that we all remember that it was about love, that we all remember that it was about relationship with spirit, relationship with ourselves, and relationship with others.
From a very early age, I had this sense of justice and no shame blaming guilt, no bullshit. My name Allison means truth. For a long time, before I knew it meant truth, I thought it meant justice. Some of this is background stuff, right? Some of it is my deep core wound. Some of it is a long time passion and inner drive. Also, as I get older and I start paying attention, I am not only concerned with myself. Clearly, I'm very concerned with myself, but I'm also concerned with my community both locally and globally.
So politics –I started paying attention to politics, and civics, and government. As my sister says, she sifted away from the republican party. When you have marginalized people in your family, it wakes you up until new whole something, something, something. Then honestly, Donald Trump becoming president knocked the rug out from under me, and allowed me to feel amazing, difficult feelings.
A big thing to me as has always been when I was a little kid is this sense of fairness and justice. Especially racial justice. Here's the other thing, so with this sense of justice, I also wanted to "do it right." A few years ago on social media, so you all know I've been doing social media since 2008, I started building my business online in social media since 2010. I've taught classes like Share Your Heart Show Your Work that are about the way that I love this medium.
At some point, in some of the circles online, there became this new thing about the spiritual white woman, and how fucked up she was, and how spiritual white women needed to give their voice to women of color, their platforms to women of color. I saw various spiritual leaders, and mentors of mine get ripped a new one on social media. I saw entire conversations. I participated in conversations. I was watching a lot of the social justice conversations. My sister was also very involved in it. There's a book out there called, "Becky," about white women, and how we are so fucked up, and we're doing it all wrong, and I am in no way denying that we have got some racial tensions in our nation, that we as white people owe … we have done a lot of fucked-up shit in America from the time of the beginning. We are not without blame.
Being a woman in the South that…. I'm sorry, I remember having this mentor, and my mentor has lived in Oakland for 20 years. The Oakland community environment is very different from Texas, and I remember learning about my white privilege in 2013. So, I'm a kindergartner in trying to pay attention and be aware, and yet I still was running this "I want to do it right energy" because I was afraid, because I was centering myself, because I was afraid.
I'm seeing all this stuff go literally at the height of my voice. I'm seeing all these things happen online, and I'm seeing people…Danielle LaPorte put out some marketing, and she created some art, and it was called Go Lighter, and it had a black man on it, and there were all these ways that it was wrong. Now, I literally saw someone on her post say, "Step aside. You would be better if you hired, if you actually used your platform to share with women of color." That was the mildest.
There were whole communities online. There was Layla Sayad, who wrote this letter to spiritual white woman. When she wrote that post about spiritual white woman, I believed it. Today, I'm calling bullshit on it. Because I was a kindergartner and taking things personally, I took it personally. I'm at the point now where I have spent, if not, I don't know, more than two years. A couple of years ago I remember talking privately with some of my women of color friends, and really exploring things, and having lots of conversations offline, because I don't feel like online it's helpful to fight, and argue, and bitch at people.
When I saw that and began to follow some of that stuff, something in me shrunk. Something in me believed the shame, blame, and guilt. Now listen, as I said, I am not denying that as a society, we have done a lot of shit. There are a lot of problems. And I didn't even realize I did it. It was like it showed up as, "Oh, I was tired. I don't feel like doing this anymore." Those were the conscious thoughts, but the subconscious thoughts were, "I'm doing it wrong. I don't have the right to use my voice. I certainly don't have a right to use my voice as a spiritual white woman."
A couple of years ago, I actually did a post, a political post. I don't do a lot of those. I did a political post, and a colleague of mine who is a gay man actually said, "You sound like a typical white spiritual woman." What was so funny was he clearly hadn't read my post that I do consider myself an imperfect ally for marginalized people. That he hadn't read my post. He hadn't completed reading it. He and I got in this thing. I finally deleted and then blocked him, and then he found some other way to email me and tell me that he was wrong and that he was just so angry and hurt.
I get that a lot of people are angry and hurt. I was confused, because as a facilitator professionally, I have been trained how to help people see new concepts. Using shame, blame, and guilt even where it's possibly due is ineffective. I can remember where I was sitting. It was December 6, 2016. This is how emotionally deep it hit me. I was staying at my mom and dad's house who both voted for Trump. I was fucking confused by that, still, am. I've had way too many fights with my family about that, and have just had to call a truce. It's taken us a year to enact the truce because nervous systems were so inflamed.
I remember sitting in my old bedroom, the bedroom I grew up in. It was evening time, and I texted Varian Brandon, and I said, "I need a coaching session right now." I had a long conversation with her that was the beginning of me remembering my own voice instead of buying somebody else's fucking voice for me. I don't know about you, but I have spent a lifetime buying somebody else's fucking voice for me.
I'm learning a little bit about human design, and I have open head and open ajna centers, and I have a closed throat center, or defined. My open head centers make me a really good coach. They make me able to read your thoughts, but I can also take on other people's thoughts. My defined throat center allows me to be expressive very clearly. I'm new to all that, but it's part of the journey of making sense.
I sat there on that bed and talked to Varian, and just cried, because I didn't want to do it wrong. I don't want to hurt my people of color friends. I don't want to hurt my gay friends. I don't want to hurt my disabled niece. I don't want to hurt my trans friends. I am so glad that things are tumbling right now. We're really rumbling. We're really rumbling, and I think the rumble is good. It's not that none of this was here before. It was just underground, and I didn't see it. So, I'm thankful for the rumble.
I started to believe the "experts" just because I was consuming their stuff, instead of taking in with curiosity what they had to say about the right way to do social justice or the right way to be a white spiritual woman, which I fucking am. What other paradigm am I suppose to have? I can be curious and learn about other people, but Jesus, I am a white spiritual woman. Go fuck yourself if you want me to be a gay black man.
I can listen, and comprehend, and commune with a gay black man, or a straight black woman, or a gay black per- I can be compassionate, but of course, I have the paradigm of a spiritual white woman, and not all of our paradigms are wrong. So, I was really thankful for my woman of color friend that reminded me of that fact. She and Tracey Lee were both like, "What are you supposed to be? Black? You're not a black woman. Why are you going to have a black woman viewpoint? No shit. Thank you."
It was just this little snap that I needed to see, but at that time two years ago, the wound I had allowed my mind to believe it, and it was a self-inflicted wound. Varian Brandon says in her course, "Be Unoffendable," you guys hunt her down, get her to do another one, you take that Be Unoffendable class over and over and over again. The very first thing she says when she teaches it is she said, "Being offended is a self-inflicted wound." I spent about a year before my realization believing that I was offended, and inflicting wounds on myself, especially as a spiritual white woman.
What happened subconsciously and manifested on the outside became an over obsession with business building, because it wasn't safe for me to be…I made up that it wasn't safe for me to be a spiritual white woman on social media, on my platform, in my voice, in my writing, on my social media, that it was only safe for me to talk about how to be a million-dollar coach, how to be a business person. I grabbed my zone of comfort and my zone of excellence, and I abandoned my zone of genius.
I notice the thoughts right now like even of like, "Am I saying this all wrong?" You know what? I'm saying it the way I'm saying it. I'm saying it the way I say it, and in the same way that I took somebody else's opinion, or view of the world, or the way a white woman should live and be. Personally, I am not responsible for how any of my viewers or listeners take shit. Do your own fucking work. I'm still doing my own fucking work.
I know am and in no way denying massive injustice, patriarchism, whatever. It's not my story to tell, but my husband is a really nice, open-minded loving man. He can be a bit grouchy on the outside at times, but he is like, "There is no space for white man's voice right now." What I found actually in this whole social … that was the vehicle that helped me see this, but my sister said, "Yeah, I'm in two groups for this social justice stuff. One is burning down the bridge, and the other one is building a bridge."
At that moment, it helped me see, I did not want to be a part of the burning down the fucking bridges of people. I don't want to burn down the bridges for anybody. I want to build bridges. That was helpful. That was two years ago, right? So, I'm having these insights a couple of years ago, but I still deep inside was terrified. I was terrified. My business, my expression became so much about business and business growth. It's something people ask me for all the time so I just stepped into it. And I shut my Soul down a bit.
Recently, I've had a couple of other dark seasons show up in my life. Number one, I had this fun experiment that I did in January. So, I used to teach a lot of prosperity and abundance courses and all these other things. In January, I decided to do an experiment with no focusing on prosperity and abundance, just doing my money thing, just bookkeeping, doing profit first, but not doing the mindset work around money. I did it for six months. I do not recommend it.
Experiment successful in the sense that no, I like to do money mindset work. I listen to this woman, Megan Hale. She has a podcast called Wild & Holy. As I was listening to her, so Megan is quite a bit younger than me. As I was listening to her, I was reminded of me. I was reminded of some of the purest and most holy, true spirit parts of me. I would listen more and listen more and listen more.
Meanwhile, I'm beginning to dive into the way of mastery and Christ consciousness, not religion consciousness, but Christ consciousness. I am paying attention to a year ago at this time, I started following and studying Matt Kahn and reading his books. I read his books. A lot of times I'll listen to his books as I'm falling asleep, and more love not less. Then as I'm listening to Matt Kahn and his current speaking, he is not taking spirituality out of the world.
Somewhere in there, I believe this story that spirituality, and my spirituality and expressing it would put me in this bubble and take my feet off the ground. I realized that my spirituality is actually how I move my feet on the ground. If I want to be boots on the ground, my actions, and behaviors in alignment with my spirit, then I have to develop my spirituality with my feet earth and grounded in real life.
I have to be willing to offend people. It's so funny. My team and I did a Facebook post yesterday on resistance, and we showed a picture of one of my clients from Camp Star Heart holding the fuck pillow. Do you know how many people unfriended me from that, and people I know unfriended me from that. I get it, it's totally fine. It's totally okay, but I think it's funny. It's like, I've got to stop filtering myself just to please you guys. I told myself for some reason that my business wasn't safe if I talked about my spirituality, or if I attempted to talk about social justice or politics in my way. I've had to apologize to myself for blaming myself.
A couple of weeks ago, I pulled out my iPad. Many of you know that two years ago, I was painting nonstop, and my painting has stopped. I got into creativity, but my creativity all was around building my business. I decided to instead of pulling out on my paints, I actually gave away my entire studio to my sweet little niece. So, I pulled up my iPad, and I was going to start just doodling on my iPad again as a warm-up. I think I came across the thing that said, "2013 vision."
One of the reasons that I left Keller Williams when I left Keller Williams was because I wanted to do spiritual thinking, emotional thought work, spiritual thought work. I had no intention of coaching business when I left Keller Williams. I wanted to write about my sacred self. I wanted to write about the re-enchantment of everyday life. I wanted to write about living a human life as a spiritual being. I had all these beautiful doodles and visions that I had done about that.
As I was looking at my iPad, I said, "When did I let this go?" Gently over the past few weeks, I'm starting to see the dots, and the lessons, and the stories come together. I've been really gentle with myself. I am re-awakening up. I am reawakening, and I am encouraging any of you who accidentally take on the world's views, a partner's views, your colleague's views, I am encouraging you to really check in with your being.
One of the things I love, shout out to Saeri Wilde, who helped me see this. Oh my gosh, and I have another girl right now, I cannot think of her name and I know her. That's so silly, but another friend of mine. I'm so sorry, that I'm having a blank on your name, Kerry Kennedy. Kerry Kennedy also helped me with this with human design. It was fascinating to learn a possible new layer about me. My human design type. When you have this open crown and ajna centers, and you hear, and see, and think all the thoughts of the world, and they can either serve you or not serve you.
In the same way that I am brilliant, and can think like a motherfucker, I also can accidentally believe other motherfucker's stuff. One of the things we're supposed to do is bring that down into your defined centers. One of my really defined centers is my sacral center. This is the second chakra, not surprising the area where I had cancer when I was 28. Here's what's crazy. My cancer at 28, I was able to have everything surgically removed, and was fine after that.
The fear of that and the fear of not having kids, something I had never heard these terms before, I was a kindergarten teacher at a Catholic school who brought my computer and stole the … I shared a dial-up line with my principal. Nobody else used computers at that school. I brought my computer to school, and I heard an inner knowing voice that said, "Yahoo search." There was no Google at the time, "Yahoo search the second chakra." Studying the chakras opened my eyes to a whole new way and world of spirituality.
I started unraveling. I started reading more. I remember one of my pastors said, "Don't you believe the bible is the word of God?" I said, "No." He was shocked and said, "Why?" I said, "Because I kept reading." That was part of the beginning of this spiritual broadening, this expanding my range, expanding my love for humanity, my knowing, my inner knowing. What's so funny is part of this is like taking all this stuff, and so often I would take things into my head. I took those posts about being the white savior asshole, and I let them stay in my head, and I planted them in my heart without dropping them down to my creative center to see if they were in alignment with me.
I am learning everything I take, everything I think, everything I intuit… to check-in, and see if it's really mine. Is it really true for me? I am remembering who I am, and I didn't expect all this to come out today. I am remembering what's really important to me. It's so funny. Okay, Marianne Williamson is running for president. She's not my choice, but I love that she's running for president. It's so funny to be watching her online and see how the world reacts to some of her views.
All of a sudden, I'm looking at it with this intellectual brain instead of my spiritual brain. I'm like, "Well, I believe a lot of the things she believes. People will think I'm crazy too." I started doubting again. I was like, "No, I believe crazy things. That's it. I believe in crazy things." I am in the coaching world, and you know what? You're right, coaching is an entitled industry. Having a coach is not one of your Maslow's hierarchy of needs. It is not a survival thing.
I am fucking in a luxury world. I'm in a privileged world, and it is. I will use my privilege to share my message of you learning and trusting yourself. The point of this was to share that story of how I bought into this, what was true for this other people. Because they've got so many followers, and because all these people believed it. Deidra came to Camp Star Heart, and she and Varian were so gracious with us spiritual white women in just having a conversation about race. That year Camp Star Heart was just really difficult for me, and I bought into stories that were true for other people, but they didn't have to be true for me, and I quit talking. I quit expressing, because I was afraid of doing it wrong.
I can't do it right, and I can't do it wrong, and neither can you. I love my friend Sara Christensen. She does Kickass Masterminds and one of her rules is don't be a dick. That's a pretty easy one to follow. I am about to record this meditation. I don't have it written. I will draw it up, but my meditation that I'm going to record, and this is the preamble to it, so I am going to go ahead and take this audio, and put it on the podcast intro.
Maybe I'll just do the meditation here, and this will be the whole intro. It was important for me to tell the truth to you guys, and tell the truth to myself. I had to tell the truth to myself. Oh, why I shut off the spiritual white woman part of me was because I believed a story that women of color couldn't exist along with my voice. What I know is that the women of color, and the men of color, and the white men, and the disabled voices, and the trans voices, and the gay voices, I can use my voice to help that. I can use my voice. I can use my platform to have important conversations and not shame, blame, and guilt.
I can use my platform to facilitate a conversation. I will be an imperfect ally. I can be all of Allison Crow as a spiritual white woman, and not be a fucking Becky. I feel so sorry for the women that are called Becky or that are named Rebecca. That's just mean. That's just mean. I know we've done some shit wrong, but meanness doesn't help heal the meanness that we as white people have done.
I got scared for a few years there guys. I didn't want to do it wrong. Now, I tell my clients all the time, you all remember Phoebe running on FRIENDS and Phebe would run with her arms flailing. That's how I prefer to move through the world. We all know that I'm not a perfectionist. We all know that I have way too many typos, that I'm a little sloppy, but my heart is gold, and my heart is light and blythe.
I want to run through the world with a giggle, and a smile, and flailing my arms and legs, and holding the hearts of as many people as I can, and not in spiritual bypassing, but in compassion, in love, in taking this journey together. I felt like it was important to tell you the truth. You would never have known, but I got scared, and I let myself … I silenced my own voice, and I am remembering. So with that, I am going to go ahead and go into … Thank you for connecting with me, and thank you podcast listeners for understanding that I really just enjoy seeing the names, and the faces of the people that show up online.
Susan, I'm going to come back and read later. Jane is here, and Christie is here. So many of you are here on the live stream, and so you're getting a shout out on the podcast right now. I do better connected. I don't do well in isolation in my podcast booth. With that, I'm going to drop in and ask Spirit to give us all words of love and comfort and help us remember who we are.

Taking a moment to allow your feet to hit the ground if you can, and connecting to Mama Earth. Even if you're connecting to Mama Earth through some polyester carpet like I am. Beginning to slow your breath, and allowing the magic of the inhale of oxygen, and the exhale of carbon dioxide to begin to soothe your nervous system. Remembering and acknowledging that we live in a state of over inflamed nervous systems. We have so much stimulation.
Just sending, in your mind's eye, the energy of compassion to your overstimulated nervous system. I love that sweet little Rocky potato, my most recent rescue dog is on the floor beside me snoring. This morning as I was in my bed and came back from feeding the dogs that wake up early, Rocky had somehow laid his head on my pillow. So I laid my head next to his. While I've never had my own babies, I heard my little baby dog's breath in and out. A little rough because of his short nose, but I heard his breath in and out. It was the sweetest tender reminder of life.
Yet, we can breathe in and out without remembering. So today, for myself and for anybody watching or listening, I call on the divine energy of remembering. Remembering who we are, who we were before we got lost in the bullshit of the world. We know that as spiritual beings having a human experience, we are not here to escape the human experience. We are here to integrate the human experience with our spiritual being and in the spiritual realms. Those two dance together. They are not separate from each other.
Today, I am reclaiming and asking if you feel called to reclaim your remembering. Reclaim your commitment to not escape humanity, but also to not escape or deny your spirituality, but to do this human, and difficult, and challenging dance of both discomfort and exquisite freedom as a spiritual being with not only your mind open but your heart open. Remembering that we are resilient, remembering that we are both unbecoming what the world taught us to be, and we are becoming beings who live and we live an integrated life.
As Matt Khan says, we learn how to anchor the light so that we can go into the darkness. I don't have to give my light. I just anchor my light. It penetrates the darkness. Breathing again and remembering that we have been given these miraculous bodies, this miraculous nervous system that at one time, it was required to protect us from being hunted. Now, the power of my nervous system and awareness of whether I am overstimulated and in fight or flight, or whether I am in the relaxation response.
As I wrote yesterday in Instagram, my relaxation response is not for massages and baths, and self-care on the fucking beach, but my relaxation response, my center of being is so that I can make beautiful change in a difficult world. Taking a moment now to give thanks, giving thanks to Spirit for never letting me go even when I deny myself, even when I deny my own truth. Spirit never demands anything of us. It simply invites.
Taking a breath and remembering that I am able, remembering that I am free, remembering that I can be effective even in difficult conversations, that I can use my voice and my actions to not just be love and light, but to be fierce, radical change. I am asking Spirit to help me, because I still feel pretty dumb, but I am willing to keep learning. I am willing to keep having difficult conversations, and I am willing to get to know my body, and my nervous system so that when I get scared, I am reminded to drop in instead of run.
I ask for forgiveness. I cannot tell you how many times I have flipped the fucking bird off at the TV, at the news, at somebody driving by me in the car. Spirit, help me channel my aggression wisely. Help me channel my anger, my hurt, my confusion. If I am angry, and hurt, and confused, so must my brother or sister also be. Help me be a listener. Help me remember how to listen with wise loving ears. Help me remember how to tap into my intuition and divine guidance. Help me to remember how to trust my body's signals that often show up before my minds.
Help me to trust my mind. Help me to remember my practices that strengthen this side of my being. Help me to remember that I am safe. Even if I were physically or violently threatened, I am still safe. Help me to remember to keep my heart open. Help me to remember to use my power. Help me to remember to create. Help me to remember to ground and root, to be in the moment of now, and now, and now listening.
Now, I know what it means as I was taught as a little Baptist kid what Paul meant when he said, "Pray without ceasing." It's not about being on my knees and my closet, but it's about being connected at all times and listening to a constant ping. Help me remember to turn on my signal and co-create with you. Helping me to remember to stay off my high horse and put my feet on the ground with humanity.
Just breathing in recognition. I had a sweet text from a friend today who got in a rile on Twitter, and shared with me the things that disgusted him on Twitter – he realized were also in him. I confess that everything I hate about what's going on in the world, in our society, in our politics, in our humanity is also in me. That the same judgment and criticism, and war that is going on outside of me also exist inside of me.
I acknowledge my light and my shadow. Right now, I agree to meet my shadow with compassion and curiosity. I lay down my weapons at war and learn to fight a different way. I fight with my vote. I fight with my voice. I fight with who I BE. I fight with curiosity and compassion and fierceness. I fight with more love not less. Taking a moment to breathe all that in. If you're watching or listening, check into your own inner wisdom. Hear your own guidance system. Listen to what he, or she, or they have for you, and knowing that you can trust that divine wisdom. Remembering that we can trust ourselves.
Taking a nice big breath in. Thank you for spending time with me, for hearing a part of my story today. I am the other you.
---
Thanks for spreading the word about The Better Life Better Work Show. And of course, I love your Social Media Mentions and Shares with #BetterLifeBetterWorkShow
Let's connect online @allison_crow on Instagram and Allison Crow on Facebook.
And, if you'd like to be a master soul student of Better Life and Better Work, I invite you to join me in the Soul-Full Success Coaching Membership Community ~ My exquisite membership community where connection, coaching, teaching and most of all, YOU, matter.
Podcast: Play in new window | Download
Subscribe: Google Podcasts | Stitcher | Email | RSS | More