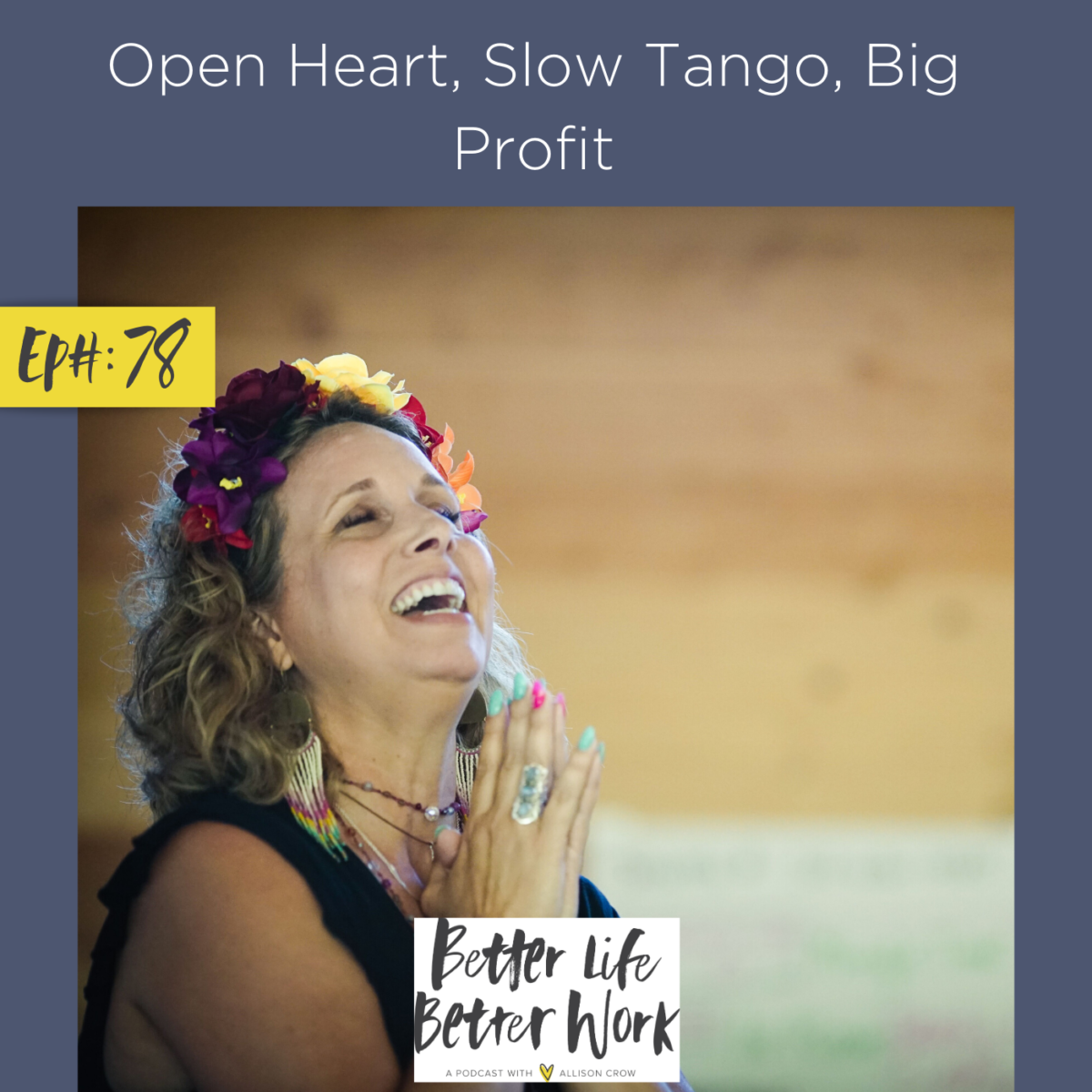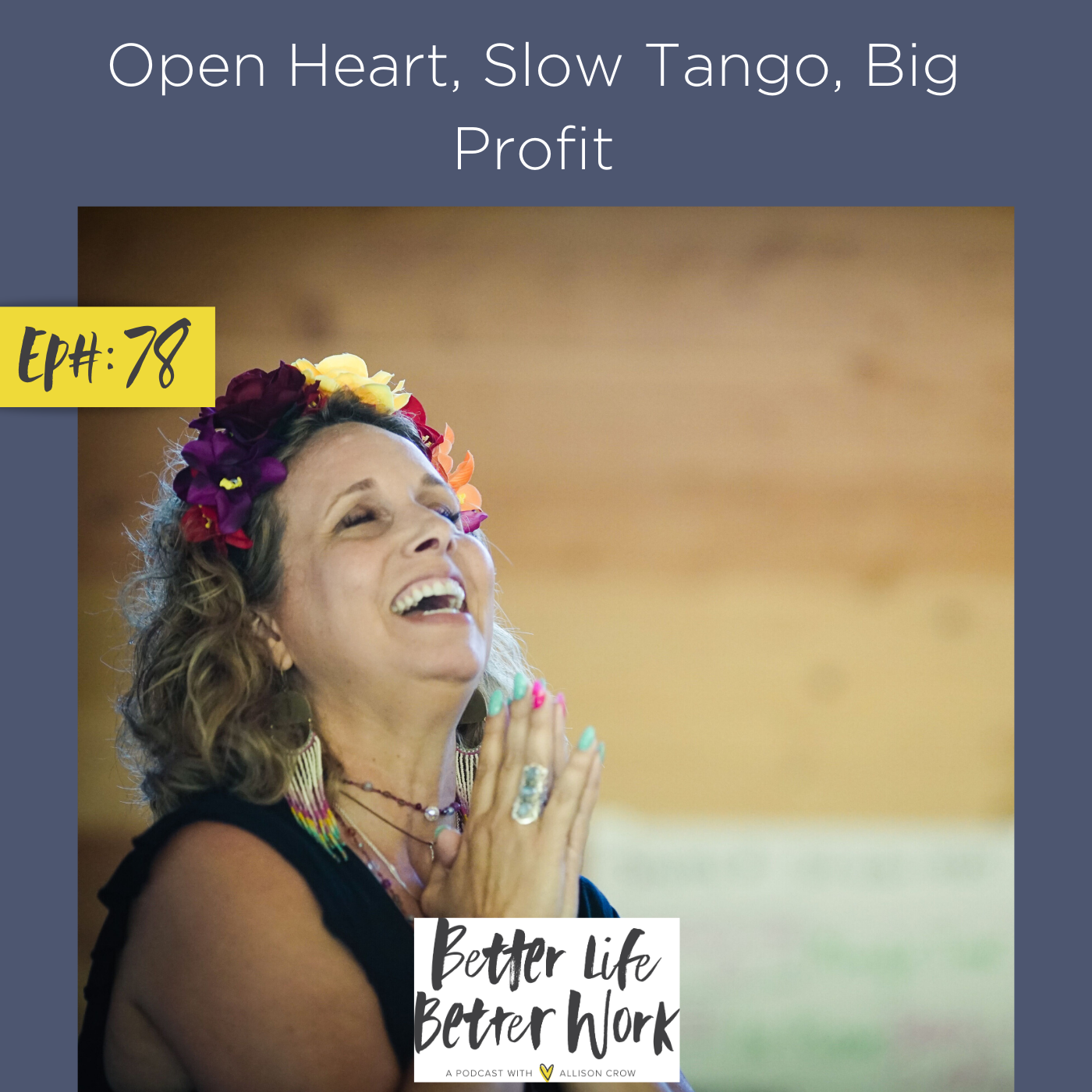 "What got you here won't get you there." Wow – I have hated when my coaches have said this to me.
And…. of course, I am seeing where this is true for me.
As we come to year's end, I'm reflecting on my journey, who I am becoming, and have come up with my "word" of the year:
Open Heart – Slow Tango – Big Profit
Okay, that's more than a word, but this is the theme or essence for 2020.
Open-heart has been my word for the past few years and it's truly opened up my life. Next year I felt the need to expand on this idea and I think the wisdom I've learned in this reflection will benefit you too.
That's why this week on the podcast I want to share with you the meaning behind each of these themes- I think you may notice yourself in some of them and take away some of the insights I've had as well.
This is a really meaty episode, full of new wisdom I have to share with you, especially those of you that may be people pleasers or have fear of rejection.
I hope you enjoy this episode as you enter the new year, that it inspires you to reflect and learn from what was and declare what will be for 2020. If you have a word or theme for 2020, I'd love to hear it head on over to Instagram or Facebook to fill me in!
Love,
Your favorite life coach
💛Allison
PS- Soul-Full Success is NOW OPEN! If you are loving what you are hearing and learning on the podcast and want in on being a Soulie, I invite you to join us! This is my live coaching membership group where you have unlimited access to me and our amazing Soulies for all you need from the mystic to the logistic. If this sounds like something you are interested in, join us while the doors are open at https://soulfullsuccess.live/purchase-life/
---
Transcript:
Hey, hey. This is episode number 78 of the Better Life Better Work Show, and I'm your host, Allison Crow. We are recording this live on Facebook. So if you are a replay viewer or a podcast listener, hello. Just taking a moment to breathe into you, saying a prayer for you. As we close out this year, I have some good stuff to share with you today.
I want to give a shout-out and welcome to all my live viewers. If you're here, say hello. And if you're listening on the podcast, I want to give a shout-out to you. I can't see your faces and name. So if you ever want to share the podcast or that you're listening, tag me so I can say hi to you. So here's what we're going to talk about today. We are going to talk about open heart, slow tango, and big profit.
Have you ever heard that statement, what got you here won't get you there? As we come to the year's end, I am reflecting on my life journey, my business journey, the journey of the woman that I'm becoming, and I have some really good, meaty stuff for you today to consider. So open heart, slow tango, and big profit is my word of the year. So I don't just have one word for next year for 2020, I actually have this theme and this essence that I want to share. It's more than a phrase to me.
Open heart has actually been my "word of the year" for the past four or five years. I want to tell you about where that comes from. I guarantee you as you listen or as you watch, you may notice yourself in some of these. And hopefully, you will be able to take away some of these insights and marinade on them and see how you can apply them, if they resonate, to yourself.
What I don't mind telling you, and what I might not have realized even for myself, was that most of my life I've been a terrified human being, and a couple … Actually, episode number two of the podcast … We are now on episode number 78 in almost three years in. Episode number two was about the money sin we're committing. That's just kind of a tricky name to get you to listen to it, but it was about receiving. I remember reading the book by Amanda Owen, The Power of Receiving and seeing myself in one of the chapters that talked about people who gave, and gave, and gave and had this people-pleaser personality and that it came from an inability to receive. We would give, and give, and give and people-please so that we would not be rejected. I have written down here that fear of rejection has been a huge blessing in my life. It protected me for a long time. It created a rebel in me that was willing to do things. My fear of rejection and the way my nervous system would handle it was like I would give the double bird and say I'm out, right? I would reject myself and pull myself out of a situation. Or on the other end of the spectrum, I would be really people-pleasy.
So that part of my personality, and recognizing that, and being able to work with that insight of what my deepest motives were, what were my deepest motives, I was so not conscious of that when I read that in that book. And holy cow it was amazing. So the other thing, being this person that was ultimately afraid of being rejected, very deep motivation. I was not aware of it on the outer surface. But, she was the one that took the risk. She was the one that said eff you to the company and left. She was the one that educated herself. That's the risk-taker in me. This is interesting because the fear of rejection is manifesting as risk-taking.
But, I took those risks because inside my heart I was desperate to prove myself. To who? I don't know. Well, I do know now. I was actually desperate to prove myself to myself. My soul was calling me to be my true self. That was the other thing that called me. Not called me, but that inner need to be accepted, to accept myself, to avoid rejection was the thing that motivated me to take the risk to start my business, to always be learning, to do all kinds of things.
And what I've noticed in the last five or six years of asking spirit to help me open my heart … So the way my heart was closed is the doors were open outwardly. I would give, but my heart was … It's like having the screen door open, but it was really shut because I was afraid of feeling pain. I was afraid of rejection. So, I absolutely love that … I don't know. I guess 2014 was when my … Even though I've been doing coaching and personal development, I've been doing unofficial coaching … I mean, I was a camp counselor and then a counselor of the counselors. I went to school to be a therapist. I never finished that degree. Ended up being a teacher. I've been a baseball, basketball … Not a baseball coach, a basketball coach. Through all those things, I was leaning towards the positive to avoid the scary. And in 2014, the work that I did really led me to learn how to experience a range of emotions, not just the happy ones, to learn how to truly open my heart, not just to good experiences but open my heart to all that it needed to feel.
If any of y'all know the Enneagram, I'm … Right now, I'm really confused about where I am on the Enneagram because I'm not motivated by the things that I used to be motivated by. And that's part of this journey that what was a blessing became a blah. So for all these years being an Enneagram seven, and wanting things to be fun, and wanting things to feel good, pushed me out of things that felt bad. But until I was willing to open my heart to a greater range …
So one of the examples that I give is actually my very personal religious journey. I was raised as a Christian. And somebody asked me the other day. "What? You're not Christian? You don't believe in Jesus." I was like, "I totally believe in Jesus." And I feel like my belief in Jesus was like this, but my belief, including Jesus, is just so much more range. So opening my heart to listen to other people, opening my heart to other human beings, to other religious philosophies, opening my heart to experience all of life, both what was comfortable and familiar, and both … and what was uncomfortable, and unfamiliar, and actually even terrifying.
I mentioned this the other day, but I told my dad this weekend … I was at my … Not this weekend, but Friday or Thursday when baby Bowman was born. I was talking with my dad and was sharing about how he had … We were talking about the name Bowman, and my brother's child is named Bowman. That's the street we grew up on. That is actually a family name for us. I don't want to share too much of Cameron's story, but we were there with my dad, the three generations of Crows. My dad was kind of talking about how some things weren't good. I said, "You know, Dad, for the past five years, I've had to allow myself. I've had to open my heart to what wasn't good. But after surveying all that was good and all that was bad, and traumatic, and not good, there is definitely more good than bad." It just felt like an honor to tell him. Whereas three years ago, I remember having to open my heart to literally hate my family. I hate that word, but to literally be so disappointed. What I have found is that opening my heart makes me a woman of range, and it is changing everything. It's changing my relationship with my husband. It's changing my relationship with my family and my business.
The other thing that opening my heart is doing is giving me sacred confidence. My confidence now is coming. Not coming from a place of ego, primarily. I mean, I certainly still got a little ego in here for sure, but my confidence is coming from this slow place. I'll talk about slow tango in just a minute. But, my confidence is shifting. So before, it was false confidence that was big on the outside, but small on the inside.
The other day, my friend, Toku McCree, who is a coach and he trains coaches, was talking about what are some of the wild things that you have done with your clients. And I have done a lot of really wild things. I've taken clients to Mexico and made them get to a destination two hours away from where they didn't know the language. I have skinny-dipped with clients. I have taken them to see wolves. I have done Equus coaching with them. I have done painting. I have done blindfold painting. I have done all sorts of crazy things with clients.
And I hadn't taken the time to write this yet to Toku, but one of the things that is so interesting is because now I'm very boring with my clients. And I used to need the risk. I used to need to do all the big fancy things because it was easier to do the big fancy things all over the world than it was to just sit with a client in their discomfort. So now I'm enjoying the range of this different element. And who knows. Maybe all the wild, and the risk, and the flashy will come back, but there's something sacred about the simplicity.
Open heart, I think I'm … I got to go back to see which year I first started it. But, I feel like open heart and open-hearted is going to be my word of the year every year. It is the basis from which I want to come. And it is in and out. Not just open-hearted to give, but open-hearted to experiencing all of life. And being open-hearted and willing to experience that has given me sacred confidence over ego confidence. And that equals peace.
Okay. So, number two is slow tango. My husband, since the day I met him, has been telling me to slow down. Slow down, Allison. Slow down, slow down, slow down. I'm a fast mover on the DiSC scale, I'm an ID, fast social, get shit done, fast, fast, fast. I make decisions fast. I think about things and then I make a decision. I don't fear the consequence of anything, and so I began … Actually, it was interesting. The year I started, the year I discovered Rich Litvin, who was my coach for a while, I had been drawing pictures of Shavasana. I've been drawing yoga pictures. I was just drawing slow down, and I could feel my soul's call to slow down. Then, Rich would always use the phrase slow down to speed up. And I began to practice slowing down. That was not easy for me. It still can be a challenge, although I'm much better.
So, I spent four or five years nurturing slow. Then one year, my friend and colleague, Christina Berkley, posted this video of her literally doing a dance in ballroom fashion. She was actually in a conference, and they circled all around her. And this gentleman who was her partner … And she did the tango, but it was a slow tango. The dance, a tango, is like something really fast. In my mind, I think of it really fast, and sexy, and sensual. She did this dance and shared this YouTube video on social media, and it went all the way into my bones and my being. And I knew that the idea of slow tango would transform what had worked for me and then hit a block.
In the past, being fast, all that risk-taking was natural to me. It was easy. And to develop myself, I began to teach myself to go slow. For me, slow tango means sustainable. Many, many of my clients are middle-aged men and women. I cannot speak to what it is like to be a middle-aged man, but I can speak to what it is like to have the body, hormones, and just the physical ability of a middle-aged woman, and that is not something that until recently I'd really considered the impact on business.
A few years ago, I went through burnout, hypothyroidism, adrenal fatigue. I was sleeping entirely too much. I literally couldn't bear … Even though I loved my work, I physically couldn't bear run my business the way I had been running my business. So sustainability, not just profitability, but sustainability became very important to me. One of the reasons it became important to me was because I don't have retirement, so retiring was not an option. It's not an option for my creativity, but it wasn't also an option for finances. I began considering what could I do that was soulful, what could I do that was successful, and what could I do that had long-term emotional sustainability, financial sustainability, physical sustainability, right? Began really taking in the mind-body, spirit. And this dance, this slow tango, it's sustainable. It's sexy. It's simple.
Slow growth is solid. And we live in this day and age … Y'all, last night, I sat down at my computer. I had gone out to shop, and it was just a disaster. So I got the hair chop instead. Instead of shopping, and got my hair all chopped off. And I came home and sat down and ordered all my Christmas presents online. The thing is everything, and my new coffee maker, will all be here in the next two days. That is the life we are living, and so we've become really accustomed to this quick fix.
And what I know is that the first year I set the goal of having an open heart or I set the essence of feeling into open heart, it wasn't complete. It's a lifelong journey. And myself and my clients, I use the distinction of gardeners versus machines. There are a lot of machines out there, and I think that the people that have machine-type personality, and that's the kind of business that they run, it's like get the product out there, get the service out there, next, get the product, get the service, next, fantastic for them. That ain't me. There is something in my soul that requires relationship in the middle of all these things, and so I call us gardeners. We're still growing something. We are still selling our services, but there is a relational quality that is very, very valued for gardeners. If you're a gardener, raise your hand and let me know you're a gardener. If you're a machine, you probably don't have the tolerance to watch me, which is fine.
God bless the machines. They do their thing. The machines are getting me my Christmas presents in time for Christmas. And the people that I work with are gardeners. And what's interesting about gardening is it's a slow process. Yes, landscaping you can come in and wham, bam, thank you ma'am. But here's the thing, those plants still had to slow grow before they're able to be implemented into your garden.
Think about what slow tango could mean for you in your business. Slow doesn't have to mean sloth, although they're adorable. It doesn't have to mean it's never going to happen. Many of the people I talk to, especially in the past week, we get so wrapped up in the speed of our business and the speed of our success.
I talked with a client yesterday who was having a little bit of a confidence crisis because she feels like she's been doing this for a long time and it hasn't been getting traction. the fact is she hasn't been doing it for a long time. A year, two years is not a long time. That is still baby. That is still launch phase. Y'all, three to five years to profit, three to five years to profit, and then 5 to 8, 9, 10 for growth. Maybe after that you're in what we call achievement phase. So, think about what realizing … When I realize I want to be doing some form of this work, inspiration, coaching, teaching when I'm 70, 80 years old, why am I rushing right now? And the more that I go slow, the more that I hear my own inner wisdom and everything I implement is gold versus rushing through without checking in.
Okay. So the last theme. The last theme is the business. I mean, a lot of it is the business aspect. But listen, I'm all about gardening. I'm all about open heart. I'm all about dancing. But mother effers, I'm also about big profit. Many of you know that money is one of my glorious vehicles for creation. I have a unique ancestry of money in both the Crow and Risinger sides of my family. My grandfather was a grand success as a developer. My dad had very up and down success, and I was imprinted at a young age with very up and down success.
Honestly, I never ever considered being in business for myself until I was 29 years old. I never ever thought about being in business for myself. I had wanted to be a stay-at-home wife and mom, and I wanted to marry a very rich man because that's all I saw in my community. Remember what I said about range at the beginning? Open heart, open your mind to other experiences. So my first year in real estate, I grossed 120-something thousand dollars. And I had gone from making $36,000 as a kindergarten and computer teacher to figuring out how to … to this income that I never had before and to this realization that I actually had a business strategy mindset.
So, talk about slow tango and slow journey has been my journey with money, and has been my journey with receiving, has been my journey with wisdom in my money. There are so many teachers about money, whether it's the law of attraction to Dave Ramsey, and everybody's got an opinion of how it's done. And I am really learning how to create sustainable income. So sustainable, that recurring revenue, multiple streams of income.
The other thing about big profit for me is not just the money in my business, but am I providing for my future self? Do I have the other elements? So a lot of times when we're talking about money, we just talk about income. But for me, big profit is not only am I profiting financially, but am I emotionally profiting? Is my future profiting? So one of the themes this year I'm really excited because I have been building, building, building. Many of you know that three years ago I tore down everything. And I didn't tear down my history, but I tore down the current structure and rebuilt Soul-Full Living, LLC and my business around this membership program that I offer that you're all invited to join. In rebuilding that, we downsized house. I downsized my income, and I upped my expenses. Insane. Taxes last year were not fun to look. This year they're going to be fantastic to look at.
And in the last year … Y'all will hear me talk about this a lot. In the last year, I have learned to allow implementation help. So I'm going to be doing a podcast very soon on going pro, and there's a lot of ways that I'm pro. I know that I am pro as a coach in my skills, but I have been going pro the last couple of years, especially last year and this year coming up, going pro as a business owner. I have a lot of friends that use that language of the CEO. I've been playing around with the phrase soulful mogul. What that means to me right now, mogul is not resonating but really going pro as a businesswoman.
So y'all realize, right? If you're out there and you have your skill, your skill is one element. But the other skill in growing a business, and in creating profit, and the way you manage and spend your money and resources in your business is a whole nother thing. I hadn't had somebody look at my PnL and help me understand if my profit margins were decent or not the entire time I was running my business. So things like paying my taxes on time quarterly with cash, gently and slowly getting out of business credit card debt, and hiring this help that we can be a visionary and we can … so we can have the idea for the business and we can have the delivery of the business. And this implementation is where I see a lot of small business owners get stuck. So, big profit is an unfolding theme for me.
I'm also willing to declare publicly that money is important to me. It's totally important to me. What I love about my business, creating money, is not just my lifestyle. Business creating money allows me to give. It allows me to … I have three, four, five, five people that work contract with me, and I get to pay them. I get to help fund their lives. I get to donate. There's a lot that I can do with the income that I make that feels really soulful, more than just stuff.
Big profit through tending the garden of my skill, of my business skills, of my willingness to grow and expand, and so that's another theme this year. Where my business happens to be is it happens to be at a place where actually a lot of the foundation that I never had when my heart was closed and all I was was a risk-taker. A risk-taker moves so fast she didn't set up the foundation. So I've spent the last three years doing structure that I don't do, but I found a way to learn how to work with other people to help me.
Even this morning as I went into my structure, this was fun. What I love about learning to work with somebody is that my team listens to me. They create a structure that they think will work. Then, I go in and if there's an element of that structure that doesn't fit … One of the things I told my team this morning was like, "I just need to trust myself not to blow past the structure, but if there's a little piece, chuck the piece and switch it." Right?
So what's interesting … I know this is a little behind the scenes, but today's episode was supposed to be about soulful mogul, and I'm just not feeling the soulful mogul vibe. So that kept me from recording this podcast. I found the resistance. Instead of trusting my inner when I go slow and I know that something's not resonating, all I had to do today is sit down and said, "What is resonating?" You know what's resonating? Open heart, slow tango, big profit, bitches. That shit is fun.
Learning how to do the dance, right? The slow tango is a dance. So when I learn how to do this dance with my team, with the people who contract and work for me allows me space and time to love on my people. And loving on my people is the number one way I create big profit. In the past, loving on my people became exhausting because I didn't have any systems or structures to support me loving all my people. At the end of the year, it'll be fascinating to look back and see what did big profit really mean to me. All I know is that I am going even deeper into looking at my expenses and not just from scarcity or see what I can chop. But really, what is profitable? What is profitable on my PnL? What is profitable in my heart? What is profitable with my time? How can I create a life that is in the green mind, body, spirit, finances, family?
Those three things, I didn't always used to be that way. For many years, y'all, when I was making money, I'd make all this money and then I'd get a tax bill and I just get my debt paid off, and then I'd have to put 30 or $40,000 on credit cards. I saw my own family overspend. Earn a lot, but spend more than they made. So, big profit is about not just making more. It's about spending wisely and making more because making more was never my problem. It was always about the allocation of it. Each of you has resources, not just financial resources, but emotional resources, intellectual. And I do believe they're abundant. But a lot of times, the one who had a closed heart refused to think there was another way to do it, and so she didn't want to feel the pain of doing without to create going forward.
One of the lessons I've learned in the last few years … So for the first time in my life, I have … Well, I've had disability insurance for the last 10 years. I've had a life insurance policy for the last 10 years, but I am investing in teaching myself to invest in the stock market. I have two IRA, Roth IRA, accounts that I'm actively putting a little bit here and there.. Last year, I maxed one out. We'll see if I can max the other one out this year. Not quite sure. But, I am putting in the future. Then, I also have some things set up if I were to ever get sick, or if I were to have a disability, or if I were ever to get Alzheimer's, which runs in my family. I have some things set up. And those are structures that I had never … I call it spending on my future self.
I was so resistant to saving and planning my future self was suffering. And the idea of a budget felt like it was depriving me of something. And my Enneagram seven personality did not want to be deprived of anything, and so she just busted through and created. But, I'd create on one end, and I was leaking out the other. So what's happened over the last couple years as I've had that open heart, I've been able to face things that my nervous system and my emotional system were very uncomfortable facing. And what is happening is that the whole is being plugged. So I am learning that there is joy in providing for my future self. There's not just joy in the big win now, but there's joy in the sustainable journey. There's joy in the slow tango, in the dance of this life.
And for the first time, I don't feel … I feel a different kind of exhilaration. I feel an exhilaration of … It's a different kind of fun. Sometimes I think maybe I'm so boring because I don't want to go jump off of a mountain, or skydive, or do these things anymore, but I … There are certainly some outer world things that I want to create, and there is a different kind of joy in the isness of my life and business. I know that to a lot of you that may not be sexy. But to my clients, it is sexy.
I don't want to be a big pusher of seven-figure promises and bullshit bullet points. I want to work with people who are on the long, slow tango journey, who want to have an open heart in life and in work, and who want to profit big not just in their business but in their emotion, in their relationships. This is the work I've come here to do. Open heart, slow tango, big profit. I just wanted to share that these three things, they're relatively new for me. I am still in the launch phase of these three things, open heart, slow tango, big profit, and it is taking. I'm not necessarily leaving behind the risk-taking Allison, the wild and crazy Allison, the fast Allison, or the Allison that overspends every once in a while. She's not left behind. She's transformed, and she's got so much more wisdom. And that's what I want to help my clients see.
I see that on the Livestream Carolina just hopped in, and Caroline has been my client for three months. She's done a couple of testimonials to tell me the impact of her business. She shared in our group the other day, I know she doesn't mind me sharing this, that every Friday she's taking off and that she's adopted the mindset, and business practices and the business strategy that naps are profitable. Even her husband is helping her take naps for profitability. That was a concept that I had to give to myself, that naps are profitable, that space is profitable.
I could go on and talk about these things forever. I love them. I would love to hear both from the live audience and from my podcast. What does open heart mean to you? What does slow tango … If it resonates with you, what would your version of slow tango be? And what is big profit? Where do you want to profit big in 2020? Where do you want to profit big in your business, in your life, in your heart? What is big profit? And where are you willing to realize that what got you here won't get you where you want to go next? What got you here is not what will propel the becoming of you that is the fullness of you.
And with that, I am going to hop off and spend time with my daughter for her birthday. So we have baby Bowman who was born on the 19th. We have Samantha whose birthday is today, the 21st. Winter solstice is the day of this recording. Then our son, his birthday is the 23rd. So, I'm just so grateful to each of you that take time to either watch, to pop by, or to listen on the podcast. I'm so grateful for the Soulies that are my clients, both the everyday show-er uppers and the occasional show-er uppers. I'm so grateful for our community. Soul-Full Success is the epitome, in my heart, of open-hearted, slow tango, big profit. So any of you that want to consider becoming a member, you can go to coachwithallison.com and find out more. And with that, I will see you on the next episode. Bye, Soulies.
Podcast: Play in new window | Download
Subscribe: Google Podcasts | Stitcher | Email | RSS | More