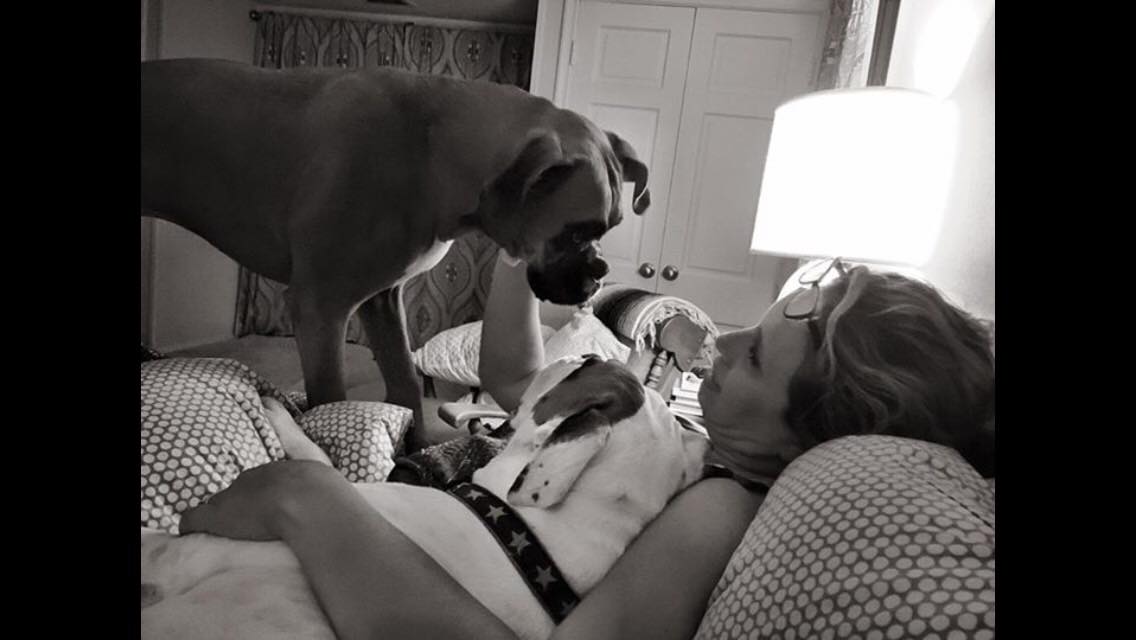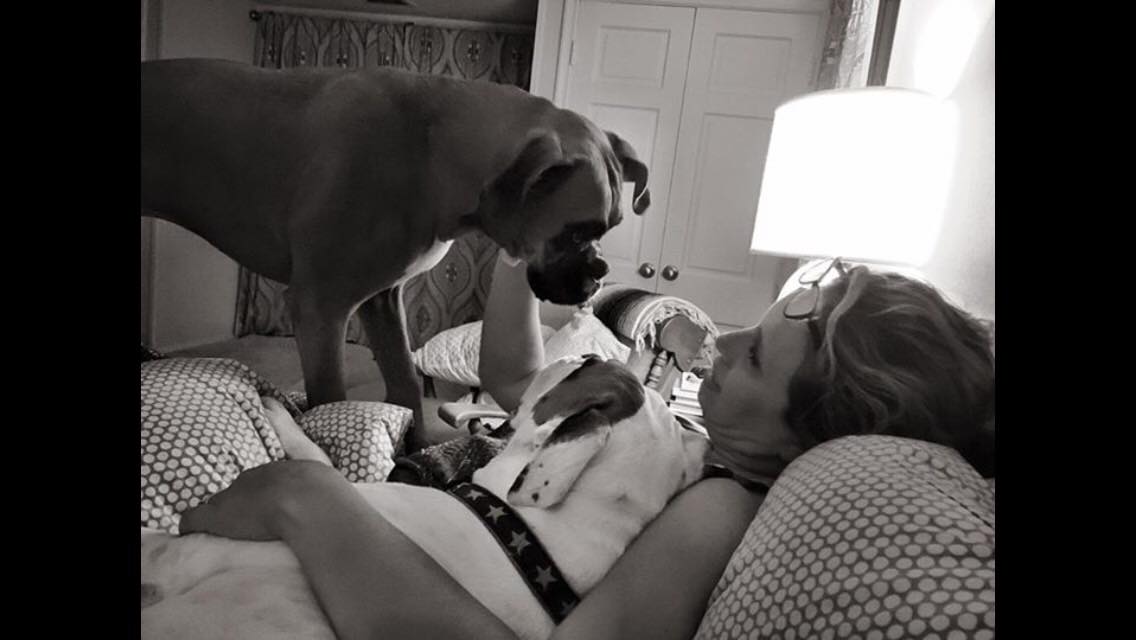 At 5 am his tail (the one he wouldn't have if he were purebred stock) starts to wag. It thumps the bed to let me know he's ready for breakfast, and oh after that- he needs to pee.
I try to pretend not to hear it, but then he jumps off the bed and wakes his sister up (she is purebred).
Groggily, I head downstairs – and each step of the way- the white one with the tail jumps and smiles and his ears are perked- each morning is Christmas for this boy- he gets to eat and there is nothing…. and I mean NOTHING that makes him happier.
She lumbers sleepily past the food bowls and out to pee- for the first of 50 times this day. She is ambivalent about food… it doesn't ever sit so well with her anxious belly. Eventually, with my prodding, she slowly eats her "dinner" where 2 melatonin pills are secretly hidden.
Their but-ass early morning meal done- we all crawl upstairs and back into the bed big enough for us all. They have their own king sized beds in the floor under the window- but this special morning time is more appealing. For us all.
She gets on the bed first this morning. I rub her velvety soft ears and I can tell she is pleased. She just sits. Still unsure how to rest into the love she obsessively needs and craves- I remind her to lay down and finally she's cuddled up next to me. Awkwardly. After almost 3 years with us – she still doesn't quite know how to relax into the love we give, or into having a big happy-lovey brother.
I think of all the tiny moments that had to occur just right so that these two dogs could wake me and my husband up every morning at 5 am. These two now back asleep along my side while I write.
I know very little of his history and nothing of where he was born, what he looked like as a puppy, or who his doggy parents were. And certainly we no nothing about how he ended up on the streets of Waco, Texas starving, emaciated – and with teeth so damaged from eating rocks, they thought he was older than he probably was. Or why he was so mentally messed up that they thought he was deaf. He's not. He can hear a banana being peeled from upstairs- even if he's dead asleep.
We weren't supposed to get a dog the day we met him at the rescue's meet and greet at the park.
But as I knelt down to say hi- he burrowed his head into my bosom and stole my soul and heart. We knew we loved him but we're timid and left the park without claiming him or even leaving our name. Someone else, an "approved adopter" said he'd take him- but his foster mom knew it was us and said – "He's taken."
She was a tiny, cinnamon, pure-bred girl. Registration and papers. Dew claws and tail cut before she was even aware she had them. A lovely and well-meaning family paid good money for her and gave her a warm home and lots of toys- a blue football that is still her favorite. A little boy and a little girl loved her.
I don't know what happened there, or why or how her anxiety and whining started. But it was too much for them and they boarded her as often as they could until we came. We were rescue volunteers and had responded to a request to help rehome their dog. She barked at us like crazy when we first met her- I now know this is her way of saying hello. It's off-putting at first but underneath it my heart sees she just wants to be seen and loved. We took our report, our photos, and left.
A month later we went to get her- knowing we would foster fail.
5 years ago, he was brought to meet our two senior girls to see if it was a fit. He never left. But after the first 24 hours and him bloodying himself in the crate from separation anxiety, and the howling and high pitched barking- my husband and I looked at what we'd done and thought we'd made a huge mistake. But we also both knew. We KNEW we had to do right by this dog. And we did.
In time he learned that his crate was cozy, that he'd always be fed, and that we ALWAYS come home. He left his anxieties somewhere along the way and is my big, relaxed, cuddly, always hungry baby. My soul dog.
I don't know if her anxiety will ever melt the way his did. Or if I'll ever be able to train her to be quiet while I'm on client calls or not to freak out and say hello like a mad woman to every person or dog she sees. The only time she's at peace is watching squirrels…. and at night when she sleeps. I'll never stop assuring her that she has a home forever, and is absolutely a part of our family and that I will never, ever leave her at a boarding or vet alone. And maybe someday she'll learn to snuggle and relax and really trust our love. Maybe not. That's ok. Either way, she's home.
So many little pieces had to fall into place to have these perfectly imperfect two at my side this very moment. So many forks in the road that could have put them down different paths. But somehow the angels made sure these two rescued dogs- landed in my home— and in my bed… and in my heart where they will stay forever.
It's now almost 6 am. The white one just put his huge head across my ankles and sighed. A signal for me to put the phone down and go back to sleep.
And so I will. Full of gratitude for being woken up at the but crack of dawn every single day.

?
?
?
Special thanks to Austin Boxer Rescue and Legacy Boxer Rescue