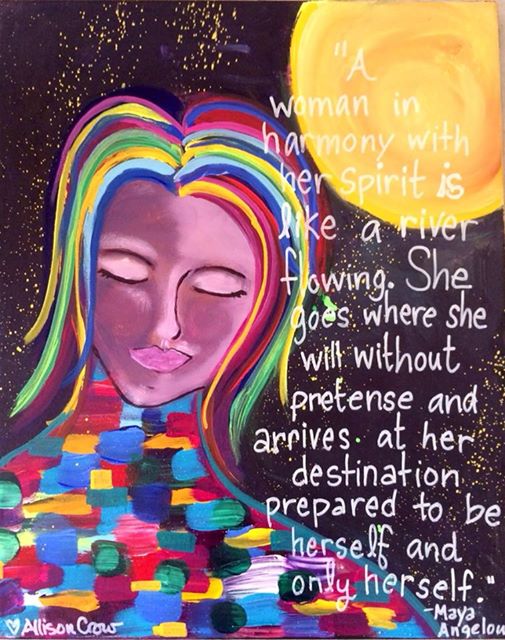 Dr. Maya Angelou crossed over the veil yesterday.  As I watch the various posts and news articles cross my feed, I just soaked her love and wisdom in.  I took for granted that she would not just always be there.  And now that she is gone, I am so grateful for how much she has left us.
I painted a painting based on one of her quotes just 2 months ago:
In a strange way, Dr. Angelou's death, healed a piece of me yesterday.  
I woke up in a funk about my middle age changing body.  Long story, and I am just not that skinny waif I was for about 35 years.  I am now taking up more space in the world, both energetically, and physically.  My wisdom and my belly are growing.  Never once, in admiring Maya Angelou, did I question her looks, or her weight.  I just saw her inner beauty.  And the light that she shone.  And I felt the impact of her poetry, and her speaking, and her being on my life.
And then, in my facebook feed, I saw this photo (and I'd love to give credit – so if this is your photo, please let me know so I can ask you for permission to post it and then credit you):
There she was, as a young woman, with a tall, skinny body – a body similar to the one I used to have.  Tiny waist, luscious booty, strong arms and shoulders.
And in that moment I released my need to BE WHAT WAS – and to just allow myself to become.
This isn't even really about body, or weight.  It isn't about looks.  But sometimes we need a FORM from which to learn these deeper lessons.  Beyond the form, is the essence and the energy.
So thank you, Maya, for yet another beautiful lesson of love.
 I appreciate that in our loss of your physical being here,
you gave me one more blessing and lesson –
to remember to LOVE BECOMING. 
Here are some of my favorite quotes by the not only tall in stature, but also tall in spirit, Dr. Maya Angelou.
"Nothing can dim the light which shines from within."
My mission in life is not merely to survive, but to thrive; and to do so with some passion, some compassion, some humor, and some style."
"I've learned that making a living is not the same thing as making a life." 
"The idea is to write it so that people hear it and it slides through the brain and goes straight to the heart."
"My great hope is to laugh as much as I cry; to get my work done and try to love somebody and have the courage to accept the love in return."
"You can't use up creativity. The more you use, the more you have."
"If I am not good to myself, how can I expect anyone else to be good to me?"
"Hate, it has caused a lot of problems in the world, but has not solved one yet."
And of course the poem Phenomenal Woman
Pretty women wonder where my secret lies.
I'm not cute or built to suit a fashion model's size
But when I start to tell them,
They think I'm telling lies.
I say,
It's in the reach of my arms
The span of my hips,
The stride of my step,
The curl of my lips.
I'm a woman
Phenomenally.
Phenomenal woman,
That's me.

I walk into a room
Just as cool as you please,
And to a man,
The fellows stand or
Fall down on their knees.
Then they swarm around me,
A hive of honey bees.
I say,
It's the fire in my eyes,
And the flash of my teeth,
The swing in my waist,
And the joy in my feet.
I'm a woman
Phenomenally.
Phenomenal woman,
That's me.

Men themselves have wondered
What they see in me.
They try so much
But they can't touch
My inner mystery.
When I try to show them
They say they still can't see.
I say,
It's in the arch of my back,
The sun of my smile,
The ride of my breasts,
The grace of my style.
I'm a woman

Phenomenally.
Phenomenal woman,
That's me.

Now you understand
Just why my head's not bowed.
I don't shout or jump about
Or have to talk real loud.
When you see me passing
It ought to make you proud.
I say,
It's in the click of my heels,
The bend of my hair,
the palm of my hand,
The need of my care,
'Cause I'm a woman
Phenomenally.
Phenomenal woman,
That's me. 
Maya Angelou
Thank you mother Maya, for all you have given us.