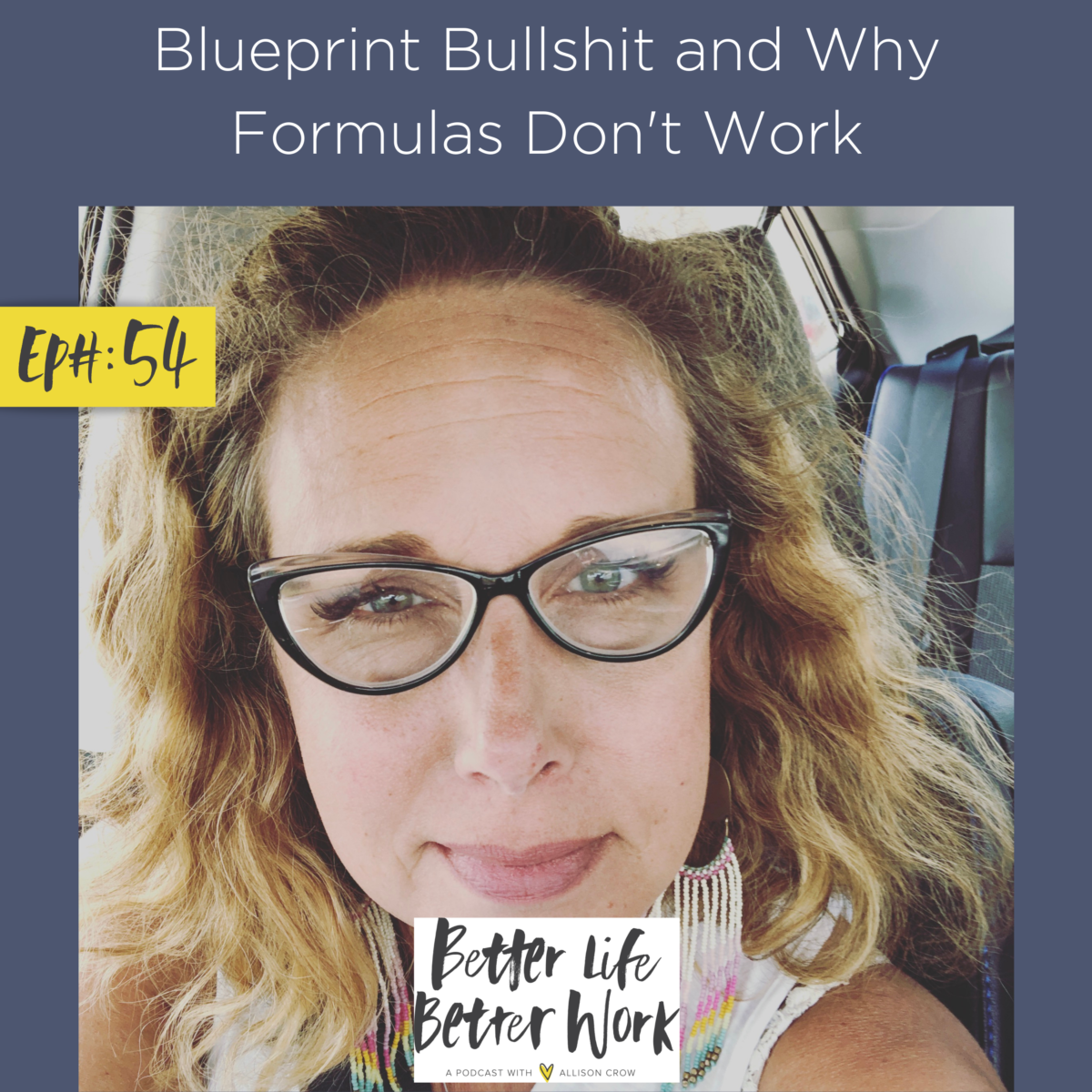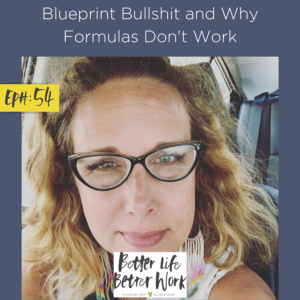 This is episode number 54. And as soon as I hit the record button, my dog is either going to snore or lick his balls. That's what happens in my world. Hey, gang. I'm excited to bring this episode to you today. It's a really important episode. I need you to listen carefully. I need you to maybe even listen a couple of times because I really, really want to help you, and I see so many people give up, quit, get frustrated, et cetera. What we're going to be talking about today is blueprint bullshit and why formulas don't work. I know that's a controversial thing to say in a world where there are franchises – franchises offline, and then online we're inundated with the formulas, and the blueprints, and the roadmaps, and here's how I created my six-figure success..blah blah blah.
If you're listening to this today, you are probably an online business owner or service provider, or you're a business owner or service provider who uses online methods to market your business. I get it. You want it to be easy, right? We all want it to be easy. I want business to be easy. We want to do work that we enjoy. We want to make money. We want to have freedom. And wouldn't it be nice if we could implement the magic pill, the magic formula, and boom, it's all working? #dreamscometrue, #livingmybestlife. That's what a lot of the marketing tells you, and there is a giant big but in this.
I want you to think of it. How many courses, online courses are what I'm talking about right now, how many of these "here-is-the-formula-for-what-you-do," how many blueprints have you followed, or implemented, or purchased? And number one, I want to know if you implemented it. Number two, I want to know if you even finished it. I know I have bought these things. I have bought these things. I have taken coaching courses. And I'm not saying that they haven't helped, but there is a reason why they are not a magic pill.
So, I'm curious.
Actually, this was interesting. There's a very prominent and well known, and I'm sure it's helped thousands, and thousands, and thousands of people, business school that goes for sale every year. Many, many, many, many of my clients have taken it. I actually considered taking it at one point, but a mentor of mine was like, "Oh, you don't need it. You've actually already done all these things." I think it's fantastic. I've seen a lot of people create success with this. I love that that course is out there. However, that course is only one element in a myriad of elements that are required for you to actually have the success, the finances, the clients, the exposure, whatever it is that you need.
I was talking in a room full of 20 or so of my clients and about half of them had taken that course sometime in the last 10 years. Of all of those it, I had no clue that they had taken it. They had no outer evidence. You would think that if you had taken one of these courses that teaches you how to implement your online business that you would actually see the fruits of the learning and the labor.
I'm going to be giving you some reasons why the formulas and blueprints alone don't work and why people are using them. Then, I'm going to remind you of some of the elements that are required.
The first thing I want to share is that formulas and blueprints appeal to your fears and the emotional stress that you will go through as a small business owner. I get it. I just want someone to tell me what to do. I have said that myself, and I've heard my clients say it over and over again. I have certain clients that I have frustrated to no end because I will not give them a formulaic answer to their questions.
But, think about this phrase: I just want someone to tell me what to do. Think about that mindset and the energy in the context of running a business. Honestly, if that is your primary mindset and one you would like to hold on to, then I need to tell you the truth that perhaps you are best working for somebody else. That is the epitome of having a job where somebody tells you what to do. Somebody tells you exactly what to do. This mindset of "I just want someone to tell me what to do," it also comes from an emotionally stressful place. And the next time you find yourself tempted to pay, I don't care whether it's $99 or $9,000, for an I-just-want-someone-to-tell-me-what-to-do process, I want you to check yourself and get back to center before you make that decision.
You guys, being your own boss requires a fuck-ton of resilience and tenacity. It is not for the faint of heart. If you need someone to tell you what you to do, I need you to go out and get a job because this world requires something different. There is so much out there in the market of coaching, of consulting, of classes, online training. A lot of what we see out there is actually online training because online training is … It's a really easy way to, A, possibly give you something that could help you, but really pray on your emotional stress.
And you guys here's what I know 15 years doing this and many, many colleagues who have it, too, emotional stress does not go away. It's a stress that I choose. I choose the stress, the emotional stress. I choose the ups and downs. I choose this path on purpose every single day. I know that there are so many people out there saying it can be easy. Set this formula and forget it. And I'm just going to call bullshit on it. I'm totally calling bullshit on it.
Please realize that one of the reasons you see it so much is not because it's working, but because marketers are really trying to get you where you're weak. Think about it for a moment. If I could just have someone tell me what to do, then everything will be better, right? And so we make that purchase, and then we never finished the course. Or maybe we finish the course and we put it out there and we wonder why nobody ever bought. Please know that there are people out there preying on those fears versus helping you with those fears.
Coaching helps my clients manage stress, doubt, and overwhelm. It's interesting because I get that for some people when you're in stress, doubt, and overwhelm, some people isolate, especially really strong people. But when we're in stress, doubt, and overwhelm, that's when we need to manage our brains, manage our energy, manage our thinking and our mindset. And obviously, when we're in a stress response, what we tend to want, what we tend to think will fix everything is a formula or a blueprint and that simply isn't true.
Formulas number two. Formulas and blueprints don't require critical thinking. They don't require your innovation, and they require so little of your genius. And you guys, what actually sells to your clients is your unique genius. Listen, being talented at the service you provide is not enough to make it as a business owner. I actually know a very, very, very, very talented coach who recently shared with me that she just wants to work for somebody else. She wants to be able to provide her service but not run the business. I completely get it. And there are opportunities out there, right?
Many of my clients are coaches. Many of my clients are realtors. We used to have this all the time in the real estate world. In the real estate world, people wanted to hire buyer's agents and seller's agents. And a new agent that would come in a little afraid and intimidated would think, "Oh, I want to be a buyer's agent because then somebody else is creating all the business for me." Well, in the real estate world, that doesn't always work out so well. It depends. It's possible, but usually, there's a lot of financial sacrifice in order to do that.
In the online world, whether you're a coach, a consultant, these kinds of things, if you're an artist, right? If you're an artist, wouldn't it be nice if somebody picked your art up and sold it? If you're an author, wouldn't it be nice if somebody promoted your book for you? If you're a writer, right? Your skill is in the writing. It may not be in the business aspect of marketing and selling your product, and so being talented at your service isn't enough. You have to, if you want to work for yourself, you have to adopt a mindset of being a lifelong learner, of being an entrepreneur of somebody who takes on both emotional and financial risk.
No matter how good you are at your service, you're still going to have to place your service, or skill, or even product in a crowded market with lots of competition. That is going to require a deep and continuous critical thinking commitment to self-awareness. It's going to require regular experimentation. It's going to require research. It's going to require implementation. It's going to require refinement. It's going to require reimplementation. It's going to require strategy, strategy experimented and adjusted.
I just made a major investment in my company and in myself by partnering with, and I say that perfectly, by partnering with a marketing company that helps me do what I call organic marketing. They're really working with me to use my content, not formulaic content, but to use things that I say on a regular basis or have said before. So yeah, we are setting up some systems, but systems are very different from formulas. Systems take what you have and they repeat it. They make it repeatable.
Even having these systems, we don't just set it and forget it. We're constantly refining it. We're constantly checking it. We're constantly seeing whether or not it's working. It requires critical thinking, and when you … This is what is so amazing about these formulas and blueprints. I remember logging on and experimenting with this one membership program I was in. On the back end, I'll give you all my blueprints, all my sales pages, and all this other stuff. And there on the back end, there were all of her sales pages. All I would have to do is change the name or the title and all this other stuff. But the reality was there was nothing in there that was me. That was all of this woman. It's what worked for her.
There are sales skills and there are sales tactics. I think often what people are selling is sales tactics, not teaching sales skills. Someone who has sales skills and marketing skills is not going to need a blueprint. They are going to use these other elements of self-awareness, of critical thinking, of curiosity, of experimentation, et cetera. This is one of the things that I really want to draw out of my clients. I see this especially with newer people, people that are either considering starting a career or in launch phase. I'll be doing a podcast soon about launch, growth, and achievement phase.
But if you're in launch – zero to three years, I get it. You want it to be easy. You want it to be easy. The fact is, and I don't mean to be … Actually, I do mean to be discouraging. I do. I do mean to be discouraging. If you are not up for that if that does not make your vagina tingle, if that challenge, if the long game doesn't excite you, if you aren't willing to have the difficult times to get to the good stuff, then I want to require of you — I want to encourage you into doing something easier. This is not a set-it-and-forget-it world.
One of the things I love about coaching in combination with business is that coaching helps you keep your head on straight while you learn and experiment with new skills. Like I said before, not only do you have the skill that you're offering, but you also have the skills of marketing and selling your business. Maybe you have the technology skills. Maybe you want to learn the podcasting skills, et cetera.
As soon as you get something implemented and out there, here's what's funny. I have experimented with so many. What I have learned is that being in business for myself is dynamic and always changing. Heck, I remember being in the real estate offices in 2008. At this time, my office was in Lakeway, Texas, and I was across from a woman that had been in the business for 20 or 30 years. I remember having a conversation on a Thursday or Friday afternoon. We would gather for wine in her office. She and another one of the senior members … And when I say senior, they were both age-wise seniors, but they were also very seasoned, and very experienced, and very successful. And they said never in their entire careers had everything just stopped. This was when the market in 2008 just stopped. They were talking about that. What I noticed about my company at the time is that my company shifted its training in teaching to deal with what they called the shift. One of the reasons blueprints and formulas don't work is that the market is always shifting. Your clients could be possibly shifting. And you could be shifting.
I think this is a fun one. I notice all the time, recently I shared with my clients a series of snapshots of who I have been as a coach. And if I were trying to sell what I was selling six years ago, it just doesn't resonate with me now. I keep changing. In 2017, I spent $6,000 and hired this company for marketing messages and branding. It was about a three-month process. What I was really excited about then began to shift very shortly after that. I look back, and it's now time to refine. It's time to shift. The fact is that being in business for yourself is not static. It is not set-it-and-forget-it. It is constantly changing. We've got to be resilient and adaptable in addition to fostering our skill set that we're selling.
Formulas and blueprints don't take into account you. They don't take into account your originality. They don't take into account your natural ways of connection, creation, your energy.
Listen, I totally believe in systems. I said that before. I believe in foundations. In fact, I actually teach some, but I also teach it from our perspective of take what resonates for you and experiment and implement. I will not make any promises that what works for me will work for you. But through experimentation, through continual learning, through experience … This is another one. Experience tells me. One of the things I see so many people want is they want the freedom that is only earned through experience. They want the results that are only offered through time on task. They want the value. They want the money that is earned through time on task.
We used to have a saying in real estate that … So first of all, one of the first things I was told when I was in a training room was that 90% of us would never make it past the first year. And you know what? They were right. The second thing I was told that people get into real estate, and the same could be said for getting into an online business, is because we want the freedom, we want the time, and we want the money. But, most people take the freedom before they have earned the money over time, so we take the freedom and time. So we don't put the time in. We don't put the work in.
I tell you what. I know a lot of successful people, and none of them are sitting on the damn beach with their laptop just cashing their checks. It is required, even the people I know. I have a lot of … Shout-out to my eXp friends. I have a lot of people that have joined eXp Realty and they have a revenue share program that many of my colleagues that I knew from real estate and even some of my clients that they're experiencing the benefits of revenue share. In fact, today, I still get profit share from Keller Williams from when I worked at Keller Williams. Those things still take time on task to build. Anybody who's ever joined a network marketing company, right? I see this all the time. It's like, "Oh, join this, this program, or this program." No. It doesn't matter if there is a franchise or a formula. There are so much in between the elements of a formula that requires your actual work.
As a business owner, I have come up with my own formulas. I've created my own recipes that I know that work for me. They work for me at this stage of my business. A lot of them I didn't even really call them a formula. One of my primary "formulas" is called Share Your Heart, Show Your Work, and I ended up creating a course about it. But in that course, as a business trainer, when I'm teaching these foundations, I still tell my clients to make it your own, experiment, and don't just experiment once. There is no magic pill.
I know you want it to happen quickly. I know you want it to happen quickly. I want it to happen quickly. Here is what it requires. It requires your brain. It requires creativity, and curiosity, and an open mind. It requires your critical thinking. It requires assessment. It requires research and experimentation. It requires resilience, mental resilience, emotional resilience. It requires an attitude of I am always learning and I am willing to have a beginner's mind. It also requires the mindset of I can do challenging things. You've got to have the attitude of I can do the hard things.
I can't tell how many people I have heard and said, "Oh, this is difficult for me. It's hard for me." No shit. It's hard. It's not easy for any of us. Yes, some of us have a natural proclivity to technology. Some of us have a natural proclivity to language. Here's the thing. There are so many elements involved in creating a successful business that there is no way any one person is going to have a natural proclivity. Is that even the right word? For all those things. So we have to be willing to learn and adapt to new things.
You have to bring your unique essence to the systems and structures that support your business. Yes, there are a lot of these skills and tools, so that's not what I'm talking about formula. But, there are elements of business that are tried and true. But, what actually makes them effective? So marketing is tried and true. Marketing works. But, what makes marketing?
Can you imagine if you sat down to watch TV or to listen to a podcast and you heard the same commercial? Let's say there were two toilet paper commercials. There's one for Charmin and there's one for Scott's. I don't know. And you heard the exact same formulaic expression. How would you know the difference? How would you know what you want to choose? Actually, you learn through experience what you want to choose.
You've got to bring your unique essence to the tools that will help you support your business. There are lots of professionals out there that can help us do that. So I'm never saying don't buy the blueprint. I'm not saying don't hire the expert. I'm just saying please know that there is no magic pill.
A few of the other things that it [success] requires – it requires you hanging out with the right people. One of the best things I have done for my business is joining societies and memberships where I am hanging around with other people who are critical thinkers, who have ideas that are different from me, who have experiences different from me. Surrounding myself with people who come from the same mindset, this long-term, this resilient, and this critical thinking mindset have been the best people to hang out with. They're the ones that help me, trust me, the ones that helped me rethink, the ones that don't buy my excuses. Hanging out with the right people is really important.
Finally, self-awareness. Your success is going to require self-awareness. The more you know how to trust yourself and know yourself, the more your resiliency comes into play. So when you have difficult times, whether you have difficult sales or you have difficult emotional periods, your resiliency is effected by your self-awareness. Your agility is affected by your self-awareness. Your experimentation is affected by your self-awareness, and so knowing yourself. I believe Danielle LaPorte said in Fire Starter Sessions that growing a business or running your own business is the greatest self-awareness journey that there is. I'm telling you it is totally true. It is totally true.
These are the things that are really essential to a formula that will work for you. I wish that I could tell you exactly what order all these things go in, but it is really a giant stew, and your recipe is really unique. So today, I want you to use listening to this episode as a reset for your brain. Perhaps you're already on board with this idea. Perhaps you're very keenly aware that actually what will make you successful is your resiliency. But if you are somebody who is subconsciously or consciously in your brain waiting for the right coach, the right program, the right one thing to make your one thing work, please use this as a reset. That as much as I believe in outer work tools, I absolutely do, it is fueled by the inner work being that you are, and formulas simply don't account for that.
Thanks for spending time with me today. I want to make an invitation to you, and maybe not to all of you. But if you are somebody who does know that you want your resiliency, you want your creativity, your curiosity, if you want to exercise and use your brain, if you are not looking for quick fixes, and if you are somebody who "can't not" make this work and is looking to surround yourself with support and ideas that support you on this journey, I want to invite you to become a member of Soulful Success.
I realize that the appeal of a formula or a really fast process feels really sexy. I realize that there are a lot of quick fixes of shame, blame, and guilt motivational coaching, but I am a stand for something different. So if you're looking for something different, if you are looking for support in your way of being that absolutely impacts your doing and your having, then I want you to reach out to me and let's have a conversation and see if you are a fit for this membership. Thanks so much for spending time with me today. I look forward to being with you next week. I'll see you soon.
---
Thanks for spreading the word about The Better Life Better Work Show. And of course, I love your Social Media Mentions and Shares with #BetterLifeBetterWorkShow
Let's connect online @allison_crow on Instagram and Allison Crow on Facebook.
And, if you'd like to be a master student of Better Life and Better Work, I invite you to join me in the Soul-Full Success Coaching Membership Community ~ My exquisite membership community where connection, coaching, teaching and most of all, YOU, matter.
Podcast: Play in new window | Download
Subscribe: Google Podcasts | Stitcher | Email | RSS | More