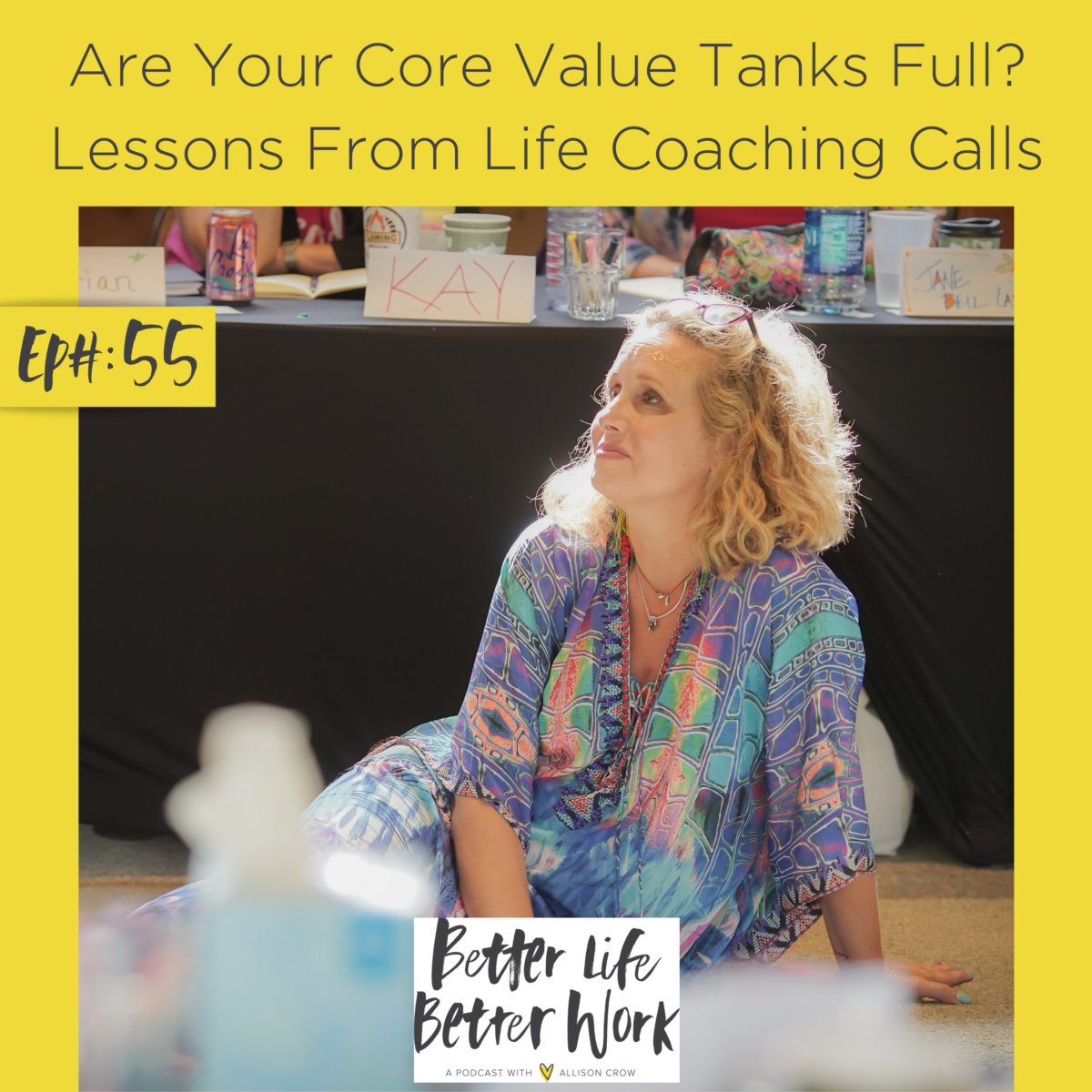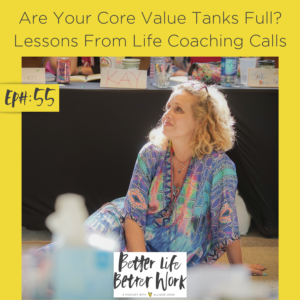 Hello, hello, gang. Allison Crow, here, your favorite life coach. Today, I'm bringing you something exciting. Today is the first in a new series we are calling Lessons from Life Coaching Calls. In the Soul-Full Success membership, if you think of it like a community center, or a yoga center, or gym that has supportive classes, you don't go to every single one, but I do provide a variety of live coaching sessions for my clients. We have business coaching and we have life coaching in addition to some training.
Today is going to be the first in the series of lessons learned in life coaching. What I love is these are topics that come up organically for my clients that I know will relate to you. Today, we had a super powerful call. You never know what's going to come up, but when this … I'm going to share with you in a moment. One of my clients gave permission for me to share this kind of journey, and the story, and the story of our call today with you guys. Actually, all my clients gave permission for me to talk about what we talked on the call today.
It's so fun because one client was being coached in her situation and everybody else on the call was like, "Oh my gosh. I was able to put that in my life. I was able to plug it into my life and my being where it works for me." So I'm excited to introduce this series. Today, we are going to be talking about one of the foundational tools in life coaching. Sometimes, as a very experienced coach or the more experienced you get, you can often forget these foundational tools. Just the way that my client presented her situation today and what she wanted to be coached on, it very quickly became clear that values clarification would be helpful.
Let me give you a little bit of a setup for how this showed up. I have a long-standing member. She's actually been in and out of my programs since, I think, 2013. She has been a longtime member. She's definitely Super Soulie member of my coaching program. Since school has been out with her kids, she's been spending lots of time not only with her immediate family, but extended family. For a lot of people, there's a big shift. There was a big shift in May and June and she's been feeling really funky. She came into our group the other day and was saying, "Oh yeah, I'm hiding. I'm coming back out. I've been in a funk. I just wanted to out myself and share that I intend to come back." She was pulling herself out of a little bit of a funk she'd been in.
So today, she wanted some coaching around that. She was a little discouraged because she'd felt definitely very blah and had more "under the covers" days than she wished. She was wanting to not only get her energy and vitality back on track, but also get her money back on track. She also presented saying that she'd had the last four years a very stable and reliable income. And through the last season, it's dropped, and so that was discouraging. She was just feeling a little bit lost.
As we began to talk, I could hear in her language a couple of things. I mean, a lot of times it's so easy to automatically go to our thinking, but I decided to play with this concept that nothing was wrong at first and that there is no should or "shoulding." Then, we got to this place where she said something about not spending much time in personal development. She had even asked like, "I can't even know what inner work is now. What is inner work?" Because we often talk about inner work and we talk about outer work. The way I hold that in context is inner work is doing your thought work, your emotional work, your spiritual work that sets up your thinking and feelings so that you take action on outer work. Outer work is actions. Outer work is the strategy, and implementation, and experimentation. She was like, "I can't even think of what inner work is right now. What is inner work?"
As I began to listen, I could hear her emotional exhaustion and I could hear places in her life where she was feeling empty. I recognized this tried and true technique that we all learn in coaching school. It's one of the very first things we do. When I work one-on-one with clients, it's one of the very first things I do is I do a values clarification exercise.
I brought this up to my client, and I began asking her about her core values. I know she's done them with me. I asked her if she could remember her core values, and so we kind of worked through those really quickly. I know her well enough to know what some of them are, and one of hers is spending time with her family. She felt like that was very high. Giving back and volunteering is one of hers, and she felt like that was very, very high. We were rating them on a scale of 1 to 10. There were a couple of others.
But when we got to her value of personal growth and development, that tank was really dry. When I teach values clarifications, I teach from this concept that once you are aware of your deep core driving values, and we usually have five to six, and everything else that we value fits in one of those columns. For example, let's say you're trying to decide if personal growth is more valuable to you or money is more valuable to you. Which one's more valuable? If you knew that one included the other, which one is more valuable? Well, personal growth is more valuable. And when you allow personal growth to be valuable, does money get fed? And the answer in this example is yes.
Everything you value is included in your highest core value. It's actually the lowest common denominator. It's not the highest. I don't know that math is the best analogy to use with this. But, we realize that in these five to six core values everything else fits in. As I'm talking to my client and others in the room are watching her, it was fascinating to watch this process where I use the analogy. I said, "If you were driving a vehicle, would you judge yourself if your gas tank got close to empty or empty?" She was like, "Well, no. It's kind of a matter of fact thing. On the way back from lunch today, looked down. My fuel gauge is close to empty. I have no unuseful thoughts about it. I have no I shoulda, coulda, woulda."
So, my client had shown up kind of like, "Oh, I should've done this. I should've done this," and I said, "Well, so does all the shoulda, coulda, and 'wouldaing', and judging yourself for what the past has been … You've been overextended in volunteering. You've been spending time with your family and on vacation not only with your family, but extended family. You haven't had a lot of time to do your own personal things. Your kids are now home for the summer. You had a major transition. If you didn't judge it, what would it feel like? What could it be like in the same way that we notice that our fuel tank is empty?" I don't know about you, but I don't beat myself up. I don't go, "Oh, man, I'm a horrible human being. I'm doing life wrong," because my fuel tank is empty."
I love personal development. I love thought work. I love thought curiosity. I love spiritual thinking. I love coming at my own thinking with curiosity. And sometimes there's actually a little bit more data and we can use data that we know to assess a situation. I noticed one of the things that those of us who are in personal development often do, especially if you're not a highly detailed person, is that we tend to emotionalize and psychoanalyze everything. Now, in some cases, this totally helps, but others of us end up in a spinning cycle of self-judgment that isn't useful, that begins to create more shitty thoughts, and shitty thoughts end up creating a shitty experience of any circumstance that you have.
We had fun today looking at this, and it was fascinating when she recognized, "Oh, I have these five value tanks, and four of them are actually above half full. A couple of them are even overflowing. They're really good. But, one of them is completely empty." So just like a big-rig tanker truck, even some small trucks … I am from Texas, you all. Some trucks have multiple gas tanks. So I use this analogy of the giant big-rig and they have a couple of tanks. We as human beings, our values are our life energizers. And our values and when those values are being met, it is the intrinsic fuel that brings energy and joy to your life and work.
When your values are all being met, you are enjoying life, you're functioning well, and at your best. And when even one value tank is low, it can throw your whole system off. If you imagine that each one of these values is a fuel tank that supports your life, when all five tanks are full, that's flow state. That's when life is working. Circumstances don't really get to us. Life works almost magically. We find satisfaction and joy. We're in the flow state.
When one tank is off and the other four are full, it's as if a car is trying to make it down the road with a full gas tank but the engine oil tank is completely dry, right? So when you have a vehicle, you need all the elements of your vehicle to be highly functioning. When one of our core values is not being met, it's so easy to forget that it's as simple as filling that tank.
What was so fun is I noticed this client has already started filling that tank. She'd already taken two major … She didn't even know that tank was empty. We identified that today. Then, I said, "Hey, by the way, you've already started filling it. You weren't sure why you were feeling this way, but at some point, you got tired of hiding under the covers and you came into the group and said, 'Hi. Here I am. This what's been going on with me. I've been feeling off and down. Could my friends check on me? I'm getting back in the groove. I'm going to be more present, and I'm going to be more connected.'" Basically, she is a re-plugging into the community that supports her in personal and professional growth and mindset thinking, essentially filling her brain with people and thoughts that increase the level of fuel in the personal growth tank.
Then, the second thing she did was volunteer. On our coaching calls, when everybody comes on, I ask, "Who wants to be coached today?" and she raised her hand. That was the second thing. She was willing to say, "I've got something that's feeling sticky. I'd like to be coached." Just by doing those two things, she's already taken her fuel tank level from zero to four. So now she realizes, "Oh, I'm not running on fumes anymore," and she could do a quick scan of the other areas of her life.
She said in her family … And many of us have families like this. Our families may or may not be into personal growth. Her family isn't into personal growth, her in-laws. That's fine. So sometimes when we are in a transition or we spend a lot of time with a new community that thinks differently, we do kind of en-train with those thoughts and those patterns. She said it just was so frustrating because here she is trying to not only live her best life, but she also lovingly values being better, and thinking better, and loving on her business, and loving on herself. So as she got back into that, she could see, "Oh, this is actually going to start helping me."
All right, so we had this experience with this one client. What was fun is sometimes on these life coaching calls a client has a little bit longer time in the soul seat. I always love to check in with some of the other members who are live like, "How is this impacting you?" And one of my other clients had come to the call and on his check-in, he had said, "Last week, I was really low in energy and feeling off. And this week I'm feeling really present and connected."
We took this idea of these values clarifications without even doing the whole … without even knowing the details of the values. I was able to ask him, "Can you see something in your life that changed in the last week that would cause this week to feel better than last week did? What are the outer circumstances? Was there a value tank that was empty and it got filled?" Just kind of doing a little bit of self-investigation and self-curiosity because he originally did ask. He's like, "Why does this happen? Why are we fine one week and connected, and the next week we kind of get in a little hovel, and we get low energy, and then we stay in there?" He was starting to do the same thing, like we start to psychoanalyze it. Yes, there are a gazillion reasons, but it was so fun to have him check in. He said, "Oh I can recognize what the difference is. I had a total shift in the environment."
For my work-from-home entrepreneurs, for my solopreneurs, and for my company-of-one people, even though we have these online connection worlds, if you are not out in the world regularly, I experience this often. Not only do I work from home, but I am seven miles from the nearest restaurant, coffee shop, anything like that. And I am 20 miles from the nearest co-working space. I live way outside of Austin, Texas. I actually live outside of the city limits, three cities outside of Austin, Texas. It's very different from being in the hustle and bustle and where you're able to co-work or meet with other people, and so I spend a lot of time at home.
I'm also an introvert. Because I'm introverted and independent, I can forget that one of my highest values is connection. And without even realizing it, my connection fuel tank can get empty and I can slip into a funk. It was fun to see my client have that self-awareness that he was starting to feel stale at home. He went to go stay with some relatives and stay in their place. Just the energy shift in the environment shifted things for him.
Here's another thing about human beings I want us to realize. We have two opposing needs. We have both the need for security, and surety, but we also have the need for shaking things up. We have a need for something different. We have a need for cognitive dissonance. This was fun back when I was talking to my original client. I asked her, I was like, "What is the weather like where you are?" She said, "It's raining." I said, "So do you judge the rain today where you are on the Pacific Northwest area?" I said, "How do you judge that?" She said, "I think it's bad."
I tell you what, here where I am in the Austin, Texas area, it's 99 degrees. It's probably a heat index of 110, and it's really humid. Man, I would love some rain here today, right? It would be good for the earth. What's amazing is too much rain, rain over, and over, and over again, is going to feel yuck. But it's the magic of the rain and the sunshine, it's the magic of the changing seasons and the ever-changing weather that helps us to feel good.
I also asked this question on the call today. I said, "How many of you love the beach?" and every single person on the call raised their hand. I think there were, I don't know, 12 or 15 people on the call today. Every single person raised their hand. I said, "For most people, I know this to be true. Some of you might be a little bit more abnormal. But when you get to the beach, especially if you don't live on the beach, you get to the beach, it is like heaven. Then, after four or five, six, seven days on the beach, how many of you are so ready to get out of this sandy, humid, salty air and get back to dry, crisp, clean air and fresh water?" Every single one of them raised their hand. I said, "So this is similar to … We may not call it a value, but we forget how much our organic system of body, and emotions, and spirit needs a little variety. Is variety one of your core values? If you're independent and working alone, is connection one of your core values?
I've been tracking my moods lately, and so I would track my moods. Then, I would just lovingly ask myself, "Is there anything that contributed to that mood that day?" I noticed every single day that I could … that my mood – when it was a 9 or 10, with 10 being high, that every single one of those times I had had a significant connection with a family member, with a friend, or with clients. Every time I felt good I had a deep connection and, every day I have a coaching session is always a good day. I cannot think of a day when I had a coaching session that it wasn't a bad day.
Once we're aware of these things, we have so much more knowledge to make small shifts. It's big knowledge that helps you make small shifts. It was so fun to see both of my clients. I did have a few more talked about their version of what value tank was missing, which ones had been recently filled, and how they had neglected other ones. And I get it. It can feel like a lot to manage all five or six of these, but I highly, highly recommend that you get to know your core values.
I even gave the recommendation for my clients, once a week, even if you set your phone, "Hey, remind me once a week to check in with my core values," and we do a little what's called scaling, For example. These are my values so I would ask:
On a scale of 1 to 10, how am I doing with connection?

On a scale of 1 to 10, how am I doing with growth?

On a scale of 1 to 10, how am I doing with my sense of recognition and appreciation?

On a scale of 1 to 10, how am I doing with simplicity?

On a scale of 1 to 10, how am I doing with creativity?
I can see a lot of the times that I have been depressed not only is my thinking wonky, but my creativity and connection value tanks have been empty. Those are easy adjustments to make to get back to center, to get back to flow state, to get back to being energized. Because when we are living in our core values, in alignment with those values, we are energized. And when we are not, life can be sucked out of us. We lose motivation. We start behaviors that are not useful, et cetera.
So here's what I want to offer you, two things. Number one, I want to invite you to come to Soul-Full Success. I just want to invite you to come and be a member of Soul-Full Success. In Soul-Full Success, I actually have a values clarification exercise available to my clients. It's an exercise that not only takes you through the process of narrowing down from 21 to 16 to 5 of your most important values, but it also gives you some journaling prompts and some reflections. Then, once you know these … I have a little poster of mine that I keep on my phone that I drew for myself, which was my … I call it my energizers. This is a really foundational piece for you to have that helps you know what are your energizers. And the next time that you feel off or depleted, you can double check those core value tanks and see which one or two needs a little bit of love. And I guarantee you we'll be back on track before you know it.
The way to get that exercise worksheet is through Soul-Full Success. I'm happy to talk personally with you about your core values. I'd love to. It was so fun to bring this up. One of the things I love about life coaching calls is the client brings the content. I'm not saying, "This is what we're talking about today." The client brings it. As Susan Scott says with her coaching people, "Of all the things on your plate, what's the one thing that would make the biggest difference in your life today?" And I love how we can narrow it down and realize we've got a lot of things going on in our life. We've got a lot of things going in our work. If I trusted myself and knew this one area that I could realign my mindset, realign my spirit, realign my thinking, and realign my environment, I could be so supported and back to flow and creation state almost like that.
It was really fun to see my client. After we were done, I asked, "How do you feel?" And she said, "I feel so much more vital than I did when I got on this call. I see a clear path to filling my tank and getting back in alignment." That is one of my favorite experiences for a client to have. Sometimes there's really deep emotional work, and other times it's just a tiny little shift in perception and a new awareness that sets things right. And I have no doubt that this gal will be not only back on track back in our community, but that she will also be back in her business in a place that she feels really good about.
Thanks for spending time with me today. If you do know your core values, tag me in a post on Instagram or Facebook and let me know what your core values are. I think it's so fascinating. And definitely, if you are one of my Soulies and you're listening to this, I want you to look for the Soul-Full Living Coaching Core Values Instructions and the Core Values Cards in our Facebook group under the files. If you haven't done this exercise, I want you to do it, and I want you to share your five to six core values with me, with the group. It's really, really helpful. Thanks, gang. I'll see you next week.
---
Thanks for spreading the word about The Better Life Better Work Show. And of course, I love your Social Media Mentions and Shares with #BetterLifeBetterWorkShow
Let's connect online @allison_crow on Instagram and Allison Crow on Facebook.
And, if you'd like to be a master student of Better Life and Better Work, I invite you to join me in the Soul-Full Success Coaching Membership Community ~ My exquisite membership community where connection, coaching, teaching and most of all, YOU, matter.
Podcast: Play in new window | Download
Subscribe: Google Podcasts | Stitcher | Email | RSS | More