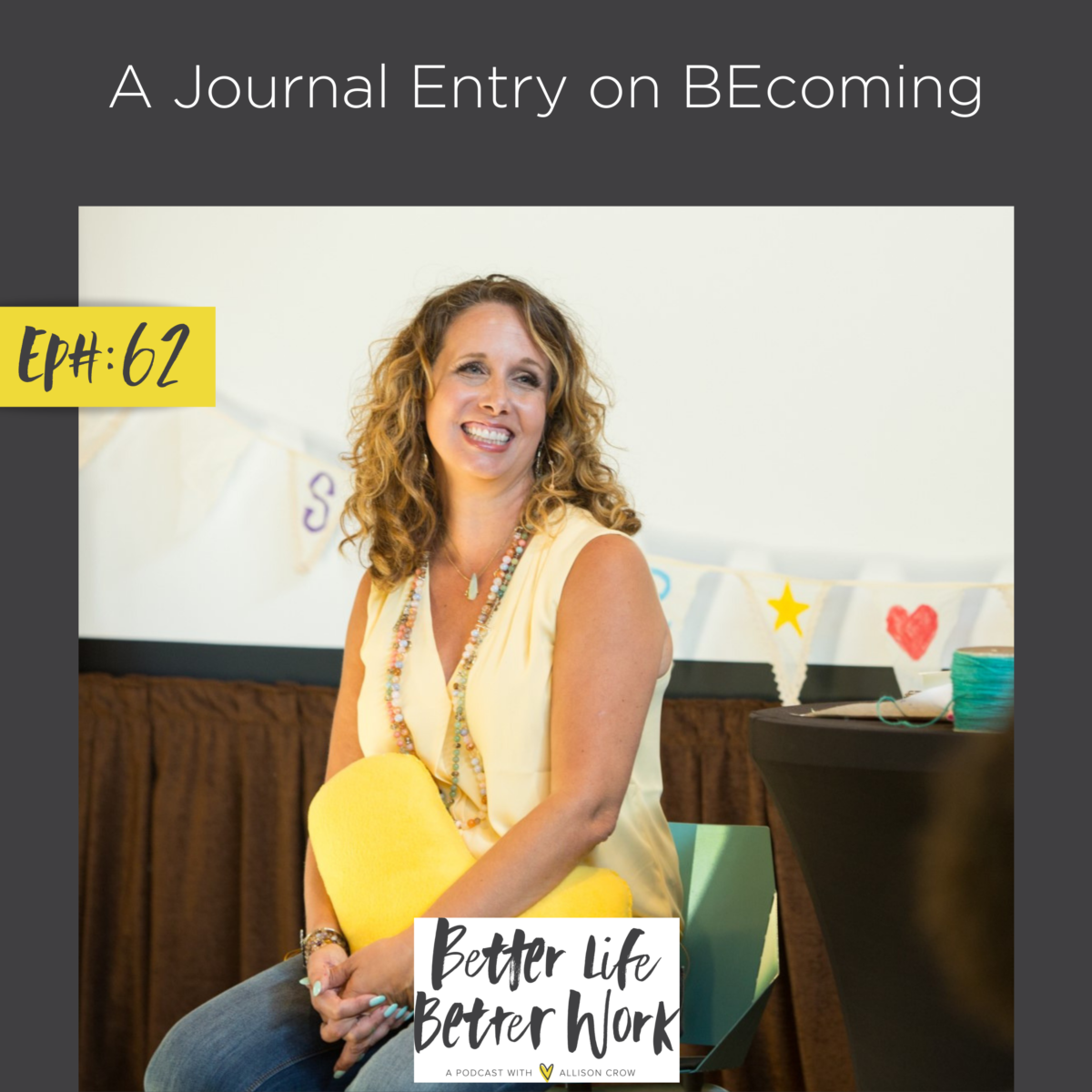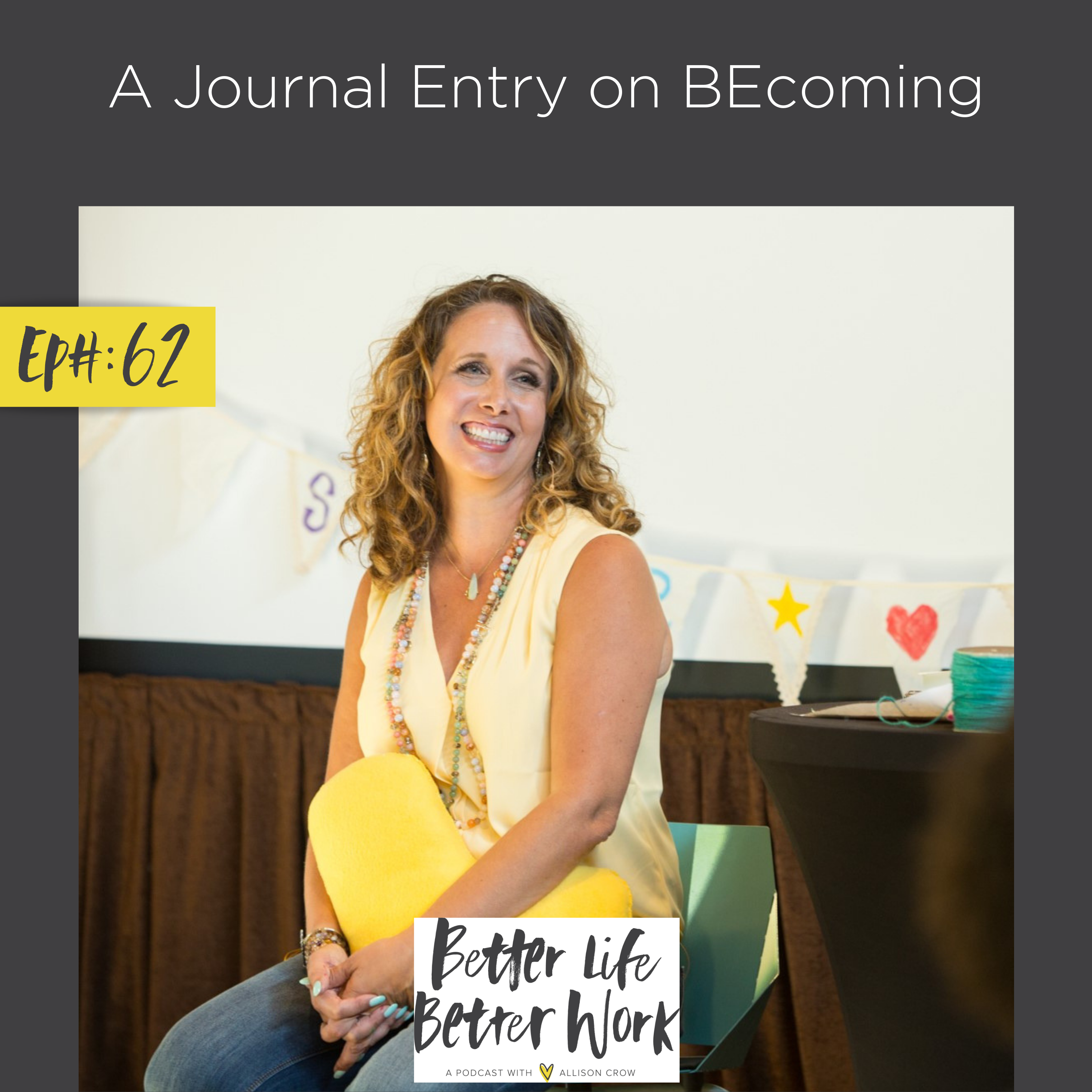 A journal entry on becoming.
This is episode number 62, and I'm in quite a bit of a reflective space this morning. It's the first week of September. Hello, listeners. Hello, new listeners. If you're new, let me know. Send me a message, either on social media or write a comment in a post. I have seen the numbers of the podcast go up. That feels really yummy. Definitely lessons learned in consistency.
So, this morning, I was writing in my journal about becoming, and I've done episodes before on becoming, and this week, I celebrate 16 years of working for myself, and so I can't help but reflect the woman that I've become and some of the past of the woman that I have been over the last 16 years, and even before that. I'm going to share with you a journal entry I wrote for myself, and see where that lands us. A journal entry on becoming.
This month, I celebrate 16 years of working for myself. How did this woman who grew up Baptist and wanting to be a stay at home wife and mom with 10 kids end up working for herself? Becoming, unfolding. I was so sure of so many things 20 years ago, and life took its twists and turns, and I rode them out. Becoming, part intention and part life living me the way it wanted to.
Is it nurture or nature? I breathe into that, and it just is. "Both/And" another theme that shows up in the range and permission of both/and allowing my becoming. I am both in love with this work and personal development, and I am weary from trying so hard to grow. Grow my life, grow my business. I am becoming a woman who doesn't try so hard and still grows. I still have goals, 333 members in Soul-Full Success, million-dollar coach with a $700,000 net, and I am so not willing to push.
I am becoming a woman who might sort of be satisfied, even delighted, by the now, loving what is. Identity, becoming both and. As soon as I decide and head in any one direction with too much force, I start to feel the stirring of the personal development world. The striving of the personal development world, instead of the being of me.
I am becoming a woman who is learning to be at ease with herself. I am becoming deep breaths and unfolding instead of to-do list and pressure to perform. I'm becoming surrender and naps and enjoyment of the coaching, the sessions I have in the here and now, versus the striving to create more. I am becoming release of the doubt that screams in my head as I write this.
Honestly, you guys, there's a part of me that believes if I surrender into the loving what is, I will evaporate. If I try less, I will evaporate. If I allow flow instead of push, strive, achieve. I live and work in a world that sells concrete results over nurturing of our being, and after 16 years, I know that nurturing my being is actually the path to creating my results. It just doesn't sell so well in a Facebook ad.
Here today, I'm a woman who's different. A picture was posted online this morning by one of my coaches, Rich Litvin. It was from 2013, when I was in a group called 4PC. I was in the first cohort of that as he began to build his coaching business, and in the picture, there are two people that have passed away. One in 2015, Raphael Bejarano, and one last week, Sean Stevenson.
And in the picture, there are people that I was once really close with that I am no longer close with. There are people that I was not close with at the time that I am now close with. There are friends that I still love dearly, we just aren't in each other's lives every day. And at the time, that group was so together often. We were together on calls almost weekly, and we were together four times a year in person, and it was such an expanding, such a … Both comfortable and uncomfortable space in my life.
It was one of the first times I really realized that who I surrounded myself was more important than my to-do list. When I surround myself with people that I love and don't love, but that think deeply, that think bigly, that think both in being and achievement, that think in serving and creating, I am more likely to be nourished into becoming more of myself. I am more likely to be a woman who is in her power instead of that blob.
And seeing that picture, I realize that sometimes, as I continue to unfold and become, whether or not I want to, I want to reach back. Oh, I wish I could just go back. Which tells me that that was one of the best times in my life. And it also reminds me that we don't stop unfolding. There is no endpoint.
I believe the teachers of the University of Santa Monica in their book, and I can't remember the name of it right now, but they talk about the goal line and the soul line, and we are so living in a culture that is oriented around the goal line. And I, clearly, years ago, when I opened my LLC, and it's called Soul-Full Living, just like Soul-Full Success, back in, I think, 2010, is when I opened that, soul was important.
Soul has been what has driven me. It's actually not driving me, it's pulling me, it's enticing me, it is inviting me. And yet, there's this side of me that drives and tries and struggles, that wants to be loved and accepted and powerful and achieving. And I looked back this week, and it was so funny. I looked back at all my old website incarnations. There's a little tool you can use online to kind of look back via date at your website incarnations.
And so, from allisoncrow.com, that the first incarnation of that was built in 2010, and to see all these various incarnations. And it was so funny to look back and see today what I saw, and I was like, "Wow, that was really like Allison. You were doing really well. Look at your messaging, it's fantastic, and wow, this looks really good." And through my graphic recording days, and my real estate days, and my real estate coaching days, and then the feel good fairy days, and the blitheness and the color and the rainbows, and to now, a different version of who I am.
And I looked at all these versions of who I have been in the online sense, obviously, and as I see those images, I also connect with who I was, both online and offline, at that time. And I realized that during those moments, I was probably so self-critical. I'm becoming a woman who the only beats that I allow in my life are binaural beats. No more self beats, no more mental beating up, no more war inside my head.
Let me take a breath. And so as I look back, and then I come to here and now, the woman I want to become, and you can do the same. You can pause and think about who you've been, how you've unfolded, how you've become both things that you wanted to become, and certainly, other things that you absolutely haven't. I'm so glad I didn't have 10 kids. I'm so glad I wasn't a stay at home mom.
Those things would not have worked for me. They may work perfectly for other people, but they would not have worked for me. It is so clear that life knew what it was doing when it lived me. I'm so thankful for unanswered prayers. And I pause here today, and I began to intend who is the woman I'm becoming in partnership with the way that life wants to live me.
I am becoming a woman who learns to allow, who listens so intently to her inner voice. She follows the flow of the life that is living her, and she understands and trusts that sometimes that life is swift and fast and furious and intentional, and other times it is meandering. While still, other times, it might be dry.
I think it's funny, tomorrow I'm going with my girlfriends to float the Comal River here in central Texas, and I've done that float many times before. And there are some places where you have to paddle, and there are some places where the river takes you, and there are some places that are swift and wild and crazy, and there's a place called The Shoot that takes you from one high level of the river to the next level of the river downstream.
And you actually go through this kind of like a little mini water roller coaster. And when the river is low, the Comal doesn't actually get low, but various rivers in Texas do get low, and when they're low, you have to pick up your tube and walk through the rocks, because the water level is low. And that metaphor of the river, this life that we are living is this river. And along the way, there are so many stops. There are, there are so many moments, both big and small.
And I becoming a woman who understands that the river just keeps flowing. I don't have to push so hard. I don't have to put a motor on my boat, that I can enjoy the ride, that I can trust both myself and the river to be together in creating the life that wants to live me. That's my version of becoming today.
I'm becoming a woman who trusts herself. I'm becoming a woman who listens to her knowing instead of her doubt. I'm becoming a woman who still runs a business, who still lives a life, who still has goals and dreams, and is learning to do this dance of Be-Do-Have. There's Leroy's snore. We'll just leave that in to let me know that this morning, I'm complete.
Thanks for spending time with me. Thanks for listening. Thanks for leaving your reviews. Thanks for letting me know you listen, and most of all, I would really just love to hear what rises for you with that sentence. I am becoming a woman who, or I am becoming a man who, or I am becoming a person who. How do you fill in that sentence? What's true for you here and now in this place and time? Thanks for listening. I love you.
---
Thanks for spreading the word about The Better Life Better Work Show. And of course, I love your Social Media Mentions and Shares with #BetterLifeBetterWorkShow
Let's connect online @allison_crow on Instagram and Allison Crow on Facebook.
And, if you'd like to be a master soul student of Better Life and Better Work, I invite you to join me in the Soul-Full Success Coaching Membership Community ~ My exquisite membership community where connection, coaching, teaching and most of all, YOU, matter.
Podcast: Play in new window | Download
Subscribe: Google Podcasts | Stitcher | Email | RSS | More