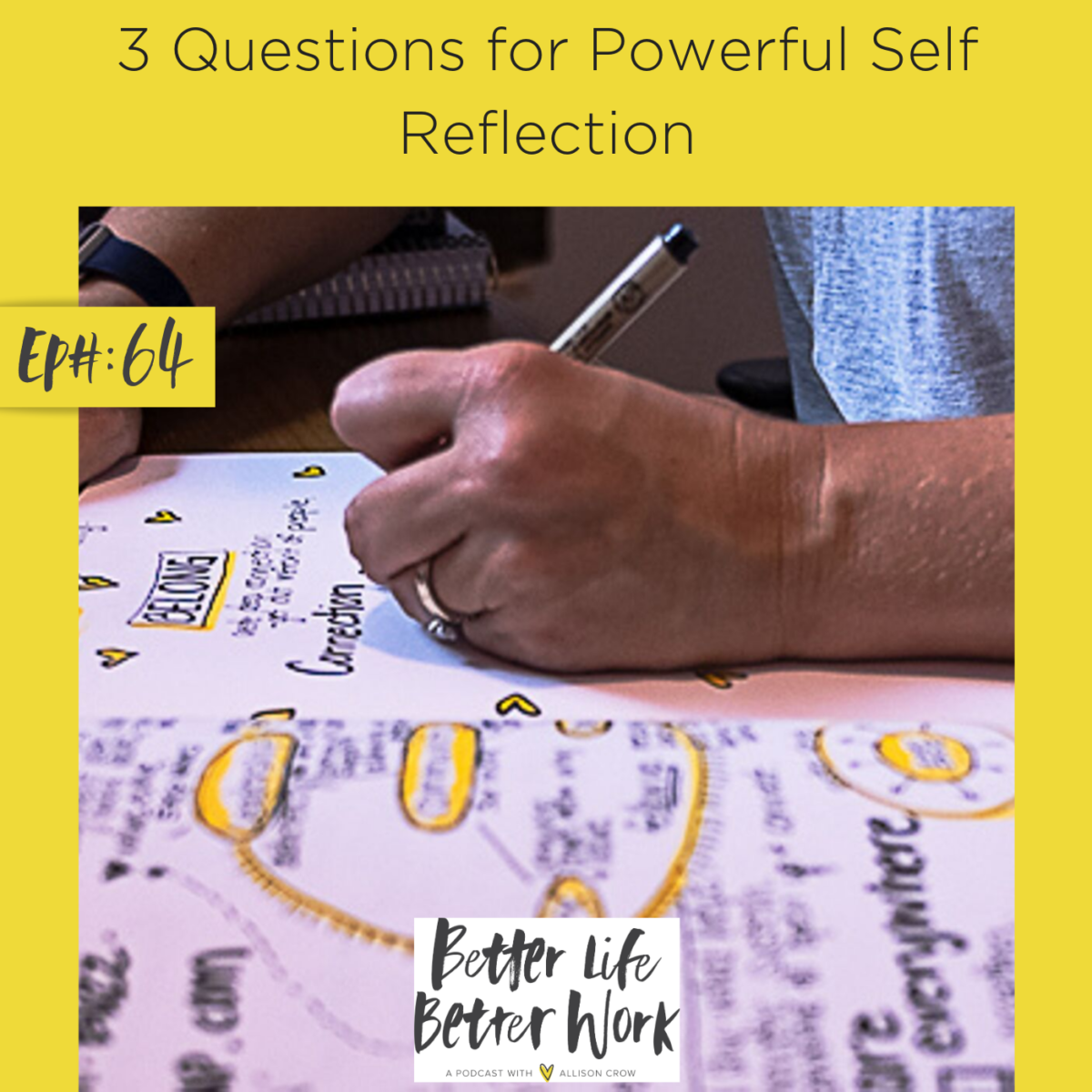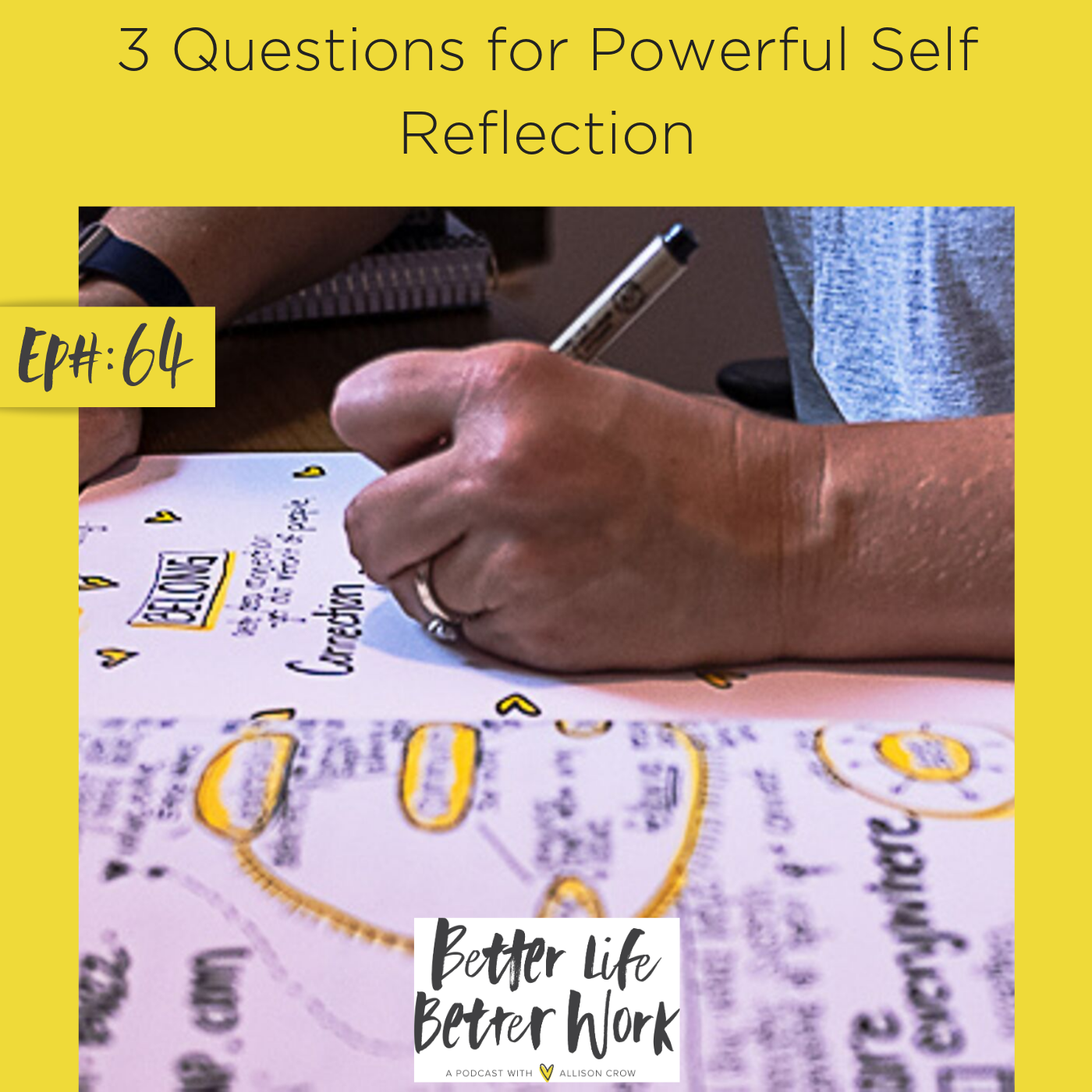 Three powerful questions for self-reflection.
I have three questions to help you with what I'm calling "power up" today.
I had an interesting experience. This week, I have recommitted to my practice of meditation and meditating on my pouf without any devices nearby, so not using other sound but really just sitting with my quiet spirit, thoughts, and it's been fascinating. I can't say that I've done the best job at it. I still do get easily distracted, and I am committed to deepening my meditation practice.
As I have done that, I don't know if this is any cause for it, but I've also been having really wonky dreams. I have not been sleeping quite soundly. A couple of days ago at 3:45 in the morning, it was very clear that I was not tossing and turning because of the regular reasons, usually a dog somewhere on the bed, but spirit woke me up. I was a wide-awake at 3:45.
What was coming through my mind was this concept of power-up. I recently had reached out on Facebook about attending some kind of learning conference this fall. A lot of people gave recommendations for various conferences, and I had a couple of people invite me and give me gift tickets to various events. But, I knew I wanted to do kind of a mental outer work one. I don't know why. I just knew it.
I was listening to a girlfriend/colleague of mine speak and teach the other day, and she made an offering for an event that she's having in California. Just something said, "Yup, that's it." So I bought the ticket and I can't remember … I know what the name of her event is now, but that morning at 3:45 I just kept hearing "Its time to power up, power up." That's why you signed up to power up.
Where can you Power Up
I don't remember … Well, I know now. The name of her event is Game On. But it was interesting because my spirit was saying, "All right, it's time. Rest season is over. It's time for you to power up." So it was funny because this phrase, "power up," so not an Allison phrase, but has just been on my mind this week. Later that morning, so that's about 3:45, I get up, power up, and then heard a few other powerful notions.
The second one was, "Allison, you've been half-assing. I'm calling bullshit on all your excuses." It was a very loving calling on bullshit. Y'all know I don't come from shame, blame, and guilt, and I don't come from harsh authority. But it was a loving velvet glove that I felt like Spirit was saying, "All right. You've gone through this season of itchiness and discomfort, and you're slacking off.
You slacked off on your meditation, and it's time to just really stand up and be who I've called you to be. That will permeate through your leadership, through your coaching, through your relationship. And frankly, Allison, you've been half-assing it."
So my second question is, "Where are you bullshitting yourself? Where can you lovingly call bullshit so that you can power up?
The third question that I have for you today is, "Where have your desires flatlined?"
All three of these questions go together. How do I know? Because spirit gave all three of these questions to me this week, and I can see how they all connect. I probably could also title this lessons from a soulful success call. We had what's called a Super Soulie call, so I do special calls every now and then for my clients who've been year-long members and longer, and this was the context of the call:
Where can you power up?

Where can you lovingly call bullshit on your excuses?

And where do you need to reignite your desires because they flatlined?
So number one, life is awesome and life is fucking difficult. Shit happens, right? I mean, they made a t-shirt about it in the '70s. Shit happens. And a lot of times when we are focusing on resolving the shit and doing the everyday mundane, it is easy to lose touch with our desires, when we have gone through the loss of a desire.
I have a client that went through a breakup, and she was a little bit flatlined. It was hard for her to see why she had been kind of starting to rot in her living room, as we called it that day. But one of the things was she'd flatlined her desires and she'd made up stories about her desires. Apart of that, not the complete story, but part of that story was the pain that she felt earlier this summer. And it is very subconscious and natural when we go through a desire unmet to begin to shut down our nervous system out of safety and our ego-self, which I also heard this week is called the protective voice in a book I was reading. I loved that. So the protective voice kind of shut these things down.
How many of you have that either conscious or subconscious thought, "It's better not to love because then you don't get hurt?" or "At least, if I don't try, I won't fail."
And we end up kind of half-ass. I don't know. I do. I totally half-ass because of the stories I make up in my mind about the effort, about exhaustion, about rejection. Ooh, it's such a subconscious little thing. These beliefs get in there.
This particular client loves to sing. She has a regular day job, and she made up these stories. Her protective self made up stories about her singing -that her singing had to create money. As we were talking as a community together, the conversation went to, well, what if you didn't have to make money?
I told her, I said, "I see you coming home at 2:00 in the morning, and you just do a Nestea plunge onto your bed with exhilaration. You've been singing a set at the local dive bar. You just got a tip jar. But you just did it for the fucking glory of using your voice and you come home exhausted, thrilled, excited. It's like a life orgasm." I could see the look on her face. I could see that she remembered for a moment that her desire wasn't about making money. I mean, sure, that's one of her desires, but the deep desire was using her voice, singing. She loves to sing. Isn't it funny how we can put all of these other little stories on top of our deep desires?
Okay, so I'm getting a lot into this desire conversation, which is the third question. So let's just start with number three. Why not do things backward?
Desire. I notice a history of beliefs that were put onto me and that I took on, especially from various men in my life, starting with my dad. I'm not saying that my dad intentionally gave this to me, but this is what I took on. It certainly happened with ex-husband, and sometimes it happens with current husband, is this belief that I want too much. I remember my ex-husband saying something to me, having some kind of conversation. It was like, "You never stop wanting."
I've since made the distinction between wanting and having. One of my favorite things to do is to daydream, and to want, and to plan. I don't often get intimidated by my wants or desires, even if I feel like they're impossible. Sometimes the people I love in my life take that personally, and then I take their stuff personally, and it gets into this little ping pong battle of not allowing myself to be, no matter how they respond to my desire.
I've made an intention of just allowing my desires to be mine. In my current marriage, I am okay with letting myself desire something different than my husband, that I'm okay letting my husband not desire the same things, even if they create conflict. For example, I really want a pool. He really doesn't want a pool. I don't have to demand the pool now. I know that I will eventually have a pool again. And he knows we won't be living in this house. So actually, even though we have different desires, we have the same common goal. But I had to allow myself to want the pool to realize that we're actually on the same page.
I want you to think about, and possibly even … Really, this would be a way of powering up, honestly. I want you to pull out a journal and just let yourself desire. If you could have it your way, what would you have? If you could have it your way, what would you be? If you could have it your way, what would you do? And notice as you begin to drop down desires on a piece of paper, notice whether you judge those desires. Notice the mental mind fuckery that comes. Notice the way your body feels. Notice if you allow yourself to have those desires. Notice if your protective ego-self has cut yourself off from desires.
I wrote a blog post, back when I only wrote blog posts, on my desires flatlining. This is one of the things I notice, that when life gets challenging and there are other circumstances, which are technically neutral, but when other circumstances come in and detract our attention, the first thing we let go is desire because we move from that abundance, creative desire state to survival, at least I do.
I'm so thankful to the book The Way of Mastery. Recently, I read a chapter on desire, and I loved how it positioned desire. It positioned desire as coming from spirit, as created by God to be your purpose in life. I don't know about you, but I grew up in a religion that told me that my desires were evil, that told me my desires were not from God, and that my desires were sinful, and that … Bible verses are starting to even come up.
I loved in The Way of Mastery the way this positioned Christ consciousness as coming through me through the vehicle of my desire. It made me think about this client that loves to sing. She was given that gift, and she has a desire to use it. Somewhere along the way, she made up that she had to make money with it, and that snuffed out the desire. But when she really tapped back in the primary, primal, wholly creative desire is to just fucking sing.
I don't know what your version is. It may not be singing. It may be a bunch of little desires. It may be stuff. We had a beautiful call in my leadership group today, facilitated by Tara Newman. We were talking about money, and how many of us are motivated by money, and how we were taught that the desire of money is the root of all evil, except for I think it was the love of money. The reality is I love money. I don't think I'm an evil person, but I love money. I'm driven by money. I'm fascinated by this money love story that I am in. I feel like the ability to create income and to not just create income, but the energy and mindset of abundance is part of my purpose and expansion here on life.
So question number one, check in with your desires. I think in that blog post I played this little game of writing down 100 desires. So if you're listening to this podcast, I would love for you to pause right now and post and tag me on social media a few of your desires. Share them publicly. You don't have to share your deepest if you don't want to, but share some of your desires.
I'll share some of mine. I really desire a home on an acre. It doesn't have to be a big home, but I want the spaciousness with the trees, and I want a pool again. I really desire a pool. I really desire for my body to feel vibrant, and alive, and flexible, and functional. I desire to make 30 to $50,000 a month consistently. I have hit that $30,000 a month a few times, and I desire that to be an every single month thing. I desire to have enough wealth to be able to donate in massive amounts. I desire a fresh fall wardrobe. I desire to eat out at fancier restaurants. They don't even have to be fancy, but just not quickies. I desire to have more luxurious meals with my husband. I desire to spend a little bit more time with my family. I desire to lie my ass on a beach and have a daily massage for about seven days. I desired to go deeper, to have my meditation go deeper into me. I desire to have some mystical experiences in my meditations.
I'm going to pause there and get to our next two questions. I went in reverse order, so the second question is, "Where can you call bullshit on yourself?"
I want you to think about the stories that you're telling yourself that you have been buying. For example, my client recently was saying, "Oh, if I'm not making money, then I can't sing." It was so fun to help her see and to see her see that if she took the bullshit story that she had to make money with her singing off the table, she could then experience the joy.
One of the bullshit stories I've told myself recently … I did go through burnout a few years ago. I'm really afraid of that. I've noticed that I'm afraid of that again. I've made up a story in my mind that let's say that 30,000 isn't possible without the burnout, and that's bullshit. That is bullshit. It is possible to leverage and earn income without having to hustle in the way that I used to. I know that.
Bullshit for some people is that you don't have time. Sometimes it's that you don't have money. One I said the other day and one of my clients commented on it is where we used our triggers and our old stories as excuses. She was like, "I want to lovingly remind you that triggers are real." Yes, triggers are real. Trauma is real. Most of my clients are not in a place of needing therapeutic support where they are literally not functioning because of their traumas and triggers. But the fact is like, "Oh, that triggers me," right? I say that a lot. And the reality is, no, it doesn't. It just is uncomfortable. I can use my own triggers and my "trauma" as bullshit. I'm aware of it. That actually does a disservice to people who really are deeply and having trouble functioning and having medical conditions because of their traumas and triggers when I use mine as a fucking excuse.
I have to wait. It has to be perfect. I have another client. It was so fun to see her put out her podcast this week. Yay! Because she's a very big perfectionist, and perfectionist can often have massive layers of bullshit telling them certain things that keep them from being visible in the world. So I don't know what it is for you, but what will you call bullshit on?
I don't tend to come from this super harsh place of coaching anymore, but I also don't want to buy the bullshit just because I'm being soft. Just because I'm "breathe y'all and more love, not less" doesn't mean that I'm going to buy my own bullshit or buy your bullshit if you're my client.
Lovingly, I used to say … I think I have a podcast about this one. Or not a podcast, a blog post about this, too. It's like if I saw you wearing a sexy, super valuable pair of heels and you were standing in horseshit or cow shit here in Texas, I would push you out and then tell you why. So I think it's a good self-accountability check. That's my favorite, self-accountability, to check and be honest and be an owner of where we are telling ourselves bullshit stories that are keeping us covered in shit instead of the soulful success that we would like to create.
Then, the final question is, "Where can you power up?" Where can you power up in your life? Where can you power up in your communication? Where can you power up in your thinking? And I'm not just talking about trade up or be positive. For me, powering up is allowing myself to feel the fullness of all my feelings without going into victimhood or drama. My version of power up is to experience the range of both and then make a decision in this moment. My version of power up is committing to do this podcast every single week, even though when everything in my body and my brain is trying to discourage me when I sit down to start recording and the dog goes to apeshit at the window. All kinds of resistance show up.
Powering up is choosing to go back into high-level sales. For me, recently it's choosing to go to this high-level sales event to … I want to reactivate, so I spent the last two years not charging a lot of money. I know that some of you it might be a lot of money, but I'm used to charging a minimum of $1,000 a month. The early price for Soulful Success is 188. It's been bumped up to 222. And it's been a while since I charged in the high fee realm, and I'm feeling the call to put together a women's circle again on the high end.
I noticed a lot of bullshit stories coming up. I noticed I was leaking my power. So I wanted to immerse myself and reactivate my power ups, Right? Does anybody remember, I'm totally dating myself, Mario Brothers, right? And when you eat a power up, it made this sound … And I want to power up. I want to power up, and part of my powering up is not believing that powering up has to exhaust me, especially when I surrender to my worldly bullshit and I ask spirit to be the power in my body.
So I want you to check-in and have a lovingly honest conversation. Where are you half-assing things? Where are you on low power? Where could you be brighter, and not out of obligation, but knowing that you're dimming your light when it really is asking to be bold? It's like my client. Her singing is begging to be expressed, and she's been dimming it. By her making the choice this week to go to an open mic, she's powering up.
Where can you power up? I can't answer that for you. I can only answer it for myself. But I can ask you the question that causes you to reflect. Where are you being called from your inner wisdom, your inner remembering, and your inner power to power up?
With that, I am going to close out and say thank you so much for listening. Thank you for sharing. Thank you for your reviews. We hit 15,000 downloads. I don't really watch the numbers, but that was really fun to see. I actually posted about it right before we hit 15,000 because I knew it was going to come. I appreciate you guys listening.
It's so fun to hear stories when … It's so fun to hear stories of you listening. It was interesting. I actually had a new client sign up this week, and I had made up a story. I met her in person. I don't even remember how long ago. Sometime in the last two years I met her. We went to this women's event, and turns out she lives really close to me and so I went and picked her up, and we went to this event. She was like, "Oh, I know you from online." I remember seeing her online and seeing her likes, and her posts, and all these other things. We went to this book club. It was a book club on The Prosperous Coach. Then, I dropped her off at home, and then I never heard or saw her again. Likes went quiet. All these things went quiet.
She texted me yesterday and said, "I watched your video." I had no idea that she watched that video. She actually watched a video I did on Facebook about wanting to throw in the towel, a very normal and common thing when you're in business for yourself. Heck, when you're alive it's very normal and common. She was like, "That video saved me. I'm joining your program." She's like, "I've been waiting for a few years to do this." And I was like, "What? What?" I made up a story in my mind that she was like, "Yeah, I met Allison in person, and she is off my list." So it was just a really good reminder that we can't make up stories.
So I love words of affirmation. If you're getting something out of this podcast, it really encourages me and helps me to know, whether you tag me on a social media post, or you send me a private message, or you do podcast reviews. I totally appreciate any insights you get. I want this to be valuable for you. I want it to be helpful. So thank you so much for spending time with me on the Better Life Better Work Show, and I will see you on the next episode.
---
Podcast: Play in new window | Download
Subscribe: Google Podcasts | Stitcher | Email | RSS | More