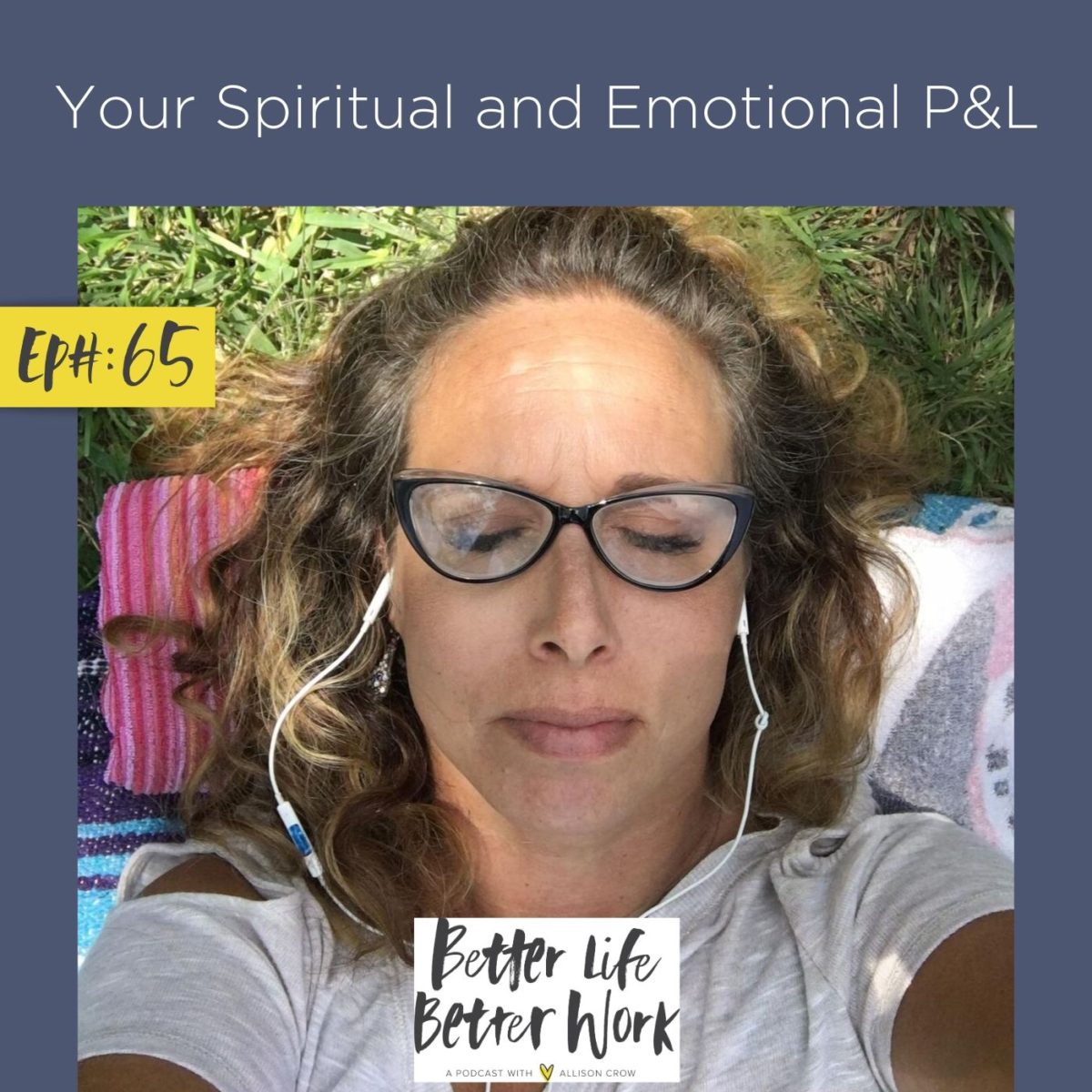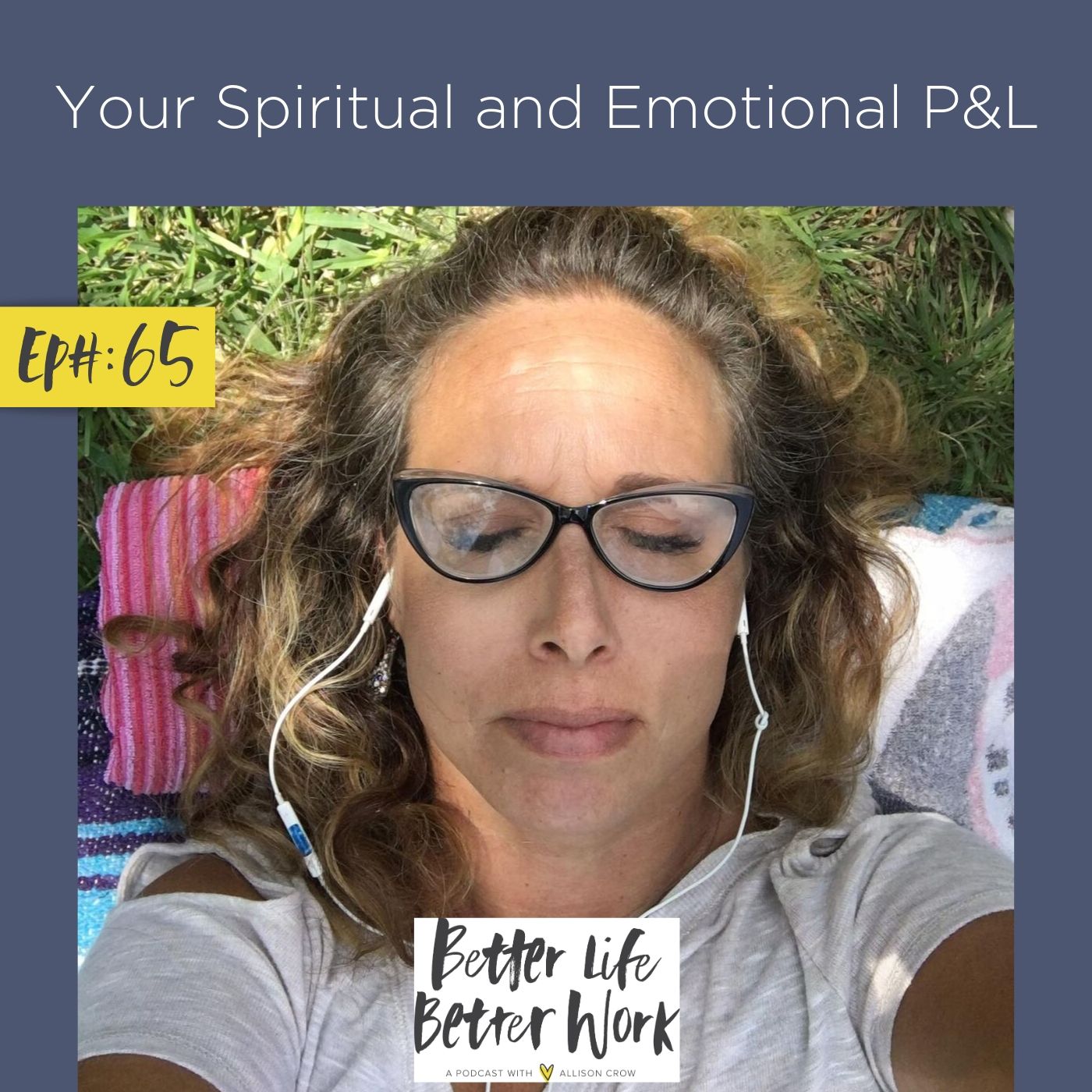 Hey soulful people, this is episode number 65 of the Better Life Better Work Show. Today, because you are soulful and because you want to create success for your soulfull life and work, we are going to be talking about the Spiritual and Emotional P&L. This is a concept I use, and have used, with my business owner clients, especially back in the recovering overachiever days. This was born out of working with really high achieving clients who are doing really well but often experience burnout, fatigue, or were working in jobs and situations that just, it didn't matter how much money they made. They weren't enjoying their life, there was nothing left over at the end of the day. So let's hop right in.
(PS: thanks for your grace with these transcripts turned to blog posts – I get that I don't think in straight lines and translating that to text is interesting for sure!)
As a business owner, hopefully, you have a P&L. If you don't, I highly recommend that you get a P&L and that you begin to know and look at your numbers. I know it can be daunting if that's not something you've done, but a P&L or a profit and loss statement is a financial statement that summarizes revenue, cost, expenses and more. But I'm going to leave those details out for now. It measures the ability of your business or inability of your business to generate profit. The definition of profit is a financial gain, especially in the difference between the amount earned and the amount spent.
As a business owner, I know that I work closely with my bookkeeper to have my P&L available at all times. I get monthly reports. And what I love is that I'm not basing the health of my business on my current bank account, which in my early business days, it was very easy to make up stories about my business based on the number in my bank account at any given time.
Also, looking regularly at my financial profit and loss also helps me see patterns. It helps me see cycles. It helps me track expenses. It helps me track the cost of business, which is slightly different than expenses. And, the big difference is in revenue and net profit.
Often, especially in the online world when nobody is sharing their profit and loss, many, many advertisements and people will talk about their revenue. Revenue you guys, let me tell you a secret. Revenue is nothing. What really matters is your net profit, your net. So revenue minus all your expenses and costs, what is left over? In my world, this is also where this concept of spiritual and emotional profit and loss came about.
I'm going to leave the financials for another episode, another time, or for you and your accountant. But I want you to think about your Emotional and Spiritual Profit and Loss. And to do that, just like in financials, you need to know what is the equivalent of income or revenue.
For example, are you aware in both your life and your business, what gives you energy? What expands and enhances your energy, your time, your satisfaction, your joy. So that your emotional and spiritual tanks stay full. And what I mean by emotional and spiritual tanks, is that most everybody I know has had a season or a time, or circumstances in their life where stress is really high and they feel empty.
Ordinary life can create dust on our soul. And if by my standards I am not only looking to create success, I'm also looking to enjoy the success I create. I desire to enjoy myself while I'm creating it. I think we've all heard of very wealthy people that at the end of the day still feel miserable.
When you begin to think about your Emotional and Spiritual Profit and Loss, I want you to think about the things that would constitute for you a full, healthy, and in the green emotional and spiritual accounts.
I kind of combined emotional and spiritual because, for me, emotion and spirit intertwine. If you need to keep those separate, that's fine too. Spirit is a very big part of my business. Spirit is my divine business manager, and things usually go well when I listen to her.
Think about in the context of emotions and your spiritual fulfillment. Be aware of what depletes or drains your emotional and spiritual accounts. So it does it mean that everything in running our life and our business is always hunky-dory? No. But at the end of the day, we want a balance sheet that shows a profit. We don't mind if there are some things that deplete our energy that take our time. But we want to have those 'expenses' be reasonable, right? If in a financial profit and loss, you had absolutely a hole in your money boat and we're just draining money left and right for something that wasn't giving you a return, you would consider cutting that expense. But there are operating costs, there are costs of doing business, and then there are the regular expenses of running a business. Your emotional and spiritual profit and loss has the metaphorical equivalent.
For example, let me think of some expenses. I know a lot of new people and I have a lot of newer clients that are in the first three years of their business. We're going to be doing a podcast on that coming up soon too, launch growth and achievement phase of your business. Clients that are in launch phase are putting in lots of emotional and spiritual expenses. So what I mean by that is they may be putting more time on task, right? So time is one of the expenses that you can have where you're putting massive time, you're working overtime, maybe you're doing a lot of gift services to get your name out there. You're going to a lot of things. You're going to a lot of networking events, or you're doing free workshops, or whatever it is to get your name out there, right? Because if you are in the first to three years, you are starting from zero and building, right? Whereas somebody in growth and achievement has built some traction. So by the mere fact that you would be building traction, it's going to require literally more time, more energy, and more effort. So not only will that perhaps costs you money financially, but it can be an emotional and energetic and time cost. Right?
Just to be aware of it, one of the ways that I believe that you can really reign in and be wise about the emotional and spiritual cost associated with running a business is to have standards. Almost everybody I know has been in a situation where they are working with somebody where the cost does not outweigh the return. Right? I know coaches that have had very high fee clients, and the client is just not coachable. The client and coach aren't in alignment. Maybe the client is talking bad about the coach. When the coach goes to try to have a conversation about it, there's some stonewalling. It's just not a good fit. A lot of times, it's really easy if somebody is going to offer to pay you money for the offer of that service to get really excited and just want to take that money instead of measuring that potential client, their mission, their vision, their values, and ensuring they're a mutual fit.
One of the things I learned under working with Rich Litvin in the Prosperous Coach community eight years ago was to be thinking about the characteristics that I want my clients to have. What is a "hell yes client", and what is a "hell no client?"
Another example: One of the ways I've set up my business, not only financially but for my emotional P&L, is everything I do runs through a payment system. I don't take checks anymore because I didn't want to be a bill collector. Having everything automated actually helps me not spend time doing massive amounts of bill collecting and bookkeeping. It conserves energy and joy in my business.
Consider how you spend your time in your work. When you spend time doing a task that is an energetic expense in your business. So I wanted to spend energetic expenses doing things that not only make me money, but that also fill my soul.
My happiest moments: I have two moments in every single day that are my pure joy, gratitude moments. And one of them is during coaching sessions with my soulful success members. And I usually become aware of it as we're checking out. I find that my energy is high. I find that I'm excited. I'm amped up, and I am feeling the bliss and glow of the work that I do. I have just spent 90 minutes to two hours of coaching, giving, serving, active listening, intuition. So I have put effort and time into something. But the reward is really, really high for me, right? Even though something is being spent, I get a massive amount of return for the overall net profit of my emotions and my spirit.
(the second moment is in the evening – cuddled up with my husband and dogs in our bed. I forgot to finish this thought on the podcast but It brings an overwhelming sense of gratitude and joy that fills my emotional tank and makes all the effort in being married and owning dogs worth it).
Chasing down money when we've already got an agreement. If someone's avoiding paying me, that's an example of something that it's a task that I'll do. But it can be mentally frustrating. It can be draining. And it can be distracting from other energies that would pay off better in my business.
Another business example: Marketing. So I love creating content. I LOVE to create content. It can be really fun for me to create engaging content online. It's becoming more and more fun for me to do this podcast and get your feedback. So that's an expense. It's time and task, and energy put into doing something that helps me engage with you. And that's rewarding for me.
Now, many people I know do not like creating content, right? They like providing their service. They like coaching, they like buying and selling homes, etc. And most of the people I work with are in relationship-based businesses. So you have one of two choices. Actually, in the real estate days, this is interesting because most of my real estate clients now are super experienced realtors. They've been doing this business for a long time. They're in the growth and achievement phase of their businesses. Whether they run big teams brokerages, or whether they're independent agents.
One way Realtors can create clients is cold calling. There are lists that you can get of everybody that has their house for sale. You can get tax rolls and lists of expired listings. Literally, in the 'old days' we used to get the phone book and you would just start dialing. It was called "dialing for dollars." For some people dialing for dollars was very energizing. But for me, that was a massive energetic debt when I was a real estate agent. Instead, for me, it was really fun to find ways to create and build both reputation and real estate. And I wanted to have a reputation as being excellent at what I do. So not only did I do a good job for my clients, but I also invested both financially and time-wise in education, training, learning, etc.
You have to decide for you what in your business activities, lead generation, marketing, what the impact is on your energetic and spiritual tanks. And hopefully, those things also align with your money filling tanks. For example, the example that I use for earlier, the dialing for dollars. That worked for a lot of people. It absolutely worked for a lot of people. I know many people that built their businesses off of calling what we called expired listings, and they would make money off of it. But for me, that was not enjoyable. There was a low-grade anxiety that I had about calling strangers, and I personally liked to work for people that I knew and trusted and had built some rapport with
The other example I was using was marketing, right? If you are somebody who doesn't like to create content, it might be worth both your financial investment to hire that out to get some support doing that. And it frees you up so that you can invest your emotional and spiritual energy where you want to.
It's interesting. Actually, before I did this, I went ahead and pulled up my most recent P&L report. One of my favorite ways to view this report is always to look at the year over the year and the month over the month. And this year my gross profit, I can't remember net, but it's pretty close. But my gross profit is up 54%. And my expenses, I can't remember the percent, but my expenses from January to July are down $3,000, right? And that's ultimately what we want to do.
We want to increase our revenue, our energy.
We want to increase our positive experiences, our joyful moments, our delight in life.
We want our soul to be full.
And then we want to decrease our expenses.
It doesn't mean we're not going to have any expenses. It's impossible to live a life or run a business without some cost. But we weigh the cost. So many people I know were having really good financial businesses, but they felt like the cost was too much.
One of the ways, especially when you're self-employed, or an entrepreneur, or whatever you want to call yourself, is to get really clear about what is a yes for you, what is an energizer for you, and what is necessary for you? What in your emotional and spiritual life helps your business?
We had an amazing business call this week with my members and one of the things we talked about was the energetics of making money. That everything is energy. So often in business coaching and business schools, we're talking about the "how-to" make money, There are 950 gazillion-million ways to make money. And are that many ways to make money as a coach. If you're a coach or a realtor, or an artist, right? We can look that stuff up on YouTube. We can find blog posts, we can hire and spend lots of money on coaches.
What is invaluable for me has been this one-sentence business plan is "Get in Alignment and Then"
This is because, after 16 years of working for myself I know, through history and evidence, the practices that I do to 'get in alignment' are absolutely profitable practices. Not only for my fiscal P&L, but also for my emotional and spiritual P&L. It makes any effort I put into my business easier, smarter. And I have, I don't want to say I have way fewer failures, but I have way less doubt. I have a much better mindset. So when I do encounter a failure, I actually learn for it.
So here's an example that happened last week.
Last week, I spent some time, just a quickie little vacation with my husband and my best friend and her husband. And we hopped on a plane and jetted to Las Vegas, and we went to go see the Eric Clapton show. My superstar brother-in-law Mike Flanigin plays the B3 organ for Jimmie Vaughan, and they open for Eric Clapton. And we had this vacation planned. Wad a great time.
Saturday night on the plane on the way home. That's how I fly into Vegas. I do not leave on Sundays, I leave on Saturdays when most people are coming in or already partying. That's part of my emotional and spiritual P&L of taking a trip. Right? So I know that I do better when I travel if I fly direct and I fly at off times when most people aren't traveling. It makes my experience so much more fulfilling. Same trip. So much more fulfilling and easier on my body. Are you catching along with me yet?
So on the plane, on the way back, I got an email from support at my email provider. I use a company called Ontraport. At the time, I didn't really get it. It said something about me being blacklisted and it said something about my website being blacklisted for email spam. I was confused about the email because the email that was blacklisted is a domain name that I do not use to send an email.
I didn't think too much about it that night. I hit respond and was like, "Can you help me understand what this is about? I'm not really sure what you're saying," etc. And I forgot about it. And then I went home and the next morning I woke up and I had another email, and I still didn't quite understand it. And the tone was a little bit, I'm going to call it threatening. He apologized for threatening, but it was, the tone was kind of like, "If you don't get this figured out, we're going to stop your ability to send all email."
Yikes! So, of course, I'm in this reaction state of oh my God, my business. What would I do if I can't get my email and send email to the people who have self-selected to receive emails from me?
So that day was a Sunday. I sat in my office, I started researching. I didn't understand it. I started to get more frustrated and I could feel my energy really get frustrated, tense, anxious. I was nervous, honestly. It hit a deep little fear of me. The dramatic fear kicked in that says, "oh my God, your whole business is going to be destroyed." No, that's not going to happen. But you all know how our minds do that. So my protective mind went off like crazy.
But what was beautiful is that the time I have spent working on my inner thoughts, soothing my fearful emotions kicked in. And I was able to self-coach, and self-soothe, and self-support myself. So instead of totally freaking out, I did what I could and passed it on. And then I began to think, "if for some reason I can't get this solved," and I did have a deadline coming up for my program's doors to close last week. I started thinking of alternative ideas. I was like, "I can change the deadline." I also started to think "Well, if I couldn't use email, what could I do instead?"
It was interesting because I recognized that the time I've spent doing this work and not taking things personally that happened in my business, not over freaking out, not assuming that just because there's a glitch in the technology systems, that everything is destroyed. I began to see the reward, and the profit, and the payoff. So not just short term payoff, but the longterm payoff, right? I have made massive investments in my emotional and spiritual life. And in the moment of chaos, those things paid off.
What was fun was I shared some of these experiences on a Facebook Live and it actually created a client, which was a hilarious cosmic joke. But that's what I'm talking about. When I take care of my emotional and spiritual profit and loss by filling those tanks, by doing the practices that make sure that my self-care, that my physical health, that my mental health, and that my spiritual health are not neglected; when there is a circumstance that can otherwise be disruptive, I profit. I profit, and that feels really good. It feels really good to solve business problems with ease and flow. It feels really good to overcome obstacles, and there are obstacles, as you know, in life and business. Understanding and being aware of an emotional and spiritual profit and loss helps in good times and in times of stress.
So if you are somebody who is out there running your business and you at all feel like you are on a hamster wheel, or you are burning the candle at both ends, all these little sayings that we have. If you are experiencing burnout, if you are working with shitty clients, I want you to pause and take some time to think about standards. Not only in your business with who you work with but also your personal practice standards.
So what are your mindset standards?
What are your self-care standards, right?
How much time will you take off?
I have a friend Hank Avink who runs the National Coaching League. He is brilliant at standards. He does not answer his phone after 5:00 PM, that is his family time. And if we are a friend of his, or a colleague, or even his clients, you know that you don't even text because he's not going to respond to that text after 5:00 PM. And this man has absolutely not only massively increased his business, but he also has very high standards of who he works with, what he tolerates. He's very clear in his communication. So all of these things not only support him in his business, but it's also supported his family. And I have watched this man build not only an incredible net financial profit business but also an emotionally profitable business and practice. It is genuinely impressive.
So I share the same concept with you today. I share it with my clients.
What are the elements that you require that support you emotionally and spiritually in your business?
What are the elements that suck the life out of you emotionally?
And if you find those elements, how can you adjust your thinking?
How can you adjust your standards?
How can you make any other adjustments that might make it more profitable?
I love this analogy of looking at the P&L.
Another aspect of a financial P&L is your liabilities, your debts, and liabilities. And your assets, right? So if you have a computer, it's an asset and it shows up as a plus on this financial statement. So in your life, if you have an office space that you enjoy working at and that feels really good, that's an asset.
If you have a lot of financial debt, you may have an emotional debt with that too. In the past, my debt used to really get me squirrely. I'm absolutely on the trajectory in the right direction. But that one, even the financial debt would create an emotional and spiritual debt for me. And it would have an overall impact on my life and work.
Self-forgiveness, right? When we self-beat, and when we talk bad to ourselves, or about ourselves, that's a debt, right?
I want you to think about what are the debts and what are your assets emotionally and spiritually.
Take a moment and check-in. Is there something from the inside out that is missing that you could create? I want you to take real, kind, care here because it's going to be really easy for your protective and judgemental mind to decide that it's something outside of you.
I go back to that e-mail blacklist situation. If I were still blacklisted this week, I guarantee you somehow I still would've enrolled the clients that I enrolled last week, even though I wouldn't have had email. Because they were going to have to stop my email. So I could use that as an excuse. I could use that to stop me. But instead, I thought differently about it. So I thought, how can I change? If I can't change the circumstance of being blacklisted, Allison, how can you think differently, instead? What can you believe about yourself differently? This was helpful. And by the way, I'm off the blast blacklist now. It's all good. It was actually a super simple fix on the back end. There was no spam ever. It was my DMARC file was empty.
In coaching we use the wheel of life, right? There are all the different areas of life that contribute to your emotional and spiritual profit and loss. I know where I tend to go in emotional debt is I forget to go have fun. I love working, but I forget to go have a great time. I have a personal mantra, it's called CTFO. It stands for "Allison, chill the fuck out." And that is my playful way of saying I'm taking things too seriously. And when I take things too seriously in my life, in my relationship or my business, it creates an expense that leaves me negative in the spiritual and emotional accounts.
When I feel that debt creeping up, I know that I can actually put the tasks of work down, and go play, and go have fun, and laugh, and move my body, and get a change of scenery. I can go hang out with my girlfriends, go to the lake, go for a walk, listen to something funny on TV instead of reading self-help books and business books all the time. These activities will actually raise my spiritual and emotional balances so that when I come back into work or my relationship or whatever it is, things are much more manageable.
So as we close out, not only do I want to encourage you to get your financial P&L together. I don't care what it is, just start it if you don't have it. And if you do have it, I want you to pull it out and look at it. And I want you to make the analogy and the comparison to your emotional and spiritual life, too. I encourage you to get out a piece of paper or journal and create a column for your Spiritual P&L. Is alignment important to you? Is your spiritual life a part your business like it is mine? Have you spent time doing your spiritual stuff?
I tell you what you guys, two weeks ago I made a commitment to sit on that little poof and meditate. And I have done a whole lot of shitty meditation. But guess what? It's raising my profit. Especially emotionally and spiritually. And by the way y'all, it's much easier to actually create financial income when you are emotionally and spiritually open, right?
I encourage you to write down the word Emotional P&L. Are you getting joy out of what you're doing? Are you having fun? Are you absolutely adoring that people work with, or are you working with somebody that makes your eye roll and you avoid it, right?
I encourage you to assess both your current situation, just like you would do with your money. It is not to create judgment, shame, or blame. It's actually just to create awareness. Knowing what's going on helps us make adjustments to what's going on, right?
My colleague and friend Megan Hale, has a concept that she's created with her clients around money. She calls it Good/Better/Best goals. I love that concept because, for your emotional and spiritual P&L, you can create what would be good, what would be better, and what would be best. All of these things are elements that contribute to emotional tanks being full and your spiritual tanks being full. All while managing your business and creating your financial P&L.
So if you have any questions, let me know. I hope this made sense to you. I'm pretty sure it did. I'm pretty sure each of you know. If you take a nice breath in this moment and do a quick scan, you can tell whether or not your soul is energized and excited or if it's a little bit weary. Sometimes one of the best things I can do for my business is take a nap.
I actually had a client once that felt so guilty about taking naps because she worked on her own time. She was a contract employee for somebody, and she had certain work to do for them. She was saying, "I feel so guilty about taking this nap." I responded, "Wait a minute, didn't you tell me about the nap you took a couple of months ago. And when you woke up from that nap you had an idea, and you shared it with your boss. And your boss implemented it, and it made him $2 million?" So it's funny, right? Our attitude about something even like a nap. Those naps, I told her those are actually a very important part of your business plan, right? And so these are some of the ways and some of the thinking that you can use to set up and create your life and your work to not only be functional but, to also be soulfully fulfilling.
That is my wish for you, that your soul feels aligned. That at the end of the day when you lie your head on your pillow, that no matter how tired you are or how much you've worked, or how much you haven't worked, that you are able to say, "Soul, we did well today. Let's rest well and wake up and do it again tomorrow." With that you guys, I'm out of here. Thanks for spending time. If you have any questions, drop me a line on Instagram or on Facebook. And I will see you on next week's episode.
Love, Allison
---
Thanks for spreading the word about The Better Life Better Work Show. And of course, I love your Social Media Mentions and Shares with #BetterLifeBetterWorkShow
Let's connect online @allison_crow on Instagram and Allison Crow on Facebook.
Podcast: Play in new window | Download
Subscribe: Google Podcasts | Stitcher | Email | RSS | More