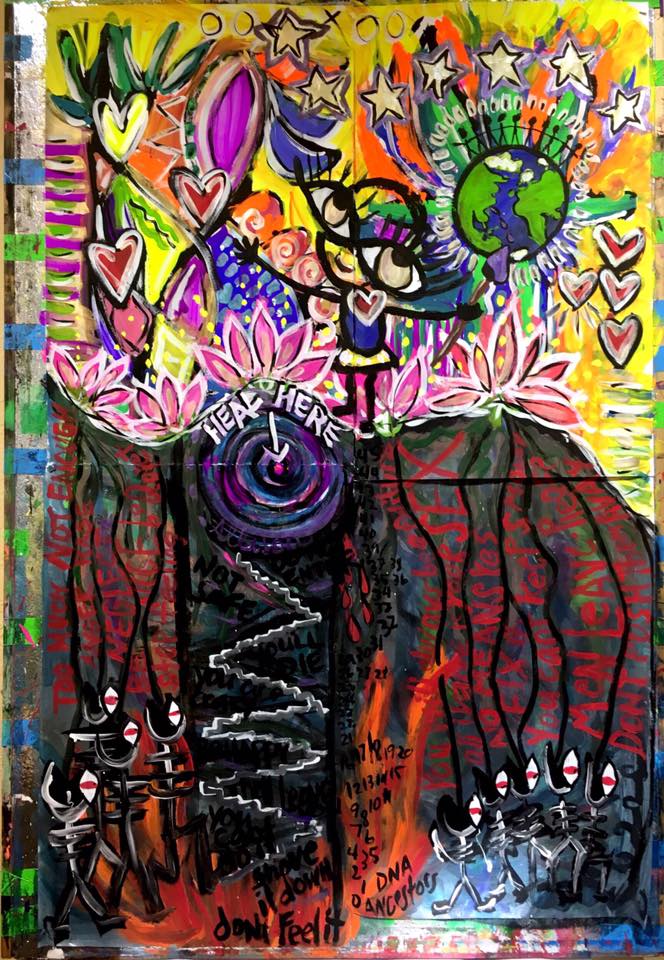 Is it possible to be thankful for coming undone? For the unraveling and losing my shit over and over in the past year?
I'm a leader. A small, but still public figure. My life's work is supported by being online, outspoken, and having a tribe.
I've been complimented a thousand times for my light and positivity. And in the last 14 months, I've lost my shit daily. I have felt more shadow than light. And I've certainly not behaved like the leader my early mentors taught me to be.
But I am not leading from a pulpit. I am leading by living my life- feeling it all and choosing to look for love in all of it. I am being me.
Coming undone is the scariest and most vulnerable experience I've had as a human. I've lost loved ones, and clients, and at times felt like I lost myself.
But really, in the loss of my shit, I'm finding more of myself.
I had both a beautiful and frankly awful childhood. Trauma, chaos, raging, abuse and neglect set me up to be either a complete mess or a complete over achieving control freak…. to be a lover or a fighter.
I don't know if it was choice- or my psyche- I was just so fearful of the pain I chose the rainbows and unicorns. I chose to fix things, to solve problems, to make peace. I chose to overcome vs succumb. I chose lemonade.
At 24 I was clinically diagnosed with anxiety and depression.
At 44 I finally know why. I've pressed all these shadow emotions down. I believed that if I let them out…..
– I would die from the pain
– I would drag others down if I allowed those feelings to surface.
– I was crazy, or would be seen as crazy and this rejected
– it's not ok to be a mess
– I had to be positive and choose love
I actually enjoy JOY. I enjoy seeing the glass half full. I enjoy feeling good. In well over 50k coaching calls, every client has ultimately wanted one thing- to feel good. Every goal, achievement, desire, healing– ultimately was for the purpose of feeling good.
Outside of coaching, in ordinary life, drinking, shopping, spending, small talk, diversions, and a list of a million more things…. were all for the subtle, and perfectly human desire to FEEL Good.
And then in September if 2015 the feeling bad started. Death of close loved ones, loss of stamina and physical health, deeper depression, tax burden, failures in business, parents aging and ailing physically and financially….. and me trying to FIX it all.
And clearly, from the moment it all began to show up in the tsunami that can be life is, I saw that no coaching or spiritual bypass would work here.
The only way out would be through.
The ONLY way to healing and JOY would actually be the allowing of the feeling bad… the coming undone.
They said I risked it all when I took off my clothes on stage last year in a talk about stripping down to my authentic self. But none of us knew that after getting naked, I'd have to turn inside out.
Not ready to make nice or smoke unicorn and rainbow crack. It feels riskier than getting naked because I could topple my business (which I put entirely too much of my self worth in). I could have another husband leave me, I could lose more friends for being "too much."
And this season, feeling the shadow is the work I can't not do. And I can't not do it in private. It does none of us justice.
I always share behind the curtain. And so why stop now. HA!
The political and global climate of the last year, the election and in the current aftermath – has been my particular UNcorking. My Kracken is unleashed.
I have been without grace, overbearing and downright nasty and mean. Ive had intentions of being curious and compassionate, fierce but loving…. and instead I've yelled and accused and raged. I've sobbed and screamed and wept and been incapable or unwilling to listen. I've been overbearing and ugly. I've been terrified by the rage and fear and grief that clearly are alive INSIDE of me.
I haven't, and I'll bet most of you haven't either, been taught to feel these feelings in a healthy and appropriate way.
I don't have answers. And today, despite the shame and guilt I feel, I also feel thankful. I am grateful that the ugliness in me has demanded to be seen.
It has not been pretty. And there is no quick making nice of it.
And as my beloved Thich Nhat Hanh says,
"There, there Anger, I see you. I will not leave you. I am here for you."
"There, there, Terror and Fear, I see you. I will not leave you. I am here for you."
"There, there, Pain I Think Will Kill Me, I see you. I will not leave you. I am here for you."
Finally, after 20 years of personal and spiritual seeking and practice, I finally see you. I will not leave you. I am here for you.
And I am grateful to you. And somehow I know that I will be put back together again. And I will have many more undoings as long as I am human. And I will keep going.
This is an entirely new version of love. This is an entirely new making and BEing of me.
Ps. I have not gotten here alone. The sacred space I've chosen to feel these feeling has been the Expressive arts with
. And I couldn't not have done this deep work if I hadn't had the loving leadership of
who always supported and honored me being wholly and vulnerably me.
I have had the loving and allowing support of friends and colleagues in sacred containers and circles. 4pc, animal medicine sisters, my own clients, and my Expressive Arts training sisters.
And of course my husband who is my rock. Heaven when he doesn't understand or agree- he never leaves. He stays. And loves.
The story is not over… it is just beginning.