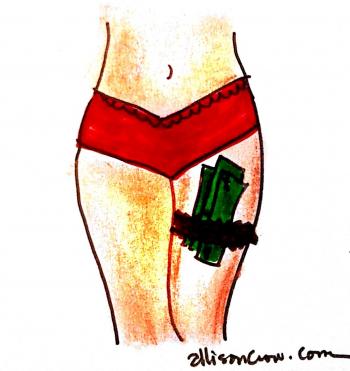 No this post won't be about sex, but it will be about my time as a prostitute and how I climbed out of that hole and found the place I am in now.
While I certainly wouldn't accuse you, I would bet that a time or two in your life, you have dabbled in the p-word, too.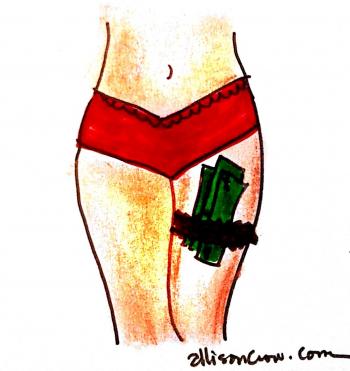 Now that I have you all hot and bothered, let me share the definitions of two very important words to set the stage for this important post about my
 the PRETTY WOMAN Theory Of Personal Power & Energy:
pros·ti·tu·tion
/ˌprästəˈt(y)o͞oSHən/
Noun
1. The practice or occupation of engaging in sex with someone for payment.
2. The corrupt use of one's talents for personal or financial gain.
cor·rupt
/kəˈrəpt/
Adjective
1. Having or showing a willingness to act dishonestly in return for money or personal gain.
So did I really trade sex for money?
No I didn't.  I did use my talents for both personal and financial gain.  And I was corrupt. Let me explain:
Phase 1: Prostitution
In the movie Pretty Woman, Julia Robert's character Vivian, goes from street corner prostitute, to high dollar call girl, and then in the end becomes the fully valued love of Edward.  We watch as her personal value changes over time.  And while I wasn't exchanging sex for money on the corner of Hollywood Blvd, there was a time when I traded my value.  I gave up a part of who I was – to get validation.
Vivian starts out as the full-fledged prostitute on the corner – downgrading herself in exchange for something of value.  She gave away a sacred part of herself for something of value. When she is asked her name, she even replies, "What ever you want it to be, Baby."
There were so many times in my life when I changed who I was, gave away a part of my soul, a part of my personality, some of my hopes or dreams, and yes, even a part of my body to be liked, to be validated, to be popular, and even to earn an income.  I hate to admit it, but in a million tiny ways, and in a few big ones, I was dishonest with the most important person in my life.  I was dishonest with myself in trade for being liked, looking good, and feeling right.
We all know the literal physical risk and emotional damage literal prostitution can cause.  And yet, this emotional prostitution also carries great risk and emotional wounds.  The longer I stood on the street corner being what any boss, boyfriend, husband, or friend wanted at the expense of my sacred self, the more I separated myself from the unique, beautiful, and valid me that was inside.
Phase 2: Defending
In the middle of the movie Vivian has spent a week or so with Edward.  She has cleaned up, tossed the artificial wig, and has become more like her authentic self.  She has seen more of her own personal value and has been acting more in line with those thoughts and feelings. Just as she's starting to feel comfortable in her new way of being, Edward's attorney, Stuckey,  makes an explicit offer to her – Edward walks in and a fist fight ensues.  Stuckey is thrown out and Edward and Vivian have this conversation:
Vivian:
You know what?
Just tell me one thing: Why did you make me get all dressed up?

Edward:
Well, for one thing, the clothing was appropriate.

Vivian: 
No, what I mean is, if you were gonna tell everybody I'm a hooker, – why didn't you just let me wear my own clothes,okay? – I did not– I did not–I mean, in my own clothes, when someone like that guy Stuckey comes up to me,
I can handle it; I'm prepared.

Edward:
I'm very sorry. I'm not happy with Stuckey at all for saying or doing that.
But he is my attorney. I've known him for ten years.
He thought you were some kind of industrial spy. The guy's paranoid.

Vivian:
Are you my pimp now? You think you can pass me around to your friends? I'm not some little toy!

Edward:
– Look, I know you're not my toy. Vivian! Vivian, I'm speaking to you. Come back here!
I hate to point out the obvious, but you are, in fact, a hooker!
– And you are my employee!

Vivian:
– Look, you don't own me. I decide, okay? I say who; I say when; l– I say who–
That last phrase, "I say who; I say when; I say who–"  I can hear the emotion in her voice – I can feel the yearning to believe it and the emptiness of that belief falling short.
I've declared something similar a million times.   So tired of being untrue to me, with all the passion I could muster behind my huge hairy fears I'd defend myself, defend my value saying things like: things like:
I deserve this!
It's my right!
You just don't understand!
How could you?
You should _______________________(fill in the blank with a million demanding shoulds)
These phrases, and a million others, too.  All loud and boisterous – merely to cover that inside, I still felt small and worthless.  I remember screaming at my ex husband for leaving me. I remember wanting to tell my boss of 7 years to fuck off when I quit because she never would acknowledge how bad ass I was. I remember demanding my husband to love and trust me, or else.  I spent years in this place of demanding my world, and all those in it, value me.
It WORE. ME. OUT.
The defending stage, and the energy when we are at this place, is a higher energy than the victim & hopeless energy of the prostitution phase.  Defending our value is a HUGE step up – but, my love, if you are anything like me, the defending begins to feel exhausting and you realize, there is a new phase in learning how to truly value ourselves.
Phase 3: Allowing & Being
And then, one coaching conversation changed everything.  Really, I'm sure it happened over time, but the idea finally settled in. The idea of standing in my truth, allowing others to be/think/do/say what they would, and giving myself the value and validation I'd always craved from the world.
At the end of Pretty Woman, Edward makes Vivian an offer – "Come and be with me – I'll put you up in an apartment."  Vivian says, "Thanks but no thanks.  Great offer, but not enough for me. "
At the end, Vivian, having traded her value, then desperately defended it, finally decides who she really is and what she really wants to be in life – and a kept woman in a fancy Manhattan apartment, while better than a prostitute on Hollywood Blvd, just won't cut it. Standing in her true value, she declines.
For me. it was a thought that my husband should love me and trust my business. The longer I demanded it of him, the more I ached.  And then, that coach, held that mirror up and helped me see, that I should love me.  I should trust my business.  That was the day that things changed. For good.  I stopped prostituting. I stopped defending (for the most part) and I started peacefully standing in my value, allowing others to be.
When I began to see the source of my value as only able to come from within – from the spirit within – is when the value I'd looked for so long came rushing in.  (Interestingly, when I took the pressure off my husband to love me, and to trust my business, he actually began to do both those things better in my eyes).
No longer a prostitute, I can, with out uttering a spoken word, say with calm and quiet confidence,  "I decide. I say who. I say when."
And now that I know the goodness of finding my value within, I shall never be a prostitute again.
What about you?
This post was originally featured on Owning Pink in March of 2013.