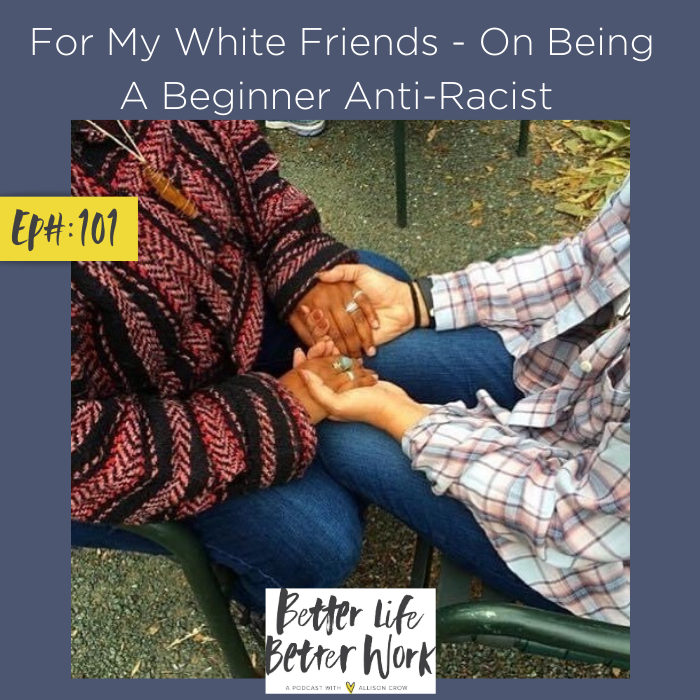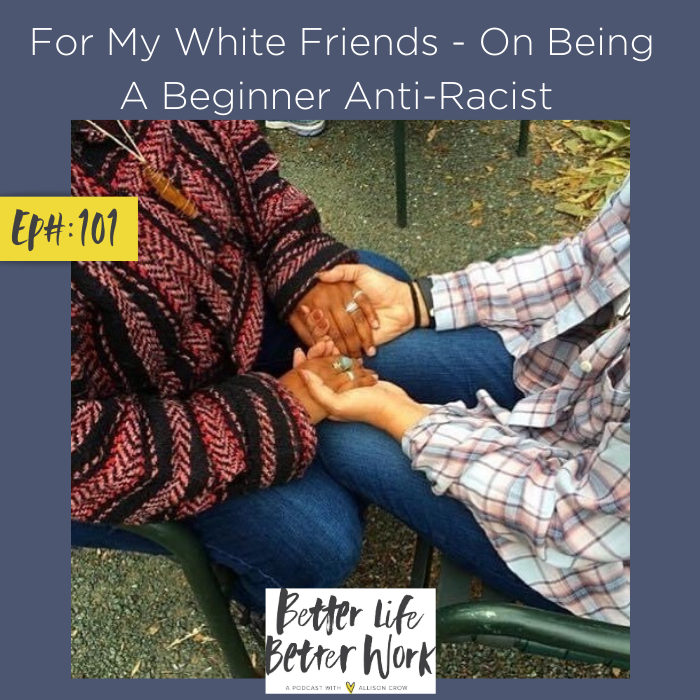 For my White friends, yep…it's time to talk about being anti-racist. Many of my friends and a few clients have reached out this week to ask about seeing what they can't see. I offer only a intro to the experts who are teaching this work and encourage you to listen to learn – but don't ask your black friends. I know…there is a lot to unlearn and I know your heart wants to get it right. In this episode, I can not ignore what is going on in the world around me and I share that I am a beginner too. in 2013 a friend had the courage to show me my ignorance. She was loving and sharp – because it matters. Listen in and I will share resources below that have been shared with/ and useful for me.
Love,
Allison
A Starter Set of Some Diversity and Inclusion Resources
Please – as you are seeing structural racism with even more clarity – I know many of us want to be better and do better. A few basics I do know:
Do not ask your black or POC friends to teach you. It is emotional labor and not even our friends' job to fix our awareness. Research. Dig and absorb some of the resources in this thread. (I will put a starter set in this thread to save so you can come back to one place in here).
There are also many podcasts that give their free offerings on this topic that you can begin to listen to.
While the research and listening never ends- at some point you might want to hire a teacher or consultant to help you. No "picking brains) pay people.
Racism is in my bones. It is in everything around me and around you. To support your the life and work of my clients and myself, I can't exclude some of the more difficult conversations.
It isn't something we can take a weekend class in and check off… and each of us have a loaded history and experience that exists in the contexts of these stories.
Part of our whiteness is this intense need to be and do good – and this education and work is messy and important. You gotta be willing to get it wrong to grow. Compassion vs shame. And compassion can be precise. Soreness in order to grow.
💛resources below:
Podcast: Play in new window | Download
Subscribe: Google Podcasts | Stitcher | Email | RSS | More