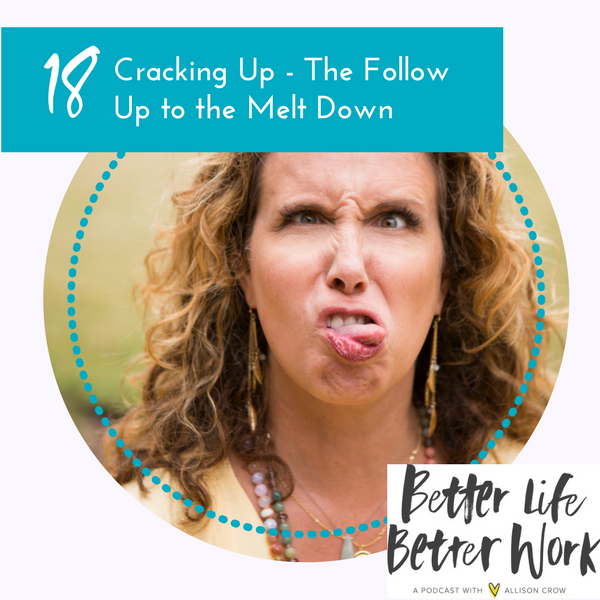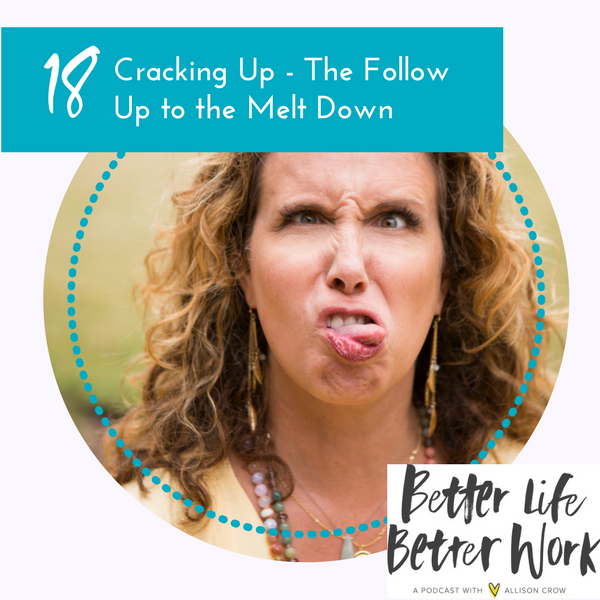 This is what I call my crazy-lady crack up episode.  And before you judge the insanity – know that every time I break apart – or life breaks apart – it actually gets rebuilt better.  
If I'd only known what I know now when this was recorded just a few weeks ago.  This is really an epic story – and I'm sure you've had or are having, or will have your version of it some day.  If you missed the last episode you will want to actually go back to 16 and 17 to get some context for this one — and then stay tuned for the miracles that are unfolding even today.  
This was not really set up to be a part of the show but was an update given on FBLive – about what was actually happening to cause my meltdown. This was the day after the surrender.  You may have heard the phrase, the breakdown comes before the breakthrough.  This is the afterglow of the breakdown and surrender.    
And yes, it feels a little awkward to share, but dang it? I'm so tired of only seeing the shiny side of leadership.  And I want you to know you are not alone, and that it IS possible to have soul-full success even if everything stops working or feels like it is falling apart.   And believe it or not, I actually had a new client reach out and say – she wanted to work with me because of this breakdown – because of this truth that most people don't share.  
I can't NOT share these stories— and when I do – I find that so many of you are inspired, that so many of you stay the course, or surrender, or hear a deeper wisdom in the midst of your own shitty story…. and in the end, it helps.  And shortly after this —- because of the surrender – life and work opened up a whole new world of miracles to me – that were there all along, I just couldn't see because I had my head up my ass.  
Sending so much love and appreciation for those who stay tuned in even when things get messy.  The Mess is the Masterpiece.  
Love,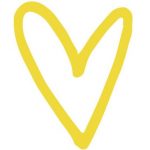 Allison 
ps, you can find the video version here.
Podcast: Play in new window | Download
Subscribe: Google Podcasts | Stitcher | Email | RSS | More