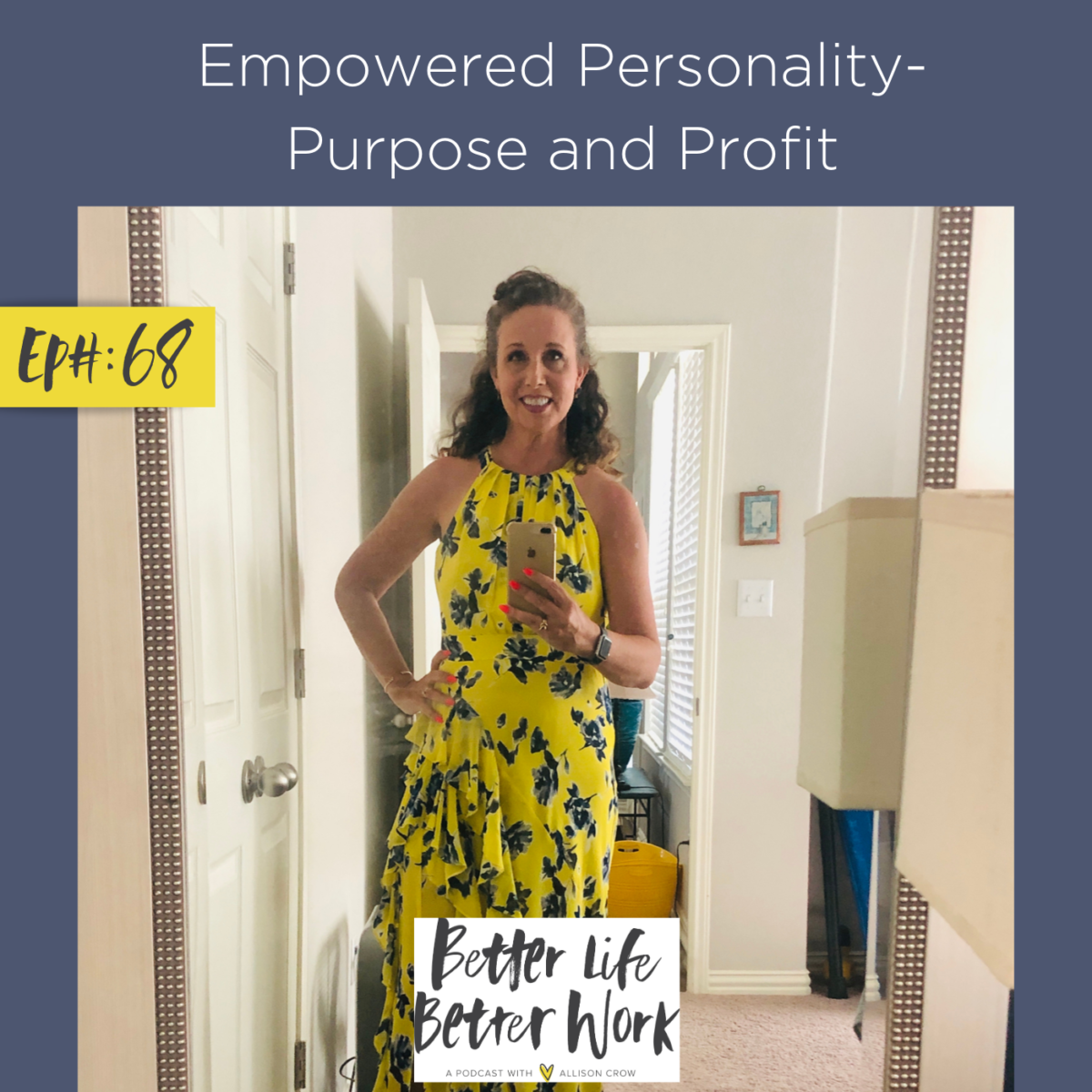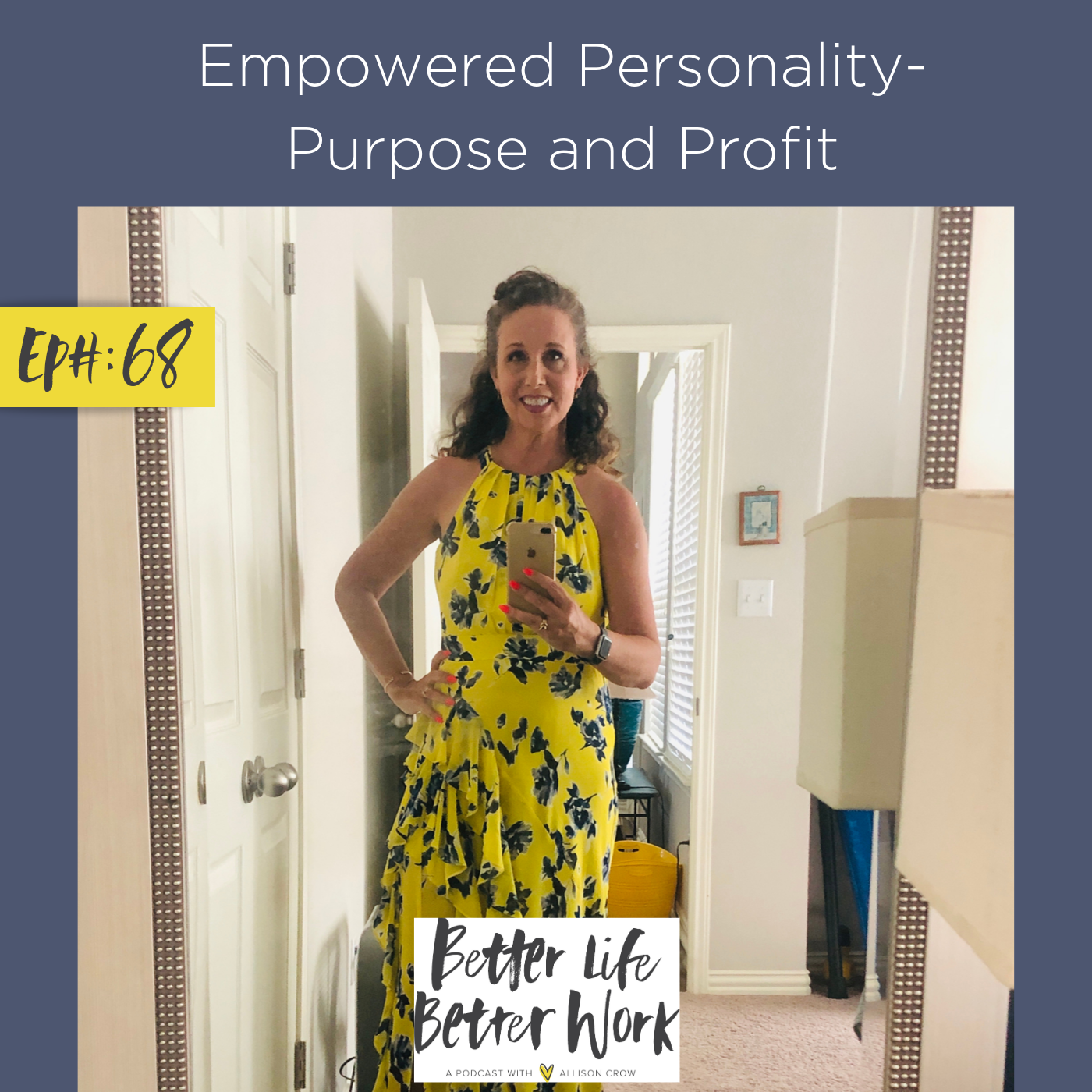 How your empowered personality is connected to your purpose and profit.
Transcript:
This is episode number 68 of the Better Life, Better Work Show. And I am thinking through some new concepts or new revelations today that I want to talk with you about. Today's episode is called Empowered Personality, Purpose, and Profit. I'm having some really amazing insights around business and life, and you know for me those are connected. I'm very deeply entwined and in love with, and a part of my business. I identify with this I … My business, my profit journey, and my spiritual journey are intertwined. The journey of who I BE is intertwined in these three concepts.
I want to share with you how these three are connected and see if I can help you come to an even more empowered place in your personality, in your purpose and in your profit. The first thing I'm thinking about in the context of business, and if you are watching or listening, you can extrapolate this to fit whatever vehicle serves you. Today I'm going to be talking about the vehicle of profit and purpose. My purpose is being fulfilled in every moment but it has the container of my business around it. Many of the people I work with are fulfilling their purposes through the vehicle of the services they provide.
First, we have to go back and look at the context of the society, and the marketplace, and the evolution of what we're in right now. One of the things I notice in the market place is that many people are marketing and teaching, and guiding business owners through is traditional marketing. And yet we have … We are smack dab in the middle of history and change. I don't know if you all remember …I remember a lot of the history I've studied. I remember a lot of the essence and the energy in high school and college studying history.
Actually, I remember actually my fifth senior year in college taking a history class and I saw, for the first time ever, the value of studying history. I got how we can track and watch history. I noticed the evolution of change, not as a series of events but how society changed. And so we've had … We have come from living from the earth to this highly technical and industrialized society. And we're in the middle of change right now. Do you guys realize that there are jobs today that did not exist last year? Many of us and many of my clients are doing paid work running small, "company of one" businesses.
Many of my clients are running businesses that did not exist five years ago, 10 years ago, certainly didn't exist 20 years ago. And so this old … I don't want to call it old because for some people and some products it's still relevant. There are certain things that are being sold and people are building businesses about that the ways of selling them haven't changed. The places you sell them might change, right? And as you guys already know, I love looking at real estate because real estate was where I first joined the entrepreneurial world, it's where I got a lot of sales training, it's where I began connecting personal growth with a business so I'm very thankful for that. And when I started in real estate they were just getting emails. Everybody still faxed everything, people still had beepers.
I remember when I bought my first house that you had to … my realtor had to go get the MLS sheet from an MLS book at the office. It wasn't digital like it is now. And so just as I watched my real estate clients and colleagues change the way they do business… many of my clients are with a brokerage that does everything through technology and it is a cloud-based brokerage. I mean you guys, these things did not exist, so track with me, and thank you. I'm going to … I'm speaking slowly on purpose. I am processing here with you now.
We are NOW in the middle of change, jobs and the way we work are changing. The traditional thinking and cultural conditioning around how marketing is supposed to be does not fit many of these new ways of working, serving and selling. I've talked about this a lot, part of it is a theme, is this concept of, "What's your niche? What problem are you solving? Nobody cares about you, what your personality is like, they just care if you can solve a problem." I'm going to push back on that. Part of the businesses that are being run and created today are combined with our personalities.
I've had a couple of experiences, this was so fun. So the first one that I can markedly remember is I was at a channeling group at my friend Tiffany's house and one of my favorite wise channels of the divine, and of people who've crossed over, and from our inner guides – Stephanie Levinson was leading. And here I am on a Sunday morning at this channeling group and we … you could ask anything, we can talk to loved ones, we can ask about the higher selves of our kids or our lovers. And of course I'm sitting there and I'm in my quiet space, and I started thinking about business. And it's like, "Really, Allison, on a Sunday morning and you have this spiritual experience, why can't you NOT think about business?"
I brought this to the room and I said, "I want to know what my higher selves want of me." And I don't remember the exact words but the zeitgeists of it was, "we have put this desire to create and build your coaching business, and your business, and your business as a part of your purpose so of course on a Sunday morning you think of it because that is a part of your soul's purpose."
I just remember letting go of the world's conditioning that business shouldn't be more important than anything else. I'm not saying that my life isn't important but my business is a big part of that. It's not just the institution or the profit of my business but that my business is a vehicle for me to live my soul's purpose. In that moment, I remember just making that connection.
Recently I have been listening to and reading this book by Gary Zukav, The Seat of the Soul. I know the one I have in my hand is the 25th anniversary, it's been around forever. Oprah helped bring it to the forefront over 25 years ago. And there are a few things in there that really are pieces of this personal and professional development journey that are clicking for me, and I want to share them with you. Because if you're like me and you are a heart-based person who also gets things done, who is running a service and soul-based business that when you bump up against the traditional ways and the traditional thinking … I don't want to call it old although it's been around for a while but we've got to begin to think new ways.
Little rabbit trail here, I actually think that's a sign of innovation. Just doing something the way it's always been done you're going to get the same thing we've always done. I don't know about you, I'm trying to create a new evolution of myself, of the people around me. I'm literally trying to … Not trying, I literally AM changing the trajectory of my life, my clients' lives and the ancestry coming forward of my clients which also impacts society. And so traditional marketing says, "They don't buy from you … They don't care who they buy it from they just care if it solves their problem." And I find that so fascinating because when I personally go to buy something … Let's say I need a plumber to solve a plumbing problem, there are more factors that I will consider …
Actually, let me use an example that's real. We had a problem of weeds in our yard. I'm somebody who likes to invest in my yard and take care of my yard. And I asked my husband to take care of and please source a company to help us prevent weeds from taking over our yard. I like to keep my yard nice so that when I sell my house there's more value in it. My husband did that, got it set up and six weeks later this guy comes by, rings the doorbell and says, "I came by to check and see how your service is going." I said, "It's great." And he said, "By the way, your trees all have a disease." So we talked about it. I said, "Listen, I'm down for this. I'm trying to take care of these baby trees in my yard, I want them to grow. There is some stuff going around my neighborhood." And I say, "And my husband and I will make this decision together and his name is on the account, so let me talk with him." And he's like, "Well, can I call him?"
I said, "Yeah, you're welcome to give him a call. And I'll talk to him in the next couple of days when he gets home." Well, this guy proceeds to call my husband and text him four times in one day, and Bill didn't answer and didn't respond because he was in the middle of something. And then the next day he calls again and texts again. And Bill was like, "This is bullshit. I don't need help that bad," right? And so at this moment Bill actually called that company and fired them from helping take care of our lawn. So we actually stopped the service of our problem solved because of the fucking personality of the person selling it. It was not in alignment with the way that we want to experience the solution to our problem.
That was really good there, Alison. Think about that. The experience you want to have while getting your problem solved. And so yes, many of my clients come to help me solve a problem. But here's the thing I am one of 100,000 angels who can help you solve your problem, but my clients choose me. I had a session this morning with a new client and she had reached out to me last week, and I said, "Hey, by the way," as we finished up, "Why did you choose me?" It was just interesting to listen to her answer. She is surrounded by amazing coaches and at the end of the day this is what she wanted and she had her specific reasons.
I want to propose that your personality, empowered, is actually a major source of fuel in you living and embodying your purpose. And if your purpose is built around … I believe that our purpose … My purpose can be to be kindness and love to the checkout person at the grocery store. And if you have a little bit more form around your purpose and it's encompassed in a business or service, or even your family … except you're not marketing to your family. Many of us want to build something and we think if they build it, they will come. Well no, we've got to market it. Our talent and our purpose is in the giving of the service but in order to give that service, we've got to be visible, available, and make an offer for a response.
I propose that our personality, just like was channeled to me that day, and at some point, Gary Zukav said it in this book … it was in the audiobook, I don't know what chapter it was in, but he said, "Your personality is a part of your soul." I heard Matt Kahn say this the other day too. I was listening and he was like, "Personality is totally part of the soul." He said, "Even when I channel dead people their personalities show up."
The empowered personality or the protective personality:
Our unique personality … I know that a lot of our personality is developed to keep us safe from the time we are conceived and born, and everything that we're exposed to. And I believe a lot of that develops the self-protective personality. Gary Zukav and another book that I'm reading both talk about the protective personality. I want you to think about this distinction, the protective personality, or the fearful personality I think is what Gary Zukav calls it. The protective personality and your empowered personality. Often I talk about remembering who you are. When we remember who we are it is not the generic form of connection to spirit, it is the empowered personality way that I connect to spirit. It might be completely different than how you connect to spirit.
Let me read this quote from Gary Zukav,
"When the personality comes to fully serve the energy of the soul, that is authentic empowerment."
That is one of the primary desires and goals of my life. I see it as one of the primary desires and goals of my client's life. And yes, they have businesses and yes, they want to reach more people, and make more money but ultimately my clients, in order to do that — the easiest way to do that is to align our personality fully with our soul. That's why my business is called Soul-Full Living. That's why my program is called Soul-Full Success. That we are aligning those personalities which means we've got to release the fearful personalities.
Aligning personality with the soul and living … So that's the goal, aligning our personality with our soul. I want you to imagine … Let me pause here. Like I said, I'm going slow on purpose because this is thick but it's really meaty and I really think if we get this, and we begin to practice it we can change dramatically the way we experience the world, and the impact that we have. And ultimately the profit. And do you know what profit does … It's so funny, my coach asked us, "What is our word of the year?" And I said, "My word of the year for the last six years has been open-hearted. And frankly next year I want my word of the year to be "rich as fuck." I feel ashamed of saying that but the reality is …
Do you know what else? Not that I can't do things without being rich as fuck, not that I can't serve and that I can't give at the place that I am now. And if I gave myself permission to be rich as fuck, whatever that means, there's even more that I could do with that money. If I want to make a difference in politics, it's with money. There's a lot of things that having that money can do. This is what's funny, so part of my soul's alignment is aligning with prosperity. Aligning with prosperity, aligning with my ability to create. What if instead of having … I have committed to being open-hearted for the rest of my life because honestly I struggle and close off my heart quite often. What if I also committed to being rich as fuck? RAF, rich as fuck. What if I experimented and played with that?
Living in the frightened part of your personality versus the aligned, and what I call remembered … that's why I use that phrase,
"Remember who you are. When you remember who we be, the being that we are, and then we allow that to be embodied in our humanness, that is our zone of freaking power." Not power over, but power through. That is our zone of literal attractiveness– so not just physically gorgeous but it is our zone of I attract the right aligned people, I attract the people to give to, I attract the people to receive from. And I am in the cycle of giving and receiving, and giving and receiving, and giving and receiving, and creating bounty, and blessing, and evolvement in the society.
So what the hell does that have to do with marketing? But here's the thing, most of us are not taught how to sell our service through who we BE So who we BE is the first part.
Remember who you are. When you remember who we be, the being that we are, and then we allow that to be embodied in our humanness, that is our zone of freaking power.
Click To Tweet
Our empowered personality. Many of my clients know their gifts and yet they stay shrunk, I don't want to say small. They stay shrunken in their gifts. They stay shrunken in their gifts because they're living in their frightened personality. And when you are living in your frightened personality, even if you're aware of your gifts, we literally become afraid and we believe the protective thoughts. One of the greatest coaching questions you can ask about your doubt, about resistance, about fear is, "How is that protecting me? What do I make up in my mind that that is protecting me from?" That's why it's the fearful protective personality because spirit made us so amazing to stay alive and we take it too far. If we could lay down the protective personality and bring the empowered personality, what would that do to you moving forward in your purpose, in your gifts? And not hoarding them in your own little heart, your gifts not shared will rot in your heart. Share Your Heart Show Your Work.
Your gifts not shared, will rot in your heart. Click To Tweet
This is why I freaking love this concept, this way of being. It was the permission I needed to give myself when I entered the business world and took class after class, after class, after class, and read book, after book, after book, after book, of, "Here's how you sell effectively, this is what you do. These are the methods, this is the language you use, this is the script you use. You need to define this niche and you need to …" I paid a branding company $6,000 not just for the visual brand but to go through these processes. I've worked with experts, I have friends that sell this and they sell it well, and I'm sure it serves a lot of people, and when I approach it that way everything in my being shuts down. There is room for the traditional ways and the mechanical ways, and there is room for the Share Your Heart Show Your Work way.
Share Your Heart Show Your Work, the course and coaching that I do is the way that I BE through everything, the way that I have grown my business, both real estate and coaching over the last 16 years. I feel very proud. One of my clients said to me the other day… Once a week I get that thing from LinkedIn that sends jobs and I look at it, and if I'm in doubt I go, "Maybe I should shut down my coaching business and get a job." And then I look at jobs for two seconds, and I'm like, "Hell no, I am not doing that. I'm living my purpose. That is not my purpose. This is my purpose." And she jokingly said to me, "You've got to quit saying that you're looking at LinkedIn." She said, "You have a really good business," and it was a good reminder. It's like, "No, I have built a really soulful business. And yeah, there are some things I want to do and there's a whole lot that I have done."
Rich as Fuck
I laid in my bed last night thinking about that phrase," rich as fuck." As I laid on my Tempur-Pedic mattress and I had a fresh set of sheets. And I could smell the laundry from the new sheets that had been put on that day by my housekeepers. They come every two weeks. And I thought, "Any of us that have laundry facilities in our home … Actually, if we even have the ability to have clean laundry, we are rich as fuck." I'm daydreaming about a ranch retreat house and right now I'm rich as fuck. And I keep thinking, "Oh, I need to be rich as fuck to buy this property." No, I don't. I am rich as fuck right now. And as I remember how wealthy I am right now … and it's not about the money in my bank. You guys, I tinkle in drinking water, right? I have drinking water in my commodes here at this house. Most of you do too. We are rich as fuck.
I begin to remember my empowered personality then I get inspired to take action on my purpose and share this goodness with the world. That is when people come to me, "How do you do that? How do you do that?" I get if you're running Facebook ads you need to narrow some shit down but there is a way to combine not only the problem you solve through the service, but also incorporating your personality. I think it's interesting to play the game of, "if you could take anybody that you look up to, somebody who has done something that you might want to do a version of, and you could have lunch with them, and they would mentor you for a whole day, who would you want to mentor you?" Some of you might choose somebody that you simply admire the outcome of the work they've created but I would choose somebody that I like the outcome they've created and I like their personality in doing it.
You would, right? There's a lot of people that have been amazing in business and personal development but you know what? I would rather spend a day having Oprah mentor me than Tony Robbins. They're both equally talented at slightly different things. They both built and served, and impacted gazillions of people. I personally am more attracted and feel more aligned with the personality of Oprah. You might feel more aligned with the personality of Tony Robbins and you know his work is good but at the end of the day you've got to choose one. Let's just put those two as an example, you can insert yours, but if you had a notecard and somebody without a name had done … if you had three people, you know two names and one with no name, and they've all done similar things that you want to do, are you going to pick the no-name person? Maybe. But my hypothesis, and I'm in the middle of experiencing it, is that people also buy who you be. They want the experience of working with you to solve your problem. This is where Share Your Heart Show Your Work comes in.
Whenever I hear somebody say, "They aren't hiring you, they're hiring you for the problem you solve." I'm like, "Yeah, no. Not always." They want their problem solved through you as the vehicle. We must be willing to open our hearts to new ways of marketing that share our personality, that lets other people have an experience with us that both helps their soul feel aligned as a mentor, a teacher, a coach, a leader or facilitator, whatever it is, even an artist … And I just slobbered, I get so excited. Let me take a sip of water.
I told this story in Share Your Heart Show Your Work last time. I've only delved a shallow bit in marketing and selling art, and I remember reading this book that my client, Richard Morgan, shared with me. I can't remember the name of it but it's this guy that's made millions of dollars selling art. And I think it's in this book, but I've definitely heard it out there, is, "If you want to make millions selling art then follow this strategy." And one of the strategies is, "Make art that people want to buy" which is very different from making art that your soul wants to make, to me. It's a very high value of mine for the art I make, both art and work I do, to be aligned with my soul. I'm not a machine, I'm a gardener. I want to like the plants in my garden. I do not plant Nandina because I don't like it. You might like Nandina but I don't plant Nandina in my garden.
Do people buy art … Art is subjective … is that right? Is that the right … Is it subject to? Yeah, subject to the eye of the beholder, right? What one person sees as valuable somebody else is not going to see as valuable. So many of you are actually selling art. Many of you are selling the art of personal development, the art of building a business, not just the science. Many of you if you buy something that tells you the science of building a business the reason it doesn't work is because you've got to play with the art of being the person that can execute the science, right?
At the time, online, there was a little girl that was four years old and she's in a tutu and cowgirl boots. And her mother takes a four by four canvas and attaches a violin to it, and puts it on the floor, and gives the little girl paint. And the little girl starts flinging paint on the canvases with the violins. And next thing you know these paintings were selling for $2 million somewhere. I guarantee you I could make one of those paintings in the same way, me being me and this little girl being her, and if you took our names off you wouldn't know which one is the $2 million. People wanted to not buy the piece of art, they wanted to buy that that little girl painted it.
You're empowered personality is a part of your purpose and leads to profit. Not just financial profit but emotional profit. So I have a previous episode of your emotional P and L versus your financial P and L. And so do you see that you, dearheart, are an absolutely essential part of your business and you are selling you. This is why we do Share Your Heart Show Your Work.
And so I am here to do two things in Share Your Heart Show Your Work. I am here to teach people number one, this part of the empowered personality. Who you be, how you think, how you show up in the world and then … so that's this inner world. This is my genius is that I'm mystic and logistic. Inner world, outer world. Creative and tactical. I told somebody … You all know that that shoe that's going around? It's you either see it as green and gray or you see it as pink and white? I see it as both. That's how my brain works and I am here to give you a piece of my brain to help you see both your empowered personality, and the "how-to" in new evolved ways versus the traditional ways of marketing, so you can market yourself, and your service, so you can serve your people, and sell your service.
Empowered personality, purpose and profit, and how I am seeing them tie together. I totally would love to hear your thoughts, I would totally love to hear what resonated with you. And I want you to hop on over to allisoncrow.com/magic, and I … So today is Wednesday the 16th when this is being recorded live for the podcast and on Tuesday the 22nd of October we will be starting the new version, completely rewritten, completely re-experienced. It is part training and part coaching. It is all live. It is all connected with me. It is all connected with our community. It is a very intimate process. And you can join us at allisoncrow.com/magic. I did magic because it's easier to remember than Share Your Heart Show Your Work. I have many clients who have taken the previous versions of Share Your Heart Show Your Work and have done Share Your Heart Show Your Work coaching groups with me that have gone on to build multi six-figure businesses, sharing their heart and showing their work without all the old traditional systems that make their soul crumble.
On that page you will … there's all the information that you need and if you have any other questions feel free to ask me. Thank you for spending time with me. And no matter what you do, if you're not the right fit for the class or my empowered personality doesn't align with your empowered soul personality, that's okay. But I want you to think … I really want you to check into your thinking about who do you need to be and what do you need to release in your fearful personality, in your protective personality? What can you release so that you can be and move, both be and take action, from your empowered personality to fulfill your purpose? And if you were to release another layer of your fearful personality, of your protective personality, and you were to begin to trust, and live in your empowered personality, what would that do for you?
Much love. See you next week.
---
Thanks for spreading the word about The Better Life Better Work Show. And of course, I love your Social Media Mentions and Shares with #BetterLifeBetterWorkShow
Let's connect online @allison_crow on Instagram and Allison Crow on Facebook.
Podcast: Play in new window | Download
Subscribe: Google Podcasts | Stitcher | Email | RSS | More