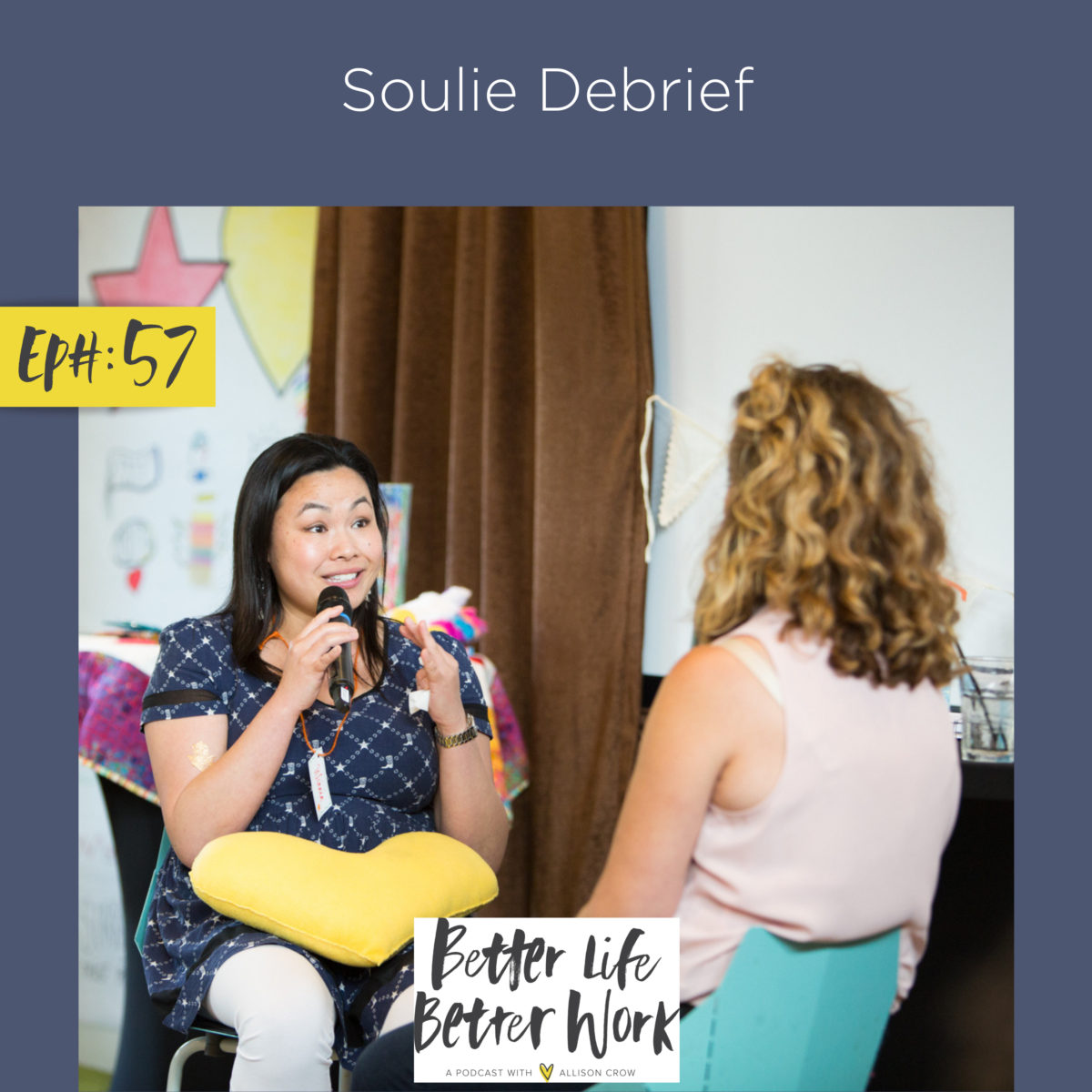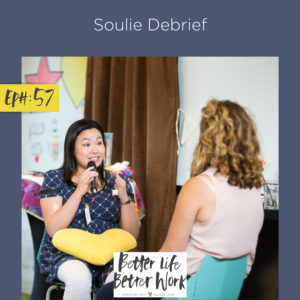 Transcription:
This is Episode #57! This is Allison Crow, and when this podcast started out, it started out as recordings from Better Life, Better Work Live that I did on Facebook. And so since I am the boss of me and the boss of my podcast, I'm going to do what feels good for me when it feels good, because I realized that's what works in my business. So this episode is called Soulie Debrief, and I am going to be sharing a little bit of behind the scenes, what's working, what's not working as a soulful business owner, and I am recording this episode on a Facebook Live. So as you know, with some of my podcasts, some of them are recorded me by myself talking to my computer, and I also really enjoy doing some of these live.
Soulie Debrief. This came from a concept that I have learned from one of my mentors, Tara Newman, in a community of women leaders that I am in. And three Fridays a month, or no, two Fridays a month, we do what is called a CEO debrief, and there's another gal in there, Rachael Cook, that has a CEO date in her business model, and I love getting together and we have various conversations. The context often changes as Tara leads us through these. Some of the questions are the same, but the context can change. Either way, doing a weekly debrief with a series of questions, and I'm not going to even get to all the questions that can be in a CEO debrief, for me, this is the Soulie Debrief today,.
I have three questions when I sit back and look over the last six, seven months and especially the last two months of business. Now I'm not going to be completely thorough in going through six months, but I am going to share, and the reason I share behind the scenes is so that you … What's your version, right? As you listen, as I'm asking these questions, how does it translate to your world?
I realize that I'm talking all about me and what I'm learning, but my favorite Soulies and clients and learners are able to translate when I share a personal story or personal insights, their own custom version.
The first question of my Soulie Debrief today that I want to share with you is,
"What's not working?" I certainly have felt over the last few months some of the what's not working. I have been focused on a whole lot of the what's not working, but I wasn't really clear yet, and through the last couple of weeks I have become clear.
So here is what is not working.
Self-judgment is not working. I just spent a year with John Morgan in Creator's Circle and my biggest takeaway from that was, "What if I didn't judge it?" And I realize how much my self-judgment and self-criticism is taking away any peace of mind that I have. It goes against self-trust. So this doesn't mean that I'm not a noticer. It doesn't mean that I'm not assessing, and evaluating, and experimenting. And generally, you guys, I don't look at myself in the mirror and tell myself I'm horrible. I don't do a lot of self beat, and I do realize that I have been doing a lot of subconscious self-judgment. So self-judgment is not working.
Number two: Information overload is not working. Information overload is not working. So this includes more courses, more how-to. This is where my self-judgment comes in. So for example, I am in the achievement phase of my business. I value personal growth, and I can avoid boring work, difficult emotions, by running to learn something new. Self-judgment can cause that by saying, "Oh, if you know how to do Instagram stories right, you'll grow. You'll get more clients if you just did this marketing thing right." Where I tend to over-consume information is in business structure and implementation. And the fact is that I have been a successful six-plus-figure business owner for 15 years. Two of those years I did not hit six figures, and many of those years were net six figures. And so, listen, don't compare. I use that as a metric for myself, that I feel that's one of my metrics for success, that I'm netting 100 or plus, and so that doesn't mean that has to be your metric, but for me that's what feels good to sustain my life, my business, my personal standard of living. What I tend to do is, in the last week's episode, is this place between achievement and loving what is, and what happens is my achievement tips over the line into, "I'm doing it wrong. There is something else out there. If I have or know or implement X, then everything will work." What I have learned in all these years, 16 years of business being self-employed, 14 years of being a coach, the last 10 of those being on my own, nine of those, whatever it is, being on my own outside of a larger company, is that at this point I know exactly what to do to maintain my business, to keep it sustainable, and to grow my business. There is no new information, there is no new course, there is no new mastermind, there is no new method that I need to do

,

and in-fact while there are some new tools, I can use the tools that I'm using right now. I can keep a very tiny little radar out for shifts in the market, but the problem is I don't do that. I tend to self judge myself and say, "Oh, well if you did this, this would catapult your business." That shit is a flat out lie of my ego. It disconnects me from who I really am, and it actually stalls out my growth, my business, both inside and outside. So part of the information overload that is not working.
The third thing that's not working is the how-to questions. I learned many years ago that the how question, "How do I do this? How do I do this?" Doesn't serve. I get that part of it comes from a wanting to learn something new space, but it's not a powerful question to me. And so I noticed that some of my clients, I love you guys and y'all know I talk about this on the calls, that we're getting into the how-to, which also means I was getting into the how-to. I was buying that the how-to was the most powerful question I could ask. And what I notice, when I am thinking, "How to? How do I? How do I? How do I?" When I am thinking these things, I feel a sense of insatiable thirstiness in my life and business. It is a place with a leak in it, and so the reality is, from a logistical standpoint, sometimes there is a skill that needs to be built. Sometimes there is something I actually do need to learn, and how-to, and honestly I usually can find that answer on a YouTube video or somebody's simple blog post. I do not need to invest another $3,000 in some fucking course that I'm never going to implement. And so what I need to do, that's the other thing, for example, recently in my brain I was thinking,

"How do I get more clients? How do I get more clients?"

I know how to get more clients, and it's never about the how-to. For me, it's always about the WHO I BE. What energy am I starting from? And so for me, what's not working number three is the how-to energy.
Number four, what's not working, is taking things personally. I have spent the last six weeks really marinating in remembering to not take other people's choices, behaviors, coming and going of clients personally. Also, to not take the good stuff personally. To just really remember that everything is neutral and that nobody else's behavior is about me. Only thing that's about me is my behavior. I've really been playing with that, because when I take things personally, it makes me miserable. It causes suffering, and when it causes internal suffering, it creates outer suffering.
The last thing of what's not working is tolerating "hell maybe." There's this concept of things are either a "hell yes" or a "hell no." My colleague and dear soul friend Mark Silverman wrote a book called Only 10s, and it is so easy to slip into your zone of comfort and excellence instead of your zone of genius. And I realize that I have a lot of things that are an eight or a nine in my life, but they are not a 10, and I am at a place in my life and business where I do not have any reason to tolerate a 9.9, in my own choices, in the people I surround myself, in the clients I work with, in what I want to do in my life and my business. I own that it is so easy to slide, and I look at, "What am I protecting?" When I start sliding, when I start getting a little mushy or watered down in my messages, or what I'm saying yes to, where am I saying yes to things that are not a hell yes or a 10. When I start saying yes to an eight, next thing you know what I'm saying yeses to fives, fours, and below the line. And so I am recommitting because it is not working to tolerating "hell maybes." It is not working to tolerate anything less than a 10. 10 does not mean perfection for me, but it means that it goes against the … If it's not a 10, it goes against the standards that I know and I can trust.
As a recap, these are the five things that are not working,
Self judgment,

information overload, and thinking that there are more courses that are going to get me there.

How to questions are not serving me

Taking things personally, are not serving me,

Tolerating anything less than a 10. "Hell maybe" is not a place I want to live, and I have accidentally been living in maybe-land, and it's watering things down.
So with that what's not working, next is what I am releasing, what needs to be released. I have three of those that came to mind this morning on my Soulie Debrief or CEO Debrief with my coach.
My zone of comfort and zone of excellence, I have got to release those and stand in my zone of genius. When I am participating in roles, and as a leader and as a human being, just because it's comfortable or I'm good at it, or because my clients want it, I am watering down my zone of genius, so I am releasing those things that are a nine and I'm going into 10.
I am releasing a scarcity mindset.
I am releasing watered-down voice. I am releasing my need for you guys to fucking approve of me. Part of that is me doing this podcast recording live. I realize that some people, I get into comparison, right? So when I get into comparison and I listen to other podcasts, here's some of what goes on in my mind that's not working: "Wow, she's really organized. She has really thought this out. She's very clear. She's concise. I bet her transcripts aren't full of 'ums' and 'and sos' and she finishes sentences. I don't finish sentences sometimes." And none of that self-judgment is serving me, and so when I am in self-judgment and I start to constrain myself to try to be something I'm not, it makes who I am even more mushy.
So I am getting back to the clarity of who I am. I'm getting back to the clarity of what's really important to me, what I care about. I'm not going to spend time talking about shit I don't want to talk about. I am coming back to the unfiltered, wild and free Allison, so I am releasing the watered-down voice that I have been living in. I need to release the self-judgment of having been living in the watered-down voice. I am just ready to release it.
So here is what is working for me. Here is what is working for me. I have one, two, three, four, five, six, seven, eight, nine things that off the top of my head are working for me, and so for you, you can begin to think about what is working for you.
Number one, The last couple of months I have really been filling my brain consciously with good stuff, instead of garbage. I tend to get sucked into the news, into the media, and even into my beloved Facebook, but I am really protecting what goes into my mind, which means I am intentionally choosing to feed my mind every single morning with certain things. The Way of Mastery. I've been listening to the YouTube videos of Way of Mastery. I really like listening, but I'm also beginning to read and study the book gently. It is working for me. The Way of Mastery is a book for me that is bringing me back to Christ consciousness, and to love, and the whole concept of The Way of Mastery, practicing the way of the heart, the way of transformation, and the way of knowing. For me, mastery is not something that is ever achieved but it is a daily practice.
The other thing that has been working for me right now is one of my peers, Megan Hale, has a podcast that I have been listening to, and she has been doing a money series for the last however many months. I have not listened to them in order, but listening to her money series has really helped me remember who I am, remember what I believe, and slough off some of the garbage that I had accumulated.
The next thing that is really working for me specifically this week, and I am on round two of listening to it, is a YouTube video by Matt Kahn called Choosing to Be Here. I feel like the universe showed up in a couple of ways. I was sitting down to listen to The Way of Mastery, and about five times in two days I kept seeing this. YouTube kept suggesting this video. Finally, I was like, "Okay, I should listen to this." And when I listened to it, I still am going back through slowly and with a pen because there are so many insights that do work for me about reconnecting my regrounding, reconnecting, about lightworker fatigue, about how to continue to be a light even in this world. And so it is this almost two-hour video, and marinating in the teachings of it is helping me to remember my spiritual self without leaving the logistical world. And so I feel like sometimes we listen to spiritual things and those are so esoteric, but then how do we go into real life? And this specific video, Choosing to Be Here by Matt Kahn, is helping me reconjure the esoteric but implement in the logistic life of a human being in this day and age.
Another thing that is working for me, is an outer work tool. Facebook Lives work for me. That is why I'm recording this podcast. Shout out to my Soulies! I see a lot of my Soulie clients. I see a lot of my fans and followers watching. Thank you for watching the live video. This will also be recorded on a podcast, and those of you who only listen on the podcast, thank you for your grace, as I do this in a way that works and feels good for me. Facebook Lives work for me. They just do. I love them. I love to see … I see Catherine, Kim, Jody, Christina, Anita. I see the energy. When I see your name and your face and that little bubble, I feel connected to you, and I feel more of a sense of purpose versus recording something quietly in my studio where I'm just regurgitating information. And so for me, the connection with my audience is a really important part of what I enjoy about doing this work. So Facebook Lives work for me.
Another thing that is working for me, this is an idea I got from Megan Hale, I've known it, but the acknowledgment of what is working. So for example, in one of her money podcasts, she talked about … Let me finish the sentence. We all hear that gratitude and appreciation work. I think most of the people I know and spend time with this know this, and she, as I do, personifies money. And so she talked about the concept of appreciating and actually creating a journal log of every single thing your money does for you, and if you have a relationship…I often teach from this place of, "If your relationship were with money, if money were your lover, what's the relationship like?" I took that, I did that exercise. It was huge for me, and then I took it even further. So if my relationship with my business is … What is working? What are all the things in my business that are going right? And as I do that I get regrounded. I get re-energized. I get restrengthened, and so acknowledgment of what is working every single day, specifically in written form, which is the way I like to process, is working. What you focus on grows, and when I focus on what is working, I get grounded, and it grows.
This is one that came up yesterday. "Slow time is grow time." That was a chapter in a book by Tama Kieves called Inspired and Unstoppable. It's an old favorite of mine, and something told me to pick it up for my clients yesterday, and there was a chapter that I randomly opened, except I don't think it was random. I divinely opened, called, "Slow time is grow time," and I had a giant first quarter and a half, and new mantra, right, Jody? "Slow time is grow time." And what I can see, I have been tracking my moods and my energy and corresponding data for June and July, and June and July, May was really fast, really big. It was one of the biggest months I've had both financially and energetically. New clients, these kinds of things. And June and July came to a screeching halt. I've been in business long enough to know that that happens. It often happens in June and July because of summer, and so looking back today, when I look at both uncomfortable and slow time, not only was business slow but my energy slowed way down, and it is very easy to lose confidence in the slow times, and it is very easy to judge ourselves like we're doing something wrong in the slow times. And so thanks to this little phrase, we had a growth and achievement call with Soulies yesterday, and this organically came up in the conversation, and it was such a beautiful experience. This is a new way to see our slow times, and instead of fearing slow times or going "holy shit" when they show up, we go, "Ah, the slow time is the grow time. This is an opportunity from you to reassess. For me to grow, for me to release."
Another thing that is working is value clarity. Since it's one of the first exercises we do as a coach, in life coaching and business coaching, and I did a whole Better Life Better Work episode on getting clear on your core values, my clients have access to a very thorough core values exercise in our Soulie Group. I am learning that this is not something that we do just once or twice. This is something for me to keep my core values in front of me. When I hold everything up, I think this is some of the language in my core values exercise, that it is literally like a pee test on a pregnancy test, where you pee on it. And when I hold my life or my decisions up to the pee test, on the values clarification stick, it either aligns with my values or it does not. And we can scale that on a level of one to 10, and the closer to 10 I get on values, and I'm really moving towards like it's got to be a 10, and so when I notice that the decisions I'm making, the way that I am being, and the way that I'm showing up aligns with my values, it works. Everything works. My marriage works, my business works, my marketing works.
I have two more on what is working.
Remembering who I AM. I talk about this all the time. I talk about becoming. I talk about I ams, and one of the reasons I'm here is to remember who I am, and then to practice that in life, and to begin to integrate the dance of my spiritual self and my human self. I do not put … Well, maybe sometimes I do put too much pressure to be my spiritual self in this human world, but I am learning my way. I am on this journey of being a spiritual being, living in a human condition. And for me, when I remember who I am, when I remember that I am love, when I remember that I am creator, when I remember that I am worthy of my own love and trust, it sets the ripple effect in my own life, and it also, as I see my Soulie clients that are watching this, thank you all for watching this. As I see you, when you see another, whether it's a peer, a friend, or your coach being in her "I am" ness, it calls you forward to be in your "I am" ness, and that's what I'm here to do, and I get sidetracked by telling you all the how-to shit, because I know it. But ultimately what I am here to do is remember who I am, and help you remember.
The last thing that is working for me, I'm sure there's more, but this is what I came up with for today, this morning, is my "to feel" list and my energetics, and for some reason, over the past … It doesn't matter why. It's not wrong. That contrast helps me see, and when I start my planning, when I start my creation with, "What do I want to feel and what is the energy that I want to call into form?" Then the form that I create works. When I start with the form for getting the energetics, so for example, yesterday I rewrote … Podcast listeners, you won't be able to see this, although I'll share a picture in the show notes. But yesterday I wrote a little journal, visual journal page about the energy of Soulful Success, and I wrote down my desires, I wrote down the energies that I want to have with it and the values that I want to be the core of my membership program. Right now the only way I am working is in my membership program, and so the energetics of connection, the energetics of open-heartedness, joy, flow, vitality, clarity, excitement, authenticity, right? And those things lead to my to-do list. But I had gotten in the habit of writing a to-do list without fueling up the energies. So for me, I thrive best, and what is working is when I start with the energetics.
This is my brief CEO/Soulie Debrief that I wanted to share with you.
The three questions that you can ask for yourself to debrief, and you get to intuit what level of time works for you. Do you want to do over the last six months? For me, I say mid-year review. I could certainly go more extensive, but for the case of this podcast, for me, it's over the last energetic, I call them "seasons." So the last two to three months.
What's not working?

What is working?

What needs to be released?
And then from there, I can move into,
"What do I want to create?

What's coming up next?"
But if I next without doing this process, then I am only nexting in a fuzzy world, and I have to apologize to myself and forgive myself for trying to push through without working these processes that work for me.
So it's fun. I was talking, as I close out, I was talking with Kay Blond, who's done some … She's been interviewed on the podcast, she's done a guest podcast or two, and we talk every other Friday, and we do our own debrief. We used to really co-coach each other, and now we more kind of share and debrief and process and reflect out loud. It's very helpful. And she said this morning, "As I listen to you, Allison, I hear your momentum increasing. Is that what it feels like?" And it is fun. My momentum is increasing.
Now, here's interesting outer evidence that this shit works. I came back from Camp Star Heart, and enrolled new clients at Camp Star Heart for my membership, and then right after that I had two clients join at the beginning of June, and from June up until last week, I had no new clients come through my program, even though the doors were open. I was not proactive in actively enrolling and marketing for clients with my personality, because I could feel myself off, and when I am energetically and inner world off, my highest priority is to get on, and at some point I would judge myself. I was like, "This is taking a long time." Those scarcity thoughts would sneak in, and then I would remember self-trust, that I can trust myself however long it takes to realign my energy and my light. That is the only place I want to create clients from.
And so this week, on Wednesday I had a life coaching call with my group. We had an amazing call, and that morning I felt my energy is aligned. I really felt like it clicked in. It dropped in and I felt, "I'm back." I even told my husband, "I'm back." And that night as we were walking the dogs and sitting in the parking lot of Dairy Queen for our shake date, I got a message that somebody had submitted an application and was excited to join the program. I woke up this morning and had another application.
Here's what's funny. As far as my passive marketing, nothing has changed over the last two months, and there was a slow time of growth where there were no new clients, and in fact, there were some clients completing and releasing and moving on. And if I am not taking care of my internal world, that can really shake things up, if I am taking things personally. And so in my practice of remembering who I am, not taking things personally, realigning with my values, changing what I feed my brain with and being really mindful of my inner world practices, all of a sudden my outer world is being affected again.
That is what I know, and on my desk, I have from June 8, 2012, a list of things that I feel like spirit told me.
"Surround yourself with beauty. They will come to you. Be spicy. You're the aroma. Breathe in. You're encircled. Focus on your work instead of others. Nurture your insides. You know what's coming. Small bites, Kaizen steps. Meditate often. Ask for what you want and need. Write and create every day. Dare to be rich."
And I now have chapter two of that in this, "What is working?" And it is not just a page in my journal. It is my go-to's that I know work for me, and it is so easy in this day and age, in mass consciousness and in mass media, and our sweet and beloved nervous systems are always trying to protect us, to accidentally default to "blugh." "Blugh." It will be interesting to see how the transcript transcribes the expression "blugh," right?
I am going to be recreating and pulling this out, and putting it up on the other side of my computer so that I am surrounded whenever I am feeling doubt. I do not have to get all in my head about my doubt. I need to go to what works. And I use the analogy with my clients all the time of soul medicine. These statements, these facts, these behaviors, I have time on task and evidence over the last 16 years that this shit works both on the inside and in my financial life and in the growth of my business, it's like soul medicine. So everybody, every single individual, and it is this individual.
Every single individual knows when you get a massive headache, you have a specific medicine, and it may be an actual medicine or it may be a method. Some people go lay in the dark and drink more water. I go straight to three Advil. When I take three Advil, my headache goes away. And sometimes when I try the drink more water and do these other things, that headache persists. And so just like for me, my medicine for a headache is Advil, I am learning, "What is my medicine for slow times? What is my medicine for discouraging times? What is my medicine for difficult times?" And I am learning to remember and trust my medicine, and my request and desire for you are to begin to identify your soul medicine, to remember your soul medicine, identify your soul medicine, and take that medicine daily as a preventative, and not as triage.
So with that, thank you so much for spending time with me this morning. Thanks for listening to the podcast. Thanks for watching the live stream. Who do you know that would enjoy this, that would get value out of this? Please share this with them. I love you. I'll see you next week.
---
Thanks for spreading the word about The Better Life Better Work Show. And of course, I love your Social Media Mentions and Shares with #BetterLifeBetterWorkShow
Let's connect online @allison_crow on Instagram and Allison Crow on Facebook.
And, if you'd like to be a master soul student of Better Life and Better Work, I invite you to join me in the Soul-Full Success Coaching Membership Community ~ My exquisite membership community where connection, coaching, teaching and most of all, YOU, matter.
Podcast: Play in new window | Download
Subscribe: Google Podcasts | Stitcher | Email | RSS | More