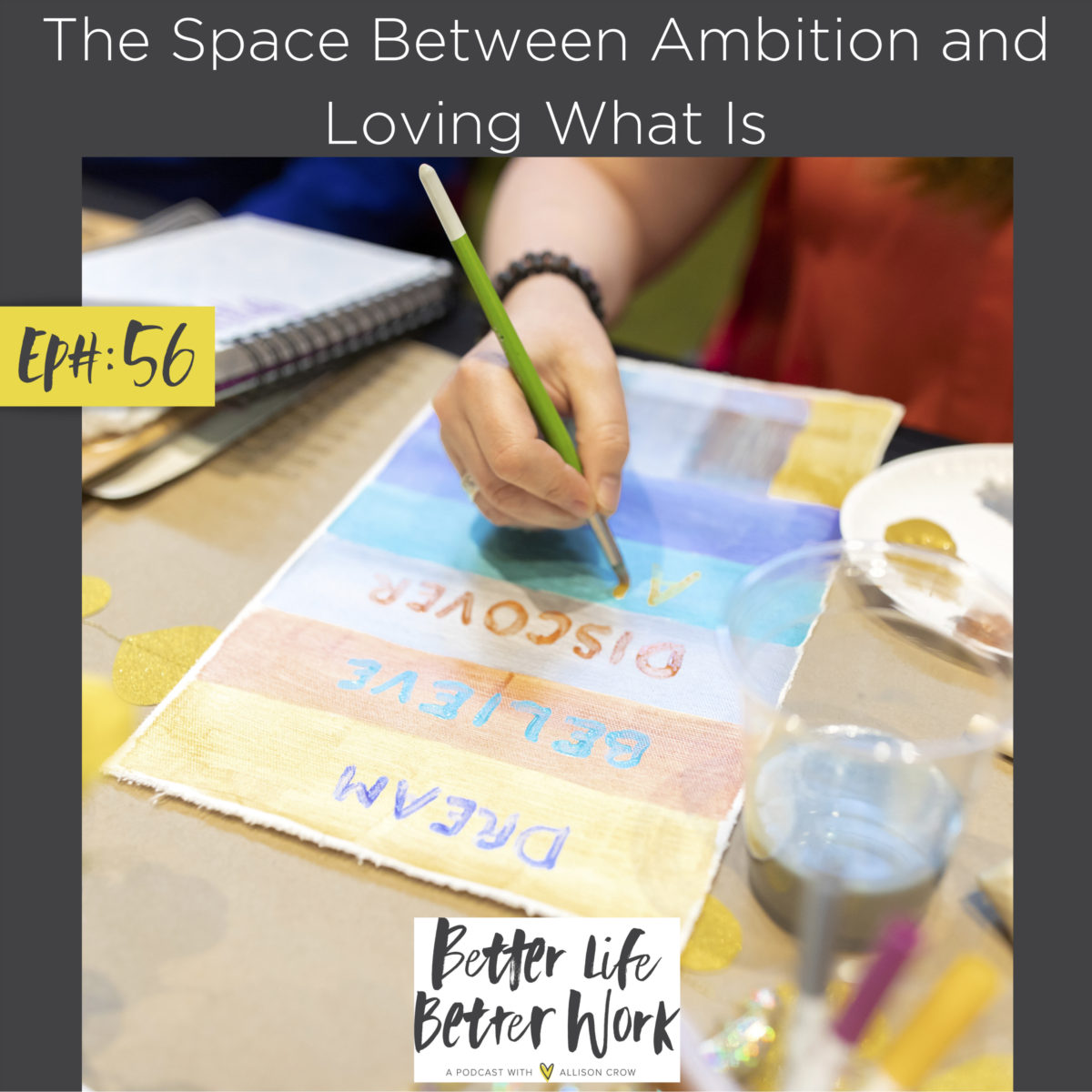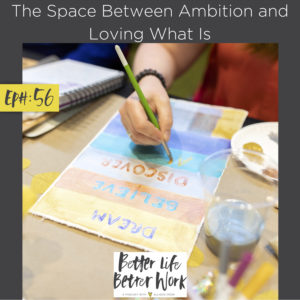 Transcript of Episode 56
This morning, I wanted to come on and talk about this space between being here now, and contentment, and ambition. I vacillate between recovering overachiever, ambition, trying, creating, setting goals, and then also this beautiful presence of just loving what is.
If you're here, and you're going to stay and listen, say hi in the comments. I don't have notes or anything. I just wanted to riff like I used to do in the old days. I'm going to share some things that are going on with me personally and privately with you guys because I feel like I'm not the only one doing this.
The other thing is this concept of one big purpose. This one big purpose. I found myself in two significant places in the last … Between Friday a week ago, I don't even know. Yeah, Friday two weeks ago, and then also, this weekend after my vacation. I had some nice time away, I had some beautiful time with my husband, and one of the things I noticed about even being at the beach, and working on meditating, and praying at the beach, and having quiet time is that my brain just did not stop thinking about work. It was very frustrating and irritating and I would meditate, and I'll tell you what, my ego was going nuts during my meditation.
The other thing that happened, I feel a little vulnerable sharing this, but the other thing that happened is I'm coming up on two years of my group membership program that I love. I love doing inner work. I, personally, am jazzed by outer work and business.
So I have this program. You all know I call myself "your favorite life coach." I was in my leadership group talking, I don't even know how it came up, and I just heard the words come out of my mouth that said, "Branding as a business coach is diluting my message."
When that came out of my throat, it was funny because my friend, Michelle Mazur, who wrote this book, 3 Word Rebellion, nodded. There's an element of something that I haven't been revealing. There's a new layer of truth rising up in me and a new message or a new connection. It's not even a new message. That's not the right word.
I call it babbling your way to brilliance. I'm just debriefing something with my leadership group, and all of a sudden, this truth comes out, and it's very frightening for me to admit, don't worry if you're my client, nothing is changing right now, but I realized, oh my gosh… Since the first day I started coaching, I also was sent into training. I had a coach for two years as a real estate agent, I became a coach, and the day I became a coach, I also became a trainer. So not only was I growing as a coach, but I also grew as a trainer. I realized, "Oh, as a business woman, it's almost all I've ever known." I realized I have been training, training.
As I left Keller Williams, and I came online in 2010 and 2011, and started building my business, and I did now what we call Share Your Heart Show Your Work, I think those courses first started in 2014, '15, and '16, so in 2014. In 2013, people asked me, "Allison, how did you build your business online?" I ended up reverse-engineering it. I wrote my own outline of my own story and then I would teach that in an online course. I still love Share Your Heart Show Your Work content, but the same thing too, it was like, "Oh, how do you grow a successful coaching business?" That was the question that my audience was asking me.
The market wants to pay for "how do you make money doing this?" You guys see a lot of it. You see a lot of people that … Oh, I don't know. Like Rachel Hollis right now, I saw that she opened up a coaching arm of her thing. She's an inspirational motivator, a teacher, speaker, whatever, and all of a sudden, she's a coach. Well, I started out as a coach who became a trainer. People were always coming to say, "How did you do this? How did you do this?" It was a very natural extension of my inner work coaching practice, and outer work coaching practice, to begin training because I have been training all along.
That Friday morning, 10 days ago, as it came out of my mouth, the promise to deliver training is diluting the message that I am here to give, the oomph I'm here to give. Part of the reason I know this is because I'm not a skilled trainer! And I'm okay with that.
This is what has been going on in my mind: I go to the beach, I have a little bit of a difficulty, in my mind, just being present at the beach to know that I don't have to decide. This is not something I have to decide now. Right? There is nothing I need to do now. I don't need to change anything. This is just the natural evolution. But it was interesting how it would just totally … The thoughts of having to have this figured out would disrupt my peace of mind while I'm in a peaceful place.
Then, as I come back from the beach, I had a really great time with my husband, and we really enjoyed it. Sunday afternoons, I begin to start my mindset for the work week. Somewhere, I saw something or heard, somehow in my brain, I got this thing about purpose. Oh, I know what it was. I saw something like, "You have to have a why." Talking about having a why. Why do we do this work? Why do you do this work? I've always taught, Keller Williams taught have a big why, Daniel Pink talks about having a big why, we must have this MISSION.
I was thinking about drive, and I was thinking about what drives me from a place of inspiration versus a place of achievement? I can look back and connect the dots now, and I can see the places where I was working and creating for my wild and free self, and then I see the places where I create from this structured, overly intentional, systematic place that is really buying this stuff out of the outside world, and where I tend to see the shiny objects and want what, and think that guru has the way to tell me to do it.
For example, I had a conversation with a client this morning. She also runs a membership program. She was saying something about how Stu McLaren is one of the big wigs, he's got a program called Tribe, and he teaches people how to build membership programs, and one of their methods and rules is don't overwhelm your people. Less is more. Retention, if you give too much, people will leave. I started having this conflict between what do I want to create and offer, and what's the "right way" to do it? What's the "right way" to do it?
As somebody who likes to learn, my ego says, "This is the right way to do it if you're going to hit your goals, if you're going to do this, if it's ever going to work, blah, blah, blah." My ego has been going ape-shit lately.
Lindsay says, "The ego trips me sometimes when there's something to prove. It clouds what needs to be allowed to exist and grow. Surrender is showing up." Okay, I wrote that down this morning.
These are things that have been floating around my mind. I did a journal dump about it. I know enough now to know that I don't need to solve anything, and I have, just like I teach my clients, become a noticer of my thoughts. I have also honed in on noticing what I do have and what I have created. And then this magical thing happened this weekend.
Speaking of training, I'm going to do just a little intro to podcasting for my clients today. But I picked up my iPad, and in my iPad, there are apps. I had actually heard a little whisper just to doodle and draw. As many of you know, I used to paint all the time, and a lot of my memories are coming up from the time in Denton where I was painting like crazy. Actually, painting from 2012 to two years ago. Painting all the time. I have been using my creativity in other ways, and I have felt a lot of guilt and shame about not wanting to draw or paint, like something was wrong with me. Where is my creativity? And then when I would check in with my inner wise voice, and with spirit, and with my intuition, I would hear that things are perfect.
So picked up this iPad, and I was looking at some of my apps. Now, here's what's fun. I've had two iPads over the years, and I came across some of my visual journals from 2010 and '11. In them, it was right when I left Keller Williams, and in them, were the things that I wanted to do and be when I was so clear.
Nowhere in there did it say, "I want to be a business coach." Nowhere in there did it say, "I want to be a business coach." It just hit. It was like I was having an amazing spiritual journey, I was having my own mid-life awakening, I was rediscovering who I was before I got lost, I was remembering who I was, I was loving facilitating helping other people through those other things.
Y'all know I did four different groups of Sacred Sister Circles? And the one that was business-focused failed. The other three that were not about business, that were just about inner work, were all … This is people paying $9,000 to be a part of a program for seven months. Group program, $9,000 for seven months. I had three that were highly successful and amazing, and I have one that failed, and the one that I brought business into tanked. Disaster. Just a disaster. That's a huge insight.
I'm having this noticing: for a long time, it has served me to talk about my business while I'm thinking and learning about growing mine. I love to share. When I'm learning something, I love to turn around and share that with other people. When somebody says how to do something, my ego loves to be able to answer that, even if I'm not the best person to teach it.
So I'm in this fuzzy space. I start connecting with some audio, with the Way of Mastery, listening to stuff, and three or four times over the weekend when I went to YouTube, this certain video came up by Matt Kahn, and a lot of you guys have heard me talk about Matt Kahn. This morning, I was like, "I'm going to pay attention to that video that Matt Kahn says," and it was beautiful because just as last night I asked spirit, I asked my intuition, I was like, "I'm really in my head about this purpose. Do I have this one singular purpose?" And spirit told me, "Your purpose is in the small, everyday conversations."
So right now, my purpose is to be here with you. I do not have this big, giant, marquee purpose, and maybe you don't either. I was watching the Tesla guy, I was watching all the people that are doing all this space stuff and they've got billions of dollars, and they're doing these giant, marquee name things. Instead of feeling insignificant because I don't have some giant marquee, I realized that my highest joy is when I am in the present moment connecting with somebody I love: my clients, my people, my husband, my dogs, my family. It's that simple.
Even when I am on stage speaking, I like to connect. Even in a membership program, most membership programs deliver automation. Connection is my second highest value. The first highest value is alignment. So when I'm in alignment, and when I connect, I am fulfilling my purpose. I connected with my friend Monica this morning for 15 minutes on a video call. Perfect purpose.
That's the one thing: do you have one big purpose or the alternative is lots of little purposes?
So, I had already had that insight last night, and I sit down this morning, and I start listening. I'm only 15 minutes into a two-hour thing from Matt Kahn. My Facebook memories also started showing me some Matt Kahn stuff from some things that I had learned last year about releasing judgment, about letting light in, about expanding into the love for ourselves.
As I am thinking about this purpose, I'm also thinking about social justice, I'm a little bothered by the news, so I sit down to listen to this thing my Matt Kahn. I had written down, "Things that used to interest me passionately no longer interest me." I was thinking about painting and some other things. I heard Matt talking about anchoring into the light, and I heard him talking about when we get into our ego about this external conflict, when we get into our ego, we unground our root chakras, so we unground our presence. The title of his thing was Be Here Now.
As soon as I start worrying about what I'm going to create or what I'm going to do, and it comes from a place of worrying and striving versus literally passionately erupting when I'm trying versus when I'm just automatically creating, my ego … He said, "Literally, when you come out of the present moment, you start thinking about the future, and you start worrying, your subconscious feels unsafe." It just clicked with me.
So remembering that I am a co-creator. I know this is a little abstract. I don't need it to make sense to you, I need it to make sense to me. But when we displace ourselves from the present moment, when I make up a story that I have this big purpose, or that I'm doing it wrong, or that I'm offering the wrong program, or that my marketing message is wrong, or that there's something to be fixed, I displace myself out of the present moment and I immediately become disconnected. That's where all the overthinking happens.
That my purpose is to be here now, and I struggle because my ego … This was huge. When you decide to be here now, the ego is going to flip its shit on you. I don't think I wrote what he said down. The ego wants something to happen now and fast. I just felt that. It's like, "No, I want to know now!" That's the ego. There's this place, when we choose to be here now, and we tap in, creation still happens. What the ego tells me, if that I don't do this, and if I don't do the visioning work, and if I don't do the messaging work, and if I don't get this shit right, it's all going to fall apart.
So learning how to create intentionally, and diligently … Diligent is the wrong word. Intentionally and beautifully, and for me, my best creation happens wild and free. My best creation is a little messier. My best creation is not in preparation. My best creation is when spirit is being channeled through me, brought through me. When I am a conduit, that little gray piece of technology that connects two cords, when I connect one of my clients with their knowing, not my knowing. But ego is looking for evidence that it's not working.
One of the main reasons I wanted to come today and share this with you is just to remind you to put your feet on the ground and be where you are. I have been doing this for 16 years as a businesswoman, 14 years as a coach. We never stop creating. When I saw all these visions and dreams that this girl in 2011 had, many of which have come true, the fact is that the earth keeps spinning and life keeps living us until it doesn't anymore. When I try to run faster than the present moment, my ego starts telling my conscious and subconscious self- something that creates stress in my body and anxiety.
My job is to be here and be a portal vessel for light, be a vessel for love. He even talked about that in the context of social justice, which was really nice for me to hear because those of you who've followed me for a long time know that I vacillate between this being and doing and being and doing, and I really want to always have the BE first, and then the DO naturally follows suit. But sometimes, my doing runs faster than my being. Ego is looking for evidence that it's not happening and spirit always says, "Everything is working perfectly. Everything is working perfectly."
I just wanted to come and be a reminder that even when your ego, your anxiety, your drama, your bank account says, "It's not happening," that it is, and that we are here for the long haul. It's interesting, the outer work thing I'm talking about to my clients today is podcasting. And y'all, podcasting is a long game. It is a long game. It is not a quick payoff. Those of you who are my clients here know that just because you build it doesn't mean they will come. We're all in this long game.
What I'm committed to doing is unfolding. I'm committed to the present moment and listening. Committed to the present moment and listening. Committed to the present moment and listening.
What if I didn't judge the fact … So right now, in the past, I have judged my back and forth. I judge, "Oh, my contentment, everything's wonderful. I don't have to do anything," and then, "Oh, time to get up and go." What if I didn't judge that back and forth? What if you didn't judge that back and forth? As I teach my clients all the time, there is this natural cycle, and what if that's the cycle of creation and here I am trying to put myself into models.
Yesterday at lunch with my husband, I changed my … I'm just kind of done, y'all. I changed my Instagram bio. Here's the way you're "supposed to" do it. In Instagram bio, you're supposed to say all these things. You're supposed to basically put who you help and what problem you solve. No! I'm done with that shit! I'm so tired of the right way to do it, and I just kind of want to follow my freaky way of doing things. If I want to put on there that I like macaroni and cheese, and champagne, and dogs, and instead of sell you my freebie or course, ugh! I just wrote. I'm sick of the models. I do coachy shit! I do spirit shit! I'm sick of the models. I'm sick of the right way to do it and I'm sick of believing that if I know the right way to do it, everything's going to change.
What I know, having been in this business, there's always something new to learn. There's always something new to learn. It doesn't mean that I don't learn. It doesn't mean that I don't figure out new ways of doing things. It doesn't mean that I don't try new technology. It doesn't mean that I don't think about or learn about how to get better at not only my skill but also at marketing because if you don't have marketing … See? Look, there I go into business.
I know that when I be me, when I am in the fullness of who I am, all that shit falls into place and it never crosses my mind with anxiety and doubt. Like here I am, slobbering, I'm so passionate. That's what they talk about when they talk about with ease. It's the same work as when you're not in alignment with yourself. It just becomes easy. I think about when I got my PayPal set up, and when I got my website set up, and blah, blah, blah, blah. It was just easy.
The task was exactly the same, but when I'm creating from a place of being fully me and remembering who I am, then the business comes.
I realize the people pleaser in me wants to give my clients what they want. It wants to help you make more money–some of my clients, a lot of my clients. It wants to help do this, it wants to be your business coach, but I don't want to be your business coach. I don't mind talking about business. I'm not going to say I'm going to eliminate it, but business coaching is such a … It doesn't exist, I've decided right now. There is business training and implementation. I don't want to be your business trainer. I think there are so many better people teaching something out there. My job is to train you to listen to you about which path to follow. That is so different in every person.
I don't know. I don't have a clear answer and I'm okay with not having a clear answer. I see the promises everywhere. In doing some research for this podcast, everywhere there's somebody telling you how to do it. We are not at a loss for how to do things, you guys. We're not. When we get the inside cleared, and when we release the judgment, and we remember, and sometimes my clients look at me and they're so frustrated because they're like, "Allison, are you sure it's inner work? Are you sure it's the inner work? I just want somebody to tell me how to." Well, great. I can tell you how to, and you can go and implement, and if you don't have the inner work, you're not going to implement, or if you do, it's going to change tomorrow.
Varian (an audience participant says):"That's the pattern we will always be in. Do it our way then believe a different way's better and do that, then remember our way is best and do that, and believe a different way is better, and do that, and remember our way is best around and around again." Thank you, Varian, for reflecting that back.
I have been in that cycle so many times. I'm experimenting, what if I trusted myself? What if I trusted myself?
Rebecca says, "When I'm trying to be like anyone else, the genius of you stays buried." This is funny. Rebecca, thank you for showing up.
Rebecca's somebody who hired me for business coaching, yet I don't think once we've ever actually really had a business conversation except of Instagram visibility and showing your face. But Rebecca keeps showing up and keeps doing inner work with me. When I told Rebecca jokingly the other day, I was going to change my branding. I'm not going to do this, but I was in the spin of this. I was like, "Yeah, I'm going to change my business to fuck you, I'm Allison, your life coach." Rebecca was like, "I'm in!"
I apologize for losing my freaky way. I apologize for diluting my message by trying to fit in a box because I want to please you, because I want to please my bank account, because I want to be whatever it is. The fact is, is that I'm a little quirky, I'm a little backwards, I do like talking about business stuff, but really, what gets me is to see people's inner world's change, and when their inner world's change, better work shows up. Better work shows up. For me, work is the vehicle which activates all the fucking triggers of the inner work.
I love the community, I love the high mindset of business owners, I love the high mindset of learners. I have made the mistake accidentally of trying to … I didn't even realize. If you said, "Allison, are you trying to fit in the box?" I would say, "No, I'm not trying to fit in the box," but I was trying to do all and be all to everybody instead of … When they talk about niching down, they are not talking about niching down outside of you. I think they are talking about that, but what we've got to do, what I've been asking myself is, what am I really passionate about?
And I don't have one big thing that I'm really passionate about. All I know is that everything goes back to remembering and alignment when I can remember and get an alignment. When I had a thought this morning about remembering who I am, the state of world didn't bother me as much and I see how I can be an advocate in the state of the world. When my money is bothering me and I remember who I am, I'm able to effortlessly create more. Only my ego-self tells me there's something wrong.
So again, you take away whatever you want to take away. Number one, there may not be one big purpose. There is no big … I think the people who do Santa Monica University say the goal line and the soul line; there is no … The goal line, we're all trying to hit the goal line, and the goal line keeps moving. Do y'all realize that?
The goal line keeps moving. I was so thankful to see those pictures to see that I am not a woman … I was thinking about my ex-husband. When my ex-husband and I got a divorce, I remember in particular, we had one really large fight, and I used to be a rager, and I clearly have a foul mouth. I grew up in a family that said, "F you" a lot, and I also did not know how to emotionally hold my deepest fears. There was a night when my ex-husband and I, there was a flood in Austin, Texas, and my husband, to get home from work, had to cross a low-water crossing.
That flood really disrupted Austin, there were people floating away in cars, the rain was insane, and I remember being at home waiting for my husband to get home. He didn't come home. I called the office. They said, "He left an hour and a half ago," and he still wasn't home. We lived 10 minutes from the office. I just remember being so scared.
When he finally got home at 11:30 at night, and he was helping some friend of his, some girlfriend of his whose boyfriend was abusing her, he was having a conversation with her, but he never bothered to call and text, so I was mad. I was mad because I was afraid something had happened to him, and then I was afraid he was cheating on me, and my fear, I didn't even know that I was afraid, but I was so afraid, all I could do was rage. I remember, this is probably why he divorced me, I remember just screaming at him, in rage, screaming at him, but what I really felt was fear.
I always wonder,is that why he left me because I was so nasty to him? And then I realize I'm so not the same woman. I'm sure he's different too. I'm just a different human being. I don't rage anymore. I don't. I worked that out with my current husband. I was thinking I don't paint anymore, and I kept thinking I had to go back. "I have to go back to what worked. I have to go back to what worked," and we don't.
My purpose is to keep living the moment right here, right now. My purpose is to encourage you to be here right now, and see how life wants to live through you. Life has lived in so many beautiful incarnations. I am not the same woman I was in high school. I am not.
I'm sure she is not here anymore, but I saw Shelly Hess join. Shelly was one of my favorite sorority sisters in college and she loved me, and I'm not the same person. I see people. I see clients. Y'all, I'm so fortunate. I've been doing this so long, my feed is full of people that I've worked with. My feed is full of people that I haven't worked with in 10 years, I've been doing this so long, but I see these people come up. Life just keeps living through me.
When I try to orchestrate life, and what Matt Kahn said this morning was, "I choose to be here and I am a co-creator." And I am a creator, but when I forget that I am also creating with spirit is when I get into that ego place. I am not a co-creator with my ego and it comes back to surrender. Spirit, what do you want to create through me? I'm here to show up for work. I like work. I'm here to show up for movement. How shall we move today?
I know that I'm so thankful for Matt's words and I can't wait to listen to the rest and really study it, but "I choose to be here," when I just create on my own, ego's going to take a hold of it, but to co-create with spirit, whatever that means. It may not mean anything for you, but I know what it means for me, and for me, that is creating from this internal place. It's creating from this …
Yes, let it be simple. I make it so complex, and one of the ways I make it complex is trying to teach newer people how to do it all. I do trust and believe in my … Essentially, I don't fall back on a system. I say just go out there, and start experimenting over and over and over and over again, and you begin to form who you are.
In 2011, so eight years ago when I left Keller Williams, I did not say I wanted to be a business coach. I said that I wanted to be an inspirational and motivational teacher. At the time, I had not been educated in the power of deep presence and deep coaching. I add that to it. I don't want to be traveling all over the world, but I do love helping hold the mirror and facilitate these meaningful conversations that activate this outer stuff in our life. I love talking about mindset and spiritual set, and I love life coaching. I love life coaching you in your business, but I realized how easy it is to slip into …
Varian, you may get this. When you're doing this esoteric work, Varian does a lot of empowerment work, personal power. Varian, I don't know if you can see or if you're still here, I'm still in my Expand book and I've literally filled almost every single page, spilled coffee on it twice, but I'm down to about 15 pages of paper. I write in this thing every single day. Expand is often harder to sell than Make Money Now.
I was talking with my client, Nemo Ashong, and I had a beautiful conversation about … We have the recording and he wants to share it live because Nemo wants to spread a movement. I was sharing about a colleague of mine who, I have a colleague, she charges $25,000. If you want to make $100,000, she charges $25,000, and says, "If you do everything I tell you on this list, you will make six figures. If you do everything on this list and can prove to me that you have done it and don't make six figures, I will give you your $25,000 back." If you want a business coach and a system of how to, not worrying about how it feels inside, go see Brooke. She will help you mindset through how it feels inside too.
But I left that world. I left the world that said, "Make 100 calls." I left the world that said, "Follow the model," and I started being my model. Nemo calls that a maverick, a movement starter.
What this woman said, "Pick a niche. Help people make money, help people stop drinking, help people lose weight." I don't know what the other ones are. There are six big things. "If you know you have a problem," and this is what they teach us in the world, "you have a problem, you want to solve it. I want to help you lose weight." She's like, "I can help you make $100,000 at that." I want to help you make money and I love making money and I love helping people make money, and that's the business aspect.
Somebody said, "But what if you want a coach on this other stuff?" She's like, "That's just going to take a whole lot longer because starting a movement is a lot harder to make money than it is to offer one of these sellable products."
Part of that, I learned a long time ago, is the part that does this intrinsic, esoteric work that is so powerful. I don't know all the biology of it, but there is a part in our brain right around your crown chakra that cannot process language. It is the only part of the brain that cannot process language and it is the only part of the brain that lights up when you are in an aha moment, when you are in a spiritual moment, when you remember who you are as a spiritual being, having a human experience, the same part of your brain lights up, and it cannot process language. So no wonder we have a difficult time explaining it to our clients.
It is so tempting to go down the road of offering a form of grasping onto something, and only my ego needs to grasp onto the known, only my ego needs to know what my bank account's going to do, only my ego needs to know what I'm going to deliver to my clients, and I find that I am my best when I show up as an open vessel.
If you do it differently, that's okay. This is my wall and my feed so I'm making a declaration in front of you all. I'm recommitting to remembering who I am and being me. I have no fucking idea how that's going to show up on my podcast, how that's going to show up in my marketing, how that's going to show up in my program. But what I know, after 15 years of experience working for myself, I cannot imagine working for anybody else ever again, I have no intention of not working for myself, and every time it has been both lucrative and fun, I was doing my own fucking thing. I was not following the model.
So I have unfollowed all the gurus. No more guru email, no more guru. I don't want to see them on Instagram. I hide their fucking ads. I don't want to do it anymore. I realize it might not be efficient, but here's the deal: why does it matter if it's efficient? Because as soon as I hit that goal line, it's going to change, and I'm going to change.
So I'm here to stake a claim for myself, I'm here to stake a claim for those of us that work a little bit differently in the world. I'm grateful to Nemo. He was also a part of that conversation where we talked about promising to teach businesses diluting the message of our movement, the message of inspiration. I know inspiration without implementation is nothing. I'm not the implementer. I implement the way I implement. I'm here to inspire you to implement in your way and figure out what works for you.
Varian says, "It's because the market says the hardcore business stuff sells better and creates more money." And you know what? It does sell better and create more money, and this is what I was saying to myself the other day. I used to want to be the female version of Wayne Dyer, and then I decided I just want to be Allison Crow, but Wayne Dyer was a big inspiration to me. I loved how he was a psychologist and went into spiritual, and inspiration, and the process of creation, and all of these things. I actually go to meet him at an I Can Do It Conference in the greenroom, except there was a seven-year-old with me so she got all the attention.
His books and his audios and his messages were really a part of my awakening. Wayne Dyer never taught how to business. Oprah doesn't teach business classes. It's easy for me to fall back on. When I taught Share Your Heart Show Your Work the first time, I made $70,000 in a week. That was fucking fun. It's tempting and I'm not telling anybody to not go teach classes; I just don't have a passion for it. I have a passion for just opening my heart and letting the channeled shit come out, and connecting, and connecting with ideas, and hearts, and those kinds of things with new ideas.
I guess that's all I really have for you guys today. It's kind of a lot of things. I'm not making any changes in my program right now. I am here in this present moment. My feet are in socks on the floor at my home. I am here with you, who are watching. I am here with my breath. I'm delivering a business class this afternoon. I am just right here, available and open to what wants to come through. I am tired of being the taskmaster of my own business. I am tired and in no way am I saying I'm giving up, but I am tired of trying to create without … In my way, my truest way of creation is this wake up with spirit and where do we want to dance today? What wants to come forward? What feels good?
Varian, "It's about what feels good. I had to lean into then when I left my job and really do it my way."
What I love is your way of what's feeling good has been really beautiful: beautiful people, beautiful money. Now, your move has been a catastrophe, but outside of that, right? Your business stuff has been really yummy.
As I looked back, it was my 2011 vision, my to feel list, and so often, my to-do list ends up sneaking … It cuts in line. It cuts in line for my to feel list. I am getting back to my to feel list and I am trusting the to-do list will happen, that I will create, I will do as I need to do, I will delegate, and some will just be miraculously done for me.
I hope you got some inspiration today. Thanks for listening. I think I may turn this into a podcast because that's what feels good. I think that's the other thing too, right? I've been on this podcasting journey and I make up that I'm supposed to be doing it another way instead of recording lives, and what feels really good is to come and have a conversation where there's some connection and when I have some response back from you instead of just talking into my giant microphone, brilliantly babbled, and maybe that's the name of the new podcast.
I feel like my podcast name has to change. It's Better Life Better Work. I just want Better Life. I want Allison Crow unfiltered. I don't know what I want. I want something wild and free. I had my few years, they were wonderful, they have served me of this neutral palette, and I am done with neutrality. Neutrality for a season helped get me stable, helped get me stable financially, it helped get me stable with my family, and I am done with the energy of 444. I am moving back into wild and free.
I don't know what this incarnation of wild and free will look like. It probably won't be painting, but what the new version of wild and free and she remembered, I was thinking that's the book I want to write. I can write Share Your Heart Show Your Work. The book's already written, I just need to edit it and process it. I don't want to write a fucking business book! She remembered, she remembered who she was, and that's the gift she gave to other people.
So thank you so much for listening and for being here. You guys are a part of my creation process and I trust. This is the other thing about my people. I trust that my people know how to take the insights that they get from connection and our conversation, and do their thing with it. I know that you know how to be, my coach John Morgan calls it, the third listener or something like that. I don't know, you be the observer of your own insights, and then you apply it in your way. Y'all know coaching and talking and inspiration is all about analogy, that you're not supposed to live my life, but you can take the ahas and the insights and apply them where they fit in your life.
If you get an insight from this, I would love to hear what your insight was, and if you apply it, I would love to see how you apply it.
As I close out, remember to put your feet on the ground and be here now. Ego is going to tell you that you are not getting anywhere and it's simply not true. I'm on the long journey. I'm in the long game. If you get fuzzy in the middle of the long game and you forget your why, check in with your heart. Don't check in with me, don't even check in with another coach, don't check in with books. Check into your own wise inner voice about what your why is.
My why is for these moments. My sister has a hashtag called #MomentsMatter and I'm here for moments. Maybe along the way, something larger and more marquee will be created, but I am here for the moments, and I want to remind you that this moment, you are enough, you are doing wonderful, and you are right where you need to be, even if it feels fuzzy.
Much love to you all. I will turn this into a podcast.
You can watch the video replay here:
---
Thanks for spreading the word about The Better Life Better Work Show. And of course, I love your Social Media Mentions and Shares with #BetterLifeBetterWorkShow
Let's connect online @allison_crow on Instagram and Allison Crow on Facebook.
And, if you'd like to be a master student of Better Life and Better Work, I invite you to join me in the Soul-Full Success Coaching Membership Community ~ My exquisite membership community where connection, coaching, teaching and most of all, YOU, matter.
Podcast: Play in new window | Download
Subscribe: Google Podcasts | Stitcher | Email | RSS | More