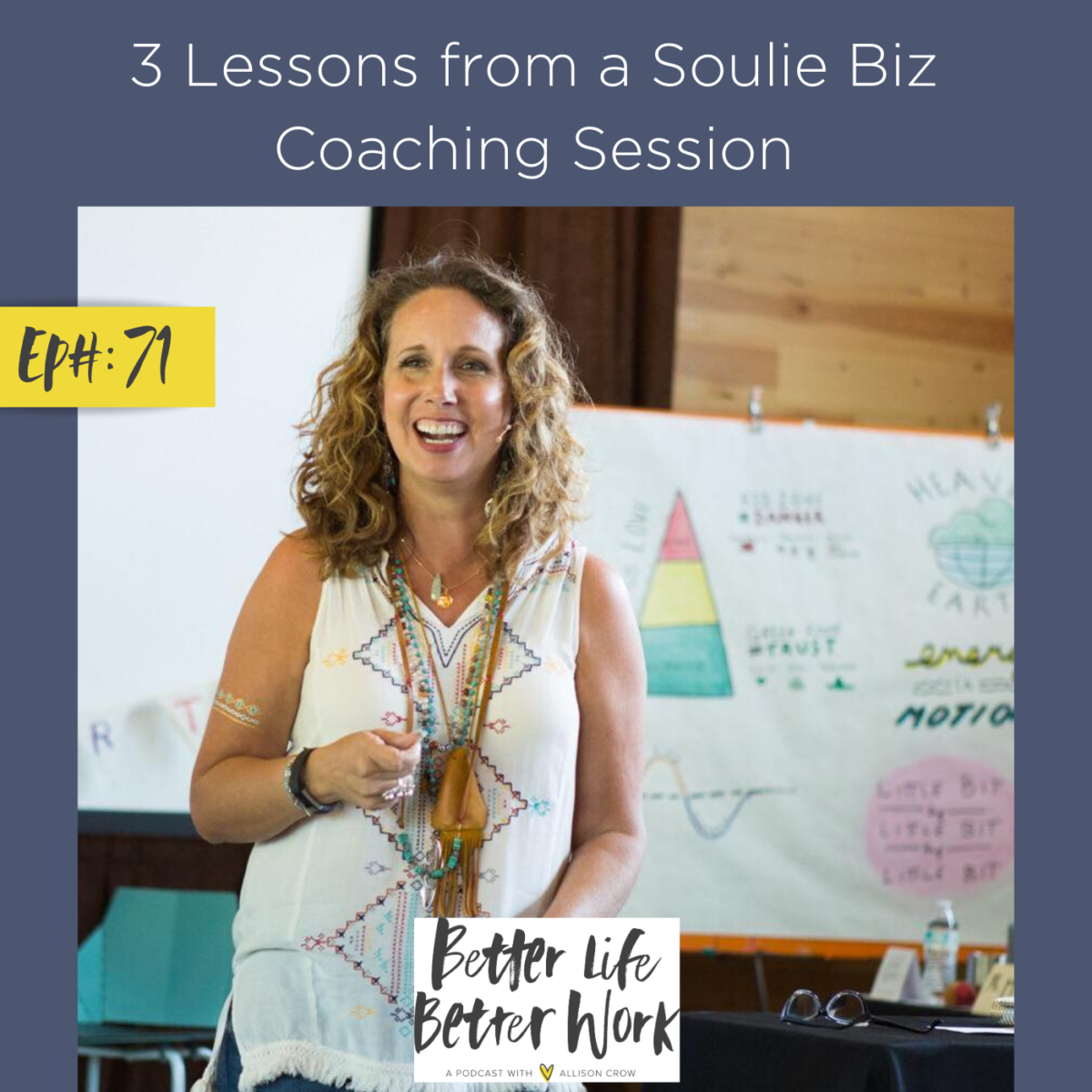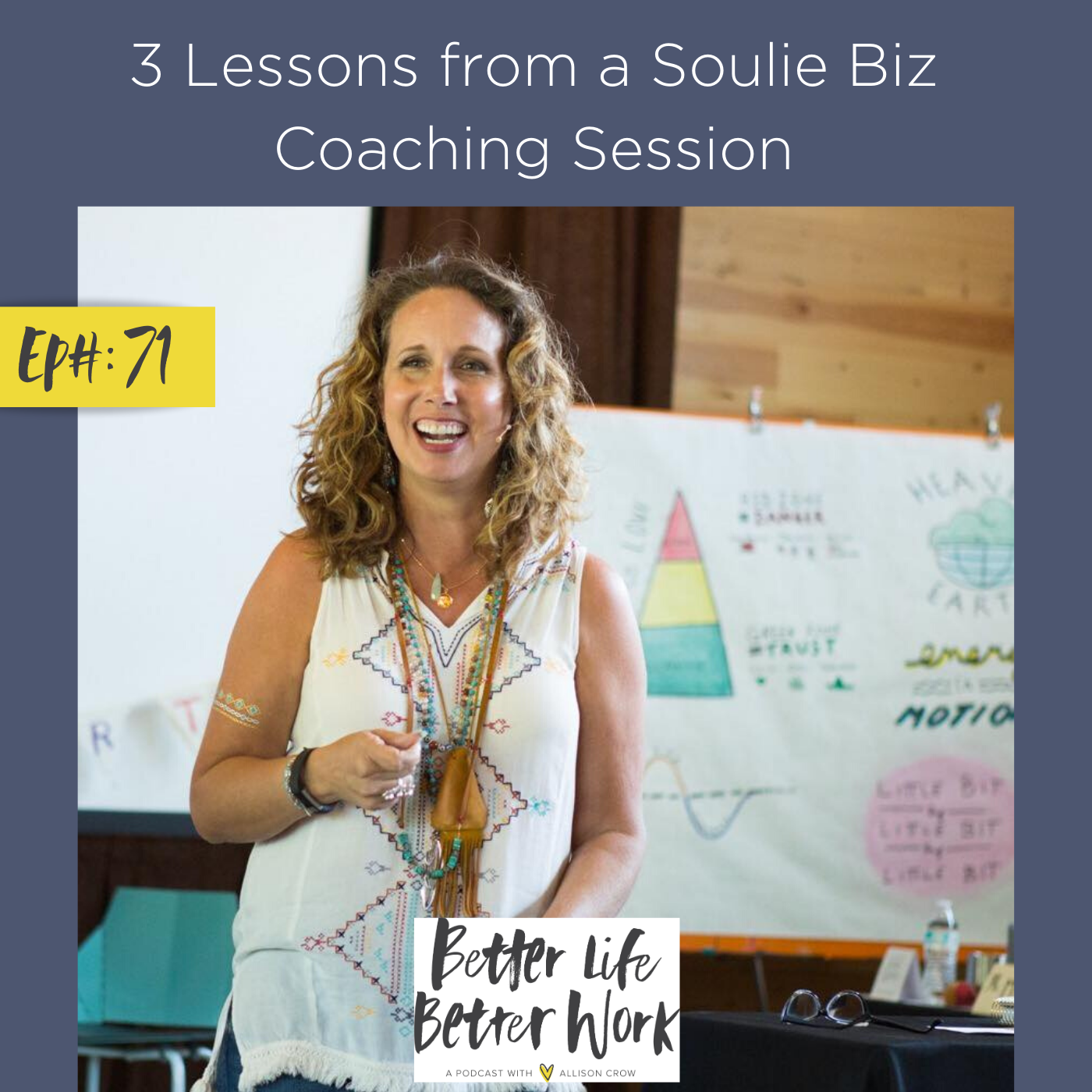 You may know by now that inside Soul-Full Success (my live coaching membership) we have fabulous weekly calls where we share all things life and biz.
This week we talked about 3 big lessons I want to share with you.
These lessons are around:
Identity – does your identity as a business owner match up with how you are believing, thinking, and doing?

Knowing Your 3 –

I've talked about this before

, but what are your 3 front facing activities that keep you connected to your people and business?

Investing in Implementation – it's easy for us to continue buying courses, coaches and formulas, but I challenge you to invest in actual implementation.
I dive into more of each of these lessons on the podcast to help you gain some of the insights my Soulies inside Soul-Full Success gained too.
So enjoy this new episode and then let me know how these three lessons hit you…
Love, Allison.
---
Transcript:
Hey, hey. This is episode number 71. This is Alison Crow, your favorite life coach. And today, I have three lessons for you from a soulie business call that I want to share with you.
We had a fabulous call this morning. We have business calls on Mondays, and then we also have a growth achievement call twice a month. But today, we talked about three specific things I want to share with you.
The first one is Identity.
The second one is Soulies Know Their Three.
And the third one is Invest in Implementation Before You Buy Another Course.
The way that we checked in this morning, I brought a little context to the call. It was brought to me in my mind's eye when I was brushing my teeth this morning getting ready for the day was about identity. I'm pretty sure I have a podcast that I will have to link up about identity. The question I posed to my clients and that I'll pose to you here today is, does your identity match up as a business owner? I guess you could parlay this into any other area of your life. But since it was a business call, does your identity as a business owner and match up with how you are believing, thinking, and doing?
So for example, are you seeing yourself as a struggling business owner where you tend to perpetuate that struggle because of your identity as a struggling business owner? I love to pop forward into the identity of the woman that I am becoming and consider what problems she is solving. How is her brain thinking? A lot of our identity is wrapped up in our beliefs, and our beliefs determine a lot of our behavior and actions, and our actions end up creating results in our businesses.
I can ask this question to my clients or on social media. If you were totally confident, what would you be doing? And everybody can come up with something that they're not doing because they're not confident. What if confidence wasn't a requirement and so you just did the thing? But usually, confidence or insecurity is wrapped up in the beliefs around our identity.
So as my client, Farah, said in her checkout, align. I had said in the call, "Align that shit. Check-in."
What is the identity of the person that you're becoming?
And are you living, walking, moving, and breathing in an old identity that does not serve you anymore?
What is the identity of the woman or man that you're becoming?
What are the beliefs that run through their head?
What are their I AMs?
How do they move through the world?
This is so corny, but I used to have this identity of being a macaroni and cheese connoisseur, and I've only had it one time in the last 18 months. It's no longer part of my identity. It makes it a lot easier to say no when it comes out at a gathering or restaurant.
Identity. Align your current identity with the identity of your dreams, your goals, your actions. Quit looking over your shoulder and dragging forward your current identity.
Identity. Align your current identity with the identity of your dreams, your goals, your actions. Quit looking over your shoulder and dragging forward your current identity. Click To Tweet
The second concept is Soulies Know Their Three. This is a concept that I have brought into form after seeing client, after client, after client be in the space of getting ready to get ready.
"I don't know what to do."
"What are my next steps?"
"I know I'm at the crux of this place in my business, but I don't know where I need to go."
"I need to buy another course that tells me what to do."
I get it, man. I am not a machine. My brain works on inspiration. And in the past, when I wasn't inspired, it would leave me being tired, which would lead me to doing nothing, which created the sense of feast and famine that many of you may know in business. I am no longer in feast and famine because I know how to manage energy instead of a task. And even when my energy is off or low, I know one of three things that I could do frontward-facing that will support me in the long run.
So if we are gardeners and not machines, I like to say we're constantly gardening our garden. We plant the seeds. We treat the soil. We pull weeds. We prune plants. Different things bloom at different times a year. The concept of know are three is like every plant needs a little bit of light and a little bit of water, and really that's … I'm not a horticulturist, but I know that the few plants that I have in my house they either need light or water. And I guess technically they're all in a pot.
The basic, simple things that they need. Yes, I can get more complex. I can get food. I can get fertilizer. I can create a plan and a structure, and then I get overwhelmed. But when I go back to the basics and build from the basics, things begin to work. So I teach my clients this concept, and I want them to and know their three.
I once asked a client this, and she was like, "Oh, meditation is one of my three." No, meditation is not one of your three. That might be a primary alignment tool or process that you use to get an alignment. It's absolutely a vital part of your self-care and your practices. In this context, saying soulies know their three is knowing three front-facing connection business activities that love on your people, that keep you connected to the energy of your clients, your audience, and your business without having to produce a result but that usually do.
Often I see people, even this client I was talking about today … The question that she brought was about knowing that she's in this pivot. She was considering hiring this coach for $27,000. And then she realized she knows what she needs to do. She just needs to do it. She doesn't need to spend another $27,000 to do this. She just needs to do it.
What happens when we have a big dream, or we are about to make a pivot, or whether we're creating our business, or growing our business, we get so overwhelmed with all the steps. And I want each of my clients to decide three steps, so that when they're in confusion, they can take one of these steps that will keep the wheel gently moving so that we don't go into flight or freeze. What we do instead is we tend to froth in our minds. We tend to froth in our journals.
I can write a plan all day long, but executing it is another thing. And a lot of us get overwhelmed in the execution. So for example, my three are … Now here's the deal, there is no end to my three. It's not a when I lead generate, I'll get a client. That's not what I'm talking about. My three are three reliable things that I can do when I'm feeling off that will keep the wheel gently moving in the energy of … It's like proactive energy that I can trust will help my creative energy come back.
My first three first one is to go LIVE. You all know half these podcasts are recorded from live video. In the past, I haven't done this recently, but in the past, LIVE I used to do card readings all the time. And especially if I felt not inspired or not clear about business, I would use the cards as a tool to have something to talk about to connect with my people. So for me, whether I'm pulling cards or whether I'm like, "Woo-hoo! I'm LIVE in my backyard drinking wine. What's up, MOFOs?" or whether I have something to teach you, when I go LIVE and I'm interacting with my audience, I am connecting with my people, both live and in the moment and in the replay. Now, so that's not me hiding completely behind my computer, or in my jammies in my bed, or behind Netflix. There are appropriate times and places for all those things. But I am doing something to connect and engage with my audience.
The second one is to get face to face or voice to voice. So even if I'm not feeling great … Now, I'm not talking when I'm sick and I need to be hibernating, but I'm talking when I'm in a mental state of confusion. I'm in my office … I don't know what to do next. I'm overwhelmed. You've had that. You've had that before, right? Then what I will do is I will pick up the phone and call somebody, or I will video call somebody, or I will leave a video message. So I actually either take a step to be face to face or voice to voice call somebody, connect with somebody, even if it's last minute. And if I can't find anybody, then I will put somebody on the calendar before the end of the week. I will set up a virtual coffee with somebody. I will call a friend and say, "Hey, do you have 15 minutes? Can we talk today?" But I get frontward-facing voice to voice and face to face. That's my number two.
And then number three, if I feel really brave, I will drag my ass out this house. I'll drag my ass out of this house and I will go to a live event, a networking meeting, a class. So tomorrow I'm getting on a plane, and I am going to a class in California for four days. I scheduled this back in September and I looked at my calendar and I knew that by this time of the year I would be needing some literal face-to-face, not just technology, but I would need to be in the room with other people. Frankly, I didn't even really pay attention to what the content in the room was. I just know that one of my frontward-facing three …
Now, I'm not going to try to get clients, but I'm going to be in a room where I'm going to learn something, I'm going to be in a room where I'm probably going to be inspired, and I'm going to meet new people, and I'm going to see a few colleagues and clients that I already know. So I'm going to be connecting in four different ways that support me and my business. I may not know directly how, but I guarantee you it's like throwing out a boomerang. I'm going to toss it out there by doing this action and eventually it will come back around to serve me. So that's my third one, is that I will actually get out of the house and go be with people face to face, and I have various forms of doing that.
Those are my three. What are your three?
My soulies know their three. And why I want you to have your three is so that you don't have to think about what to do. One, two, or three.
Soulies know their three.
Soulies knows what works even when their brain isn't working. Because when our brains are in overwhelm, exhaustion, confusion, solving a problem from the place of confusion doesn't fix it. But I have found that face-to-face and voice-to-voice connection actually does. So my request of my clients is, yes, obviously do your meditation, do your journaling, get an alignment. But then, for your business, what are your three frontward-facing actions? Frontward-facing means you're connecting with existing clients or existing audience members face to face or voice to voice. So what are three frontward-facing things that you could do, just one of them, and it will keep the gentle wheel of your business moving so that we do not rot? I have found that doing one of these three usually sparks more creative energy again. This is especially helpful for work-at-home entrepreneurs or small business owners.
Okay, the third thing. This is one of the reasons I built Soulful Success, and it's been fascinating to watch my business change as a result of following this. I have had a coach since the first day I became a REALTOR. I literally walked into the office with my new license, signed up, and the first thing they said was to hire a coach, and so I did. Within a week, I had to hire that coach. It was $500 a month. It was a Brian Buffini coach. I'll never forget it. I actually also had Jean Grubb as my in-office coach. She was more like a mentor. She was happy to help me. But she's the one that taught me the power of coaching.
I have long loved and believed in coaching. And I have taken classes, and classes, and classes. I love education. I love education! I love education!!! Here and there I have actually gotten a little bit of help with admin. But here's where I wish I had known something a little bit different sooner. So the same client that was talking about thinking she needed another class to decide what's next when really she doesn't, I guarantee you, as long as she does one of her three, she'll know her next steps. She'll get clear on it.
And I said to her, "But if you have money invest, may I make a recommendation about how you might move your business along that would be supportive? Invest in implementation." That's the third lesson I want to share with you today. Invest in implementation. Implementation can look like a lot of different things so you've got to decide for you. But my best investments have been investing in frontward-client-facing activities that I do not have to do, which is different from admin. I like having admin. I actually could use some admin, since mine fired me a month ago. 🙂 I have some behind the scenes. One of the reasons my assistant quit was because it was just executing tasks- button pushing. Just getting tasks done is different from leveraging and investing in implementation.
My clients know that at Camp Star Heart this year- I declared, "I am becoming a woman who allows high-level help." So part of my, go back to number one, identity, part of my identity, if I want to change certain elements in my life, and in my business, and in my income, I must allow high-level help.
In the past, I had an identity that only invested in coaching but everything else was hands-off in my business. I had to do it all. I had to do it all. For the past few years, I have been experimenting with high-level help. Some things have worked. Some things have worked sort of and I decided they weren't for me. But letting go of the reins of some of my most important work has actually been not only emotional helpful but profitably helpful, and so … I keep saying and so, and so, and so, and so. God bless the transcriber and my podcast person who I've given permission to not take those things out.
Invest in implementation. At Camp Star Heart, one of my clients said to me, "Frank Sinatra doesn't move pianos," and it was really profound. It really hit home. I began envisioning and imagining what kind of support I would like. And sure enough, I ran across a guy last October at an event, and he had a buddy with him. Actually, it was an employee. He had an employee with him that was running around with a camera and an audio recorder. Or maybe it was a camcorder. Whatever. He was recording him. What I realized was this guy had paid support to capture the things he was saying. I think Gary V. does a version of this, where somebody is always following him around with the video camera and they create content out of that.
I don't get paid for my time. I get paid for my brain, my heart, my soul, all this stuff. I get paid for my coaching, the ideas that I have, the insights that I share with people. So what I realized would be helpful for me, what is my version of moving pianos means I play the piano and somebody else records that and distributes it so that I didn't have to be distributing seven days a week. Because many of you have told me that you get overwhelmed sharing your heart, showing your work, having to be on all the time. Well, of course! It can be overwhelming and overstimulating.
So this spring, I hired Uncommonly More and Stacey Harris. I also rehired Elise. Elise produces my podcast, and she works very closely with Uncommonly More and Stacey's team to not only produce my podcast, but they, Uncommonly More, produce my brain. When I do show up from inspiration, they take it, repurpose it, and implement it in frontward-facing ways.
Two weeks ago, I went to the Soulie Weekend away, which is a private retreat for my members only clients. There's no fee involved other than paying for your own room and food. What was so fun was before that I decided I wanted to sell a class, and so I said, "I'm going to sell the class. Here's the class." I did two or three live streams and a podcast about it, and my investment in implementation said, "Here are these recordings," we got a transcript, and my team wrote the email sequence. I said, "I want three emails. I'm going out of town. These are the days that I want them." It was so fun the first day of class. One of my clients said, "I hired you because of those emails you wrote." What's so beautiful about the emails that I "wrote" is everything in them is something that I said. I didn't necessarily dictate them, but I have hired high-level help that knows how to turn my ramblings into effective communication.
I want to encourage you. This was one of the reasons I created Soulful Success, so that … I told my client today, I said, "Y'all, come and use me as much as you want. I'm here for you at $222 a month. Not only am I here for you, but there are 64 other people in the room that are resources both emotionally and tactically."
Now, absolutely, some of my clients invest in … A couple of my clients are in James Wedmore's program. I am all happy to not be the only resource for my clients. But I'm telling you right now if I spent $222 a month on coaching, and $1,800 a month, instead of on coaching, if I spent that on implementation, what could that do for my business? I'm truly learning what leverage means. It's very different from hiring somebody to do a task.
My client today said, "Oh my gosh. I spend like six hours managing my newsletter." No! Stop it. Immediately hire somebody else to do that newsletter. I have another client that loves doing her newsletter. And though she loves doing her newsletter, all she has to do is take that newsletter and turn it into a live video or hire somebody to take that newsletter and turn it into bite-size pieces of marketing and content that shows up in the world, right?
These are some of the ways that we can actually support ourselves without actually having to do more. Now, on the front end, getting it set up does, but I want to tell you that having your identity aligned … And you may not even begin to imagine. That was my first client's takeaway. She said, "Oh my gosh. There's so much more possibility now about investing in implementation." And even before we get off the call, she'd already gotten the ball rolling! Kickass, right?
She also knows her three. Her three include setting up phone chats. So she knows there's nothing else she needs to do. If she can't think of what to do, she knows to get somebody on the phone, set an appointment for a phone chat, face to face, voice to voice, set an appointment, right? And then begin to invest in implementation before spending another $2,000 on a course.
Align your identity,
know your three front-facing actions,
and consider investing in implementation, high-level help for your marketing.
My team takes my music and puts my piano on the stage so that I can show up and sit down and play. I don't know what your version looks like. And you may not be ready to do it, but why not put it on your goal list? Why not begin to mull around in your mind? What would it look like if I could have somebody produce and market my brain? What if every time I opened my mouth, or talk to my clients, or wrote something that could be used in four other places or it could be used to write emails that sent exquisite invitations to join my client's work? Know your three, invest in implementation versus more courses, right? That's what's wrong with the courses. We don't implement what we learn!
I love my friend Tracy Lee. My friend Tracy lead took … My marketing gal, Stacey, she has a class. I just dive in the deep end and spend the big money out on the done-for-you stuff, but my friend Tracy Lee took her entry-level class and brought her assistant with her. I'm pretty sure Stacey's program, her VIP program, is set up so you can bring your assistant so that your assistant can implement these things, right? Because you guys are the CEOs. The CEO, a soulie CEO, I know, you think you've got to be rich before you get the implementation. So you go and hire a $20,000 coach to get your mindset better. Come coach with me for $220 a month and spend $800 a month on implementing. What could that do for you?
You don't have to coach with me, but that's part of the reason I set this up, to be a resource, and a mindset, and a heart coach for all the deep work + strategy, so that you can hire somebody else to implement the shit. Know your three, invest in implementation versus another class or another expensive coach, and align your identity with the soulie CEO that you are becoming, with the soulful mogul that you are becoming.
I use that phrase, soulful mogul, because I'm in the process of defining what my version of mogul is. I know what the dictionary says is a mogul. And I use that phrase soulie mogul and soulie CEO as an anchor for new thought, for new possibility. And boy will you know when it is aligned and when it clicks into place. You will know. You will know.
But it will never click into place unless I toss out … It's like the inchworm. I don't know if that's a good thing. But it's like I reach out first and then I pull behind. I reach out forward, and I scoot myself. I meet my future self. I throw my stone forward, and then I drag my ass to meet it. I throw my stone forward, and then I drag my ass to meet it, because otherwise, I sit in overwhelming confusion.
Thank you. Let me know how these three hit you or if any one of them hit you. I want to invite you to get on the waitlist for Soulful Success.
Right now, the doors are closed. Soulful Success is my live coaching membership group. We have life coaching, we have business coaching, and there is a whole archive of classes…there is also a lot of how-to in there.
My new client, Carolina, it's so funny. She watched a replay in Facebook of one of the classes, or actually a live coaching session, and she texted me. She said, "I watched this replay twice, and then I went out and created $5,000 off of it." That is super fun. Everything you need to succeed, if you align with the way that I speak and teach, is in there. If you don't align, please do not get on the waitlist. It's okay to go work with somebody else.
I have another new client who is actually taking my class that I recently held and she said, "I'm kicking myself for not getting in Soulful Success." She was making up a story about content to ingest. Is that in my program, yeah, I have a library of content, but it's really about coming into the room, connecting with other human beings, and getting coaching whether you need it or not. So you can get direct coaching from me or, like today on our call, three people in the hot seat. And then at the end, I said, "How many of you got something for your life, for your business out of this call?" And every single person raised their hand and a few of them had implemented before we even got off the call. So you can do that.
You can get on the waitlist by going to soulfullsuccess.info.
I will probably be opening the doors soon, let me know that you want to join before the end of the year. Let me know, and we'll figure out how to make that work.
All right. Thanks for spending time with me. I will see you next week. Thanks for listening. As always, appreciate it. I appreciate your reviews and your shares. Peace out.
Podcast: Play in new window | Download
Subscribe: Google Podcasts | Stitcher | Email | RSS | More