Yep….I've been avoiding this feeling. Noticing it but being in denial. Many of you know that I've been creating like a mad woman for the past few years…. and in the last 14 months I've painted almost every single day….except for lately. YIKES. I've felt DRY in my studio…and today, just now, with this post, I decided to just dive in to that.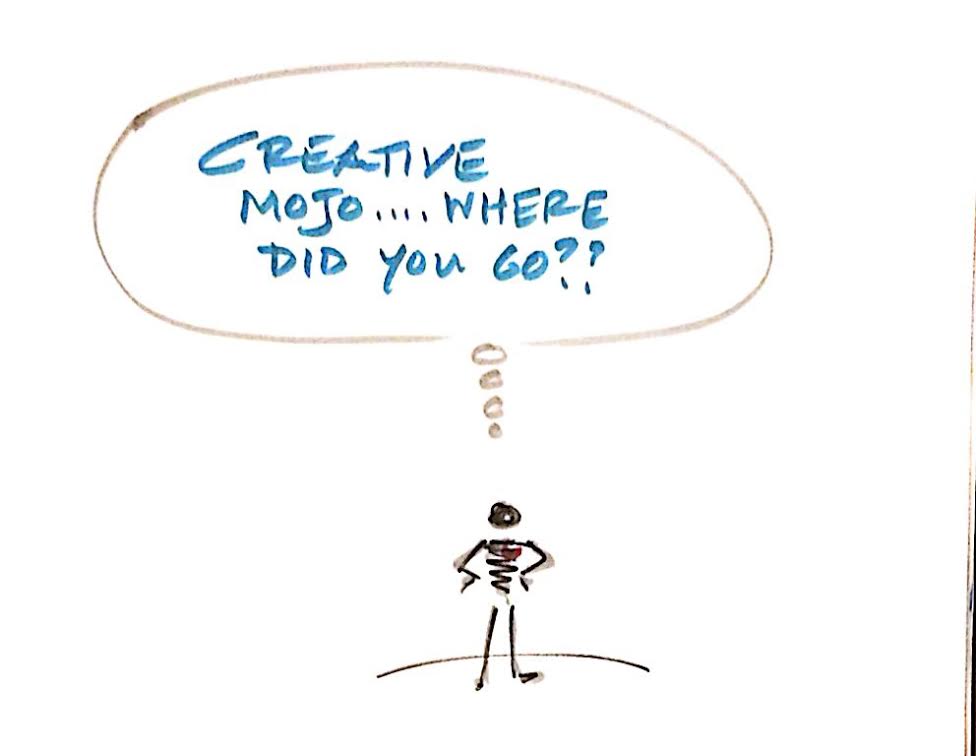 I KNOW my heart is NOT dry…the creativity is in there. And…I'm feeling a little parched. I thought new supplies might help. It felt forced. I thought changing mediums might help. It felt bland. I ignored it for a few days, and I just can't or won't ignore it anymore. AND I won't judge myself or make up nasty shaming stories.
Tonight I decided to open my blank art book and just draw it out…. and that led me to this post…typing it out. Seeing what flows out.
I've been teaching ebb and flow to my clients for the past 4 years. And I have begun to finally notice my own ebbs and flows and ride them .
And when I go within to listen to my Inner Whisper… I hear her say:
I've put you on a break until September 2 (after the holiday). Mojo will be back after then, but DARLING…. JEEZE LOUISE…..look at what you have created in the last year…in the last months…even in the 2 months you have been in your new home and new city.
You have created hundreds of paintings
You have created hundreds of journal posts
You have created a garden where there was only crappy shrubs
You have created the Tulum Turtle Sacred Sisters Coaching Circle …and an amazing container of energy, sisterhood, intuitive art, dream-fuel, and inspired action among 7 women….. that group JUST NOW FINISHED…..and you finished that cycle with amazing grace and energy.
You have birthed and created and begun the Magic Condor Circle….you have created these amazing relationships and this new sacred container.
You have created a safe and loving space for your little girl in the Shamanic work you have done.
You are preparing to share your home with these women -both the Turtles and the Condors….you are creating the energy of welcoming them into the intimacy of your home.
You have created 6 figures of income in the last 100 days.
You have created a perfect bouquet of amazing 1:1 and group clients.
You have created a new adventure in a new city with your husband.
You designed and created an energetic home and space that you no longer needed and you prepared it for her new owners….you created that relationship and transaction and let it go with the sale of your home of the last 8 years.
You created a vision for a new phase of life and you have executed it extremely FAST.
You have created a sacred space and relationship with an 89 year old home that was neglected before you decided to love on her these last few months.
You have created relationships and connection.
You have created photographs
You have created laughter…you created 4 posters in London.
You have created 40 days of improv signing
GEEZE darling Allison…. I most certainly would say, your well is not dry…you simply need to slow down and rest.
WHOAH…. Thanks Inner Whisper for that loving set straight! It is funny, because I feel like I have slowed down tremendously over the last year….and like my coach Rich says…. SLOW DOWN TO SPEED UP. And that is exactly what happened.
So my take away is to, once again, give myself permission to S L O W D O W N again…. let the white space come in. Then SLOW DOWN EVEN MORE. And if that means you don't paint or draw for a day or two…. I think you are gonna be JUST FINE…… The flow always comes back. Allow the ebb…go slow…and before you know it…you will be riding the creative wave in just the perfect way again.
If you hit what feels like a creative dry spell, there are many tools for seeing an outer shift…but I dare you to go within….and listen to the Artist, the Inner Whisper within…and see what she has to say.
Xoxo, Love Allison